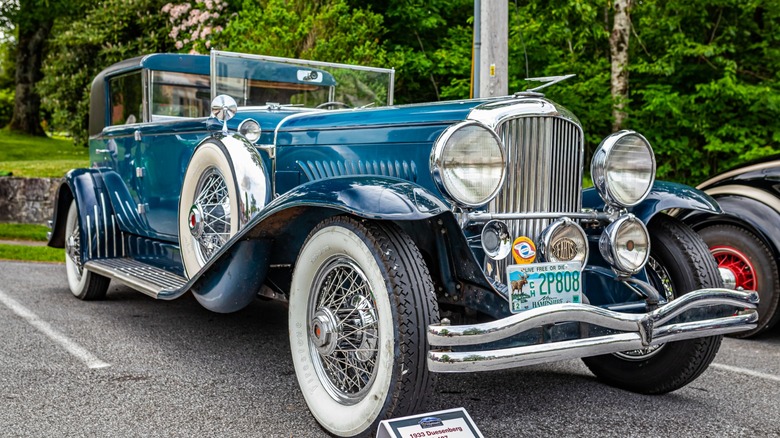 In the modern age, European luxury cars are often seen as the premier automobiles in this segment of the market. However, American manufacturers have a long history of building exquisite automobiles for well-heeled customers, particularly in the pre-war era. The luxury automobiles built during the Roaring '20s and even throughout the Great Depression represent some of the most extravagant and opulent cars ever produced. Even during the post-war era, American luxury continued and fine cars continued to roll out of factories in Detroit and elsewhere.
Still, the producers of American luxury cars have made some big mistakes along the way. The Cimarron by Cadillac lacked nearly every quality of a good luxury car, and the V8-6-4 engine proved to be a technical disaster. Chrysler once sold the Imperial as its own luxury marque and its premium Chrysler models have recently fallen a bit short of the luxury mark. 
However, despite some dips in quality and image over the years, American luxury has seen a rebound as of late. There are many models of American cars produced over the last 100 years that exemplify high standards of craftsmanship and engineering that are built with premium products that deliver sublime motoring experiences. Though each car must be evaluated within the context of the era in which it was built, it should be easy to say that these 10 American cars are the most luxurious.
1935-1937 Auburn 851 Supercharged Speedster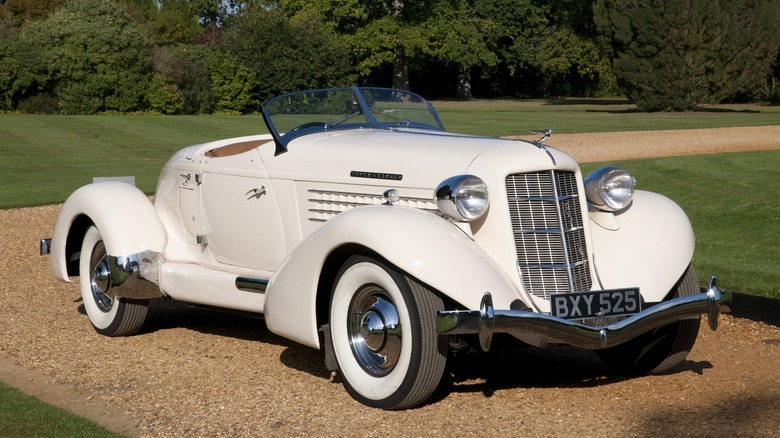 Auburn produced luxury cars from 1903 until 1937 and created some of the most beautiful designs of the era. Later models, including the Auburn Speedster, sported a beautiful sweeping streamlined design and matched this aesthetic with mechanical performance, as evidenced by plaques certifying its 100 mph capability.
The engine powering the Speedster was a straight-eight side-valve engine with a centrifugal supercharger that was good for 150 horsepower. Despite having only a 3-speed transmission, the cars could still reach high speeds thanks to a dual-ratio rear axle, effectively doubling the available gear ratios. The highlight of these cars is the sweeping art deco styling, which appears to have taken much inspiration from the fast-growing aviation industry of the day.
While the car was only meant for two occupants, the interior still surrounded them with the finest materials and exquisite craftsmanship. The idea of a Speedster is less about opulence and the swaddling of passengers and more for providing a high-speed status symbol as a wealthy man's runabout. The 100 mph Auburn Speedster is all about how good you look on the way to your destination and displaying your wealth once you get there.
Although Auburn did not survive the Depression, the trademark has lived on. The remains of the original operation were eventually moved to Broken Arrow, Oklahoma, where Auburn-Cord-Duesenberg Co. resides. Today, it offers new old stock parts and complete restoration services to keep these beauties going for years to come.
1928-1934 Duesenberg Model J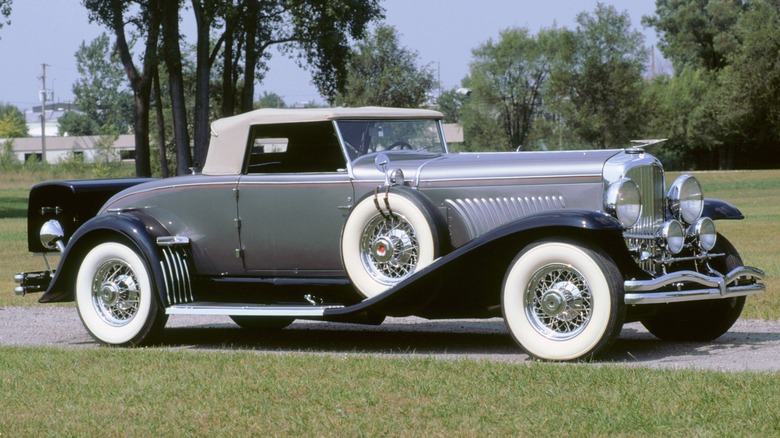 Looking back through the long history of the American auto industry, it would be hard to argue that there is a more luxurious automobile than the Duesenberg Model J, even by modern standards. Produced from 1928 through 1934, it sought to be the best car in the world, with ownership claimed by the industry moguls, royalty, and movie stars of the day. In fact, one was even owned by the infamous Al Capone.
Like most luxury cars of the day, the Model J was sold as a chassis with running gear and completed by a coachbuilder. This offered buyers finely detailed bespoke craftsmanship to tailor each car to their unique desires. Furthermore, Fred Duesenberg was a talented engineer with the highest standards who also loved to race. That led to Duesenberg cars having the most powerful engines on the market, built with unheard-of specifications such as dual overhead camshafts, four valves-per-cylinder, and an output of 265 or more horsepower.
These were gorgeous automobiles. An abundance of brightwork accompanied the luster of the flowing fenders, and each bespoke-built car received individual flourishes. The silky smooth mechanicals complemented extravagant interiors. Upholstery swaddled passengers in hand-stitched leather as they were surrounded by highly polished wood with gleaming chrome accents. Precision gauges populate the dashboard with crystal faces protecting the sensitive instrumentation. 
The Model J was the pinnacle of engineering and luxury in its day and the craftsmanship rivals anything in the modern era, putting it at the top of many lists of most luxurious automobiles.
1956-1957 Continental Mark II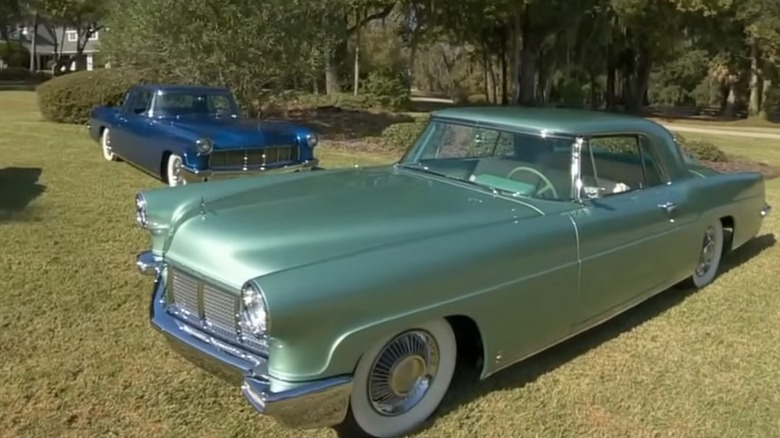 The post-war period led to continual economic growth and the spreading of prosperity around the country. This kind of market naturally presents more consumers with the means to buy luxury goods, and auto manufacturers were happy to oblige them. Lincoln tried its hand at courting the highest echelon of automobile buyers with its ultra-exclusive Continental Mark II.
Not only was the branding separated from Lincoln, but production also occurred in its own facility. This was the Continental Division, which was filled with the most skilled designers and engineers in the company who were tasked with building a car that would recall the glamor of the Lincoln Continental of the '40s. The car that resulted from this effort met and exceeded all expectations. While including cues to the earlier model, the overall design was fresh, sleek, and elegant all at once. The car was also quite large, weighing in at more than 4,800 pounds. However, it had a big 368 V8 with 300 horsepower on tap to get to its top speed of 115 mph. 
Craftsmanship and quality were also in good supply. Nuts and bolts were tightened to aircraft tolerances and paint was applied with precision and care. Furthermore, the interior was supple and elegant, including power windows, brakes, and seats, and even had zoned heating. No expense was spared, but that also led to its cancellation after only two model years. It was just too expensive –- its price met that of a contemporary Rolls-Royce.
1971-1978 Cadillac Eldorado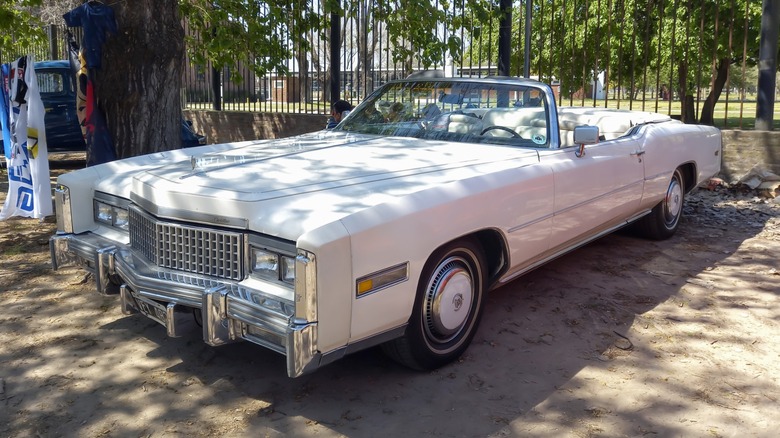 Cadillac has always been known for making large cars, even back to its earliest models. However, it was in the 1970s that they grew the most, with various models mere inches away from the 20-foot-long mark. However, while they may have been excessively and egregiously large, they were extremely luxurious.
If luxury is measured by comfort — which is a not insignificant part of many luxury products — the 1970s Eldorado delivers a two-door car that comes with plenty of style and class. Propelling this much sheet metal down the road requires a lot of torque, and that is where Cadillac's biggest production engine ever comes in. This car and others received the Cadillac 500 cubic inch V8, an engine size usually reserved for trucks –- large trucks. The 365 horsepower produced is impressive but not as much as the torque rating, which was 535 lb-ft. Additionally, the engine drove the front wheels, eliminating a transmission tunnel and leaving much more legroom for passengers.
With this much space, buyers could get leather-clad power seats that emulated living room furniture. Many buyers opted for plush velour upholstery that is missing -– and missed -– in modern interiors. Cadillac also offered an impressive list of standard features, including electronic level control, automatic climate control, power everything, automatic parking brake release, and a soft close trunk. Sadly, shortly after their introduction power ratings fell drastically. The 500 was dropped in 1978, replaced by a 425 that only mustered a sad 180 horsepower. Thankfully, the cars remained comfortably appointed.
1998-2011 Lincoln Town Car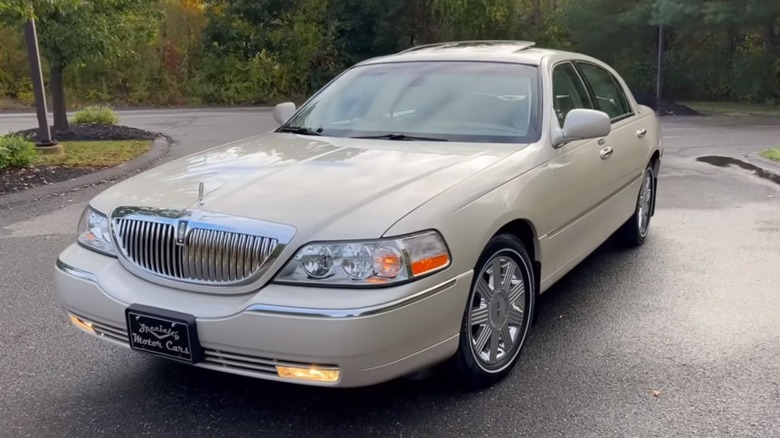 The long-running Panther platform Lincoln Town Car may be considered by most to be a more pedestrian luxury car, especially compared to other top American luxury cars. Yet, this one should not be underestimated.
The full-size Panther platform underpins the Town Car and a few other cars from Ford, including the Crown Victoria. This means it also shares the powertrain of the other cars, receiving Ford's Modular 4.6-liter overhead cam V8. While not as technologically advanced as contemporary BMW or Mercedes engines, it was reliable and relatively cheap to repair. Luxury doesn't always have to be expensive, does it?
Reliability is not the only thing the Town Car delivers. It is also blessed with a comfortable interior loaded with standard features and a smooth and comfortable ride. Seating is plush and offered with a covering of leather or cloth, with multi-direction power seating for both front occupants. Overall the last Town Car from Lincoln is a bit basic and its styling is a bit dull. However, when heading out on the open road with hundreds of miles ahead of you, there are not many better places to be.
2024 Cadillac Celestiq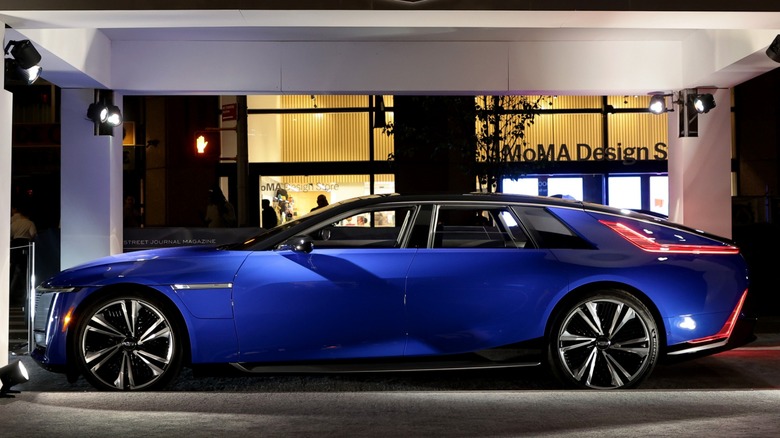 While this model has yet to be delivered to customers, it is in production and will likely prove to be the most exclusive luxury car built in the United States in decades. In a special section of General Motors Global Technical Center called the Artisan Center, manufacturers are putting together the all-new and all-electric Celestiq six at a time with an annual output estimated at 500. With a highly limited output of cars built by a small team of specialists, this car is set to be something very special.
The Cadillac Celestiq will be riding on GM's new Ultium EV platform slated to offer a range of approximately 300 miles while offering drivers 600 horsepower of propulsion on tap. The cars are being built by hand, with customization of each car specifically for the buyer, who will take delivery at Cadillac's House of Vanderbilt reception center in Michigan. OLED screens galore greet all occupants with a technically immersive experience, and power options cover nearly everything possible, including the doors themselves. 
The rest of the interior will be filled with premium leather and high-quality trim pieces. All of this will be covered by multiple panoramic glass panels with the ability to block the sun variably at the touch of a button. The full list of luxury appointments requires a stand-alone article to properly discuss, but with a price tag of $340,000, rest assured this will be the most opulent sedan built anywhere, American or not.
1933-1939 Packard Twelve Town Car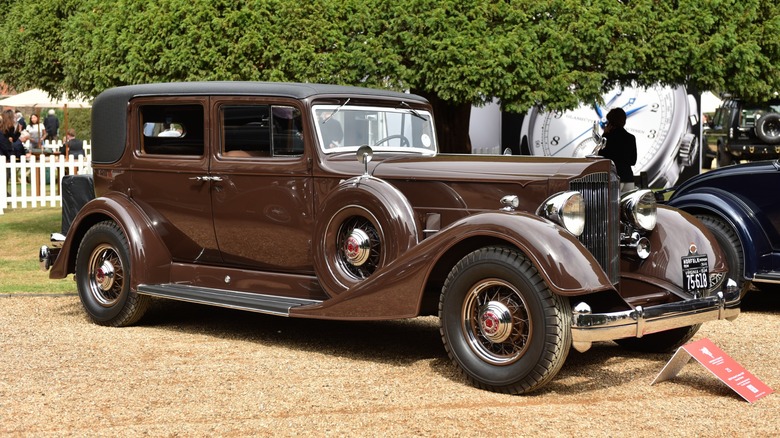 The era of the Great Depression coincided with what could be considered the pinnacle of American luxury motoring. Even though unemployment reached as high as 25%, automakers such as Packard continued to build some of the finest machines of the period, with craftsmanship and precision engineering rarely seen today.
From 1933 to 1939, the Packard Twelve Town Car was built by the Detroit-based company and was named for the 12-cylinder engine that powered it. The horsepower rating of the V12 peaked at 175, but power was never the point. Packard produced its V12 to offer the torque needed to move its large cars as smoothly and silently as possible. These were cars built for comfort. Furthermore, Packard's chassis was engineered with cutting-edge technology to make the ride as smooth and comfortable as possible. Finished chassis were completed by coachbuilders who offered a high level of customization unique for each customer.
The bespoke building of Packard Twelves means each one is unique. However, consistent features among them were cavernous interiors with thickly padded seating covered in fine fabrics and leather. Further appointments include crystal interior lighting, a cocktail cabinet, precision clocks for the passengers, and intricately detailed dashboards with a range of precision instruments for the driver. Some models even included radio controls and a speedometer for rear passengers. Inside and out, they are works of art displaying the epitome of elegance. While some contemporary luxury cars tended to be brash and showy, a Packard was refined and reserved.
1969-1973 Imperial LeBaron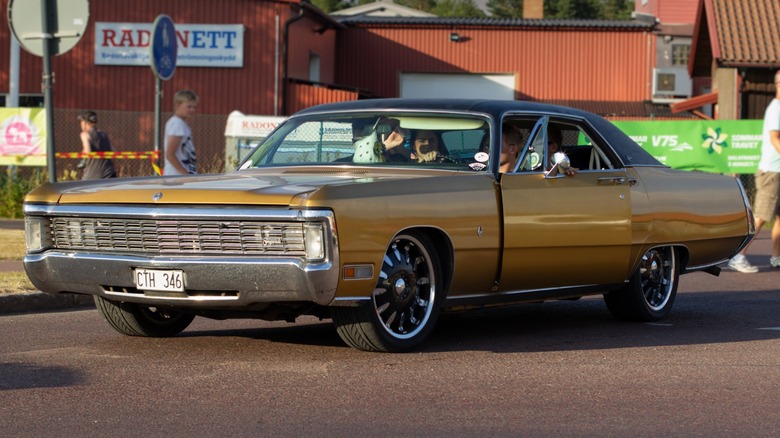 For many years, Chrysler marketed a luxury car under the Imperial marque. These cars were meant to compete with Cadillac and Lincoln, and most of them were quite luxurious for their time. However, in the early '70s, it seems as though the degree of luxury of a car was measured in its overall length, and Chrysler wanted to offer the most luxury by offering literally the most car possible. With a length of over 19 feet, the Imperial LeBaron of 1969 to 1973 is one of the longest non-stretched production sedans ever made. While length does not automatically translate to luxury, the LeBaron offered it in spades.
Cars of this size offer acres of seating real estate. The LeBaron is no different with its split bench up front and single bench in the rear, both available in brocade fabric or tufted leather. Some of its luxury touches include his and hers armrests up front and a pillow located on the C-pillar for weary travelers, accompanied by a lavaliere strap to aid with ingress and egress. Early models were blessed with unrestrained 440 V8 engines providing 480 lb-ft of torque to move these land barges along the highway in serene comfort. The suspension exists only to provide a soft ride to make passengers feel like they are gliding along, oblivious to any bumps in the road.
The Imperial LeBaron is a hard car to park. However, for cross-country trips with a family of five, there is hardly a better place to be. This is an American luxury car for the whole family.
2021 Cadillac Escalade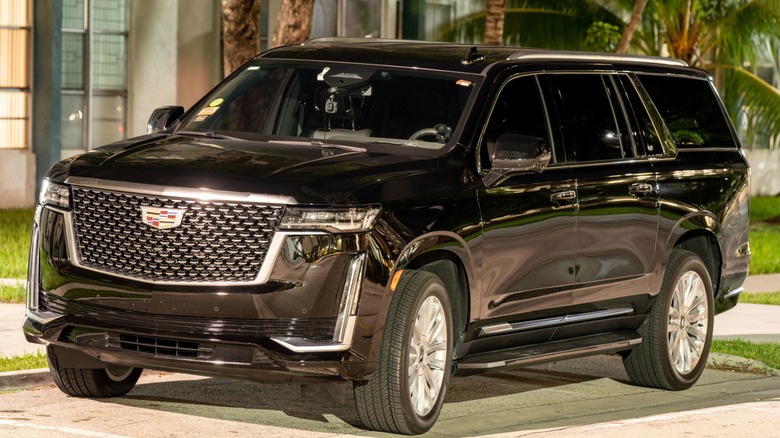 The quality of American luxury cars has risen to a very high level in recent years, and cars from both Lincoln and Cadillac now come with a dizzying array of comfort features. Any one of them could be a good pick for a luxury automobile. However, for many years, the Cadillac Escalade has been the leader in providing the most luxurious amenities and interiors from an American luxury automaker.
The current Escalade debuted in 2021 and it brought with it many advancements over its predecessor, along with next-generation technology under the hood and in the cabin. The most obvious aspect of this vehicle is its size, but the amenities found throughout the interior do not disappoint. Drivers are greeted by a driver-focused instrument cluster equipped with colorful screens providing information on a range of convenience and safety features. The Magnetic Ride Control suspension keeps it level while providing a comfortable ride, and a 420-horsepower V8 or turbo diesel inline-6 offers plenty of power.
If you are okay with driving something built on a full-size truck frame and you have upwards of $100,000 to spend, the Escalade is an excellent choice. Its styling may not appeal to all, but the quality of the interior should receive few complaints. With fewer cars than ever being built, it is probably fair to give the Escalade title of the most luxurious American car built today.
1957-1958 Cadillac Eldorado Brougham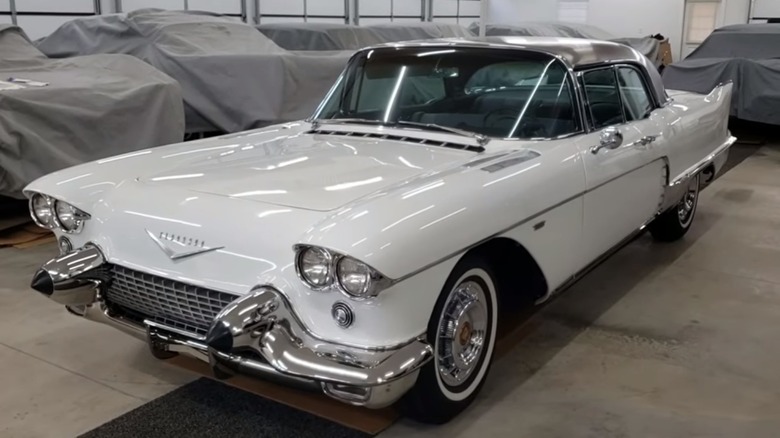 In the early years, Cadillac was known for building large and luxurious cars built to the highest standards, with coachbuilders often completing a chassis to order with a custom-built body. However, after WWII that kind of car building mostly made way for more mass-produced cars of all classes. By 1955, Cadillac had a range of luxury cars in its showrooms ready to take home just as they left the factory with another one ready to replace it.
The 1950s was a very good time for Cadillac. The brand was held in very high esteem and its cars were considered among the best in terms of luxury vehicles. However, top brass at the GM division sought to outdo themselves with a limited run of cars called the Eldorado Brougham. Built separately from all other Cadillacs and mostly by hand, the Brougham demonstrated Cadillac's ability to build a car of the highest possible standards. The car came with power steering, brakes, locks, and seats that featured a position memory, which was unheard of at the time, and power from a 365 V8 with dual or triple carburetors. 
The interior was plush and roomy, surrounding passengers with premium materials. Comfort was further ensured by a novel self-leveling air suspension, a state-of-the-art feature for 1957. In addition, the rear doors were hinged at the back, switches prevented the car from going into drive if they were open. Alas, it was too expensive to keep going. Priced at about $13,500, it was more expensive than a Rolls-Royce and even more luxurious.