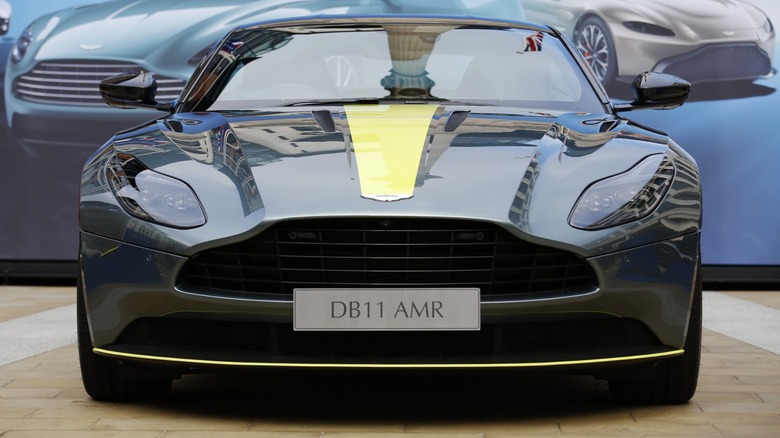 The Aston Martin DB11 is the outgoing model of a long line of superb grand touring cars, starting with the DB2 in 1950. Since then, the company has continued to build cars that exemplify high standards of English luxury and craftsmanship. But with the luxury also comes a sporting character held up with precision engineering and success on the race track. While Aston stepped away from racing in the 1960s, it continued building excellent cars in the DB model line, with the DB5 driven by James Bond being the most notable and a part of its current success.
For the 2016 model year, Aston Martin replaced the DB9 with the DB11 — the DB10 was a one-off model created for the 2015 Bond film "Spectre." As an evolution of the line, it came equipped with much of the same equipment you expect from a car of this caliber, though upgraded in many ways. Although the 6.0-liter engine of the DB9 was reduced to 5.2 liters, horsepower nonetheless increased from 540 to 600, thanks to a pair of turbos.
The latest model features all the advanced technology one would expect from a modern Aston, including a 360-degree camera, Bang & Olufsen stereo sound, and finely crafted leather upholstery everywhere. This car is one of the most refined, luxurious, powerful, and exclusive cars on the planet, and at $250,000, it is extraordinarily expensive. Here is what goes into a DB11 to make it cost so much.
Built by hand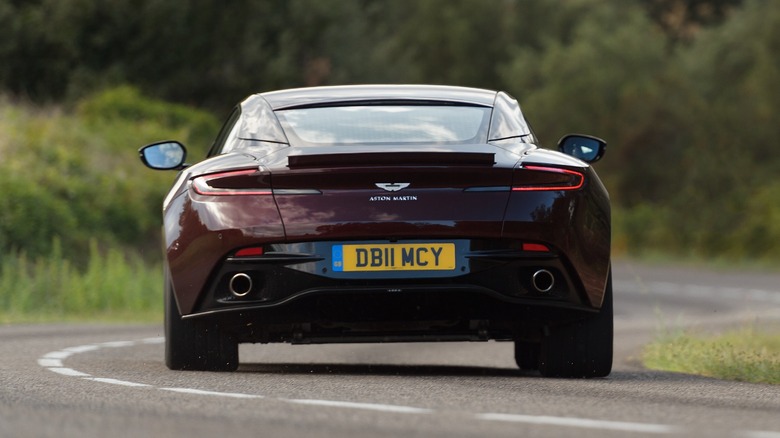 One of the attributes of an Aston Martin that has never changed is its hand-built quality. Each car receives a personal touch throughout the manufacturing process. This does not mean the factory is archaic and outdated, though. It is quite the opposite, and the company uses a great deal of automation where applicable. It is not a factory full of robots welding cars running on a conveyor belt, and that contributes greatly to the cost. To emphasize the nad-built nature of the cars, CEO Andy Palmer prefers to refer to the robots as "assistors," as they are there to help skilled craftsmen assemble a car and not the other way around.
Aston Martin does not offer a breakdown of the cost to build its cars, but it is not hard to figure out why it costs as much as it does. The company builds about 6,700 cars each year and employs just under 2,500 employees. That means you get 2.68 cars per employee. For comparison, General Motors makes about 6 million cars each year and employs 167,000 people, putting its ratio at closer to 35 cars per employee. When you further consider how many highly skilled workers Aston has to craft the hand-stitched leather and wood veneer trim, among other things, it would not be a stretch to speculate that they are paid very well. It would also be easy to figure out where a large part of that cost goes.
Precision engineering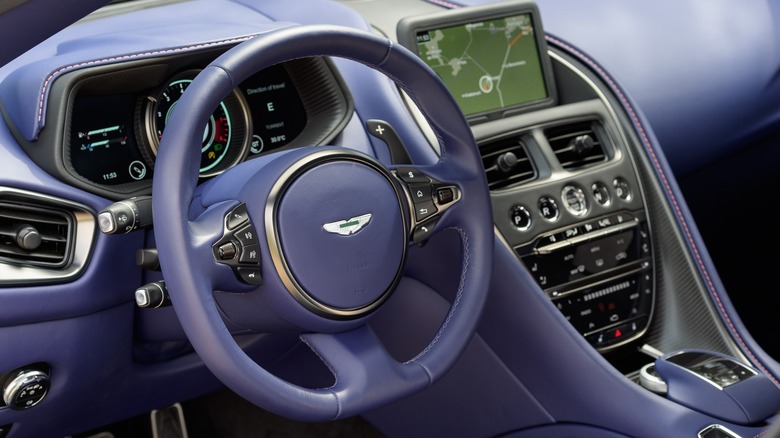 Luxury is a significant part of what makes an Aston Martin DB11 a desirable automobile, as well as such an expensive model. Yet, without the precision engineering that goes into not just the engine and transmission, along with components such as door hinges, convertible tops, power mirrors, and seat assemblies, an Aston might just be another car. Aston's talented and skilled engineers put in highly skilled work to make a car worthy of the Aston Martin badge.
For every single component that goes into manufacturing a car, engineers create the plans to manufacture it, and how a part is meant to be used on any vehicle greatly influences how it will be engineered. Employing precision engineering in vehicle development leads to improved component performance, utilization of advanced materials, versatile design, and innovation. This affects the performance level of any component.
The function of a hinge built for a Toyota is much different for an Aston. Furthermore, the high level of experience and performance of Aston Martin engineering makes the company an authority in automotive engineering, which it has developed into a service offered to a variety of clients seeking its Aston Martin Consulting division for expertise in design.
Aston Martin's engineers are also blessed with a state-of-the-art design studio, built in 2007 and equipped with the latest electronics and equipment to enable the creation of unparalleled excellence in engineering. This also represents a significant investment but delivers Aston Martin quality in the end.
Low-volume production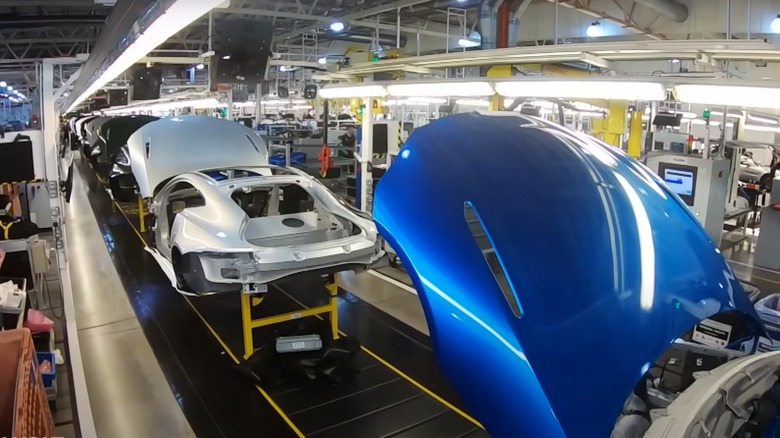 Cars manufactured by Aston Martin number in the thousands rather than the tens of thousands each year for a few easily deduced reasons. Most importantly, when a car is built and set to retail for $250,000 or more, few people can afford to buy one. Furthermore, elegant and powerful grand touring cars such as the DB11 are highly impractical for the majority of car buyers. Someone with three kids in the suburbs needing to get kids and gear to soccer practice would hardly be served well by a DB11. Therefore, Aston builds few cars compared to even small manufacturers of ordinary consumer models.
With low production numbers come higher costs. This all boils down to a basic economics concept known as economies of scale. The gist is that as overall production quantities rise, prices drop. The benefit to a manufacturer comes with bulk purchasing of individual components used to manufacture the car. In this way, a parts supplier can create a part, including the cost of development and any hardware needed, such as molds, into the cost per unit.
As the number of units manufactured increases, the fixed development costs are spread among more and more parts, thus reducing individual unit costs. Therefore, a single part such as a headlight assembly, which is relatively complex to manufacture, becomes exponentially cheaper to make when costs are spread among 200,000 units for a Toyota than for 1,000 for an Aston Martin. This is why the DB11 costs much more to purchase and why a replacement headlight, for example, is far more expensive than one for a Camry.
Meticulous paint process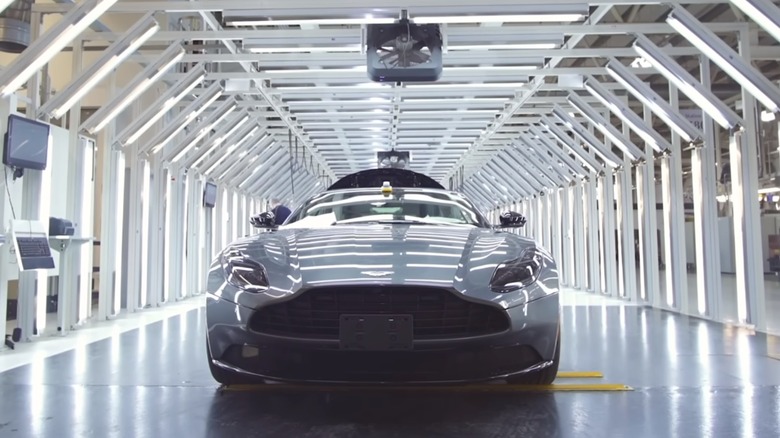 Each new Aston Martin DB11 comes painted in one of 36 available factory colors, although bespoke paint is available for customers willing to pay for it. The wide selection of colors is atypical for new cars. For comparison, a new Toyota Camry can be ordered in one of seven factory paint colors. Furthermore, the painting process is also more detailed and meticulous. The paint process at Aston Martin continues to be largely done by hand. Some robots and automation are incorporated, but nowhere to the degree of modern mass-produced cars that are painted entirely by machines.
The paint department that applies DB11 finishes is highly advanced, using cutting-edge equipment with highly trained painters mixing by hand and applying in several layers. The cost of pigments used in the paints contributes to the overall cost, as some colors can go for nearly $1,000 per liter. Each car receives two coats of colored primer with hand sanding for each coat, followed by two coats of paint before being finished with a coat of clear.
The final step of the process is polishing, also completed by hand, until the paint is working into a shimmering luster with zero imperfections. The quality control and monitoring process is ongoing throughout the process to ensure every car is flawless. Aston Martin spends about 25 hours painting each car and employs several people to complete each job. While all of this increases the price substantially, the finished product is of the highest quality possible and, some might say, worth every penny.
Superior quality leather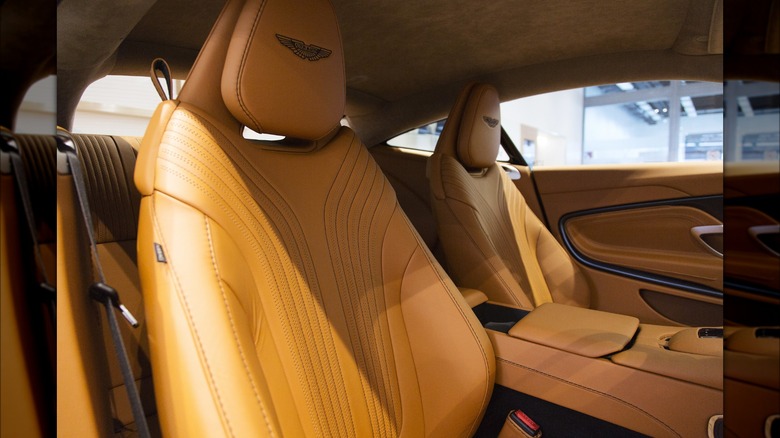 Of the many defining characteristics of an Aston Martin, the one with which drivers have the most intimate connection is the luxurious interior. The materials used to finish the inside of the car are of the highest quality, and once seated inside, you will see yards of fine leather surrounding you from every angle. Not only are the seats covered in leather, but so too are the door panels, dashboard, console, sun visors, various handles, and even the roof.
The trim shop of the Aston Martin factory is a blend of automated manufacturing and hand-built craftsmanship, just like the rest of it. Computer-controlled machines add detailed embroidery to hides, while others create intricate embossed patterns. When finished, hides are cut and assembled by hand before being fitted over seat frames and heading over to be installed in a new DB11. Up to 6,000 stitches can go into just the embroidered logo and a million stitches into a completed car.
The intensive labor is not all that makes the interior so pricey. The leather itself is of the highest quality available anywhere in the world. Sourced exclusively from the Bridge of Weir of Scotland, the leather upholstery comes from a tanner with roots in the 18th century and now provides leather to the most exclusive luxury automakers in existence. Using a combination of traditional techniques and modern processes, Bridge of Weir is renowned worldwide for the quality of its leather.
The 5.2-liter twin-turbo V12 engine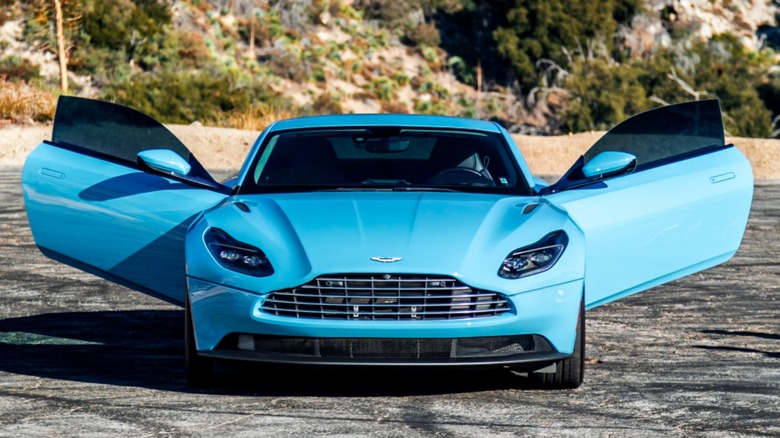 At the heart of each DB11 is a mass of metal alloys molded, machined, and assembled into one of the more powerful engines available today in a grand touring car. Like all good supercars, the DB11 comes with a V12, although it was also offered with a V8 starting in 2019. The V12 model is, of course, the more expensive model and the one that remains an object of desire, particularly for those who likely could never afford any version of an Aston.
Regardless of whether or not one can afford it, the V12 adds significantly to the overall cost of the car. It is built with incredibly sophisticated engineering and equally sophisticated components. The V12 uses dual overhead cams with a total of 48 valves, four per cylinder. Fuel is delivered by a multi-point fuel injection system and forced with air into the cylinder thanks to a pair of turbochargers. Those turbos are of the twin-scroll design, which splits exhaust pules from alternating cylinders to increase exhaust flow and reduce turbo lag. This type of turbo is superior but more complex and expensive — and the DB11 has two of them.
While the DB11's V12 adds the complexity and weight of a pair of turbo and associated hardware, it weighs only 33 pounds more than the previous naturally aspirated version thanks to the generous use of lightweight alloys and weight savings in the casting of the crankshaft and exhaust manifolds. The cost to manufacture the engine is not something the company publishes. But when considering all that goes into building this magnificent V12, it should become quickly apparent the extraordinary expense of this hand-built engine.
High-tech factory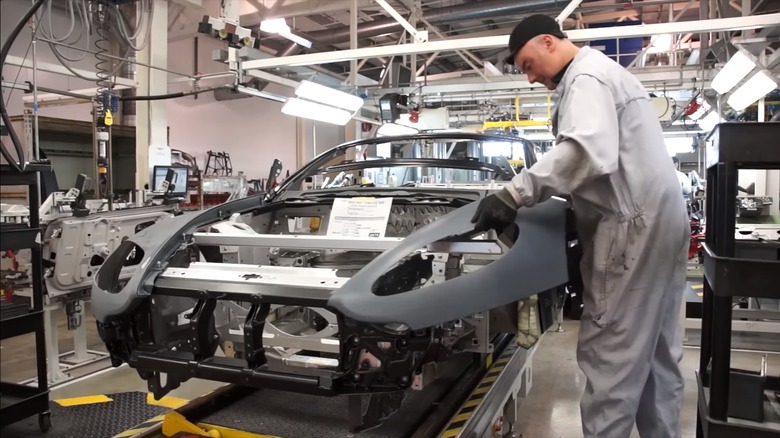 Hand assembly of Aston Martin vehicles should in no way suggest its factory is anything but a highly advanced technical facility. While the old days may have found a dimly-lit factory full of workers using old-fashioned tools to hammer out each fender of a car under assembly, the modern facility is a clean and bright example of high-technology working with skilled craftsmanship in harmony.
The headquarters and main factory are located in the U.K. in Gaydon. Some components are built on contract in other facilities, and the new DBX SUV is made at a new factory in Wales. However, the DB11 continues to come from Gaydon, benefitting from some of the most advanced auto manufacturing equipment in the world. Established in 2003, the Gaydon facility received an injection of capital to improve and modernize the factory floor in 2014 to the tune of $33 million. This added floor space and expanded opportunities for research and development but not for more robots and automation.
The exterior of the Aston Martin facility is not that of a typical factory. The modern architecture of the curved exterior walls makes visitors feel more like they are arriving at a modern estate than a place where cars are built. Despite the lack of rows of robots lined up down conveyor belts of moving cars, the Gaydon facility remains a cutting-edge facility that accounts, at least in part, for the high cost of the products exiting the facility each day.
Bespoke manufacturing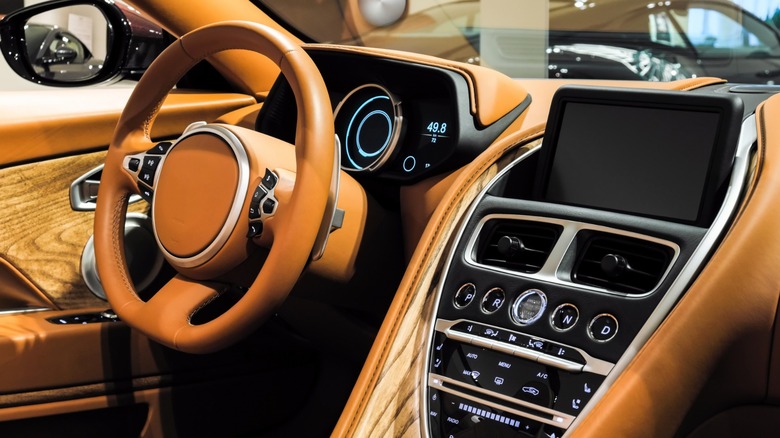 While a brand new Aston Martin DB11 ordered straight from the factory with any of several factory options checked on the order form can result in receiving a one-of-a-kind car dripping with exclusivity, for some, that is not enough. For these discerning buyers of ultra-luxury cars, Aston Martin provides its Q bespoke customization service.
Generally speaking, the concept of bespoke manufacturing, whether building a car, house, or watch, means no request is too absurd nor impossible, within reason. Customers who order bespoke Aston Martins expect a level of personalization that only the extremely well-heeled could be privy to. Aston Martin now offers this sort of bespoke manufacturing in two levels, both of which exceed the already generous customization of standard orders.
Q by Aston Martin: Collection offers a group of carefully selected customizations as a way to introduce customers to the world of bespoke automobile ordering, while Q by Aston Martin: Commission serves customers with the kind of sky-is-the-limit service where a customer can have practically anything they want, so long as they are willing to pay the price. However, customers of the latter service most assuredly can afford it.
Q by Aston Martin has no bearing on the price of a new Aston Martin. Only with a selection of custom-ordered options can the price even be assessed, and bespoke options only make one particular DB11 expensive. However, Aston states that using its bespoke service can add up to 30% to the price of an already very expensive car.