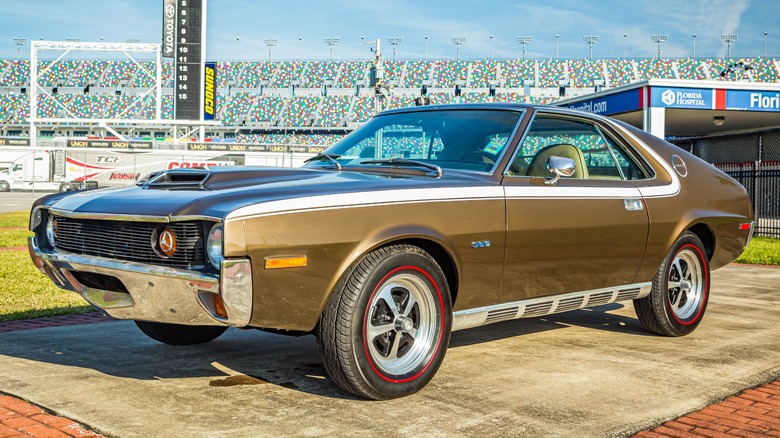 Any classic American muscle car is going to be something worth buying. Many of them can even be considered investments with appreciation a foregone conclusion. The astronomical growth of classic cars recently is as astounding as it is concerning. The upward trajectory of the rarest and most valuable cars puts upward pressure on the prices of lesser cars. This makes it harder for someone without significant means to get into classic car ownership. Whether owning a classic car is a good idea — it certainly is not rational — is a discussion for another day. The fact is that people love classic cars for many reasons and that American muscle cars are among the most popular.
The most desirable American muscle cars have always been the exclusive Mustangs, Challengers, etc. However, a 1967 Mustang GT350 can cost more than $300,000 and a Plymouth Hemi Cuda recently sold for an astonishing $4.8 million. With these prices, few people can buy them. Furthermore, each mile driven can devalue the car and a wreck would be a devastating loss. Since cars are built to be driven, buying one you can drive — every day if you so wish — is far better. For these reasons, it would be better to buy one without such extreme appreciation without being a dilapidated pile. For the daily American muscle car driver, these are worth every penny.
AMC SC/Rambler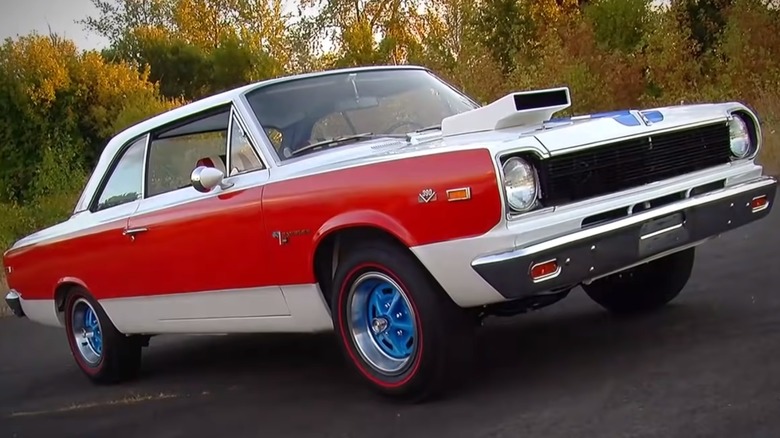 It is hard to get more American than AMC. The company was headquartered in Detroit and built cars in Wisconsin, and it was fond of the red, white, and blue colors that made up its logo. Several special editions were also proudly emblazoned with this color scheme, and this includes the 1969 AMC SC/Rambler. This vehicle used the rather ordinary Rambler econobox, known for being mostly no frills and sensible, stuffed with a big V8 engine and covered in bold American paint colors.
Perhaps most significant about this car is how much it was a departure from its foundation. While a Rambler would be a spartan and, frankly, slow six-cylinder car, this came with a 390-cubic-inch AMC V8 topped off with a four-barrel carburetor sending power through a four-speed transmission switched up by a Hurst shifter. To help keep the 315 horsepower car on asphalt, the suspension received heavy-duty shocks, anti-hop rear links, and a sway bar. To complete the package, drivers were treated to an 8,000-rpm Sun tach on the steering column while onlookers were greeted with a large functional ram air intake scoop on the hood.
With muscle car bona fides such as this, one might expect values to be soaring, especially given that only 1,512 were made in just one year. However, one sold recently on Bring a Trailer for $43,000 in what could only be considered like-new condition. Considering this is well within the price range of a new Ford Explorer, it should be an easy choice for the money.
Buick Grand National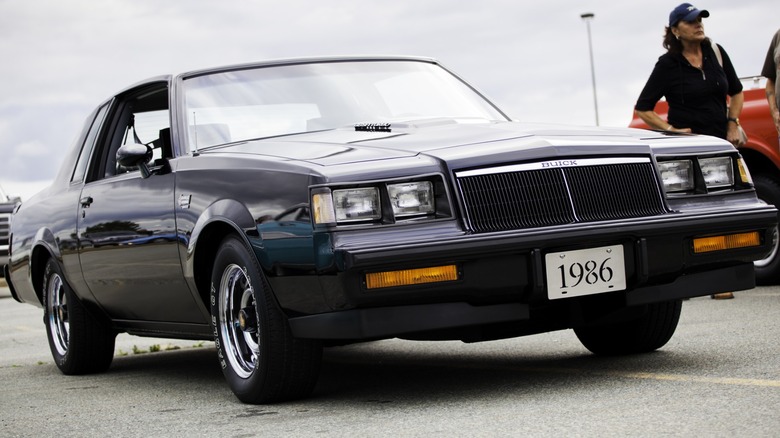 Buick has a well-earned reputation for building solid and comfortable cars for upscale buyers. They have always been slotted just below other luxury marques while offering attractive, yet often conservative styling for buyers who value a good ride and excellent comfort. Yet, when the company tinkered with its 3.8-liter V6 by adding a turbocharger to it long before turbos were commonplace, Buick created something altogether different.
With its dark and solid colors and lack of shiny chrome, the Buick Grand National arrived looking something more sinister than your average grandma car, something of a Buick staple. This car was ready to run the streets looking for cocky frat boys in Mustangs and show them was boss back in the '80s when it came out. The Grand National is powered by a sequential fuel-injected V6 aided by a Garrett turbocharger and intercooler, which boosts power output to a range of 235 to 275 horsepower, which is impressive by 1987 standards. It could run from 0-60 in 4.9 seconds, making its acceleration quicker than contemporary Corvettes and Ferraris.
The Grand National was a sensation in its day and has since become legendary. Prices are on the upswing, with some cars hitting auctions for close to $100,000, but others in excellent condition are still more reasonable. So, for about $50,000, you could get a sensible new Volvo wagon, or own a piece of muscle car history.
Ford Thunderbird Turbo Coupe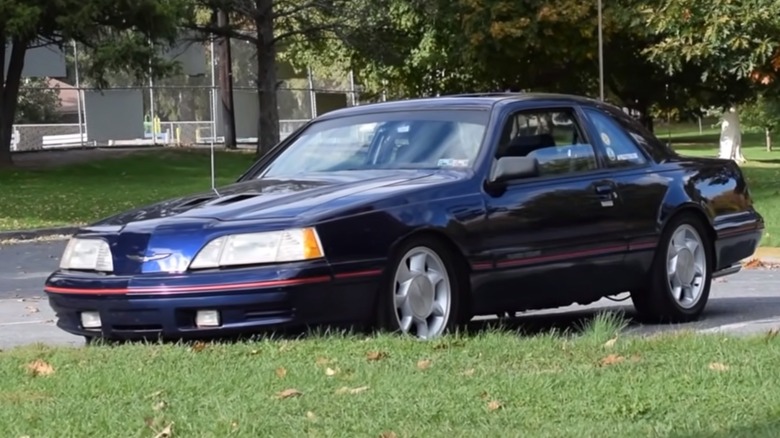 The 1980s are generally known for producing the greatest muscle cars. Power ratings had been greatly reduced from the golden era of the muscle car yet new technologies being incorporated into auto engineering showed much promise. This is how a personal luxury coupe with a four-cylinder engine could find itself within the realm of the muscle car. That car is the Ford Thunderbird Turbo Coupe. Manufactured from 1983 to 1988.
In an era when five-liter V8 engines barely mustered 200 horsepower, it was a significant achievement that Ford engineers sent the Turbo Coupe out of the factory with a 2.3-liter four-cylinder producing 190 horsepower at its peak. Thanks to a Garrett turbocharger with intercooler and sequential port fuel injection, the typically wimpy engine placed the Thunderbird into competition with Camaro, Mustang, and even Corvette. Furthermore, the interior of the car was refined, comfortable, and well-appointed. With supple and comfortable seats and an electronically controlled suspension, drivers could cruise comfortably with an option to stiffen the ride for spirited driving through the bends.
While the Turbo Coupe is an attractive car with a good ride that comes with many modern amenities, it remains low on the radar for collectors. That means those who desire a muscle car to drive and are okay with having modest power output can pick one of these up instead of a used Corolla. Recent sales on Bring a Trailer show excellent condition Turbo Coupes selling for around $10,000 with mint examples going for just over $20,000.
Buick GSX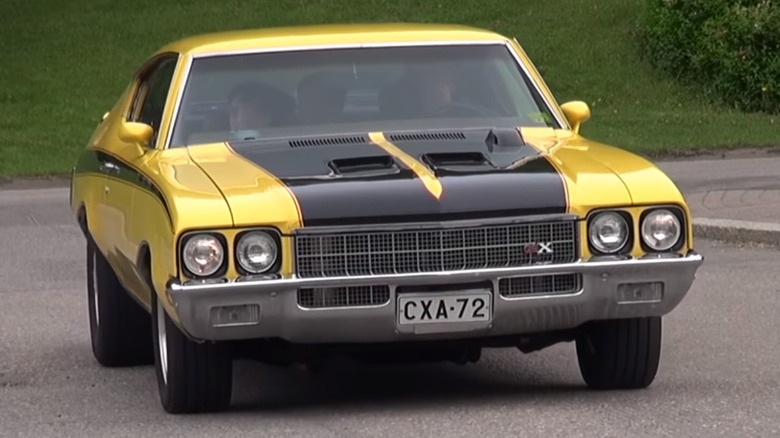 Back in the late '60s, every carmaker needed to have a high-performance car in its lineup to compete with the onslaught of muscle car competition at the time. Even staid and conservative Buick had to compete, and one of those cars was the GSX. Buick had its Skylark model on offer in the mid-'60s, and base models on the lot looked nothing like a car ready to tear down any drag strip. But when one received the Gran Sport treatment, all bets were off that it was meant to do anything but go head-to-head with Pontiac's GTO.
The Gran Sport option package culminated in the 1070 to 1972 GSX, a stand-alone model meant for performance. Buyers of this car received bold colors with GSX graphics, front and rear spoiler, bucket seats, hood tachometer, and high-performance engine and suspension. Powering the car was Buick's 455 V8 with up to 360 horsepower and a whopping 510 pound-foot of torque. The engine was fed air through functional dual hood scoops, sending cold outside air directly into the intake. Posi-traction on the rear end was standard along with sway bars and heavy-duty shocks. In short, the car looked aggressive and had the power to match.
While the GSX competed directly with the likes of the GTO, 'Cuda, Trans Am, and others, it has not seen the exponential increase in value of those models. Today it is not cheap, but given the choice of a new BMW M2 for around $60,000 and a perfectly restored GSX, it makes for a very difficult decision.
Studebaker GT Hawk R2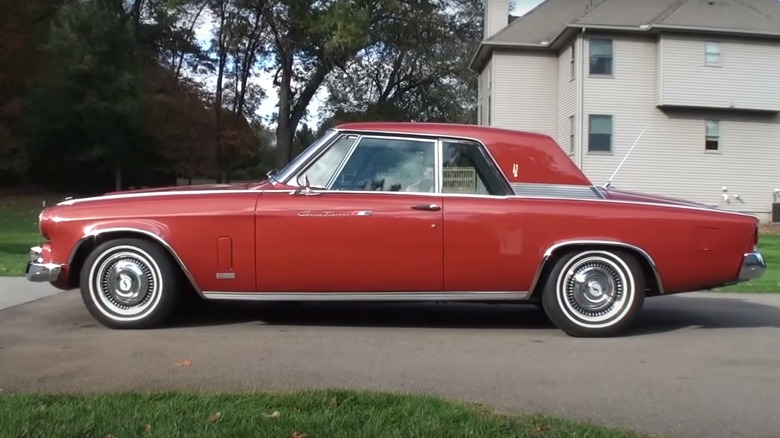 Studebaker was once a major player in the American auto market with many popular models competitive with anything else built at the time. Before the muscle car as we know it today became a big seller, Studebaker created a car with all the common attributes of a muscle car in the '50s, the Hawk. Available in six variants, the evolution of the model ended with the Gran Turismo Hawk. Even though most would call it a GT car rather than a muscle car, it is close enough.
The GT Hawk underwent a significant styling change for its 1962 debut, though Studebaker V8 power was still on tap. The styling, however, remained beautiful and featured sculpted and flowing lines from nose to tail. Most important was the optional R2 performance package. With this option, buyers received a 289 V8 with forced induction courtesy of a Paxton supercharger. This increased the horsepower of the 289 from 240 in naturally aspirated models to 289, a horsepower for every cubic inch.
Sadly, the GT Hawk did not last past 1964, and Studebaker was gone altogether a couple of years later. This makes GT Hawks extremely rare – only 1,484 were sold in 1964. You can find sold listings of many of the different Hawks on Bring a Trailer for between $10,000 to $20,000 in excellent condition. Even for the ultra-rare R2, one exceptionally nice example sold in 2023 for $56,500. That is not cheap, but it is the exception and far short of the $80,000 you could pay for a GTO of the era.
AMC Hornet SC/360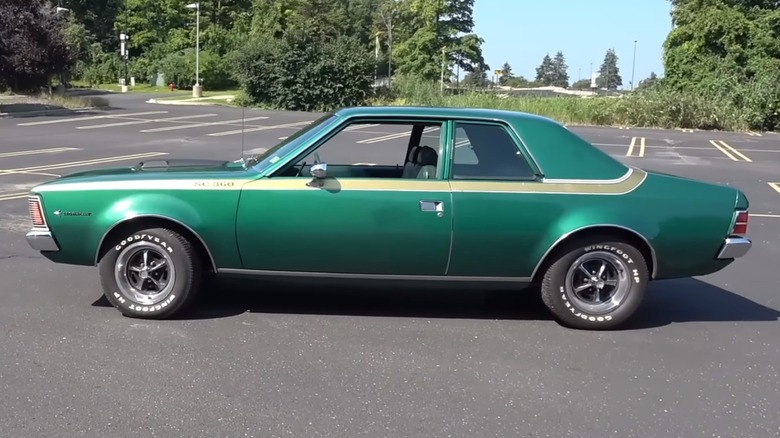 In 1970, if the AMC Gremlin was too small and you wanted to stick with the brand, the Hornet was the next step up, though it was still a compact car and rode on the same platform. The Hornet was always meant to be an economical compact for the masses. However, AMC proved it could be made with a bit more of a sting in the 1971 Hornet SC/360.
While the base engine for the Hornet was an inline-six, a 5.0-liter V8 was optional. However, neither of these engines was powerful enough to make this compact much of a muscle car. For that, AMC installed the engine that powered its Javelin and AMX muscle cars and created an interesting compact car with enormous potential. The AMC 360 shared nearly the same dimensions as its 304, making it an easy fit. The engine in the SC/360 produced 245 horsepower with a healthy 365 pound-foot of torque that paired with the small car to make it a little rocket. For even better performance, AMC offered its Go Package, which installed a two-barrel carburetor fed by a working ram-air hood scoop to up output to 285 horsepower. In this car of 3,200 pounds, that much power made it properly quick.
The SC/360 received mild styling modifications that could make it hard to spot among other Hornets. With only one year of production, only 784 were made, of which 304 received the Go Package. Despite this extreme rarity, prices are not completely unreasonable. Recent auctions have them selling, when they come up, for between $30,000 and $50,000, a relative bargain for being an original.
Oldsmobile Hurst/Olds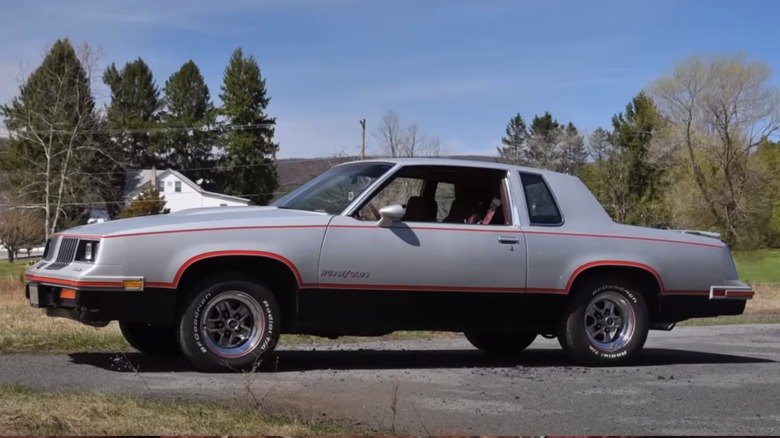 The Oldsmobile brand for a long time has had the image of building cars for old people. The image was so ingrained that the company launched its "This Is Not Your Father's Oldsmobile" ad campaign in the late '80s trying to broaden its appeal. Despite the fact that it was probably deserving of its reputation, Oldsmobile was quite capable of building fun and fast automobiles. A perfect example of this is the Hurst/Olds based on its popular Cutlass coupe.
Although the Cutlass was in production from 1961 to 1999, Oldsmobile teamed up with legendary racing shifter manufacturer Hurst for a special edition Cutlass produced intermittently from 1968 to 1988. Oldsmobile produced the initial cars with one of two 455 V8 engines, both with 390 horsepower and 500 pound-foot of torque, and an upgraded suspension from its 442 Cutlass model. The hood also had dual scoops to feed fresh air directly into the intake. Hurst provided special racing-style shifters and applied extra graphics, badges, and spoilers to complete the package. Sales took off immediately.
The Hurst/Olds remained until 1969, and then it would be produced every couple of years, updating specs along with the Cutlass model changes. The final iteration came with the 1983 to 1984 model, which had a 307 V8 making 180 horsepower, 40 more than a standard cutlass. It also received the wildest Hurst shifter, the Lightning Rods with three stalks that could be used to power shift down the strip. Though some of the early models can breach the $100,000 mark, later models can be had for under $30,000 and look way cooler than a new Mazda CX-5.
Mercury Cougar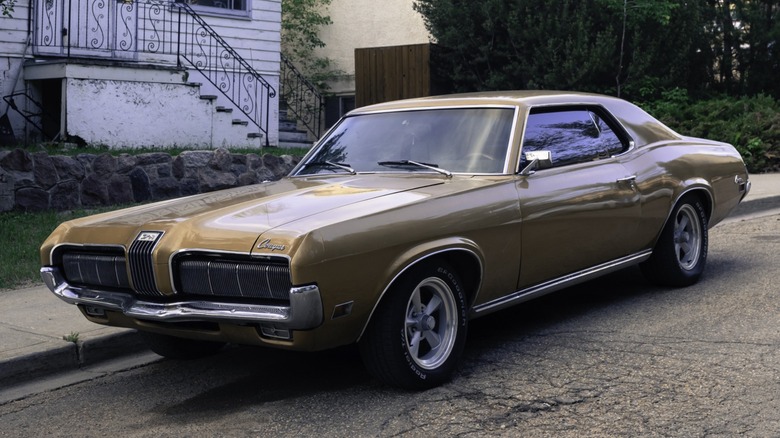 While Ford's Mustang is the perennial center of attention among American sports car enthusiasts, its Mercury Cougar cousin should always get another look. Specifically speaking of the first generation, which is built on the same platform, the Mercury Cougar from 1967 to 1973 is an upscale and more comfortable version of the pony car available with just as much punch. However, it is not just the same car with different adornments, the Mercury is slightly larger and its overall dimensions make it a completely different car.
Marketed as a luxury sports coupe, the Cougar offered buyers the brute force of Ford's powerful V8 engines with a more refined ride and nicer interior. Furthermore, the Cougar styling is unique and somewhat more elegant, and the first generation's defining feature is the disappearing headlights, a fan favorite. The initial Cougar was a successful model, possibly aided by the choice of engines, including four engines ranging from 289 to 429 cubic inches. The second generation saw that cat get a little larger, further expanding the idea of sports luxury, again offered with a range of powerful engines, though power declined as 1973 approached and EPA regulations sent horsepower ratings into freefall. In 1974, the Cougar became a twin of the much larger Thunderbird.
When buying a classic Cougar, it is possible to shell out a ton of cash on one of the special edition cars, such as an Eliminator 428 Super Cobra Jet. But as long as you have more modest tastes, you can pick up an extremely nice example for less than the price of a new Nissan Sentra, which is $21,745 and a lot less fun.
Dodge Demon 340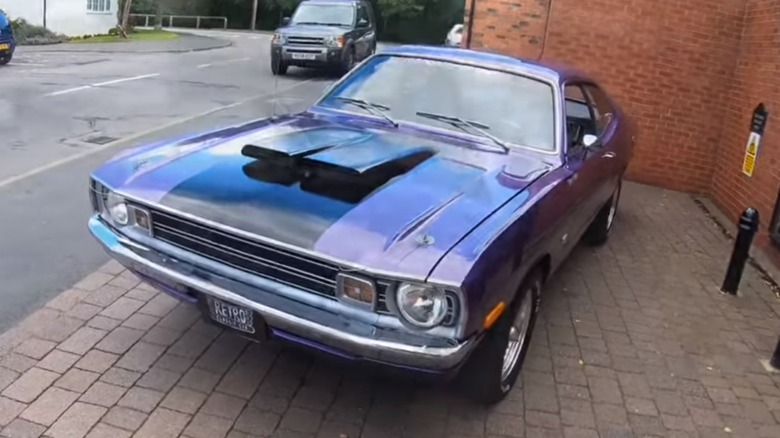 One of Dodge's latest products making headlines for the incredible amount of horsepower it comes with from the factory is the Dodge Challenger SRT Demon. However, you may not know this is not the first one to come from Dodge. Long before the supercharged tire shredder was created from the Challenger, the Dart was used as a basis for another version, the Demon 340.
Produced from 1960 to 1976, the Dart was an incredibly successful model for Dodge. While most Darts sold were ordinary cars, some of them were offered with healthy V8 options. Although HEMI engines had previously been offered in the Dart GTS, they were dropped by 1970. The next year, Dodge released a special version of the Dart called the Demon 340. This could be ordered with a choice of engines, including the Slant Six and one of two V8s. With the biggest engine option, the 340 V8, the Demon had 275 horsepower on tap and it came with a colorful and whimsical paint scheme, complete with a pitchfork-wielding cartoon demon.
While the Demon 340 is not the absolute powerhouse of the modern version, it did come with more than enough power to have some fun in the small car. Furthermore, the graphics and colors made it unique and memorable, which could cause it to be a hit with a modern classic car meet. With only two model years, 1971 and 1972, they can be hard to find. When found, they can be had for a range of about $25,000 to $50,000, which is far less than a new one.
Mercury Comet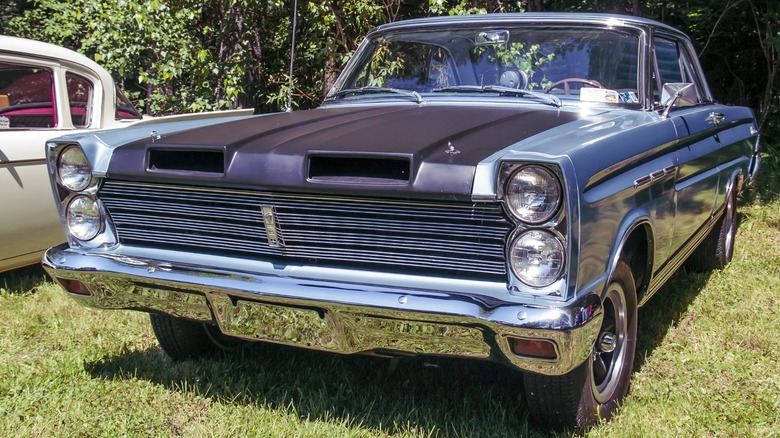 When discussing classic American muscle cars, the Mercury Comet probably does not come up all too often. That is unfortunate because it is an overlooked contender. With its roots in the failed Edsel brand, the Mercury Comet started as the first foray into the compact car segment for Mercury and ended up an intermediate with big power potential.
The first generation is a plucky little car with lots of rounded corners and accents that stem from the burgeoning space age design of the time. It originally only came with a six-cylinder engine, but Mercury eventually gave it a V8, then moved it to a bigger platform that would later allow for big block power. Beginning in 1966, Comets shared a platform with the Ford Fairlane, moving it into the intermediate segment. This allowed for several body styles, and, more importantly, big engines. The top Comet option package was the Cyclone GT, featuring a big 390 V8 that produced 335 horsepower.
Buying a Comet today brings a lot of choices and decisions. The early small cars look fantastic, but could hardly be called muscle cars due to the weak engines. However, one could also engine swap for a fun little cruiser. Later models are true American muscle with added amenities from being upscale versions of Ford, making them very desirable options. That said, a few of them get into a range near $100,000, but others offer classic car ownership for as little as $6,000. This makes it a good car for novice buyers and collectors alike.
Ford Torino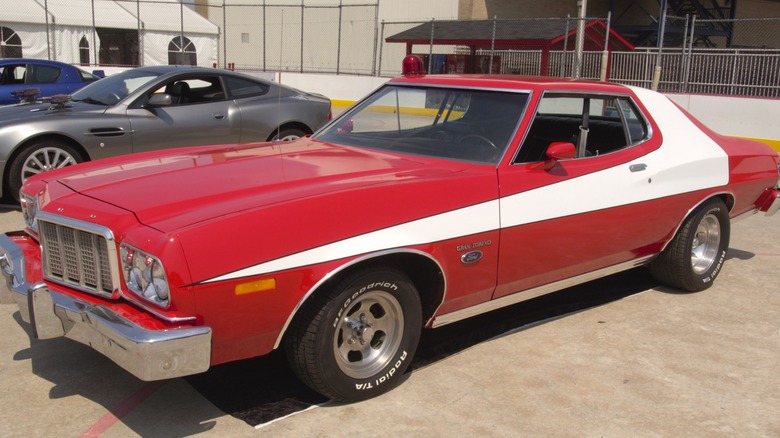 Ford replaced its long-running Fairlane model in 1969, introducing the all-new intermediate Torino. With body style options available for coupe, fastback, sedan, and wagon buyers, the Torino was meant for a broad base of buyers. And while one could be ordered as an ordinary family car, big engine options available could make them into something with more potential.
The Torino went through several styling changes from 1968 until 1976 when the model was retired. A choice of any one of them can make for an excellent muscle car, although those made after 1973 will have markedly less power in stock form. More importantly, the best body style is the fastback if you want classic muscle car form and function. Engines range from the 302 V8 available with the debut year model, and options for larger plants include 351, 390, and for peak horsepower, the 428 Cobra Jet.
The truth of the Torino is that all of them are classic American muscle cars that are easy on the eyes. Many of those with high-performance engine options include functional hood scoops that increase power while adding to its sporting pedigree. Furthermore, these cars have been cemented into pop culture thanks to the popular TV show "Starsky and Hutch," with its familiar red-with-white accent paint scheme, as well as the Clint Eastwood movie "Gran Torino." Best of all, if you steer clear of the Cobra Jet models, you can find these on Bring a Trailer easily for under $20,000, although big spenders have Torino options, too. One good-condition Torino sold for $10,500 while another mint Cobra Jet went for $85,970.
AMC AMX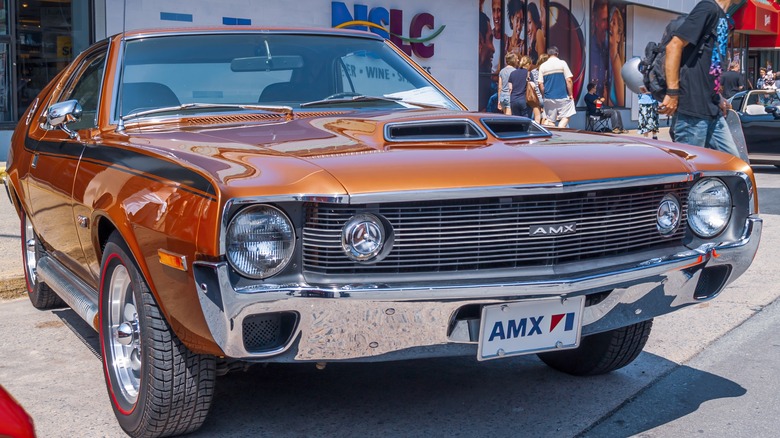 As one of the last independent automakers, AMC was always creating unique products, usually making more from fewer resources than the competition. Though it had some limitations, it did not let that stop it from developing enough horsepower to keep up, especially during the muscle car heyday. Perhaps the best example of its horsepower efforts is the AMC AMX.
The AMX pony car differentiated itself from all of the competition by only allowing for two occupants. This gave it a short wheelbase and sporting credentials, but may have turned away a few buyers in the showroom. Nonetheless, it was a striking car that came with four V8 engine choices: 290, 343, 360, and 390. Peak horsepower came from the 390, which offered up to 315.
Even with good performance, great handling for the era, and attractive styling, AMC was unable to sell even 20,000 units, exponentially fewer than any of the competition. This model only lasted for three years, and the AMX name became an option package for the Javelin beginning in 1970. Thus, fewer AMX cars are available today. However, they have not appreciated as much as some contemporary muscle cars. Few sales of them on Bring a Trailer break the $40,000 mark, while many can be had for a bit more than a new Corolla.