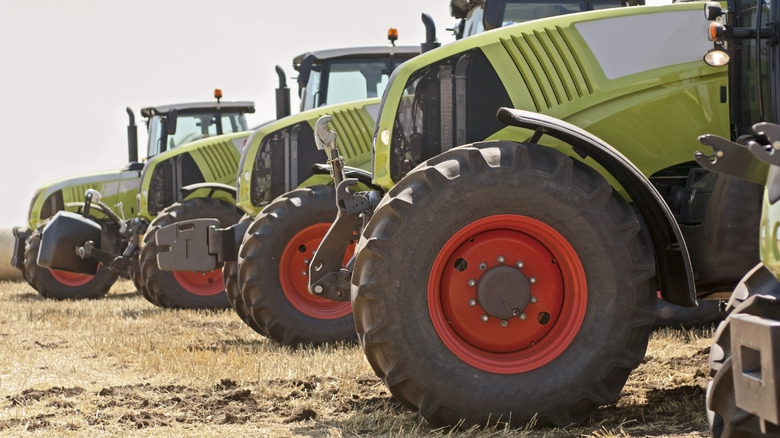 Tractors are expensive. It's fairly common to see one go for much more than the price of a standard car and not terribly uncommon to see one go for as much as an exclusive Lamborghini. In terms of size, some of these things are downright massive, which helps explain their cost. Tractors are used for a wide variety of things from farming to construction, although their most common use is agricultural. These machines do a ton of work and are expected to last for a long time. 
Finding an expensive tractor is a fairly easy task, as they're almost all expensive. However, finding the most expensive involved going and looking at a lot of configurators since there are so many on sale from so many competitors and they can get up there in terms of cost. To save some space, we consolidated a few of the options below. For instance, there are four variants of the Fendt 800 Vario. Instead of listing them individually, we kept the whole family intact and ranked the selections based on their least expensive variant.
Finally, there are three widely discussed tractors that won't be on the list. The first two are the 1910 Marshall Colonial Class C Tractor and the 1913 Case 30-60 Antique Tractor. Their prices are $535,000 and $1.47 million, respectively, but those are auction prices and we were looking more at tractors you could buy today. Additionally, we'd like to pay homage to the 747 Big Bud, an iconic tractor that cost a reported $1.3 million. It's a one-of-a-kind tractor that costs more than any other on the list, but it is a custom-made tractor.
12. Fendt 800 Vario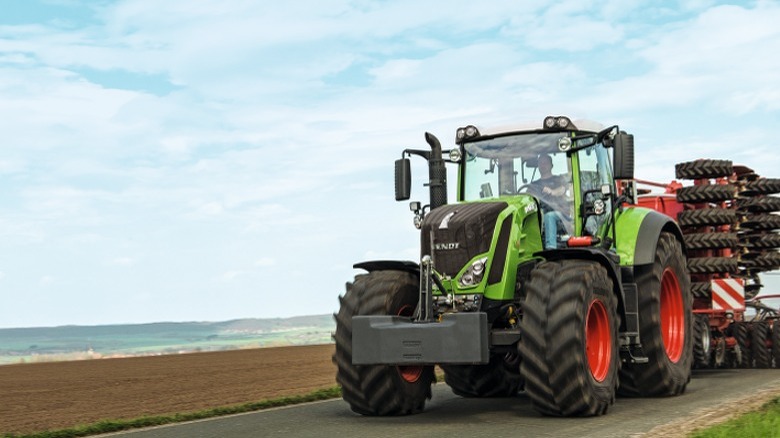 The Fendt 800 Vario is an expensive family of tractors that includes the 822, 824, 826, and 828 models with varying amounts of horsepower. They start at around $391,433, according to its configurator, and that's before adding any additional equipment. At the top end, the 828 models start at $444,804, again, without any additional equipment. With all of Fendt's various options, the 828 model can top out at roughly $480,000. That's pretty impressive, although it pales in comparison to some of the other tractors further down the list. 
Fortunately, anyone considering buying one is in for a treat, at least on paper. The engines range from 226 horsepower to 287 horsepower, depending on which variant you get. When properly equipped, it has a variety of smart sensors like the company's VarioGrip tire pressure regulation, automated steering, and automatic radiator cleaning when you get the reversible fan. A picture of it might not invoke feelings of excess, but this thing takes up the whole road when it decides to go on one. It's a huge tractor. 
The Fendt 800 Vario series tractors are on sale as of this writing and you can configure and buy one today. They're big, burly tractors capable of doing all sorts of jobs on the farm. You also get a massive number of sensors, telemetry data, and a three-year, 3,000-hour warranty to cover any manufacturer defects. There is also a warranty extension option that covers up to eight years and 8,000 hours if you decide to go for it, but it's relatively expensive. 
11. Massey Ferguson 8700 S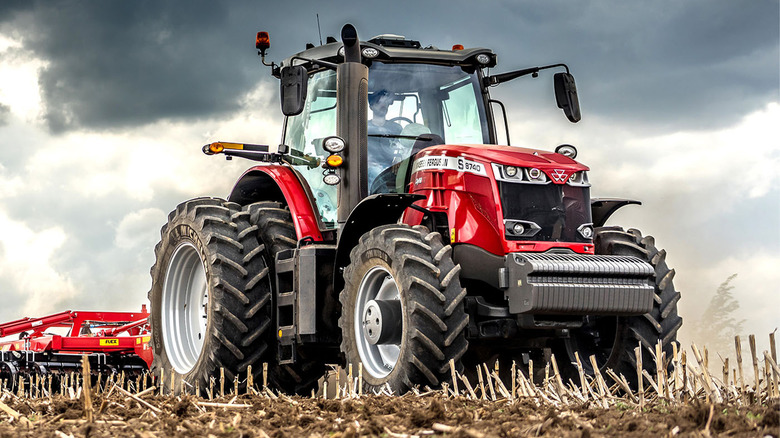 The Massey Ferguson 8700 S series of tractors is another tractor that'll start you out at $399,957 for the base 8727 S before any options are applied. There are approximately $85,000 worth of options available, and that can balloon the price of one of these well up to over $600,000 if you opt for the 8740 S, which is the most powerful model in the lineup. 
The engine size changes based on the model you pick up. On the lowest end, the 8727 S packs a 240 hp engine, while at the top end, the MF 8740 S has a 370 hp engine. All models have a variety of options available to them along with some pretty nice standard features. 
So, what makes the MF 8700 S worth its money? Massey Ferguson boasts a 10.8-ton weight, which is lower than many of the competitors while also still delivering excellent horsepower. Like most, you get tons of sensors and telemetry data, and that always costs extra. One of the big features offered is Dynamic Tractor Management, which automatically controls the engine and transmission to maintain forward speed without losing power. These smart features cost a lot, especially on a massive tractor. 
10. AGCO Challenger MT900-series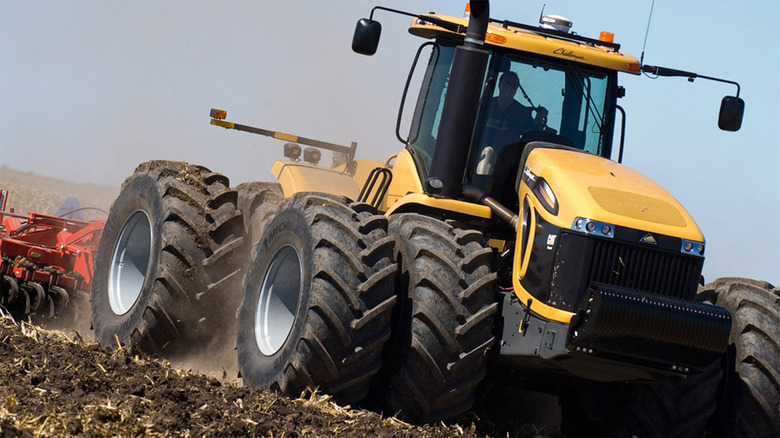 The Challenger MT900 series tractors are currently the largest tractor in AGCO's lineup. Its price tag starts at around $400,000 before any additional options are added. AGCO, the tractor's maker, still builds these things to this day. You can build one using the brand's configurator on its official website, although it is a little difficult to find. The MT900 series are articulated tractors and come with a variety of configurations. However, their specs are fairly similar regardless of the overall configuration. 
On paper, this thing is a spec giant. It comes with a 16.8L, 12-cylinder diesel engine capable of outputting 600 horsepower. That gives it enough power to handle basically anything you need on the farm. Like most modern and expensive farm equipment, it also comes with an array of sensors that take all sorts of telemetry data for the operator to use for better operation. 
The modern 900MT series from AGCO still employs a number of tricks for longevity, like a higher sustained torque curve that keeps the engine operating at a lower RPM to extend engine life. They also include a satellite navigation system to help steer the tractor with its Auto-Guide feature. The cheapest variant is the MT955E while the most expensive is the MT975E. 
9. New Holland T8 PLMI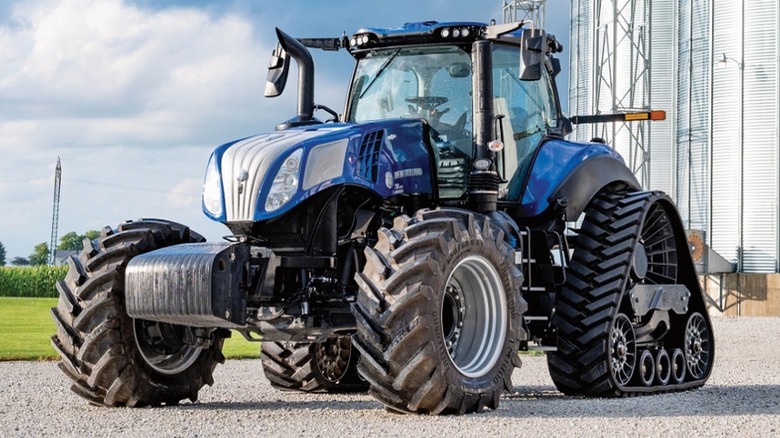 The New Holland T8 PLMI is a series of tractors that can cost quite a bit. It starts at the low end with the T8.320 PLMI AC at $431,968 and ends with the top tier T8.435 PLMI UC for $651,189. Unlike most tractor companies, which have less than half a dozen variants per model, New Holland produces 14 models of the T8 PLMI — seven UC models and seven AC models. Four of those are also SmartTrax models. The SmartTrax moniker means that the rear wheels are replaced with rubber tracks like the Quadtrac 600 or the Fendt 1100 Vario. 
Also unlike many other tractors, the differences between the variants of the T8 are quite sizable. Each one has a different engine while the SmartTrax models have unique triangular rear tracks instead of wheels. Some models also have a dual wheel setup on each corner while some only have one. The base T8.320 gets a 320 hp engine while the top model T8.435 maxes out at 435 hp. Each one comes with a 18x4 Ultra Command Full-Powershift transmission except the top model, which has a 21x5 Ultra Command Full-Powershift transmission. 
Along with the internals, operators can expect a well-appointed cabin with plenty of tech to both track and control the tractor. New Holland says models with the SmartTarx half-track can expect 325% greater ground contact than with a standard tire, which is a fairly genius upsell. It's a modern tractor capable of doing a ton of work, but you'll have to pay for it. 
8. Case IH Steiger Quadtrac 600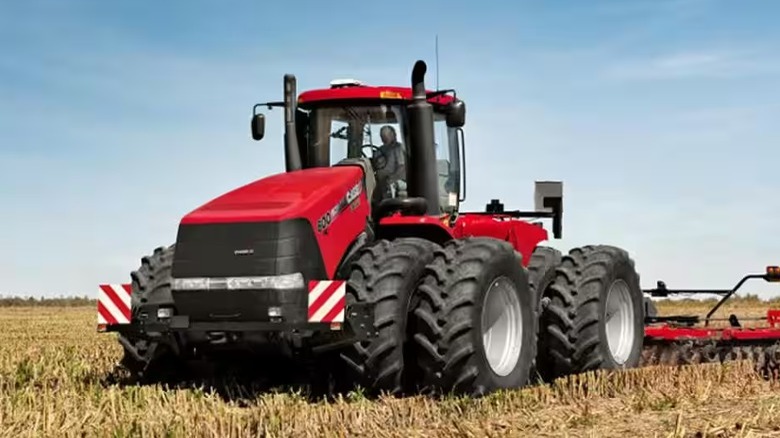 The Case IH Steiger Quadtrac 600 is a big machine with a big cost. It runs for about $440,000 in its base configuration and scales up to just over $750,000 for the top model. The Quadtrac, unlike most tractors on this list, uses four independent rubber-track assemblies instead of wheels which adds a layer of uniqueness to the Quadtrac series. There are five models in the Quadtrac lineup, including the Steiger 400, 450, 500, 550, and 600. 
The difference between the five models is mostly engine performance. The smallest boasts 497 horsepower while the largest nets you 649 horsepower. Otherwise, the transmission, most of the features, and most of the options are the same. They all get the rubber tracks, which offer their own pros and cons to standard wheels. For example, it causes less soil damage and soil compaction than similarly sized tractors with regular wheels. The tractor's four-wheel drive system and other features make it a decent companion when the weather is bad. 
Case IH still sells the Steiger Quadtrac series tractors to this day. They are mighty expensive, and they are mostly used to pull other farm equipment. In 2014, the company's Quadtrac tractors were the strongest serial tractor in the world, for which it was given an award at the Agritechnica trade show in Germany. Like many tractors, it also includes a number of advanced guidance systems that help you keep your tractor in line while you drive, so you're getting some neat tech as well. 
7. John Deere 9R series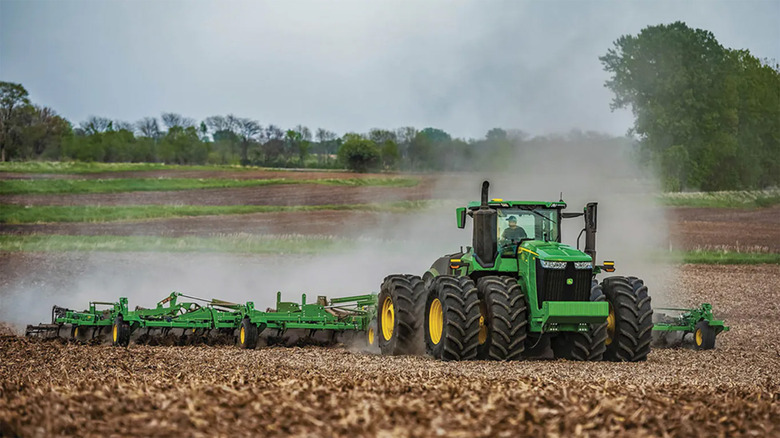 This is where we cross the boundary into tractors that cost at least half a million dollars for the base model. The John Deere 9R series tractors come in four flavors: the 9R 390, 9R 440, 9R 490, and the 9R 540. For the 9R 390, you're looking at $526,920, while the highest-end 9R 540 costs $644,113. Those prices are without any options or add-ons, which can get pretty expensive. For example, the Ultimate Comfort and Convenience Package from John Deere adds $3,673 for some upgrades to the tractor seat and sound system.
The various models of the John Deere 9R are separated by little more than their engines. The 390 model comes with a 429 max hp engine, while the highest-end 540 comes with a 594 max hp engine. John Deere prides itself on having a comfortable, reliable tractor and while owners may have differing opinions on John Deere's quality, nobody can argue with the number of optional extras you get. In addition to a large number of convenience packages, the John Deere 9R comes with the company's ActiveCommand Steering, tons of tech, and even extra storage for beverages. 
Where John Deere gets you in terms of price is with its extra options. With some quick calculator math, it's pretty easy to balloon the price of any John Deere 9R by well over $100,000. While it doesn't get up to its more luxurious stablemates, the 9R is certainly not a cheap tractor by any stretch. It is, however, quite powerful. 
6. Fendt 1050 Vario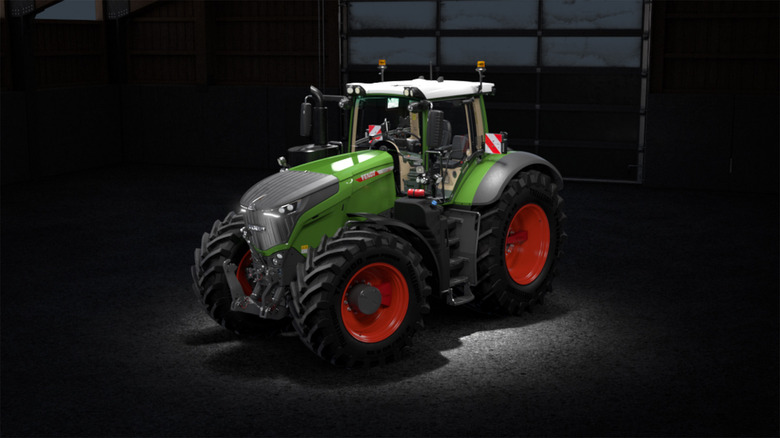 The Fendt 850 Vario is already quite expensive, and its larger, more powerful sibling is definitely up there as well. The base model of the Fendt 1000 Vario series tractors starts at $578,823 while the 1050 model goes all the way up to $655,743. They are quite similar to the 800-series tractors but with an even stronger selection of engines along with some extra tech tossed in for good measure. The brand boasts plenty of power, excellent controls, and very good networking capabilities for the 1000-series. 
At the heart of these tractors is a selection of engines that start at 396 horsepower and go all the way up to 517 horsepower. It also includes some high-tech gadgets, such as the Fendt iD low engine speed system that keeps the engine squarely in its torque range to deliver good power with less fuel consumption. Additions include a reversible fan that helps clean the radiator, a self-cleaning air filter system, and the option to use Michelin tires instead of the stock Trelleborg. 
These things get even more expensive when you add options. For example, the VarioGrip Tire Pressure Regulation System, which keeps the tires at optimal air pressure for maximum fuel economy, will set you back $22,584 on the 1050 model. If you load it up with all the available upgrades, you're looking at well north of $720,000. Believe it or not, that's not even close to the highest price on the list. 
5. John Deere S700 Combine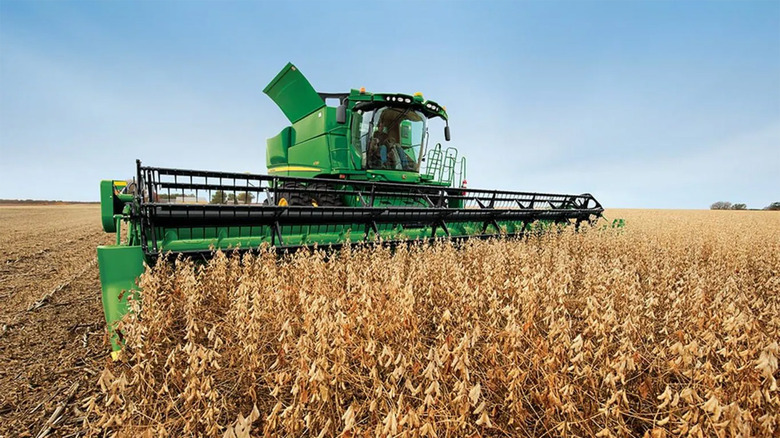 The John Deere S700 Combine is technically a lineup of combines, but it can still get rather expensive. There are three models of the S-series combine, and the base model runs for $608,353 on John Deere's configurator. The highest-end model, the S790 Combine, costs $759,813. In addition to the base price, there are over $100,000 worth of extras. Many of them are similar to what you see on other John Deere tractors, like the Ultimate Technology Package which upgrades the in-cabin tech, and G5 Plus upgrades for better connectivity and smart features. There are also some combine-specific extras like extra attachments to harvest different types of crops.
Like most tractors, the primary difference between the models is their engine power and — in the case of combines — crop capacity. The S760 sports a 333-horsepower engine with a 250-gallon fuel tank and a 10,600-liter grain tank size. At the top end, the S790 kicks it up to a 543-horsepower engine, a 330-gallon fuel tank, and a 14,100-liter grain tank size. Every model can come with the harvesting attachments of your choosing so you can harvest beans, corn, rice, or other crops with it. 
For a lot of money, one would expect a lot of tech. Fortunately, the S-series combines from John Deere deliver. It comes with a few different screens that display various types of data, including things like residue build-up so you can make adjustments on the fly. The CommandARM console can set two different speeds for harvesting and transport to reduce engine RPMs and help maintain the engine better. In short, you get a lot for your money. 
4. Fendt 1100 Vario MT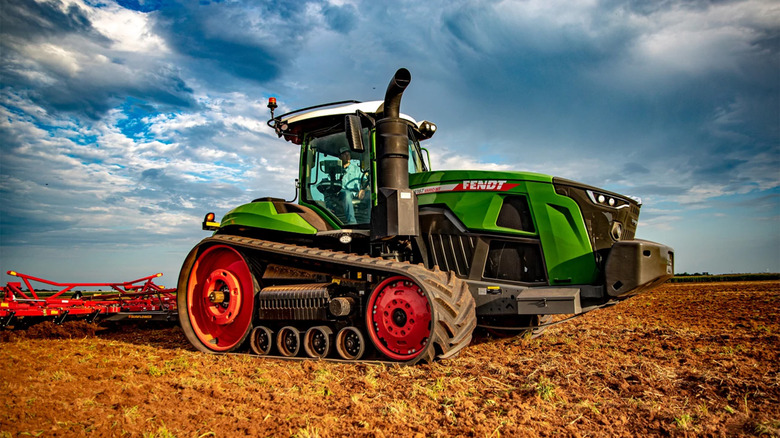 There are already two Fendt tractors on the list, so let's finish the brand strong with its biggest and most expensive option, the 1100 Vario MT. There are four models of the 1100 series Vario MT – the 1151, 1156, 1162, and 1167. The base 1151 model starts at $705,565 while the top-of-the-line 1167 will cost you $820,647. These are the highest-end tractors that Fendt makes, and it's not just because of the price. The engine, the features, and the sheer power are all best in class. 
There are four engine options with the four tractor models. The base model gets a 511-horsepower engine that matches the power of the top-tier Fendt 1000-series tractor. At the top end, the 1167 Vario MT is rated at 673 horsepower. Unlike the 1050 model, the 1100 models all run on a rubber track instead of traditional wheels. It promises excellent traction and its 118-inch wheelbase allows for a ton of surface contact. Much like the Case IH Steiger Quadtrac, the rubber track reduces soil pressure, which leads to less damage and less compaction. 
Some of the other features include a Cat 5 drawbar that can be reduced to a Cat 4 if needed for whatever equipment needs to be hooked up. For tech stuff, Fendt promises the VarioGuide system that helps you control the tractor at night or in bad weather conditions. It also comes with plenty of sensors and telemetry data to allow for peak optimization. It had better be good, too. Fully optioned out, 1167 models can go for north of $900,000.
3. Versatile DeltaTrack tractors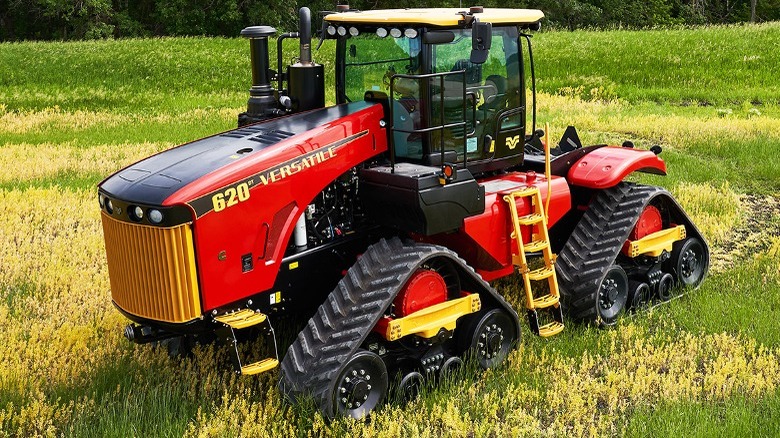 The Versatile DeltaTrack tractors, better known as the DT series of tractors, are expensive and capable. There are three models of the Versatile DT — DT530, DT580, and DT620. The base model starts at $743,480 and the top model costs $824,922. Those prices are with the 30-inch tracks. Those opting for the 36-inch tracks can add approximately $17,000 to the base price. The tractor has the paint job of a children's toy, but you'll never not be able to see it in the dark. 
These tractors come with the usual engine differences depending on the model. At the low end, it houses a 530 hp Cummins X15 engine with a peak horsepower of 583. The 620DT comes with the same Cummins X15 engine but tuned up to do 616 horsepower with a 665-horsepower maximum. The entire lineup also uses triangle-style tracks instead of wheels. These give the same advantage as the other track-style tractors on the list, including more surface contact, resulting in less soil damage and compaction. The cab is thoughtfully designed and there is plenty of tech for monitoring and optimizing the work it's designed to do. 
Like other tractor brands, you can really balloon the price if you add options. We used Versatile's configurator and managed to bump the price of the DT620 to a solid $939,128. However, you have to dial in all the luxury and usability features to get it that high, and most people likely won't do that. 
2. John Deere 9RX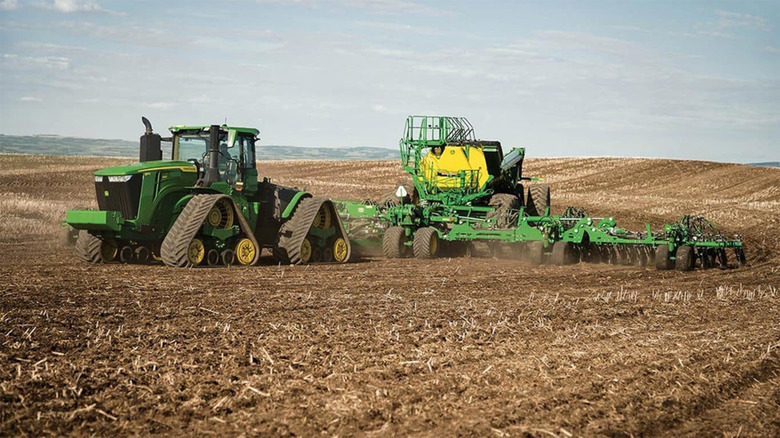 John Deere makes the list again with its 9RX series of tractors. They are essentially upgraded versions of the 9R tractor, which is already quite expensive. There are four models of the 9RX just like the 9R, including the 490, 540, 590, and 640. The base model 9RX 490 starts at $774,825 while the top model 9RX 640 prices out to be $902,124. Both prices include the required $1,900 destination charge. 
The numbers in the model number also tell you how much horsepower the engines make. So, for example, the 9RX 540 model is rated for 540 hp, and you can extrapolate the other models from there. However, unlike their 9R brethren, these tractors use tracks instead of wheels on all four corners. The benefit is that there is a larger contact area, which causes less soil damage while giving the operator good traction. 
Like most other John Deere tractors, you can increase the price to near-comical levels by adding as many of the extras as you can. Between the attachments and the options, you can get one of these to right around a million dollars fully decked out. In terms of available features, the 9RX is very similar to the 9R with a lot of the same options. Those include ActiveCommand Steering alongside various comfort and luxury packages. This is John Deere's top-of-the-line tractor, at least in the traditional sense. 
1. John Deere X9 Combine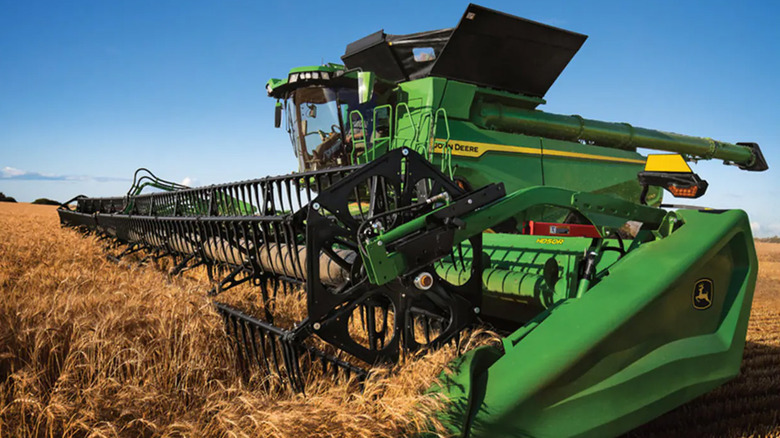 The John Deere X9 Combine is one of the most expensive tractors you can buy. There are two models in this lineup, and they are the X9 1000 and the X9 1100. The X9 1000 starts at $936,113, while the X9 1100 rounds the million-dollar corner and costs $1.079 million. Both prices include the required destination charge. It took us a while, but we finally crossed the million-dollar mark on a tractor that wasn't an antique sold at an auction. Technically speaking, these are combines, so they're not your typical tractors, but seeing seven digits is worth the compromise. 
There isn't a huge difference between the two models. The X9 1000 has a 549-horsepower engine, a 330-gallon gas tank, and a grain tank size of 14,800 liters. For an extra $150,000, the X9 1100 has a 603-horsepower engine, the same 330-gallon gas tank, and a 16,200-liter grain tank size. While they may seem similar, the higher horsepower and larger tank size can make a pretty big difference if you have a lot of crops to harvest. There are also attachments available for a wide variety of crops, including corn, beans, and rice. 
John Deere maintains its large list of options and attachments even for a product that already costs more than most homes. It's quite easy to increase the price of an X9 1100 to over $1.1 million with the variety of tech and attachments available. Some of those enhancements include enhancements specifically for harvesting rice, a much higher capacity than the brand's S790 combine, and more technology than you can shake a stick at. It's a monster, no doubt about it.