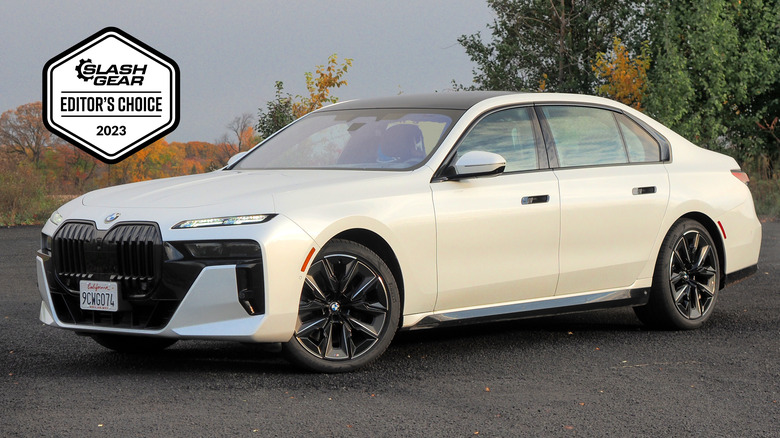 The automotive world isn't short on upstarts promising the pinnacle of luxury, but when it comes to wafting with heritage, there are just a few car companies that fit the bill. A mainstay of BMW's lineup since 1977, the 7 Series is the flag bearer for Bavaria's most cutting-edge cosseting and gadgetry. For this seventh generation, that meant loudly beating the electrification drum in the shape of the capable BMW i7. Where, then, does that leave its gasoline counterparts?
While BMW will happily sell you a fully-electric 7 Series, the foundation of the range remains sedans like this 760i xDrive. Big, burly four-doors with big, potent internal combustion engines to play with. And, for that matter, their overarching strategy hews closely to that of the original E23 7 Series nearly five decades ago.
Luxury, according to that tried-and-tested recipe, means performance, refinement, technology, and serious presence. Oh, and the price tag to match. 
Design is subjective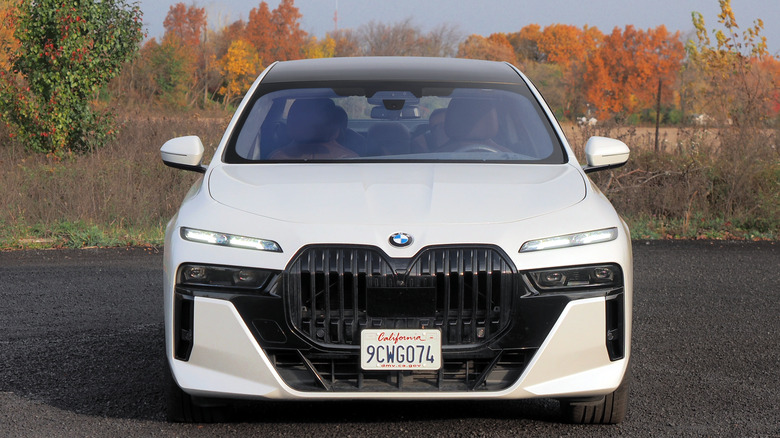 The latest generation of the 7 Series certainly has presence, though whether you'd describe it as "handsome" is a thornier question. BMW's oversized grille doesn't actually look so ostentatious on a sedan this size, though the angular sculpting of the 760i's fascia then contributes its own reasons for contention. I'm still not entirely convinced by the split headlamps, with daytime running lights segmented away from the low and main beams.
The combination of this particular car's 21-inch M Aerodynamic black wheels ($1,300), Mineral White metallic paint, and the M Sport Package Pro with its extended Shadowline trim do nothing to disguise the overall scale, and leave the front looking a little like BMW's take on the handlebar mustache. BMW does, at least, have a selection of colors that don't begin and end in sober gray tones.
There's a rather fetching Aventurin Red metallic on offer, for instance, along with the ever-pleasing Frozen Tanzanite Blue metallic that commands a $5,000 premium for its matte finish. Or you can go even more ostentatious with a $12,000 two-tone paint option, paired perhaps with a set of glossy-finish silver wheels.
Plenty of power, plenty of thirst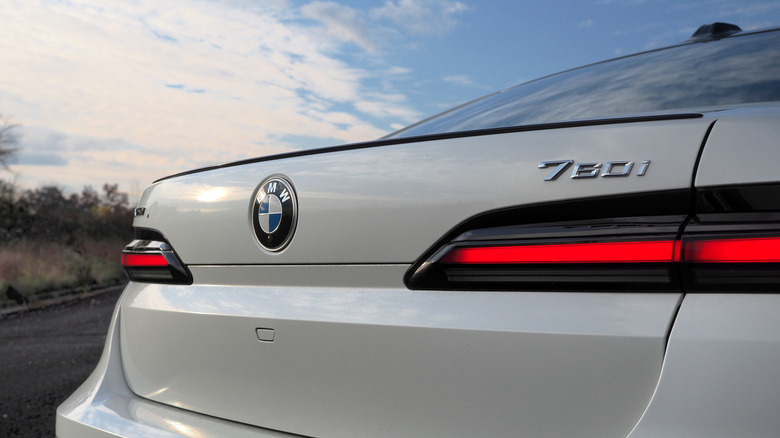 The most affordable version is the 740i (from $96,400, plus $995 destination). That gets BMW's 3.0-liter TwinPower Turbo inline-six gas engine and rear-wheel drive — it's good for 375 horsepower and a 5.2 second run from 0-60 mph. The 740i xDrive commands a $3K premium for adding all-wheel drive, and trims the 0-60 mph dash to 4.9 seconds in the process.
This 760i xDrive, meanwhile, kicks off at $121,300 for the 2024 model year, and gets a 4.4-liter TwinPower Turbo V8 and all-wheel drive as standard. Power nudges up to 536 horsepower and 553 pound-feet of torque, enough to cut the 0-60 mph time to 4.1 seconds.
Top speed is 130 mph by default, or 155 mph with the increased top speed limiter (that demands performance tires, too). BMW says you'll see 21 mpg on the EPA combined test cycle; that may be so, but you'll need a light foot for it. 
An eight-speed automatic transmission is standard, as is a 48V mild hybrid system that borrows otherwise-wasted power to smooth out the stop/start system and run other things. BMW does offer a 750e xDrive plug-in hybrid, starting at $107,000 with a total of 449 horsepower from its inline-six gas engine and electric motor combo. 
Its electric-only range will be low, compared to the all-electric BMW i7, though drivers do get the flexibility of either recharging or filling up the gas tank.
Tech-loaded, but not screen overloaded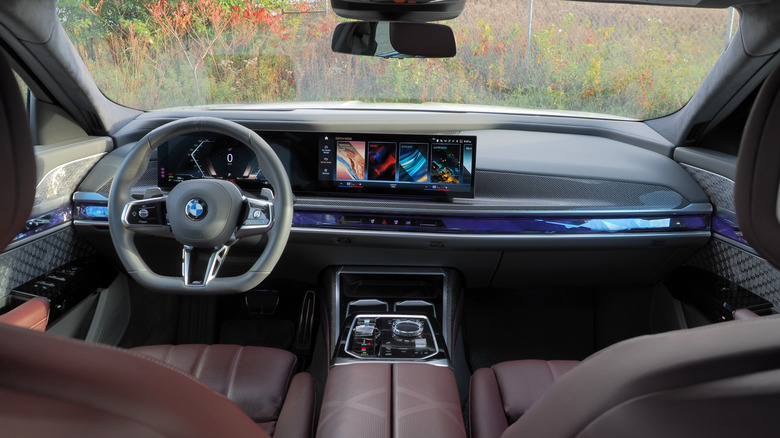 The exterior may be divisive, but it's hard to argue with BMW's cabin. The 7 Series eschews some of the big screen excesses of its rivals, with a couple of big displays atop the dashboard that — though hardly small — don't feel so ostentatious or outlandish as, say, the MBUX Hyperscreen in a Mercedes S-Class. Dubbed Live Cockpit Pro, it consists of a 12.3-inch driver display alongside a 14.9-inch infotainment touchscreen. For the 2024 model year, that's upgraded to iDrive 8.5.
As with the outside, there's plenty of scope to change the tone of the 760i's interior with dark, bright, or sporty color and trims. Here, M Sport interior elements add metallic weave-like gloss panels to the dashboard, above a color-changing ambient light bar and patterned metal door inserts. 
The Amarone full Merino leather almost errs into oxblood territory — no bad thing, frankly — while the crystal detailing of the seat controls, iDrive controller, and other switchgear adds some glitz. Alternatively, you could go brighter and lighter, or even opt for one of BMW's exceedingly pleasant leather/cashmere combinations.
$4,800 gets you the excellent Bowers & Wilkins audio system upgrade, while the $5,450 BMW Individual Composition package unlocks a wider array of trim options. Then there's the $3,700 Executive Package, with front massage seats and surprisingly useful power doors. 
An embedded 5G modem with Wi-Fi hotspot support is standard, as is a heated steering wheel and front seats, Panoramic Sky Lounge LED roof — with interwoven lights — and wireless Apple CarPlay and Android Auto support.
The back seats are the place to be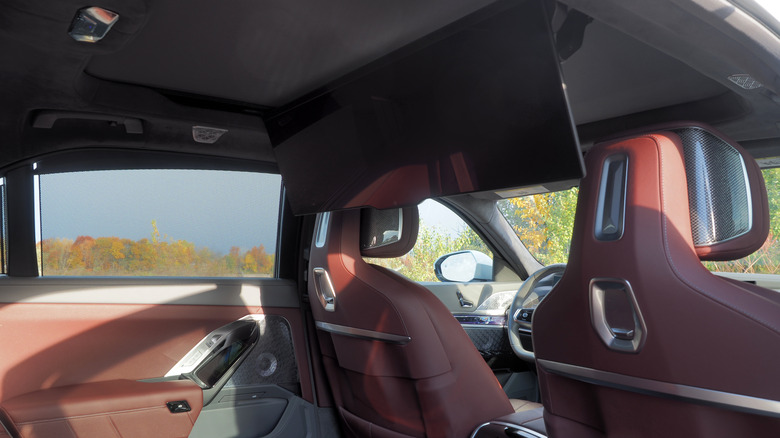 It's the rear, though, where the fun and games truly begin. As standard, the 7 Series comes with a three seat bench back there, with plenty of legroom, but it's tough to imagine a car like the 760i leaving BMW's Dingolfing, Germany production line in its default configuration.
The $3,000 Luxury Rear Seating Package adds multifunction seats and massage, but it's the $7,250 Rear Executive Lounge Seating Package where things get especially lavish. That separates the outboard seats with a fold-down extended console, with the passenger-side rear seat offering both airline-style recline and a footrest. It's not a full lie-flat bed, but it's definitely comfortable.
While you're lounging, you can watch BMW's faintly ridiculous Theater Screen, a 31-inch 8K resolution ultra-wide display that folds down from the roof and has native Amazon Fire TV streaming support. Or, you can plug in any HDMI source. It's controlled either via touch, or by the smaller touchscreens built into the doors that also control the seats, phone, lighting, climate, and blinds.
Smooth, refined, and mighty fast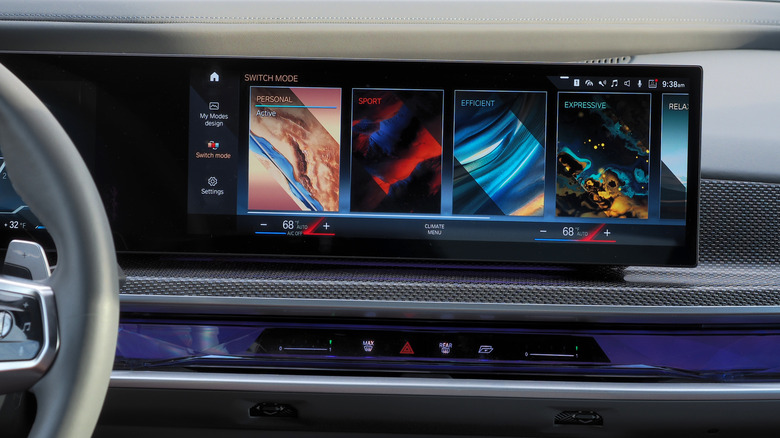 The driver, of course, doesn't get such distractions. Happily, there's fun to be had with the 760i that doesn't rely on vast displays, namely the twin-turbo V8 lurking under the lengthy hood. While the 7 Series may be intended as a limo first, 536 horsepower is hardly lacking when you're not in the wafting mood.
Air suspension is standard, along with adaptive dampers. Rear wheel steering shrinks up the 760i's turning circle, which is noticeable (and appreciated), as well as lending greater stability during higher-speed maneuvers (which is, to be honest, less noticeable). Like other big, plush sedans, the 7 Series glides with what can only be described as a general disconnect from the road beneath it.
Select Sport mode — which isn't just a single drivetrain setting, but somewhat confusingly changes the whole theme of the digital system — and everything that once delivered that floaty detachment from the asphalt tightens up appreciably. 
It may not be electric-instantaneous, but peak torque landing at just 1,800 rpm (and the transmission's willingness to hustle down through its ratios when provoked) means the 760i never feels sluggish. Instead, you simply surge forward with a big cat's warning growl as the soundtrack.
It'll handle corners, but let's be realistic here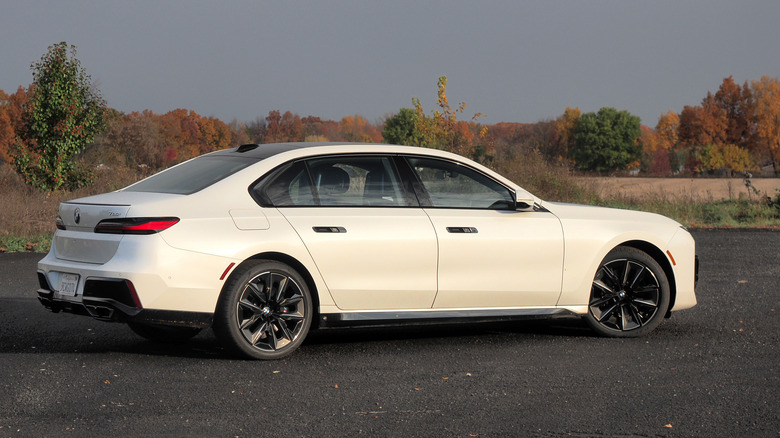 This is not a traditional sports car experience, you'll likely be unsurprised to hear. Even at its most aggressive settings, the 760i's steering is light and lacks feedback. It's not imprecise, more that it feels blithely indifferent to what's going on in the greater world around you.
Even making allowances for the 7 Series' size and weight, it handles impressively. The $3,600 Autobahn Package helps, there, with its Active Comfort Drive with Preview system — that scans the road ahead and preemptively fettles the dampers to suit — along with Active Roll Stabilization promising more level handling in the corners. Sadly, BMW discontinued that package for the 2024 model year 7 Series.
BMW's standard safety package is generous. The 760i gets Active Driving Assistant with frontal collision warnings and active blind spot detection, park-assist and Back-up Assistant, and warnings if you're about to throw open the doors into an oncoming car or bicycle. Parking Assistant Professional can learn your common reversing maneuvers — like backing out of a carport or garage — and have the 7 Series replay them.
The BMW i7 looms as the shape of the future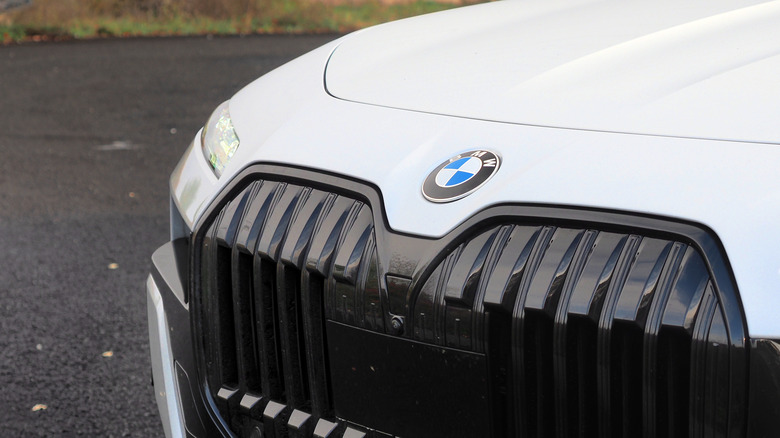 As smooth, as refined, and as effortless as the 760i makes driving, though, it's impossible not to compare it to its all-electric sibling. The BMW i7 may not suit every driver — you'll need access to charging, to work within its roughly 310 miles of range, and it commands a price premium over the comparable gas-powered 7 Series — and yet there's no avoiding the fact that electrification is better suited to luxury duties than internal combustion.
The 760i's gear-changes are syrupy and almost imperceivable, but the i7 lacks them altogether. The gas sedan's heapings of torque arrive liberally, for a steam train-like surfeit of acceleration, but the EV's entire power reserve drops instantaneously. While BMW's cabin is so hushed that the murmur of the twin-turbo V8 barely intrudes, it still can't compete with the distant thrum of the dual electric motors.
It's a conundrum that BMW has — bravely, perhaps — run into head-on, where rival automakers have pushed direct comparisons further down the line. Mercedes, for example, draws a clearer divide between the S-Class and the EQS Sedan; Audi doesn't even have an obvious EV counterpart to the A8, yet.
BMW 760i Verdict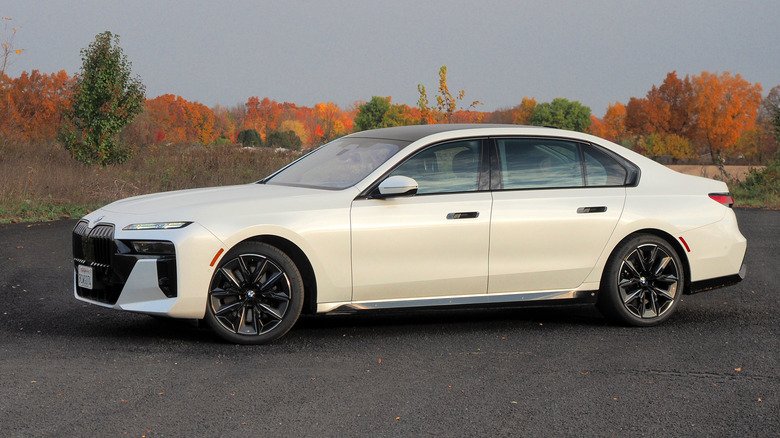 The future of luxury seems destined to be all-electric. That's not to say cars like the 760i have no place in the meantime, however. BMW's twin-turbo V8 may not be quite as serene as its dual electric motors are, but we're talking refinement measured in degrees here.
Largely, though, the gas-powered 7 Series shares most of the strengths — and the foibles — of the electric version. And, like with the i7, the main fun in the 760i is to be had in the back. BMW's combination of an expansive cabin, plush seating, and lashings of gadgetry leave the 7 Series an exceedingly pleasant place to spend a road trip. The experience from behind the driver's seat isn't exactly bad, but though spritely when it needs to be, this big Beemer doesn't match its smaller siblings like the 5 Series for maximum engagement.
Nor does it need to. As a vessel for the pinnacle of BMW's technology, not to mention a darn fine backseat to find yourself occupying, the 7 Series delivers on its remit. It also commands a hefty premium, particularly once you've had your way with the options sheet: This particular car totals almost $150K all-in. Regardless of whether it's gas or electric, the reality is that catching a ride in the cutting-edge is always going to be expensive.