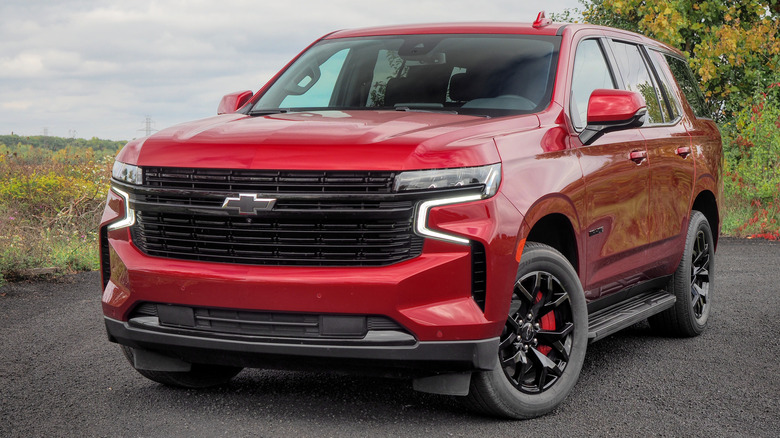 Chevrolet doesn't quite describe it as such, but you could certainly see the 2023 Tahoe RST Performance Edition as cop cosplay. If you've ever glanced at the menacing SUV poised in the center of the highway and thought "I wish I could drive that" (rather than "wait, was I going over the limit just then?"), the fact that this consumer truck is heavily inspired by the Tahoe Police Pursuit Vehicle, or PPV, could be quite the selling point.
Coaxing more speed out of the 6.2-liter V8 is the start, quickly followed by a law enforcement-spec suspension and wheel upgrade. Burlier brakes, trim-specific dampers and stabilizing, and a louder exhaust all add their talents, finished off with a unique style package. With the fancy Radiant Red paint and a couple of other extras, the SUV you see here is $79,510 (plus $1,895 destination).
That's not cheap, but then again the market for big SUVs has arguably never been fiercer. Question is, though, does Chevy's cop-copy hold up with a civilian behind the wheel?
Lower and meaner than the average Tahoe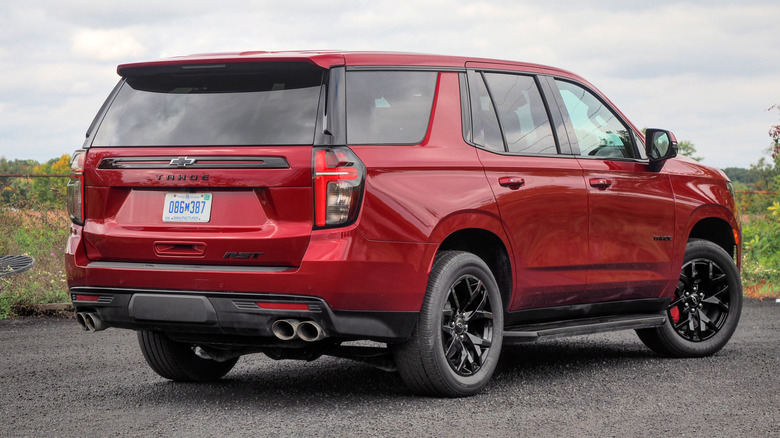 To the Tahoe's outsized dimensions, Chevrolet adds some moody accoutrements. Black grille detailing goes nicely with the LED headlamps and split-pin daytime running lights. The RST Performance Edition package includes — in its $8,875 price tag — 20-inch high-gloss black wheels shod in 275/55R20SL blackwall Firestone Firehawk Pursuit all-season rubber, and they match the rest of the glossy exterior trim well.
There's a power tailgate, though it seems a little wild that a 360-degree camera isn't standard across the board on an SUV of this size: this one gets it, but lesser Tahoe trims miss out. The same goes for Adaptive Cruise Control — standard, just for context on a $24,100 Honda HR-V — which on the Chevy is an option included in the RST Performance Edition package. The excellent hands-free Super Cruise system isn't available at all.
You do, though, also get blind spot warnings and lane change alerts, rear cross-traffic alerts, and enhanced automatic emergency braking added to the Tahoe's standard front pedestrian braking, lane-keep assist, and forward collision alert. Front and rear parking sensors are also standard, as is a following distance indicator. Plant your right foot, and that indicator will flash pretty darn quickly as you rapidly close in on the vehicle in front.
Speedy in a straight line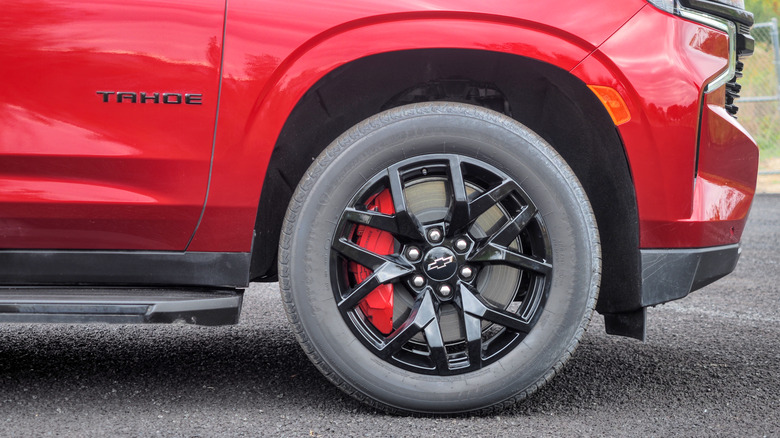 The Tahoe RST is certainly capable of speed, though it's best applied judiciously. With the 6.2-liter V8 upgrade — a $2,495 option — the standard 5.3-liter V8's 355 horsepower and 383 lb-ft of torque is cast out in favor of 433 horsepower and 467 lb-ft. That's a lot of power to play with, even with a 5,553 pound curb weight to propel.
Going fast in a straight line is a given, then: 0-60 mph arrives in under six seconds, something which feels even more impressive given the small-apartment-block heft of the beefy SUV. It's not so much a sense of acceleration as it is gathering momentum, though you could argue that's where the RST's biggest challenge presents itself.
Look, Chevy has done a lot to make sure this particular Tahoe stays with all four wheels on the asphalt. The 4WD version is mandatory, while a mechanical limited slip differential and Stabilitrak are standard. The RST Performance Edition package adds the High Capacity Suspension Package and heavy-duty front Brembo brakes.
Your brain knows all that, but if your body is anything like mine then the urge for self-preservation will kick in early. The idea of hurling a big, tall SUV like this around corners, on public roads at least, feels like borderline madness. The fact that the Tahoe RST dives under aggressive braking and (even with a firmer suspension tune) rolls somewhat more than you might expect are hardly reassuring either.
Firm focus is certainly a choice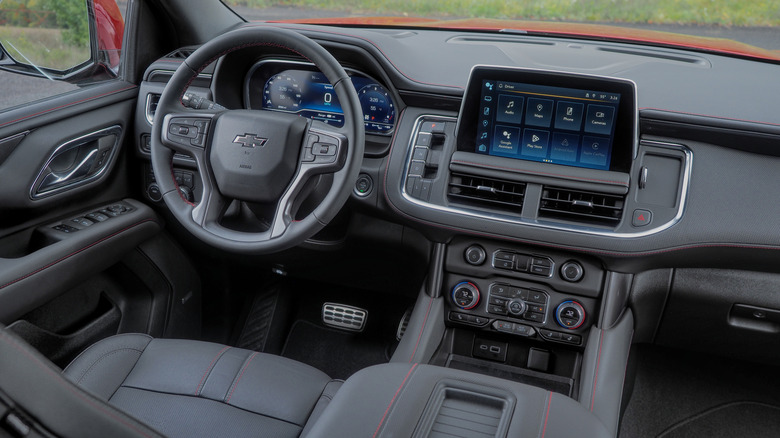 The net result is that, while the 2023 Tahoe RST is clearly capable of speed, I didn't find it all that much fun to drive fast. At least, not in the way you'd look forward to flogging a more traditional sports car.
If you have access to an off-duty airport runway, sure — floor it. Highway overtaking maneuvers are a doddle, even if slower traffic will often pull aside preemptively once the Chevy's gloss black grille begins to dominate their rear view mirror.
In urban settings, even once you've grown accustomed to the Tahoe RST's scale — it's 81 inches wide without counting the mirrors, not to mention almost 211 inches long — the firmer suspension won't let you forget the options you checked on Chevy's order sheet. It leaves the big SUV feeling a little unsettled on anything bar smooth surfaces. Sadly, though the High-Performance Suspension Package is slightly lower (per police-spec), the Magnetic Ride Control option on other Tahoe trims can't be added here.
Plenty of space for people, pets, and cargo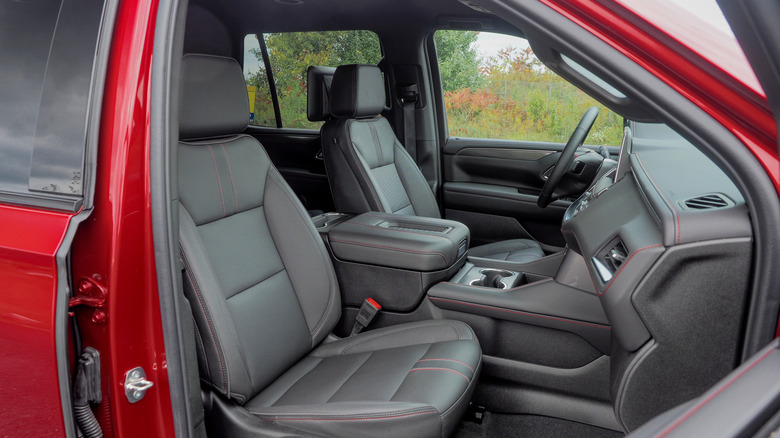 The Tahoe's cabin is spacious and well-equipped, even if there are places where Chevrolet's technology is showing its age somewhat compared to rivals. There's certainly no shortage of room across all three rows, as you'd expect for something with these dimensions. The third row has a 60/40 split and power-folding, as part of the RST Performance Edition package, and that also adds a heated steering wheel with power adjustment, and second-row "bucket" seats (that feel a whole lot like regular captain's chairs: nice, but not offering a particularly noticeable uptick in support).
The RST gets leather-clad heated front buckets as standard, along with tri-zone climate control. A 9-speaker Bose audio system, wireless phone charging, and Chevrolet's Infotainment 3 Premium system on a 10.2-inch touchscreen with wireless Apple CarPlay and Android Auto are also standard features. 
The $1,995 Rear Seat Media System adds a pair of 12.6-inch touchscreens for the second row, though a couple of iPads and some third-party mounts might be more flexible. Either way, they can tap the Tahoe's baked-in OnStar 4G WiFi hotspot, assuming you've coughed up for the data plan.
Chevrolet's infotainment system is easy to navigate, and baked-in Google apps are welcome, but the screen looks dinky perched atop the Tahoe's dashboard. Here's hoping the next-gen SUV gets a sizable screen upgrade to match the big panels offered on other GM models recently.
Other Chevy dashboards feel more tech-savvy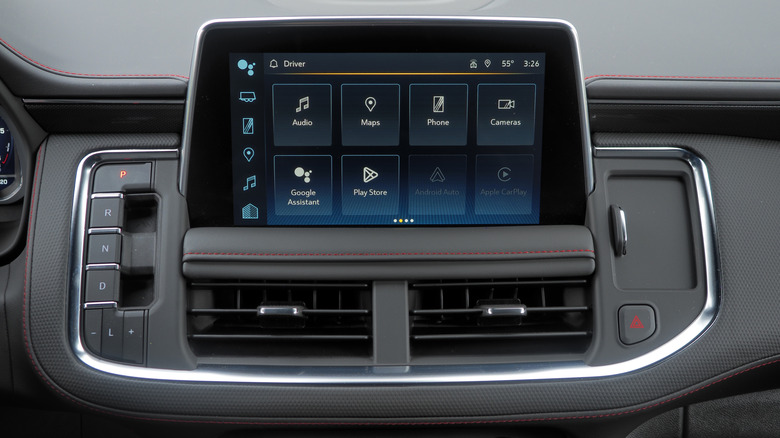 It's not the only dash grumble. Button-style transmission selectors aren't necessarily dire, but the Tahoe's mix of pull-toggles and push-buttons just doesn't feel as intuitive as, say, a rotary control, a column shifter, or a traditional stick.
There are a whole lot of very similar buttons, too: for the HVAC, for navigating the multimedia system, and then for things like AWD modes, ADAS, and more tucked in a difficult-to-see place down to the lower left of the steering wheel. Woe betide if your fingers haven't built up muscle memory yet.
For the most part, Chevy's choice of materials is solid. Plastics feel generally high quality; the modicum of metal feels genuine. The jet black leather with red contrast stitching errs on the sturdy side rather than buttery; probably a wise decision in the long run. That did make some of the cheaper decisions — like the hard plastics below the interior beltline — feel somewhat more obvious, mind.
2023 Tahoe RST Performance Edition Verdict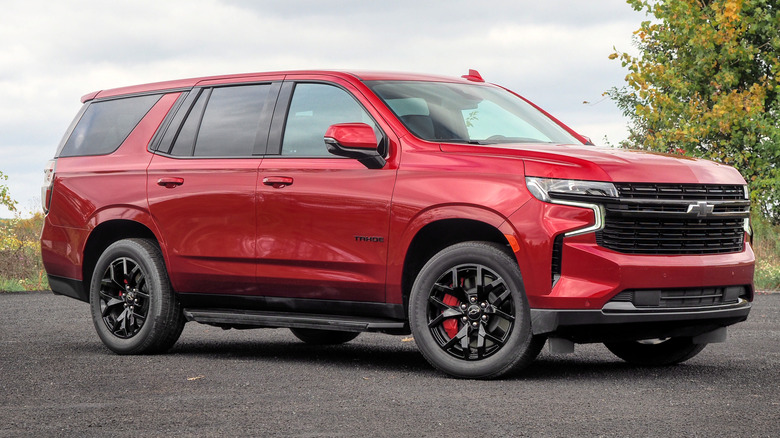 To say that Chevrolet offers a wide variety of Tahoe flavors is an understatement. All the bases are covered, from a $56k family hauler to luxe trucks and genuine speed demons. That does leave you wondering just who the target audience for the Tahoe RST Performance Edition actually is.
It's the fastest tune of Chevy's 6.2L V8, but it doesn't get the fanciest MagneRide suspension. The PPV-inspired suspension, lower ride height, and louder exhaust would all demonstrate their worth on a spacious track, but it's tough to imagine any Tahoe owner heading there. Maybe I'm just so far outside of the intended buyer profile that I don't "get it," yet I can certainly see the general appeal of a stupid-fast SUV.
Then again, that's the good thing about Chevy's vast selection of Tahoe configurations. If I don't find the RST Performance Edition to my tastes, there are umpteen other variations that could appeal more. While you can bemoan the absence of electrification or a cabin due to some upgrades, it's hard to complain about the flexibility of the big SUV, and Chevrolet's willingness to experiment with it.