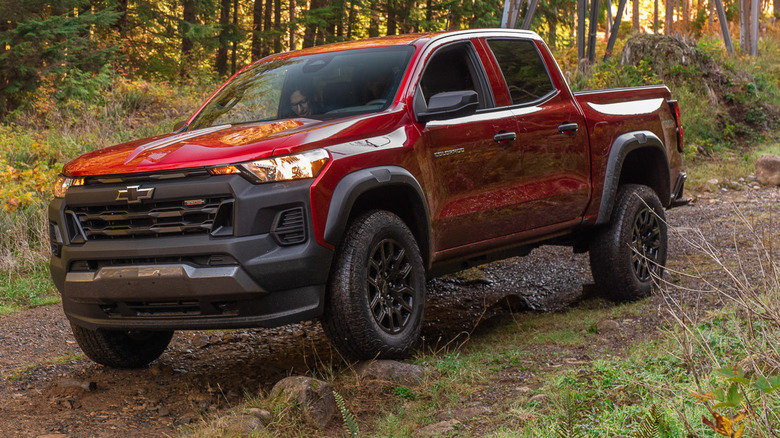 I have lived a nomadic existence during my brief window of adulthood. I moved out of my parents' house at 20 years old after graduating college; from there, I have moved about once a year in the intervening eight years, more often than not making cross-country journeys from one state to another, always further and further West, in search of whatever roots and comfort I'm still looking for. 
Appropriately for a woman who cannot settle down, every time I've moved it's been with a different vehicle. Moving this many times with this many different cars has allowed me a sense of clarity about what it is I'm truly seeking in both a location and an automobile. For a location, I need community and to feel safe as myself day-to-day; it's why this move has at long-last taken me to the historically-queer "gayborhood" of Capitol Hill in Seattle, Washington. 
For a car, I need something that accomplishes the Herculean tasks of hauling I have asked of it with as little fuss as possible. My favorite car I've ever moved with, to this end, was my first—my $700 '94 Toyota Pickup. Single-cab, standard-bed, four-wheel-drive with a transfer case, manual transmission. It was not equipped with so much as a single option. Old-school simplicity at its finest. It did the job valiantly and freed me from living with my parents; afterward, I daily drove it and took it on some trails that would begin a lifelong obsession with off-roading. That $700 beater defined what I thought a truck should be.
When Chevrolet gave me a 2024 Colorado Trail Boss to test—the same week I finally found my apartment in Capitol Hill—I put it to work. I needed to find out if this incredibly modern take on the pickup truck, with its electronic rear diff and standard 11.3-inch touchscreen, could evoke the same fondness for the outdoors and freedom as my first truck—while still getting the necessary job of moving into my new apartment accomplished. 
Work truck in pumps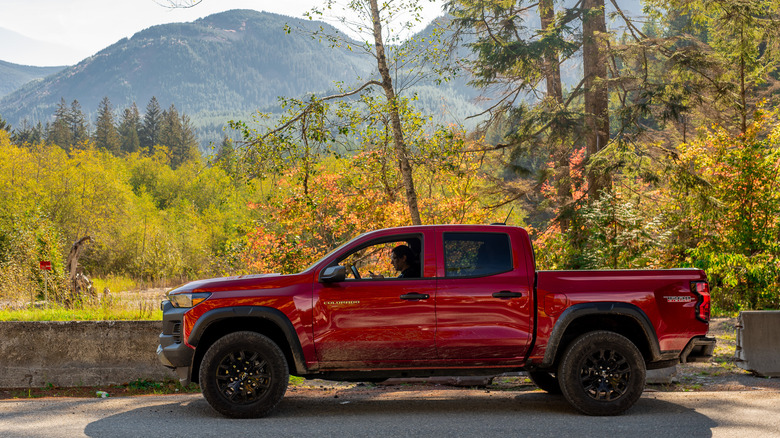 The Colorado Trail Boss, despite all its technological integrations and modern conveniences, is still created with a simple formula: Take a base-level WT (work truck) Colorado and crank up a two-inch lift (and a three-inch wider track). Throw in a limited-slip rear differential and 32-inch Goodyear Territory A/T tires. For good measure, the Trail Boss offers the higher-option 2.7-liter "Turbo Plus" turbocharged inline-four motor as standard.
The "Plus" moniker on that motor means the Trail Boss's four-banger is built and tuned to produce 310 horsepower and 390 foot-pounds of torque (vs. the base turbo-four's 237 horsepower), all pushed through an eight-speed automatic transmission. Four-wheel-drive, including low-range gearing via an electronically-shifting two-speed transfer case, also comes as standard.
The Modern Outdoorswoman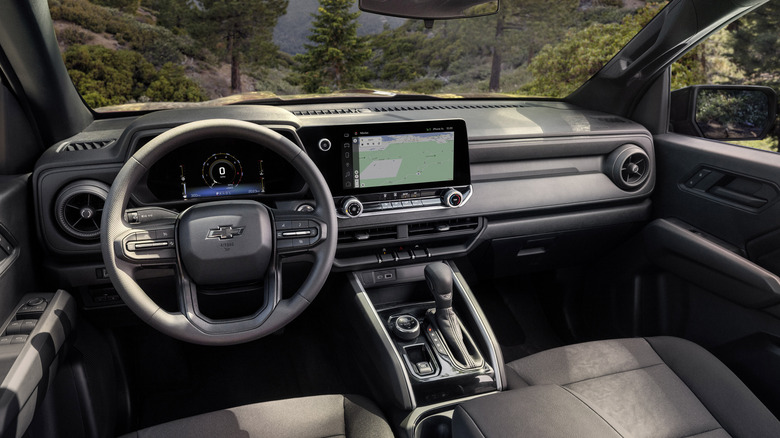 Inside, the Trail Boss gets the same cloth upholstery and hard plastic as lower models, although the base Colorado cabin is nicely laid out inside, so to me it doesn't feel like an excessively cheap trim. There's more hard touchpoints than some buyers will prefer, but I honestly like the wipe-down nature of the interior given the off-road focus of the Trail Boss.
The aforementioned standard 11.3-inch touchscreen ties the cabin together with a more premium feel, despite the rubberized steering wheel and textured plastic dash. Also standard is wireless Android Auto, Apple CarPlay, Google Built-In, push-button ignition, and a beautifully-designed eight-inch digital gauge cluster.
The Colorado starts at $32,190 (after $1,495 destination fee); the Trail Boss comes in at $38,495. My bright-red test-truck had a few options equipped (primarily convenience features, including a power driver's seat), and it rang up at $41,155 all told. This makes it squarely competitive with the rest of the off-road truck market, and its clean and modern interior makes it feel more worth its price tag than, say, a more dated-looking '23 Tacoma. (The '24 Tacoma will likely put up some stiffer competition, mind you.)
The Svansele...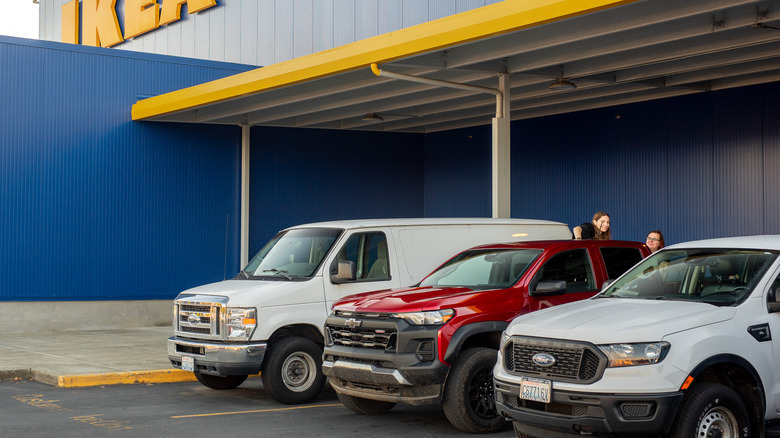 First order of business when moving to a new city is the IKEA run; this would give me a perfect opportunity to see just how well the Colorado could be... well, a truck. Every Colorado, Trail Boss or otherwise, only comes in one configuration: a four-door crew-cab with a five-foot bed, which limits how much it can haul overall, although it was plenty for my new roommate's massive beanbag and her assorted odds-and-ends. 
It was slightly frustrating at IKEA to be unable to fit my new bedroom mirror (a 62-inch Svansele in gold finish) flat in the bed, as the competing Ford Ranger, Nissan Frontier, Toyota Tacoma, and even the Honda Ridgeline all offer longer beds (and Nissan and Toyota offer four doors and true six-foot-long boxes).
...and four friends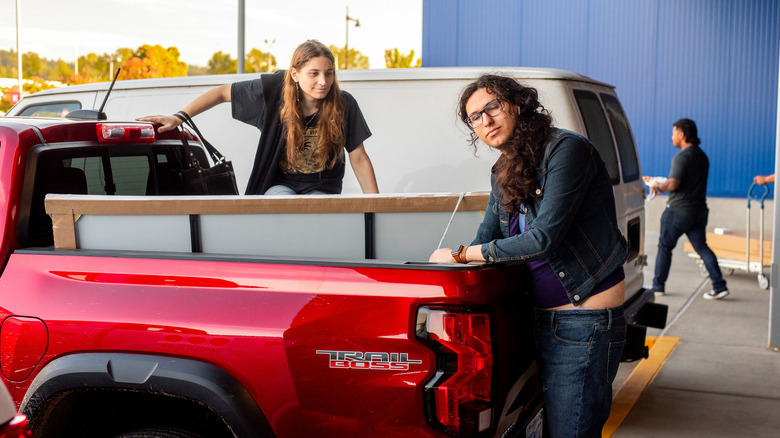 Of course, most buyers of midsize trucks won't miss the extra foot, and the crew-cab that the bed length was sacrificed for meant that I could bring more friends for moral support along to the vibrant yellow-and-blue flat-pack fever-dream that is IKEA. This was crucial for my sanity. My friends and I are tall Capitol Hill girls, and even with six-foot-plus dolls up front, the six-foot-plus rear passengers still had enough room to not feel claustrophobic, so the tradeoff for bed length was one we were all willing to make.
A nice addition to the IKEA run was the tailgate's hidden waterproof mini-trunk. It's a nice feature for those who already have their truck full of friends but need to transport things in something other than a pickup bed, and it held my IKEA trinkets nicely.
The Five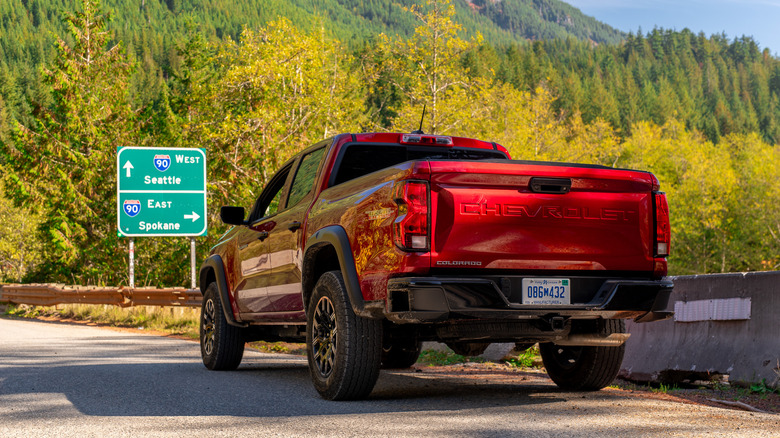 On the drive home, the Colorado rode like a much nicer-than-average truck over the pockmarks of I-5. Pavement gaps weren't punishing, the all-terrain tires don't make the cabin drone obnoxiously, and body roll during quick off-ramp turns was minimal. Steering on-center was remarkably precise for a truck—especially one with a lift and all-terrains—which kept interstate travel from getting tiring. 
Highway passing power with the high-output 2.7-liter is fantastic, and never left me worried I'd be stuck behind a semi-truck. The transmission was decisive and chose gears quickly and smoothly under any throttle load, which only added to the sense of placidity on the highway. Even the stereo sounded good. I'd commute in this (or tow up to the rated 7,700-pound max trailer weight) without a second thought, which was a big change from my old Toyota of yore... and quite a few other midsize trucks in much, much more recent memory.
Cruisin' In Capitol Hill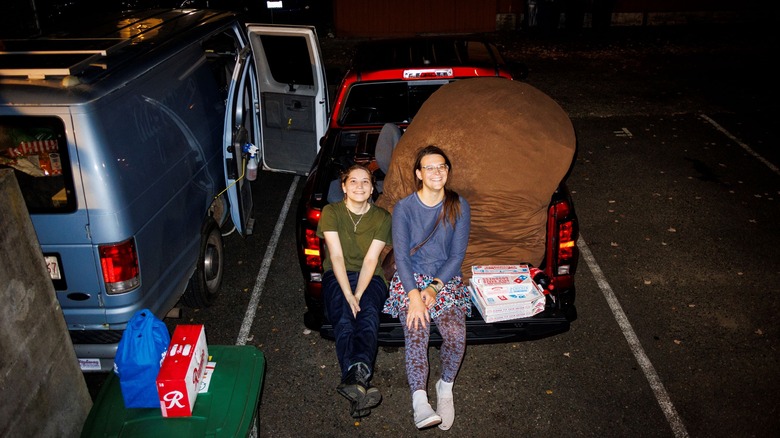 The Colorado's next task after the IKEA run, then, was to haul assorted odds-and-ends (including a truly gargantuan beanbag) from my roommate's old place to our new shared apartment deep off I-5 way, way up Capitol Hill. The Colorado—especially the high-strutting Trail Boss—in a dense and pedestrian-heavy neighborhood—would be a special challenge to maneuver, I assumed.
It was pretty easy for a pickup. The turning radius is a not-bad 20.6 feet—about a foot less than the Ford Ranger and the Nissan Frontier—which was just enough to make a full loop around the many comically-small traffic circles of Seattle without driving all the way on the sidewalk. Forward visibility was decent considering the jacked-up ride height of the Trail Boss, which made spotting people and cyclists fairly easy, something I have learned to not take for granted in modern trucks. 
Admittedly, absolutely none of Cap Hill's denizens expected me to actually yield for them, because the Colorado's angular styling—especially with the Trail Boss's work-truck-inspired matte-black front fascia—is by design intended to look aggressive, and bystanders expected me to behave accordingly. Nonetheless, I could at least see them.
Sixth Sense (or, The Colorado Sees Ghosts)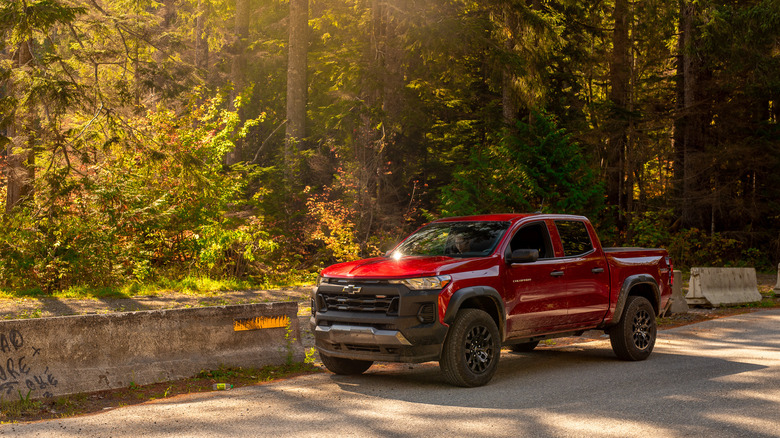 Unfortunately, the driver-assistance system decided to make me second-guess my eyes constantly. In what I (a fairly unaggressive driver) considered normal driving, the driver-alert alarm—which consists of red lights that flash in front of the driver and a beeper, with no immediate indication of what has triggered it—would sometimes go off for no apparent reason. This made me paranoid about pedestrians I'd never seen because they were, apparently, ghosts. I suspect the alert software is tuned more for suburbs and highways than it is for city living.
The rest of the software in the Colorado is excellent, however. The digital cluster is extremely attractive and easy to read at a glance (especially in single-centered-gauge mode), and the touchscreen UI is quick-responding and laid out in a commonsense way. There's also enough physical buttons for adjusting both the climate and the stereo—including on the steering wheel—that by the end of the week with the Colorado, I was using the center console by muscle memory. 
The headlights—which don't have a physical control, and instead get relegated to a touchscreen tap—are a sole weak point of the cabin design, but their always-visible tap icon (including when using CarPlay) meant I was never seriously frustrated by the lack of a real button. 
Union and 14th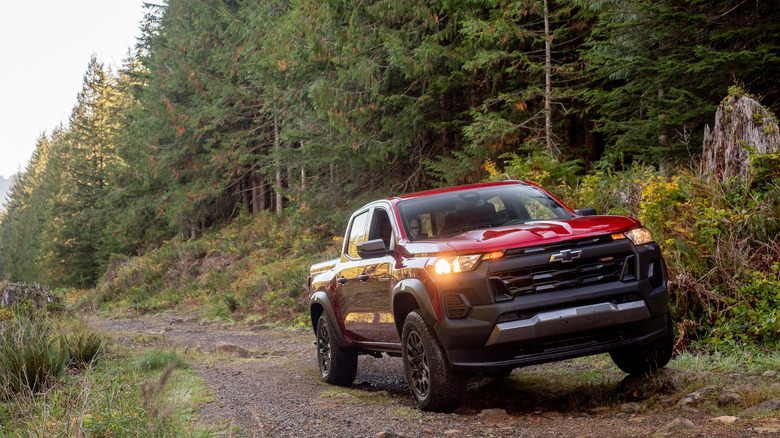 Endless construction defines Seattle, a boom-and-bust city since its inception. Cranes are a permanent part of the skyline, and orange barrels are as omnipresent as traffic lights. This leads to less-than-ideal pavement quality, and the Trail Boss handled it like body-on-frame truck. Lower-speed driving is significantly less placid than the highway drive I'd done earlier, but it's still well within what you'd expect for what you're buying.
Those who want the utmost ride comfort in Capitol Hill should find their way to a unibody Ridgeline instead (or a less-stiffly-tuned non-off-road-oriented Colorado, even), but the way I spent my time with the Colorado next wouldn't be an option with any lesser truck.
Snoqualmie Pass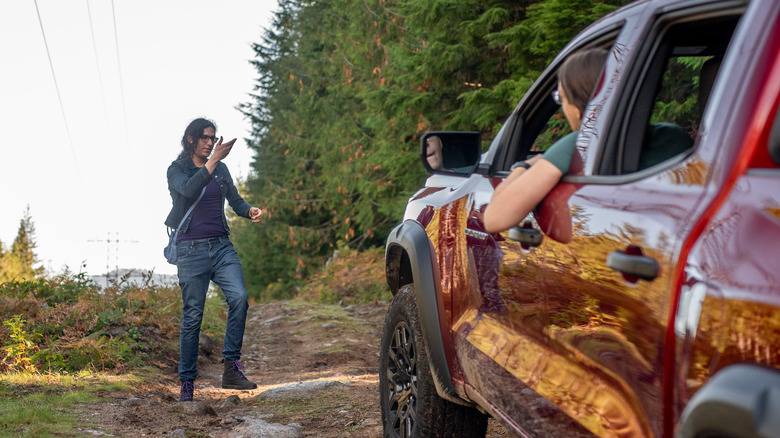 With my IKEA runs and my roommate's massive beanbag unloaded and a few days left with the truck, it was time to test the Trail Boss portion of the Colorado to the fullest. I headed East, to Snoqualmie—again, three friends in tow, to make a real adventure out of our day—and there I picked a random power-line access trail to see what the Trail Boss could do.
I chose well, as it went from hard-pack Subaru dirt trail to four-low cratered real quick. The trail was clearly no longer used for power line maintenance, and it was not a place you'd bring a Ridgeline—or a last-generation Colorado Z71, or really, most non-off-road-trucks. I actually required the full nine-and-a-half inches of clearance here, although the 30.5 degrees of approach angle allowed me to basically invent whatever line I had room to come up with.
We were rewarded at the end of this crawl-and-climb adventure with a fresh mountain stream that I'm pretty sure no one had visited since the 1950s; there's actually not a lot of vehicles (especially loaner vehicles that I'm really trying not to get stuck) I would have actually attempted that with. The Colorado ZR2—which costs roughly $10,000 more—is a bit more suited to high-speed escapades thanks to its high-tech DSSV-style shocks and smoother response over pitted trails, but the Trail Boss will get you virtually anywhere if you're willing to be a bit gentler with your throttle inputs.
Truck Bonafides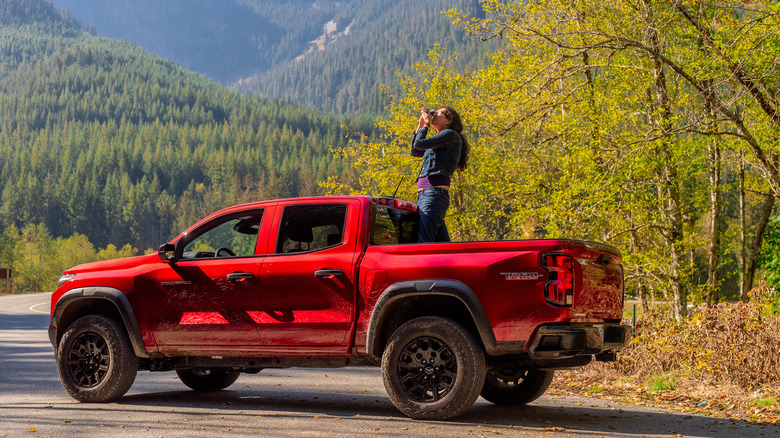 So obviously, yes, the 2024 Colorado Trail Boss is a significant improvement for day-to-day living over my '94 Toyota, as expected. It's also a significant improvement over itself; the Colorado platform now feels extremely competitive with the rest of the truck market, and the high-output drivetrain is genuinely quick. That was all relatively unsurprising.
What I expected less, though, is that the Trail Boss specifically—at its best—did remind me of why I loved my Toyota so much. It suits the 99% use case of pickup ownership well and manages to sacrifice very little despite how through-and-through its off-road abilities are; its strengths are plentiful, the cabin is straightforward and simple, and it's genuinely rugged. Its missteps are few and primarily related to technology that can be turned off; its actual truck bonafides are unimpeachable. It's truly reminiscent of a simpler era of truck, where form follows function.