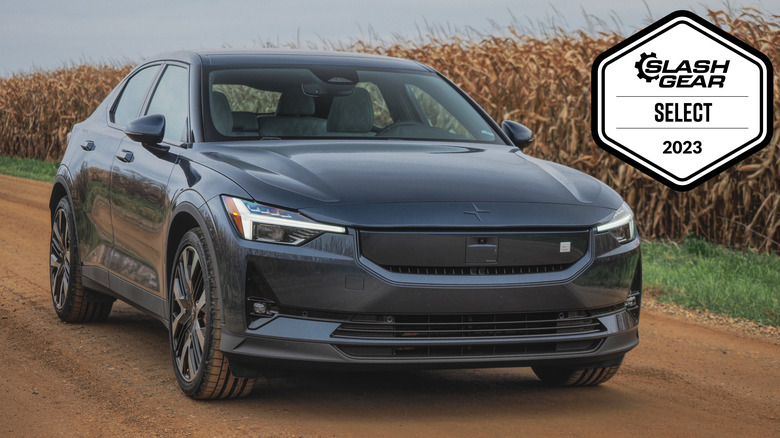 People still don't know what a Polestar is, and you can't help but feel that the automaker quite enjoys that fact. Part of the vast, somewhat nebulous, and definitely confusing Geely-backed auto empire that also includes Volvo (and Lotus, Lynk & Co, and plenty of others), Polestar's latest incarnation as a luxury performance EV-maker is about as misunderstood as when it was a Volvo tuner, and a racing team before that.
Spend a little time in the 2024 Polestar 2, however, and what's on offer here becomes a lot more obvious. More premium in feel than an EV from Tesla, Hyundai, or Kia, yet less ostentatious than a BMW or Mercedes-Benz, it's a pushback against the idea that electric vehicles have to be outlandish or avant-garde in order to be properly modern.
That said, Polestar's pricing is beginning to feel a little outlandish, even if its aesthetic isn't. Though the EV starts at around $50k (plus destination), the top-spec Polestar 2 Long Range Dual Motor Performance Plus you see here lands just shy of $70k all-in. Even with a model year 2024 refresh, has Polestar lost its guiding light?
Refreshed, but still subtle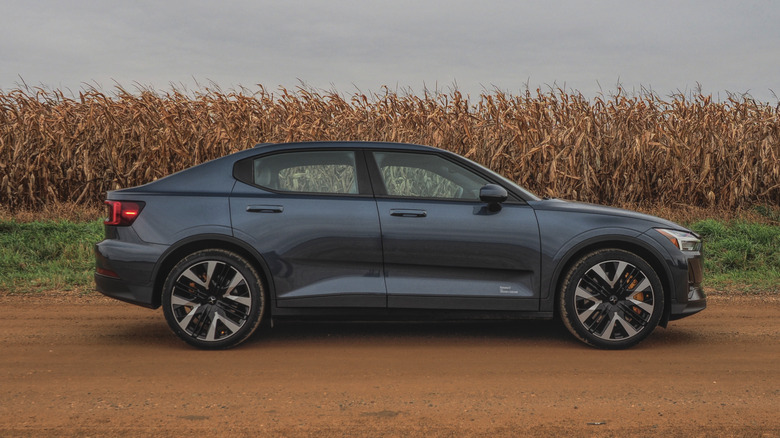 Polestar gave its EV a subtle design revamp for the 2024 model year, the most obvious difference being to the grille. Gone is the blocky mesh of black squares, and in its place is a blanked-out panel that the automaker has dubbed the SmartZone. It's a reflection, Polestar says, of the increased prominence that ADAS sensors have in modern vehicles.
Rather than hide that, Polestar embraces them. In the case of the Polestar 2, that means text highlighting the mid-range radar sensor. For future Polestar models, which will get LIDAR sensors among others, the emphasis will be even more conspicuous.
The same can't be said for Polestar's branding. This remains one of the most surreptitious EVs on the market, with its subtle twin-chevron logo and no other trunk badging. A decal on the front doors confirms the model, power in kilowatts, and battery capacity, while this Polestar Engineered trim also has a badge on the fascia. Still, expect plenty of confused people asking "Hey, what is this?"
More tech as standard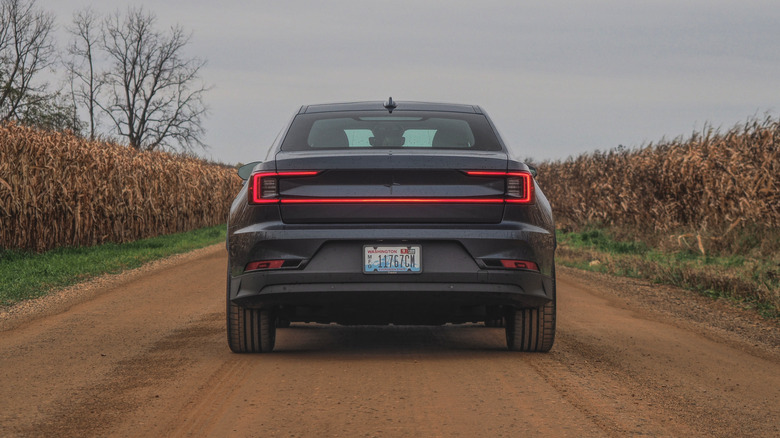 I'm still a fan of Polestar's fastback style, which manages to look modern without succumbing to the usual over-aero-smoothed profile of the typical EV. The 20-inch forged wheels with the gold-glinting Brembo brake calipers help, and offset the gray-blue Midnight metallic paintwork (a $1,250 option) well. Those who enjoy brighter colors probably won't warm to the Polestar 2, mind: the six-strong paint palette is decidedly subdued.
As well as the choice between rear-wheel drive and all-wheel drive, Polestar offers three different upgrades. The Pilot pack ($2,000) includes adaptive cruise control and Pilot Assist, with hands-on-wheel lane keeping that's familiar from Volvo models. It also adds LED fog lamps with cornering lights. Blind spot warnings, which were previously part of this pack, are now standard across the board, as are rear cross-traffic warnings and the bird's eye view camera.
The Plus pack ($2,200) adds the glass panoramic roof — which could do with a sunshade, even though Polestar says its coating blocks 99.5% of UV light — along with a 600W Harman Kardon audio system, fancier ambient lighting and seat fabrics, fully electric-adjustable front seats, a heated steering wheel, heated rear seats, and heated wiper nozzles.
It also includes a power tailgate with hands-free operation. Arguably most important, though, is the heat pump which uses ambient heat and waste heat from the drivetrain to help improve cabin temperature, rather than tapping the main propulsion batteries. If you live in a cold weather state, it's definitely worth having.
More power, more oddities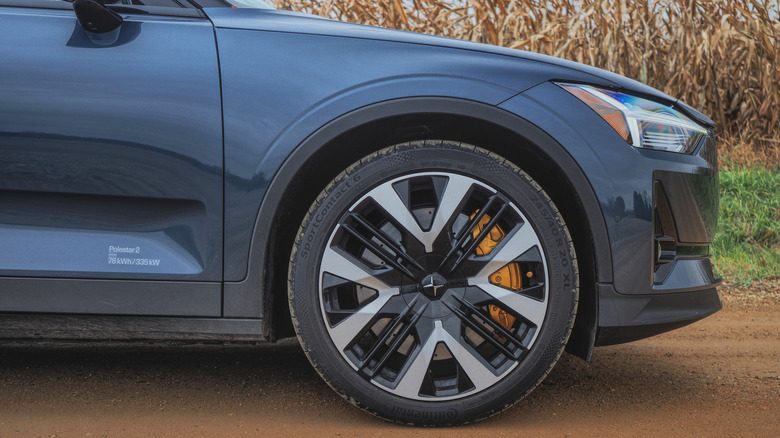 Exclusive to the Polestar 2 Long Range Dual Motor is the optional Performance pack. For $5,500, you get a software upgrade that coaxes 455 horsepower (335 kW) and 546 lb-ft of torque (740 Nm) from the electric motors, plus a launch control option. It also adds the fancier 20-inch wheels and Brembo brakes, Polestar Engineered adjustable suspension tuning, and gold seatbelts to match the brake calipers.
Unlike, well, just about every other mainstream automaker offering adjustable suspension, Polestar's system isn't electronically controlled. Instead, the Öhlins dual flow valve dampers are manually adjusted: there's a knob atop each one, with a range from 0 (most firm) to 20 (most soft).
Officially they're driver-adjustable, but the fact that you'll need to jack the EV up to access the two rear damper knobs makes me suspicious that anybody is going to do that. Certainly, it's not something you'd pull over at the side of the road to tweak, before a particularly engaging set of twisties. Polestar 2 Performance pack buyers do get one free damper adjustment at a Polestar service point, but I don't think it's unfair to assume most people will just stick with the default settings.
More than most drivers need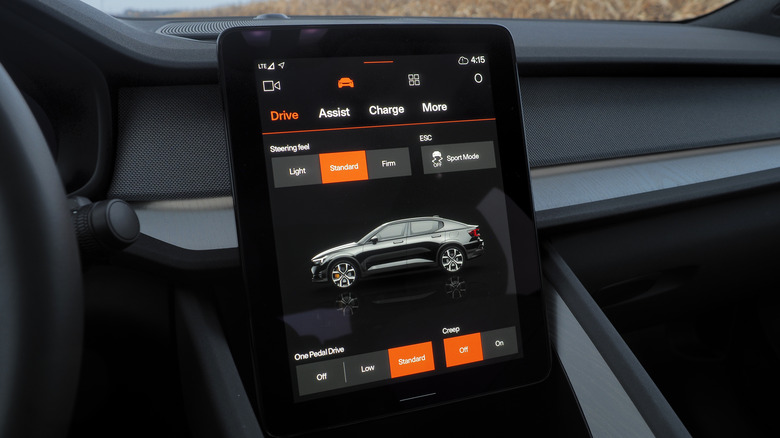 Those defaults are definitely on the firm side. Not as bone-shakingly stiff as the standard configuration on the ridiculous (and yet lovable) Polestar 2 BST Edition 270, true, but uncompromising nonetheless. The upside is that the resulting configuration handles the roughly 4,650-pound curb weight of the dual-motor car well: you don't so much stop noticing that heft, as much as become confident that the suspension can happily throw it around tighter turns without getting unduly unsettled.
Around town, though, or on any surface with less-than-smooth asphalt, the experience is less lovable. Honestly, I think the standard, unadjustable suspension of the non-performance pack car is probably the right choice for most people. It adds just enough extra compliance to leave the Polestar 2 feeling comfortable day to day.
There's a Sport mode, but it basically just turns the ESC on and off. Other drive settings amount to changing the steering weight (which is always on the lighter side for my tastes), switching between three levels of one-pedal driving (off/low/standard), and toggling creep on/off. I particularly like Polestar's accelerator weighting: it's incredibly easy to modulate speed in one-pedal mode, and you rarely need to touch the brake pedal.
Hit the accelerator, Polestar says, and this Performance pack version will do 0-60 mph in 4.1 seconds.
Solid range, but not segment leading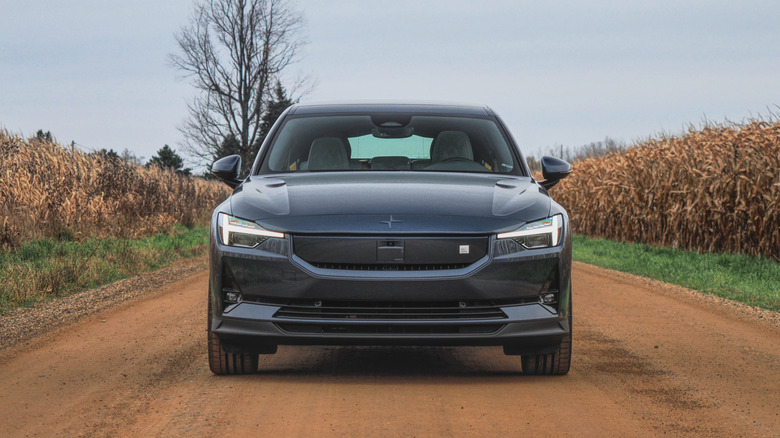 While the Polestar 2 Long Range Single Motor comes with an 82 kWh battery, the Dual Motor versions have a slightly smaller, 78 kWh version. A mixture of hardware and software changes for the model year 2024 cars mean range has improved, too. While the Single Motor version's bigger battery nets a promised 320 miles (on 19-inch wheels), the Dual Motor will do up to 276 on the same wheel size.
Switch to 20-inchers, though, and that dips to 266 miles. Add the Performance pack and it tumbles again, to a quoted 247 miles. My own driving suggested that was a fairly accurate estimate, though it still pales compared to the 315 miles the (faster) Tesla Model 3 Performance is meant to deliver.
When it comes to charging, the Single Motor EV has another advantage: it supports up to 205 kW DC fast charging, versus the Dual Motor's 155 kW. It means — in perfect conditions, including finding a suitably-potent charger — a 10-80% charge takes 28 minutes in the former, compared to 34 minutes in the latter.
Most people, of course, will plug in at home. There, the Polestar 2's 11kW Level 2 charging support should see a 0-100% charge take about 8 hours.
A snug, high-quality cabin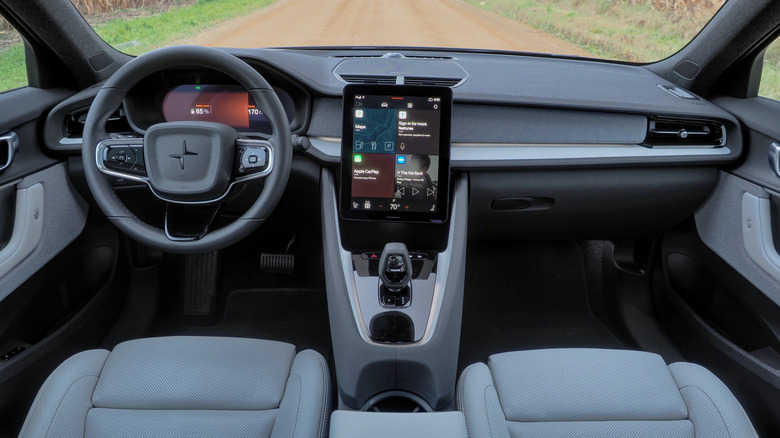 The Polestar 2 cabin is a pleasant place to find yourself. Adequately sized for four adults, though on the snug side compared to the similarly CMA-based Volvo XC40 Recharge, it has more of a Volvo feel than what we've seen from the automaker for the upcoming Polestar 3 and other models. That's not necessarily a bad thing, mind: everything feels sturdy and subdued in a refined, restrained way, and the switchgear all seems solid and premium.
Perforated Nappa leather is $4,000; you'll also need to add the Plus pack, too. Unfortunately, that's the only way to add front seat ventilation, which isn't available with the non-hide materials.
The Polestar 2's big hatchback opens to reveal 14.4 cu-ft of trunk space, including an underfloor compartment. Drop the rear seats, and that expands to 38.7 cu-ft.; a further 1.2 cu-ft is in the front frunk, mainly useful as a place to store the portable charge cable. The main trunk has a 12V power outlet, though sadly there's no 110V outlet like you find on an increasing number of EVs these days.
Android Automotive OS still shines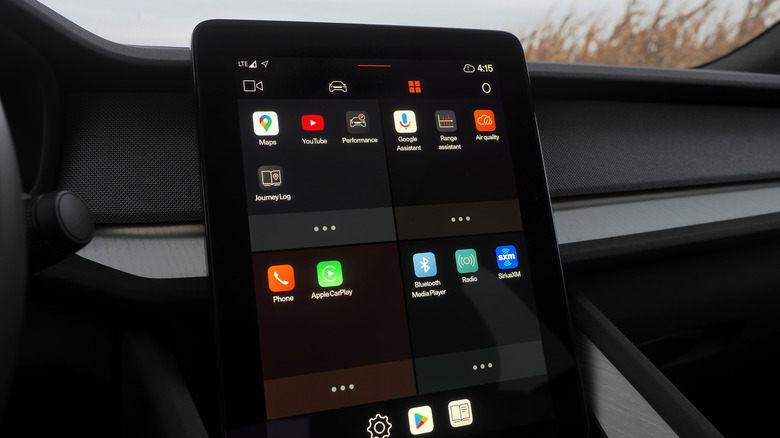 The driver gets a fully digital 12.3-inch instrument cluster, and there's an 11.2-inch portrait aspect center touchscreen. The Polestar 2 runs Android Automotive OS, meaning native Google Maps, Google Assistant voice control, and Google Play store access to the relatively small number of third-party apps currently green-lit for dashboard use.
Native apps for Spotify and YouTube can tap the EV's built-in 4G LTE modem, also used for over-the-air firmware updates like the one that delivered Apple CarPlay (though not Android Auto) support to Polestar 2 owners. A 15W wireless phone charger is in the front center console, and there are four USB-C charging ports.
Generally, I like Polestar's UI. The icons and buttons are big enough to use while driving, without feeling cartoonish, and there's a reasonable balance between physical and on-screen controls. That's not to say there aren't some oddities, like the fact that you have to choose between a reversing view or a 360-degree bird's eye view, not both, despite there being more than sufficient space on-screen to show them at the same time. The second front cupholder is hidden under the armrest, meanwhile, so you have to choose between holding another drink or somewhere to put your elbow.
2024 Polestar 2 Verdict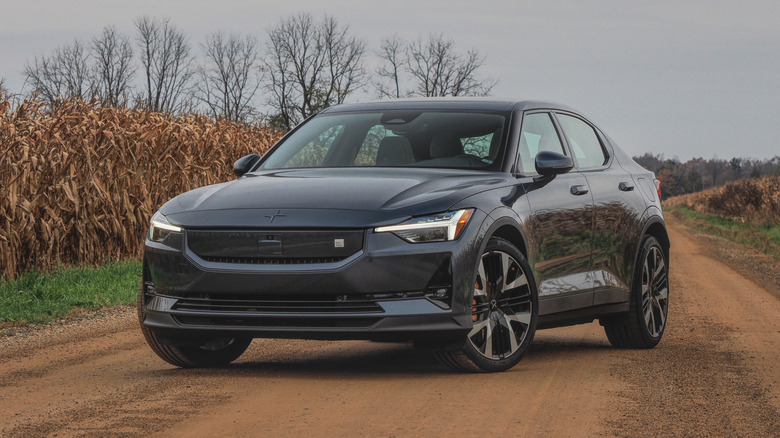 The affordable end of the electric vehicle market has developed aggressively in recent years. Tesla's dramatic price cuts have upended the value proposition: at time of writing, a single-motor Model 3 starts at under $39,000 (before destination), while the fastest dual-motor Model 3 Performance begins at $51,000. Hyundai's unusually-designed Ioniq 6 Limited AWD promises more range than this Polestar 2 configuration, at 270 miles, and lands at $53,650 (before destination).
That leaves the $68,250 (plus $1,400 destination) of a 2024 Polestar 2 Dual Motor Performance Plus looking decidedly rich. In fact, it puts it up against options like the BMW i4 xDrive40 (from $61,600 plus destination).
Personally, I'd skip the Performance upgrade and the bigger wheels, and strike a better balance of comfort and speed with the Polestar 2 Dual Motor with Plus pack (from $57,900). Even without the extras, the fastback EV drives nicely and feels more premium than its direct competition. Nonetheless, with the pace of the industry — and cars like Volvo's new EX30 approaching — Polestar's imminent range expansion may also need a rethink at the entry level if it wants to burst through the anonymity of its clandestine badging.