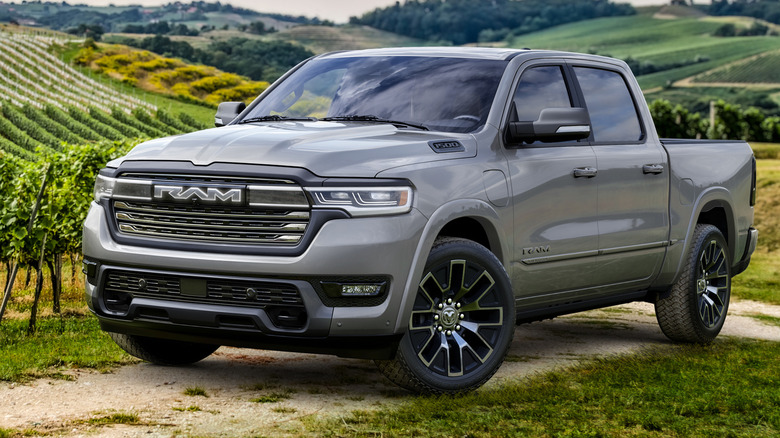 Ram may have an all-electric truck on the way, but it's not betting its entire EV strategy on just one model. The 2025 Ram REV will also have a gas-electric sibling, with the 2025 Ram 1500 Ramcharger slotting in between the REV and the standard 1500 pickup with its new Hurricane turbocharged gas engines. Don't mistake the Ramcharger for anything like a halfway measure, however.
In fact, Ram is describing the new Ramcharger as the "ultimate Ram 1500," and, at first glance, it's tough to argue with that premise. On the one hand, it's an electric pickup with a 92 kWh battery and standard dual-motor all-wheel drive. To that, Ram adds a 3.6-liter Pentastar V6 gas engine, which acts as a mobile generator, topping up the battery on the move.
The result is an estimated 690 miles of total range and a strategy that acknowledges the not-unreasonable concerns some drivers still have about fully-electric models like the 1500 REV. "We know not every single customer is not going to be ready for that [EV]," Tim Kuniskis, RAM Brand CEO, concedes. "Some of them may not be ready for change. Some of them may not live in a market with infrastructure to support it."
An electric truck that brings its own generator along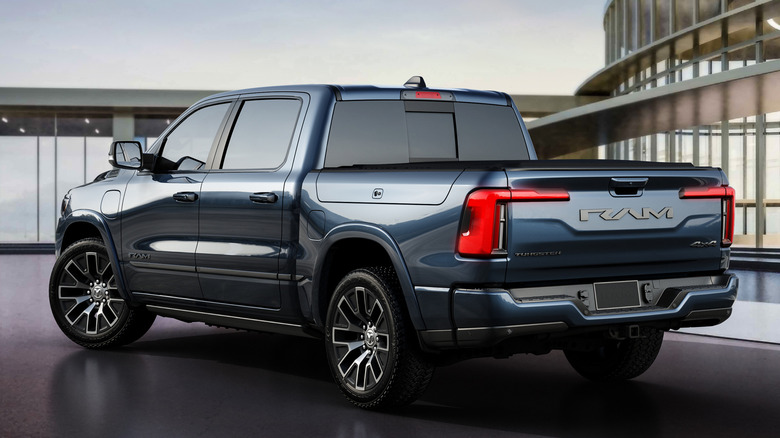 Ram's answer is a truck that can effectively charge itself. The V6 in the Ramcharger isn't mechanically connected to the pickup's wheels; instead, the gas engine has been specifically fettled to work most efficiently as a generator, delivering 130 kW continuous or 190 kW peak power either to the liquid-cooled battery or — if driving demands require it — directly to the electric drive modules (EDM). On battery power alone, Ram expects the Ramcharger to be capable of 145 miles of EPA range.
The front EDM delivers 250 kW but can disconnect from the axle when its power isn't required; that means the front wheels can spin freely, reducing drag and improving overall efficiency. The rear EDM has 238 kW and offers an available electronic-locking differential.
The 12-module Li-ion battery slots into the center of the same STLA Frame platform used by the 1500 REV, which uses a high-strength steel frame that has been widened by around 8 inches in its midsection, protecting the battery and — in the case of the Ramcharger — the 27-gallon gas tank positioned behind it. The V6 sits atop the EDM on the front axle, while a new Integrated Dual Charge Module (IDCM) is positioned just behind.
The Ultimate Ram 1500 isn't messing around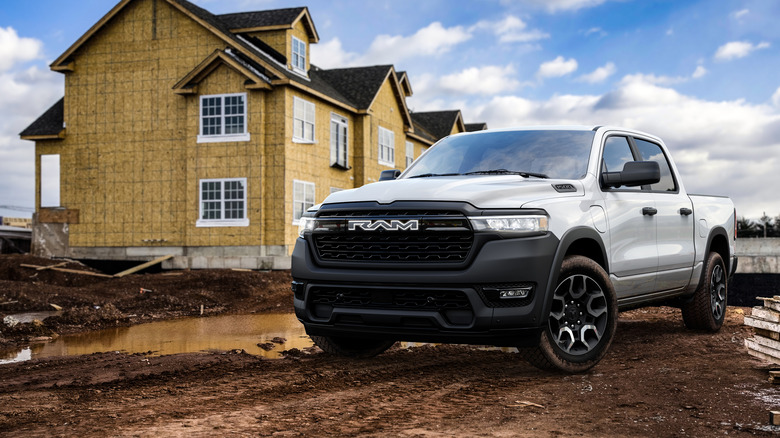 It's a mighty flexible combination. On a DC fast charger, the Ramcharger supports up to 145 kW (down from the 350 kW of the 1500 REV) for around 50 miles of range added in 10 minutes. For Level 2 home charging, there's onboard support for up to 11 kW. The IDCM provides juice for the Power Panel in the bed, which has 3.8 kW and 120V outlets as standard but can optionally be upgraded to a 7.2 kW version with both 120V outlets and a 240V twist-lock connector for power tools.
The IDCM also handles 12V loads, like the radio, and can spin the front EDM to start up the gas engine. Through the charge port, meanwhile, it can deliver bidirectional power: Ram expects the Ramcharger's V2X support to keep a house up and running (with a suitably installed home system) during an outage, to recharge another EV with a low battery or even to eventually deliver power back to the grid.
Or, all that energy can just be used to make one darn fast truck. Ram estimates a 4.4 second 0-60 mph time for the Ramcharger, courtesy of a predicted 663 horsepower and 615 pound-foot of torque. Expect around 14,000 pounds of towing capacity and up to 2,625 pounds of maximum payload capacity.
Plenty of options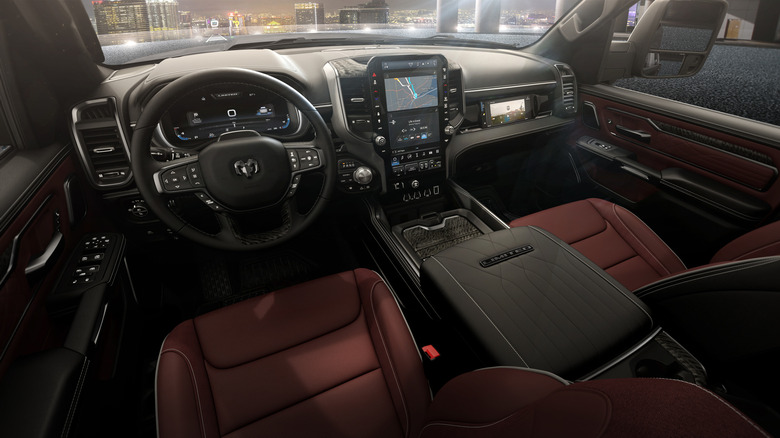 Exactly how the power is managed will depend on a mixture of driver-facing settings and automatic adjustment in the background. The Ramcharger can automatically switch between 2WD and 4WD modes, while its standard auto-leveling four-corner air suspension offers five levels: entry/exit, aero, normal, off-road 1, and off-road 2. When towing or hauling, the truck will intelligently have the generator kick in earlier as the battery charge level dips so that drivers should never find themselves struggling against higher grades of slope or stiffer headwinds.
There'll be Ram's familiar drive modes — including Auto, Sport, Snow, Tow/Haul, and Off-Road — but also three new electric-focused buttons down by the rotary transmission shifter. Electric+ will prioritize battery power first, then have the gas engine kick in to top up the battery. The eco mode also prioritizes electric propulsion but tamps down on power hogs like the climate control and tweaks the pedal mapping for maximum range.
E-Save mode, meanwhile, reserves the battery's charge and runs the generator constantly. Ram even implanted a "pedal follower" system that avoids the audible disconnect between what the driver's foot on the accelerator is doing and the current engine speed. Regardless of mode, new EV-centric pages in the Uconnect 5 infotainment system and the digital driver display show the flow of power, brake regen settings, charging times, and more.
Unique EV styling signals this is something special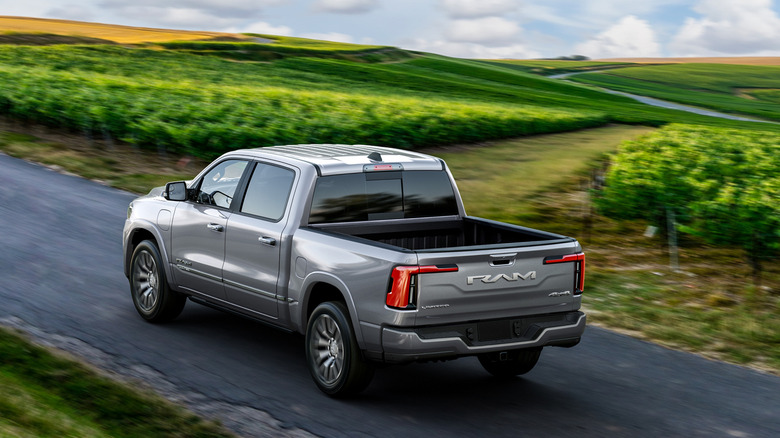 As with the gas-only 2025 Ram 1500 range, the Ramcharger gets a freshened look outside and in. Exterior styling blends the gas truck with detailing from the REV, with a bigger front grille and badge (that animates when charging), LED headlamps that extend into the grille, and EV-specific LED taillamp clusters that span into the tailgate. The bed gets the same lockable, weatherproof RamBox storage (with its own 115V outlet).
Inside, trim-depending, the Ramcharger will be packed with tech. There's up to a 14.5-inch center touchscreen along with a 12.3-inch digital driver cluster and an available 10.25-inch passenger display that can be used for navigation, multimedia, and device mirroring via an HDMI input. A head-up display and digital rearview mirror are also available, together with a 1,228-watt Klipsch audio system. The flagship Ramcharger Tungsten trim will get heated and ventilated quilted leather seats with massage, dual wireless phone chargers, and real metal accents.
A digital smartphone key is supported, though Ram will include both a traditional key fob and an NFC card for backup. Ram's Level 2 Hands-Free Highway Assist system will also be offered, a hands-off-wheel system for select pre-mapped highway driving that uses a driver attention monitoring camera. Parking assistance and other ADAS will also be available.
Room for a surprise on pricing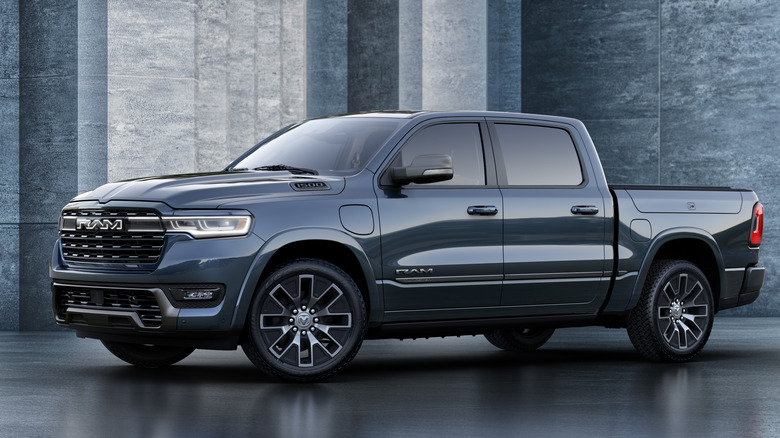 What the Ramcharger won't have, though, is "hybrid" badging. Ram is insistent that the truck isn't a plug-in hybrid (or PHEV) because the gas engine doesn't drive the wheels mechanically. As justifications go, that one feels a little more like a nod to marketing than anything else: it's not hard to imagine that potential truck buyers would feel more at home with the idea of a generator than they might with the complexities of a PHEV.
Production of the 2025 Ram 1500 Ramcharger is expected to kick off at the end of 2024, as with the REV. Pricing — and eligibility for federal tax incentives for electrified vehicles in the U.S. — is yet to be confirmed, though, despite the "Ultimate Ram 1500" billing, it may not sit at the top of the price tree.
"I wouldn't automatically assume that," Ram CEO Tim Kuniskis said when pushed for specifics, pointing out that the cost for EVs is predominantly a factor of battery pack size. Even with its 690 miles of total potential range, the Ramcharger's Li-ion pack is considerably smaller than the 168 kWh or 229 kWh packs the REV will be offered. That could make for a surprise at dealerships, as Ram takes a more rational approach to the shift toward electrification.