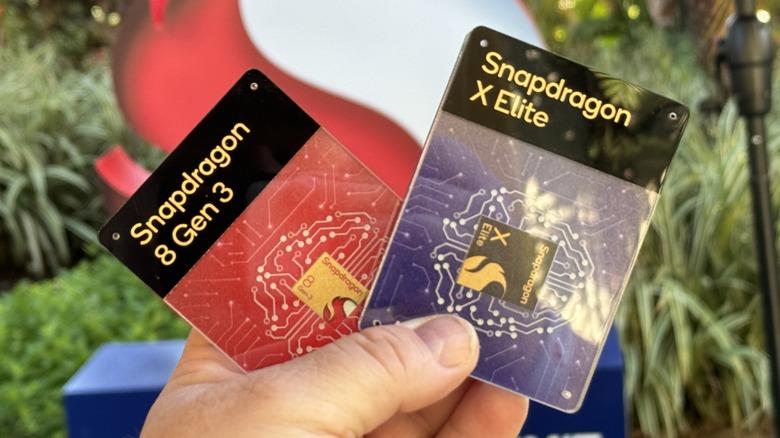 Snapdragon Summit has come and gone, and with it, we saw the release of the new Snapdragon 8 Gen 3 processor that will (probably) be powering your next smartphone. Indeed, flagship phones from Xiaomi (Xioami 14 Pro) and Honor (Magic 6 Pro) have already been announced, and Qualcomm's momentum powering flagship phones does not appear to be letting up.
The Snapdragon 8 Gen 2 processor is already super powerful, as evidenced in reviews of flagships this year like the Samsung Galaxy S 23 Ultra, OnePlus 11, and Moto Edge Plus. It's great for gaming, short bursts of video export, and more. Of course, this year, it has gotten even better,  roughly 25-30% in CPU and GPU performance and 10% in battery efficiency, but this year, Qualcomm is building a lot more into the processor than just those extra efficiencies.
A lot of that centers around photography and AI, one of which you definitely use and the other of which Qualcomm (and the rest of the tech industry) believes you will — a lot. So, here are five cool things coming to your next flagship smartphone.
AI all the things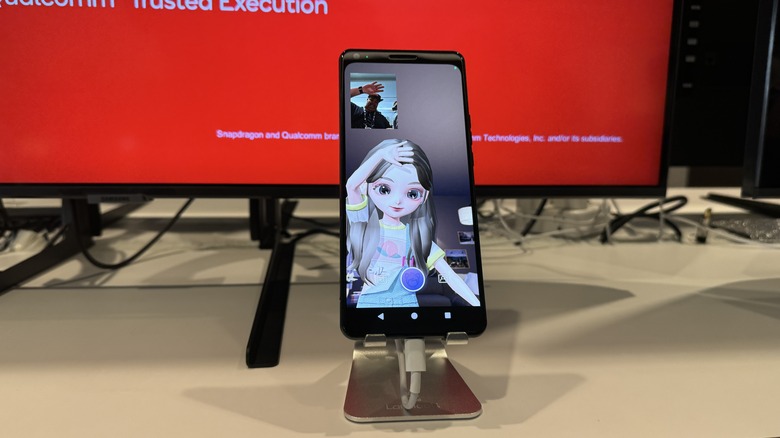 Qualcomm is fully on board the AI train, believing that it is the future of how we will compute, both on a PC and on our phones. To that end, Qualcomm has focused on building AI optimizations into the processor so that, similar to how computer makers will be able to integrate AI models from any number of manufacturers, so will phone makers.
AI is going to be a big part of phones going forward, including a number of impressive camera features that will rely on AI. Speaking to that, Judd Heape, Vice President, Product Management, Camera, Computer Vision, and Video, said, "I don't want to introduce any camera features that require cloud connectivity...we want all the AI to happen on the device." This makes a lot of sense because it reduces latency and processing time for these camera features and makes the features more attractive for phone makers to use. So, without further ado, let's take a look at those features.
AI photography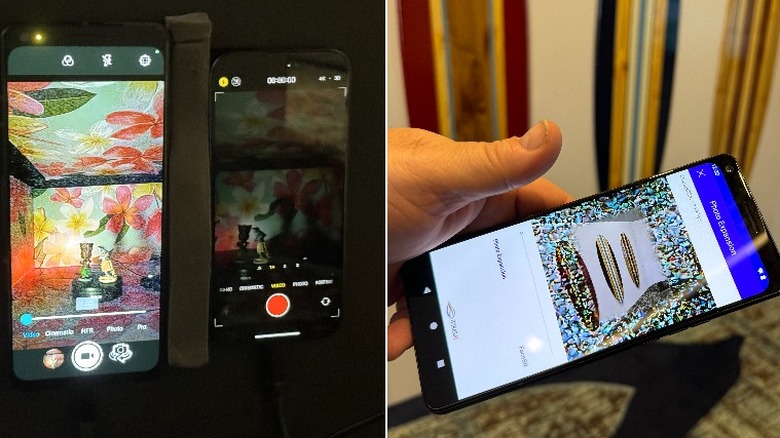 Two big additions to the camera stack come via AI in the form of photo expansion and night vision by Tetra AI and Visionary AI, respectively. These are both third-party companies that Qualcomm can integrate into image processing. Photo expansion allows you to snap a photo and then essentially zoom out and let generative AI fill in what it thinks is supposed to be there. Qualcomm had demo devices on site and allowed people to take photos of anything they wanted and let photo expansion do its work. Results can be impressive but also generally inconsistent. Sometimes, what the AI created looked remarkably similar to what the actual scenery looked like. Other times, it did not. All the same, it's a pretty cool trick that might help your photography.
Night vision is exactly what it sounds like — according to Qualcomm, you can get full-color video capture in as little as .2 lux brightness. Qualcomm demonstrated this by putting a statue on a turntable inside a sealed box with a hole cut out for the camera. It compared night vision side by side with an iPhone 15. The Qualcomm device indeed showed full color, but to be fair, it also had quite a bit of grain. According to Qualcomm, that's actually advantageous because it gives signal processing and post-production more of an image to work with, which is a fair point.
Identifying AI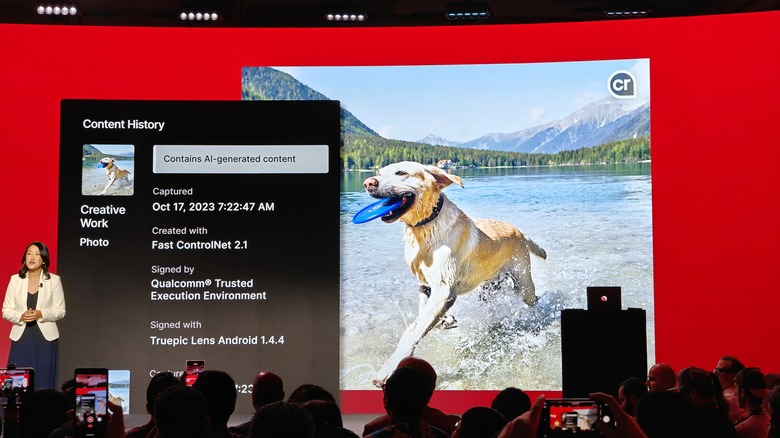 Qualcomm is also working with Truepic, which is a photo authentication company that stores AI history in the metadata of a photo. This identifies what photos have been altered by AI. Basically, any time a photo is manipulated by AI on the device (or anywhere else Truepic is integrated), Truepic will recognize this fact and make the changes trackable, so you can see what changes were made and by what software. Qualcomm worked with Truepic to integrate this into the AI stack, but all these features come with a caveat.
Truepic, Visionary AI, and Tetra AI all require licensing to make these features work, so there is absolutely no guarantee that these features will make it onto a future phone. Of course, this makes perfect sense, but it's also a shame because some of these features are truly impressive with fun technology (and, in the case of Truepic, ethically necessary technology) behind them. It would be a shame to have these features left behind by phone makers who don't want to pay the licensing fee. Fortunately, more improvements are coming to your phone's camera that don't require licensing.
Image Signal Processor improvements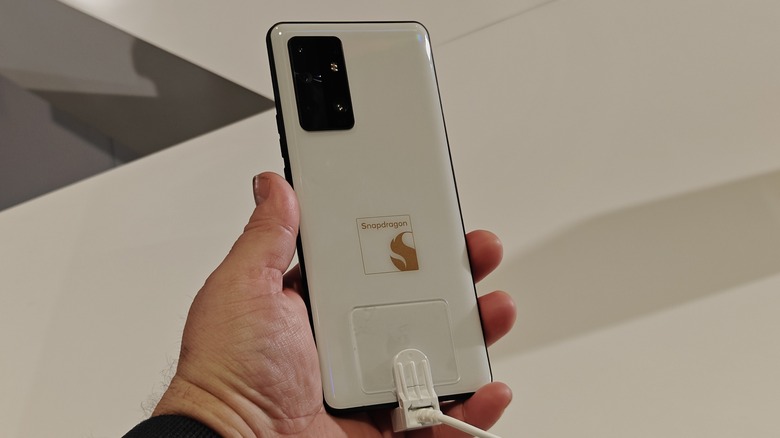 Three major improvements are coming to Qualcomm's Image Signal Processor (ISP). The first is an increase in segments the processor can look at to tune pixels when putting a photo through post-processing. A "segment" is a category of "thing" that the camera is looking at that it can tune to look just right. According to Heape, when the ISP recognizes hair, it can increase contrast, or when it recognizes skin, it can adjust sharpness, etc.
Next up is Qualcomm's triple ISP – you can shoot three videos simultaneously. You could do this in the past, but only two camera sensors could enable something like HDR at a time. This year, they're all symmetric, meaning they can all shoot with the same quality. This gives phone and software makers more flexibility.
Finally, the third improvement is the Snapdragon 8 Gen 3 can have two always-sensing cameras. What that means is that phone makers can have two cameras that are trying to detect things at the same time. In the past, only a single camera could be set to always sense, and most of the time, that camera was the selfie camera to utilize phone unlock. Dual sensing will allow a phone maker to let two cameras sense simultaneously, for example, when a customer wants to scan a QR code to pay for something and unlock the phone with face unlock.
The Snapdragon 8 Gen 3 is exciting, but what comes next?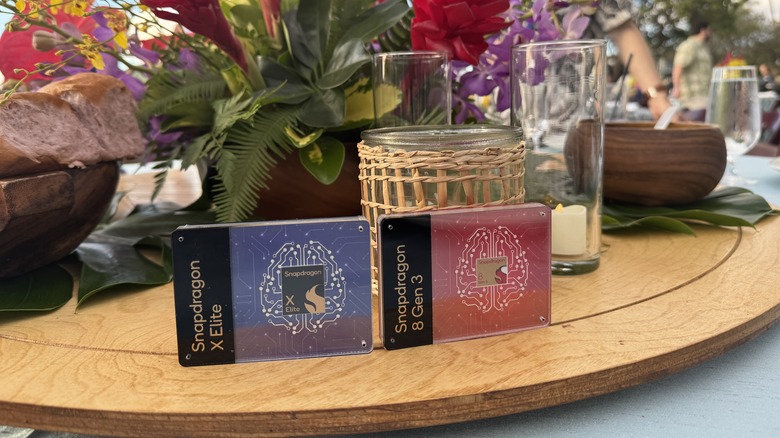 Qualcomm's focus for the next generation of the Snapdragon 8 processor was clearly AI and photography, and smartphones will be the better for them. In addition to the speed improvements that this generation will see over last year's already blazing processor, this could be a coup, but you have to wonder about what comes next.
During the keynote and several roundtable discussions and interviews afterward, Qualcomm repeated that the Oryon CPU from the Snapdragon X Elite processor will come to mobile in 2024. That's likely to happen around this time next year, but if Qualcomm can make that work, the implications could be huge. The Snapdragon X Elite processor can already stand toe-to-toe with most moderate-use laptops (gaming rigs are a whole other animal), so bringing that speed and power to a phone could be exciting. We'll have to see how it all plays out, but for this year, there are enough big improvements to make your next phone investment a sound one.