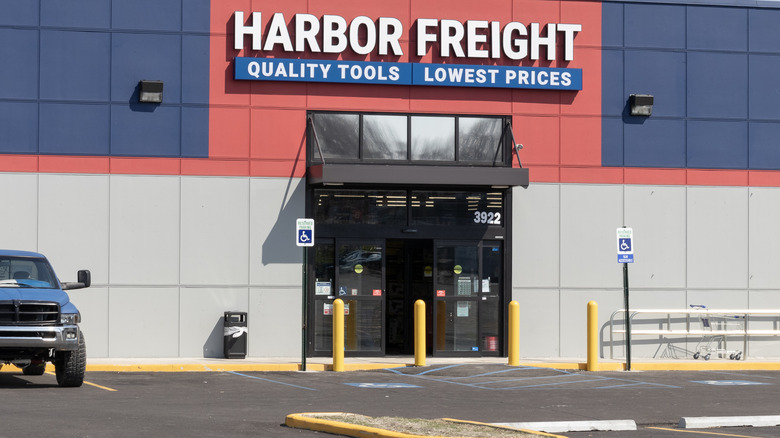 In August 2022, the National Retail Federation named Harbor Freight the fastest-growing retailer in the U.S. It was with good reason, too, as after opening its 500th store in 2013, the chain's footprint exploded in the next decade, to the point where it has over 1,400 stores in the United States as of this writing. The business model of promising quality tools at low prices via an array of Harbor Freight-exclusive generic brands is clearly clicking with hardware customers to fuel that kind of growth.
Not everything at Harbor Freight is sunshine and rainbows, though. There are good deals to be had for sure, but many customers have reported not-so-great experiences, flooding retailer review sites with negative ratings for the chain. Harbor Freight has also been sued for how it represents its purported discounts, settling at least two cases. Knowing that there's more to the story, let's take a look at some things that Harbor Freight employees are unlikely to share with customers.
The most expensive Harbor Freight house brand isn't always the best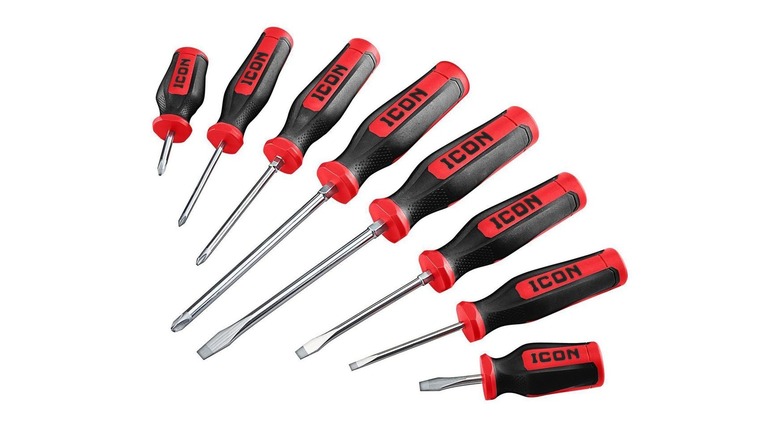 It's not a secret that part of the special sauce that makes Harbor Freight unique is that the chain exclusively sells tools under a variety of its own private label/generic house brands sourced directly from manufacturers around the world. You won't find Milwaukee at Harbor Freight, but you will find Pittsburgh, Portland, and Daytona, which you can't find anywhere else. These house brands are tiered, with Hercules being the most expensive and theoretically most premium power tool brand and ICON filling the same role for hand tools. In theory, these should be Harbor Freight's top-of-the-line, especially since the chain positions them as equivalent to Snap-on's expensive and arguably overpriced tools.
This isn't always the case in practice, though. In June 2022, the automotive YouTube channel Donut extensively tested several screwdriver sets across all possible price points, focusing on several from Harbor Freight and the "compare to" alternatives from major retail brands. (More specifically, an $8 Pittsburgh set and the $22 Husky set Harbor Freight compares it to, a $25 Doyle set and the $50 Klein Tools set it's compared to, and finally, a $50 ICON set and the $200 Snap-on set that it's allegedly comparable to.) Overall, the $25 Doyle set was the set that won the most head-to-head tests, not the more expensive ICON set that's positioned as being professional grade.
Overall, the lesson here is to seek out reviews and not just go by the price and the "compare to" labeling, especially since all Harbor Freight hand tools have lifetime warranties.
The Inside Track Club isn't necessarily worth it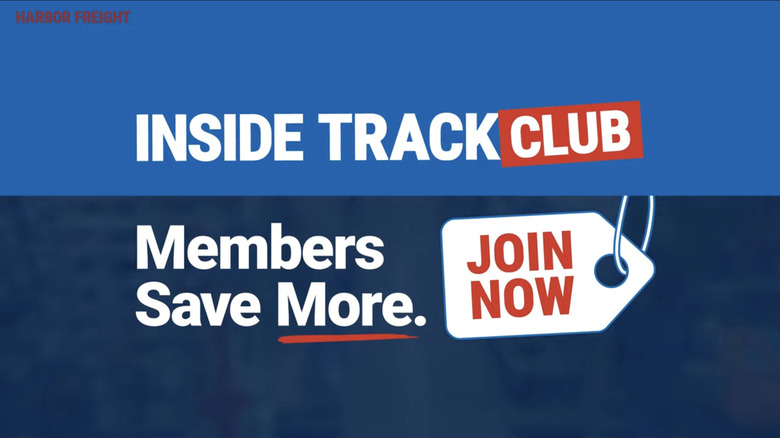 Plenty of retail chains have discount card programs, and some of them even charge subscription fees for those discount cards, with GameStop probably being the most well-known of the premium lot. Generally speaking, these programs are worth it if you know that you will earn the subscription fee back in discounts on the first purchase or two. In Harbor Freight's case, there's the Inside Track Club for $29.99 per year, which promises all sorts of members-only deals each month. Is this Inside Track Club worth the price, though?
Only if you're buying a lot of different tools from Harbor Freight all the time. Unlike, say, GameStop's subscription club, which includes blanket discounts, the Inside Track Club provides an array of deals on specific items that rotate monthly. Whether or not the subscription is worthwhile depends entirely on what you're buying. And since Harbor Freight also offers plenty of item-specific coupons to non-members, there's no real point in joining the Inside Track Club unless you spot enough specific deals that you know that you will take advantage of that will offset the cost of the subscription.
Harbor Freight settled lawsuits over deceptive marketing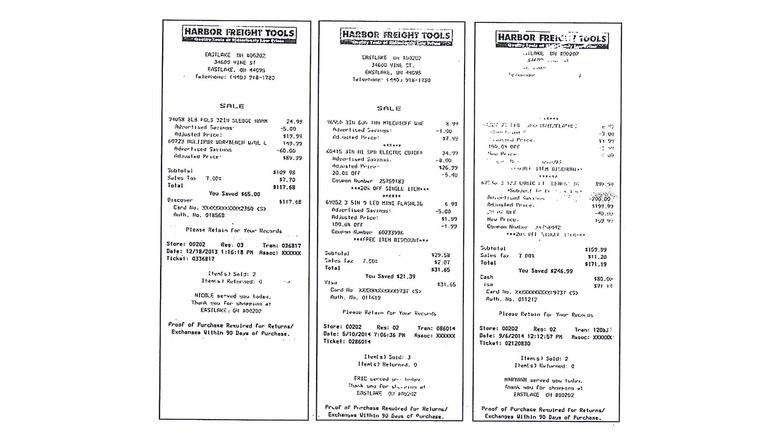 As a chain built on emphasizing the value pricing of its wares, comparison pricing is a key part of Harbor Freight's marketing. On top of the aforementioned "compare to" prices that position Harbor Freight's products relative to various name-brand items, the chain's sale prices are accompanied by the regular/"was" price like any other store that runs sales. Unlike most other chains, though, Harbor Freight settled a class action lawsuit several years ago after being accused of posting fraudulent "was" prices to make its discounts look better.
A customer named Jeffrey Beck sued Harbor Freight in August 2015 in the Court of Common Pleas in Lake County, Ohio, alleging that, in violation of federal law, the chain listed "was" prices that it had not charged for at least 28 of the previous 90 days. He further alleged that sales with listed end dates never actually ended, meaning that the "sale" price was effectively the "regular" price. In May 2016, another customer, Ted Shimono, filed a similar lawsuit in federal court, specifically the Central District of California. Both were eventually settled in the spring of 2017, with Beck leading to a class-action settlement while Shimono was settled personally with the class-action element being dropped.
Though Harbor Freight did not admit any wrongdoing, it offered an array of potential refunds — or more in-store credit — to members of the approved class. Those who still had their original sale receipts showing the claimed savings were, per the terms of the settlement, entitled to more than those who could only prove their purchases using credit card bills or bank statements.
The power tool and hand tool warranties are polar opposites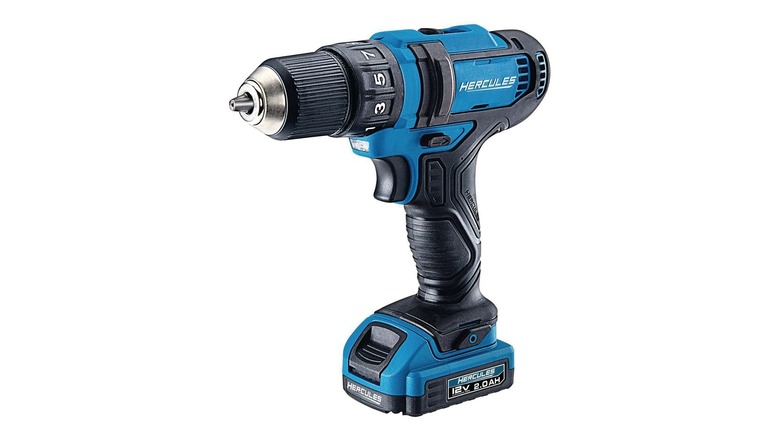 As noted in passing earlier, all hand tools sold at Harbor Freight come with lifetime warranties. Not just the more premium brands; all of them. 
"We guarantee our Hand Tools to be free from defects in material and workmanship for the life of the product," reads the relevant section of the HarborFreight.com page outlining the chain's return, exchange, and warranty policies. "Limitations apply. Harbor Freight Tools will replace any hand tool that fails to properly work during the lifetime of the original purchaser. In the event an identical item is not available as a replacement: Harbor Freight Tools reserves the right to substitute a substantially similar item in its place. This warranty gives you specific legal rights, and you may have other rights that vary from state to state."
If you have a Harbor Freight store nearby, this makes it a very attractive option for hand tools, as you know that anything you buy there, no matter how cheap, can be replaced for free in a pinch if it breaks. Lifetime warranties are more typical of more expensive brands like Craftsman, so this is a major point in Harbor Freight's favor. However, for power tools, Harbor Freight warranties are generally much shorter than the competition at 90 days. Presumably, this is so it can upsell you to purchasing an extended service plan. It's also a glimpse into the pitfalls of how "compare to" officially refers to "a similar functioning item." Built into Harbor Freight's lower prices are the shorter power tool warranty and — unlike Craftsman — the need for a receipt for hand tools warranty service.
In the aggregate, reviews of Harbor Freight as a whole are terrible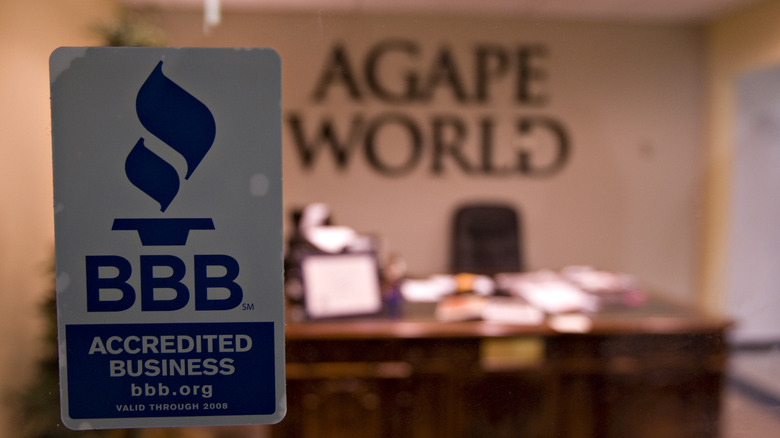 On a product-by-product level, Harbor Freight does indeed have plenty of good deals on inexpensive tools that can be of surprisingly high quality. However, that doesn't cover the chain as a whole, and if you look up Harbor Freight on virtually any business review aggregator, the chain's scores are, in a word, dismal.
As of this writing, at the Better Business Bureau, Harbor Freight scores 1.22 stars out of a possible five, averaging out of 150 reviews. Trustpilot is only slightly better, with a 1.6 average from 322 reviews. SiteJabber is only slightly better, with an average of 1.63 stars from 260 reviews. The worst score, though, is at ResellerRatings, where Harbor Freight averaged one star from 194 reviews. With this kind of site, there will always be a confirmation bias, as people will generally make a point of rating stores where their experiences were unusually good or unusually bad. Still, it's far from impossible to get a good or even great score. 
Complaints about Harbor Freight on these websites run the gamut, from defective products breaking within days to selling obvious returns as new to staff using abusive language towards customers. In general, though, it seems like hardware and home improvement stores tend to draw lower ratings on these sites, though there are exceptions. Ace Hardware, for example, averages 4.08 stars from 86 reviews on ResellerRatings, though it ranked closer to Harbor Freight on the other three aforementioned sites.