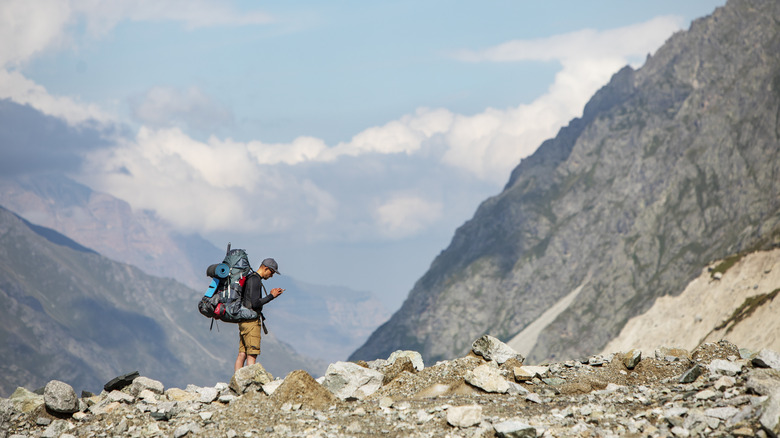 There used to be a time when getting away from city pollution and immersing yourself in nature meant you only needed your camping gear, navigation tools, cooking equipment, a first aid kit, and a sleeping bag. This escape from modern society was intended to be a refreshing break and an adventurous experience. So, why even think about bringing your smartphone into this picture? Your smartphone can significantly enhance the camping experience. 
But you might wonder, won't it be a distraction? Not necessarily. If you want to escape the clutches of social media, emails, and games, you can choose to activate Airplane mode on your smartphone, effectively eliminating these distractions.
When you feel the need for a little connection while camping, you can switch it back on, catch up, and then switch it off again. It's your call! And if you ever find yourself in need of assistance or feeling unsafe, your smartphone becomes a crucial tool. It's your lifeline to call for help and ensure your safety. Both Android and iPhone users can take advantage of a lot of apps that can take your camping trip to a whole new level of unforgettable.
GPS and navigation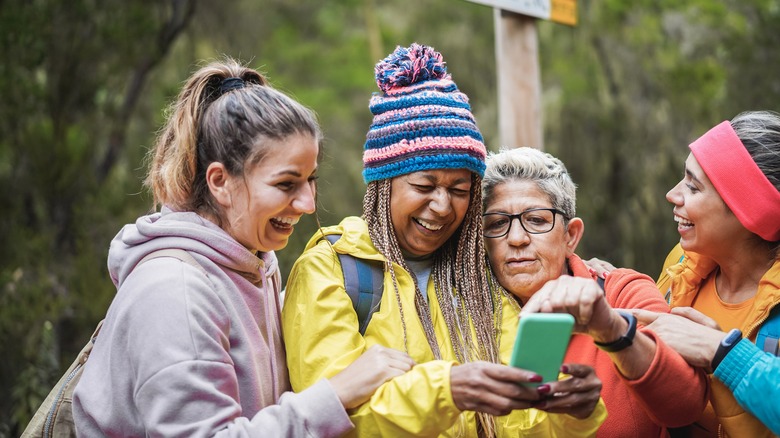 Before you head off on your camping adventure, there's a good chance you've done a bit of scouting regarding your chosen campsite to get a feel for the terrain, layout, and natural surroundings. However, if you are planning remote or backcountry camping, physical scouting may not be possible. You'll have to rely on research. Whether you find yourself in one of these scenarios, it is advisable to have GPS and navigation apps installed on your Smartphone. 
For Android users, Google Maps comes pre-installed on your device, and for iPhone users, you have Apple Maps. These applications are equipped with all the basic features you need for navigation. Before you hit the trail, you can set waypoints, mark out your route, and even download the area where you plan to camp for offline use. So, even if you're in a signal dead zone, you won't get lost. 
These apps can also give you important information like your elevation, weather statistics, and real-time coordinates of your location. This can be invaluable, especially in emergencies where sharing your real-time position becomes necessary. If you find that the built-in maps apps on your device don't fully meet your needs, you can explore alternative options. You can do so by seeking recommendations from fellow campers, forums, social media, and conducting your own research.
Weather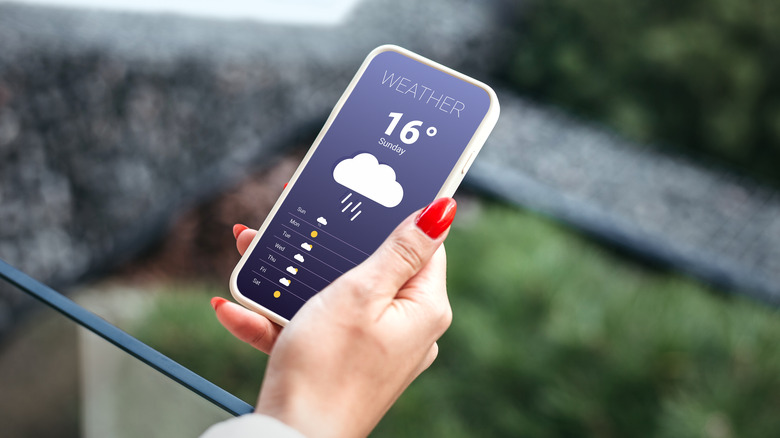 Leaving the comfort of your tent for a getaway from your campsite, only to be surprised by unforeseen weather a few minutes later, can be a real mood-spoiler. To avoid such situations, having a weather app installed on your smartphone or smartwatch is a practical solution. These apps not only help prevent unpleasant weather surprises but also assist you in planning your outfit for your outdoor excursions. With real-time weather information at your fingertips, you can make informed decisions about whether to dress lightly, bring along an umbrella, or apply sunscreen in anticipation of scorching conditions. Similarly, if the forecast predicts cooler weather, you can pack appropriate layering clothing.
Many smartphones come equipped with pre-installed weather apps, and if you're a smartwatch owner, you're in luck, too. Your weather app has all the details, including current and future temperature forecasts, UV index, sunrise and sunset times, wind speeds, precipitation visibility levels, humidity, atmospheric pressure, and more. Just remember, you'll need an internet connection to access this information. While you can download forecasts in advance for offline use, keep in mind that the weather can be a bit unpredictable, and forecast accuracy tends to diminish as the prediction extends further into the future. Therefore, for the most reliable and up-to-date weather information, it's advisable to use an internet connection, ensuring you're aware of any changes that may affect your outdoor plans.
Camping Activities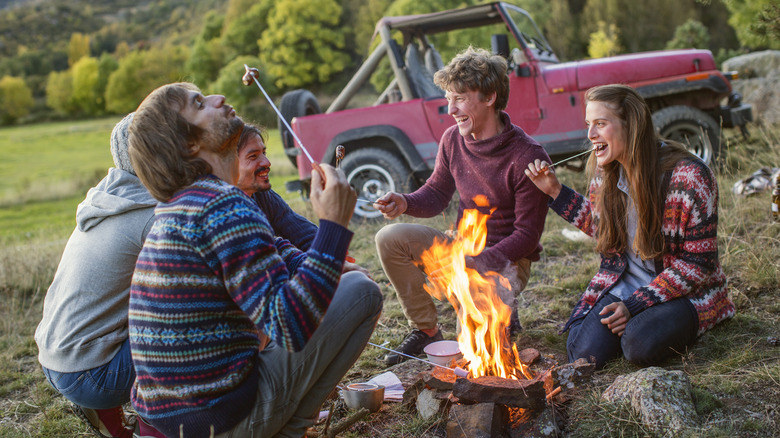 Camping is about embracing the great outdoors and having fun, right? If you're planning a group camping trip (because the more, the merrier) and you're thinking about bringing your smartphone along, playing online games defeats the purpose of being outdoors. You can also opt for traditional board games like Scrabble or Monopoly, which aren't a bad choice for camping but are a bit typical. Instead, why not consider getting some camping activity apps on your smartphone? There are apps for hiking, fishing, biking, running, birdwatching, photography, climbing, and various adventure sports. 
Alternatively, you can find apps with all these outdoor ideas and information in one convenient place, saving you from downloading multiple apps. These apps provide activity lists for various camping adventures, comprehensive descriptions of each activity, and even photos and videos of what to expect. Some of these apps kick it up a notch by offering safety tips and social media integration, allowing you to share your exciting camping shenanigans directly on your favorite social platforms.
First Aid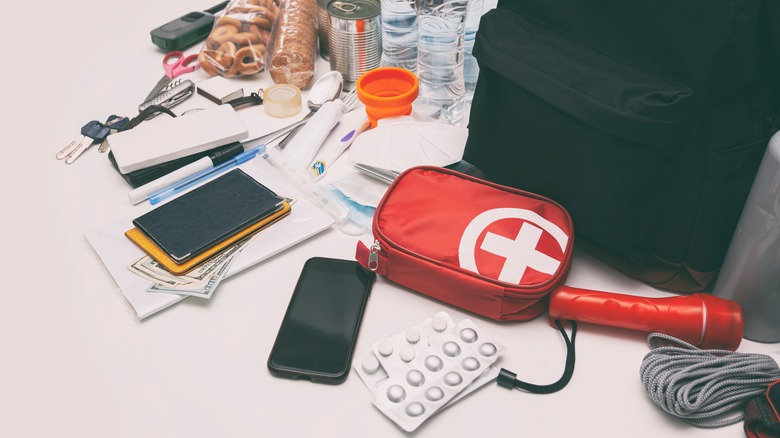 The importance of carrying a digital first aid kit during outdoor activities cannot be overemphasized, and it is a pretty smart move. It's not a replacement for being a full-on medical professional, but it plays a crucial role in equipping you with the knowledge you need to act effectively during critical moments when basic first aid skills can be a lifesaver. 
These first aid apps often include crash courses, teaching you how to handle things like cuts and bruises in emergency situations. They offer step-by-step instructions for managing common first-aid emergencies. In more severe cases, some apps even provide detailed illustrations or, in some instances, video tutorials to walk you through complex procedures, such as handling a broken bone. Plus, these apps can educate you on what your ideal first aid kit should look like for your camping adventures, allowing you to verify that all necessary supplies are in place before embarking on your outdoor adventure.
Plant Identifiers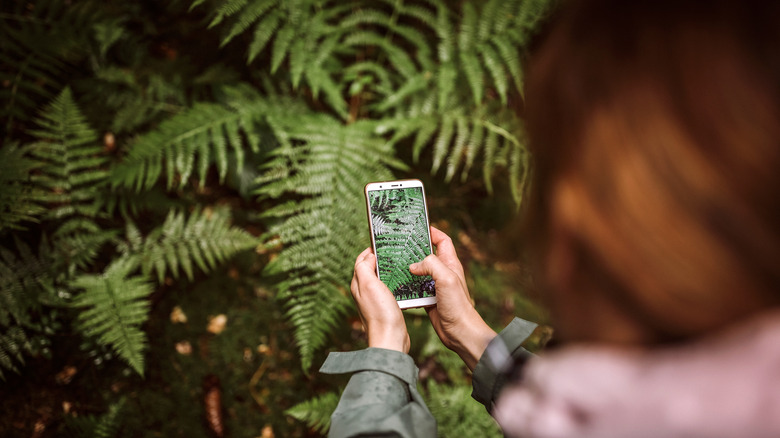 Both the Google PlayStore and Apple AppStore offer a variety of plant identifier apps that will be a valuable resource when outdoors. These apps assist in identifying various plant species, including flowers, vegetables, and even trees, during your camping trip. While it's true they might not always be spot-on, the collective effort of countless users snapping plant pictures and uploading them to these platforms continually improves the accuracy of plant recognition, yielding increasingly reliable results. 
Beyond merely identifying plants, these apps enrich your camping experience with educational opportunities. They often feature a snap feature that allows you to capture images of different plant types. Once you've taken a photo, the app analyzes it and provides suggestions regarding the plant's identity. This includes botanical names and other useful details about the specific plant. Plus, if you have good plant knowledge and want further insights while exploring the outdoors, these apps allow you to simply type in a plant's name and get in-depth information about it.
Cooking and Recipe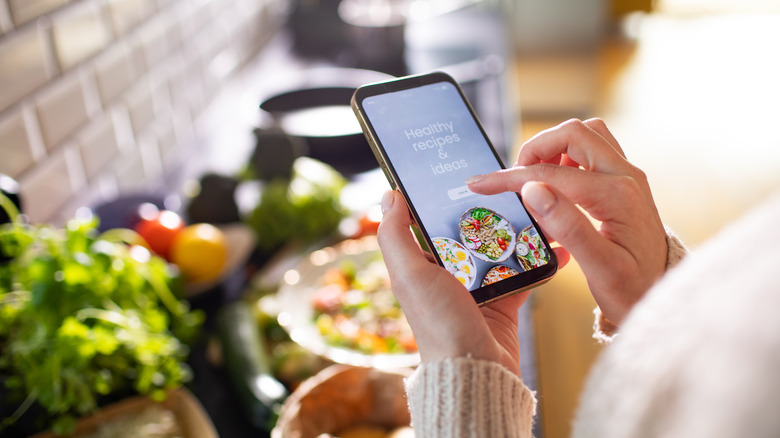 Whether camping with your family, in a group, or flying solo, meal planning is a big deal. It's especially important if you're looking to eat healthier or have some dietary restrictions and still want to have the best meal options while camping. Fortunately, there are apps designed to assist you in doing these. You can create a list of your ingredients, including what you're bringing from home and what you plan to forage. 
These apps have a bunch of camping-friendly recipes to choose from, whether you're into one-pot wonders, portable snacks, or campfire cooking. They also provide detailed cooking instructions and, in some instances, instructional videos, ensuring you can rustle up a tasty meal. Plus, some apps let you download recipes and instructions for offline use. So, even if you're far from a reliable data signal, you can still have recipes to help you whip up well-prepared meals.