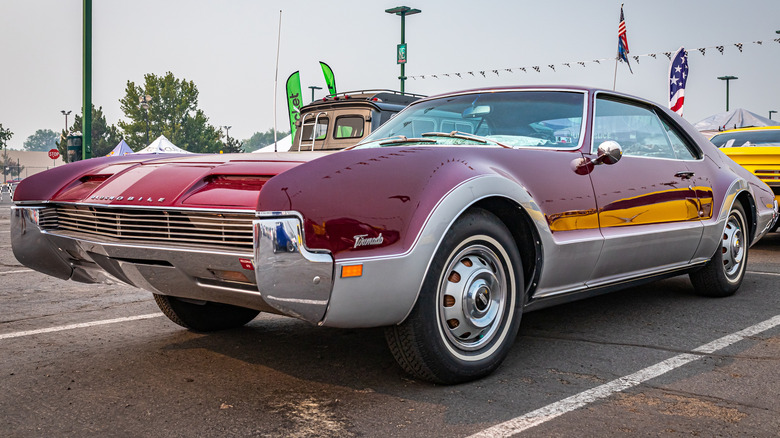 Oldsmobile was founded in 1897 and churned out cars for more than a century before General Motors axed the label in 2004. By then, Oldsmobile's heyday had long since passed, but at its peak, the brand was responsible for such wide-ranging industry innovations as the speedometer, the windshield, the automatic transmission, and the turbocharger.
During the peak era of classic muscle car madness in the 1960s and '70s, Oldsmobile also brought some legendary V8-powered beasts to the market, like the 442, the Hurst Olds, and the Cutlass. The performance and styling of those particular models earned them a place in automotive lore and the hearts and garages of muscle car enthusiasts over the last 50-plus years. Still, Oldsmobile also produced some other models that have flown (driven?) under the radar and can sometimes be found languishing unnoticed in used car lots or barns. 
These underappreciated gems are just waiting to be restored to their former glory. Let's take a closer look at six of these sometimes-forgotten Oldsmobile muscle car models.
Rocket 88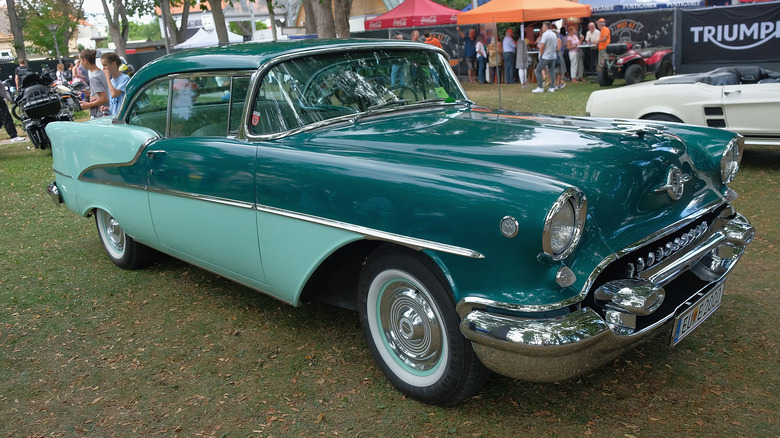 Oldsmobile introduced the Rocket 88 in 1949 as United States military personnel settled in after returning home from World War II. It is considered by many to be Detroit's first muscle car and was powered by a 303 cubic inch V8 that put out 135 horsepower. The Rocket 88 dominated the NASCAR circuit that year, winning five out of eight races. It continued to blow its NASCAR competition off the track, winning 10 out of 19 races in 1950 and 20 out of 41 in 1951, capturing the championship for Oldsmobile drivers in both years. 
The Rocket 88 also inspired what is regarded as the first rock and roll song ever, "Rocket 88" by Jackie Brenston and the Delta Cats. The Rocket 88 spawned the long line of Oldsmobile 88 models that lasted until 1999. Despite the model's market endurance, early examples were largely forgotten by many gearheads during the muscle car's golden years.
While fully restored mint condition Rocket 88s are valued as high as $50,000, it's not hard to find neglected project-condition examples rusting away in fields or barns for just a couple thousand dollars, begging to be brought back to life again.
Starfire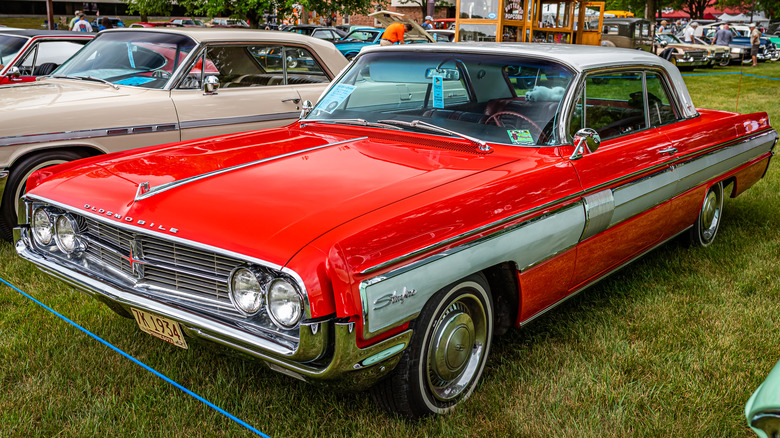 The Starfire was introduced as a prototype model in 1953, taking its name and rounded nose from the Lockheed  F-94B Starfire jet fighter and borrowing its V-8 engine from the Rocket 88. As the model went into production and evolved moving into the mid-'60s, it gradually became bigger and more luxury-focused — eventually coming to include amenities like power-adjustable leather seats and Oldsmobile's pioneering Hydra-Matic automatic transmission.
The Toronado replaced the Starfire in 1966, but the nameplate was revived from 1975 until 1980 in the form of a rebadged Chevy Monza. Although the latest generation Starfire lacks the style of the original, Oldsmobile did bless the line with an optional 5.0 liter V8 between 1977 and 1979 and issued a special Firenza package in 1978 with an upgraded suspension, a rear spoiler and fender flares, and special wheels and graphics. 
While '60s-era Starfires in top condition can fetch upwards of $50,000, several drivable and rust-free examples have sold for less than $20,000 in recent years. 
Toronado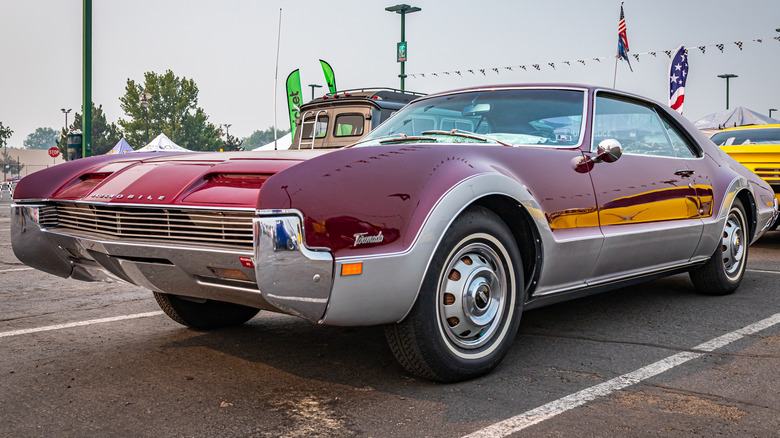 The Toronado was big and heavy at 211 inches long and 4,800 pounds, but the 425 cubic inch (7.0 liter) V8 produced a staggering 385 horsepower and 475 pound-feet of torque. It was the first front-wheel drive American production car since Cord Motors produced its 810 and 812 model sedans back in 1937.
The Toronado also had pop-up headlights and a luxurious interior, features that helped earn it Motor Trend's 1966 Car of the Year award. In bestowing that honor, Motor Trend pointed out that "never in the 14-year history of this award has the choice been so obvious and unanimous. The Toronado symbolizes a resurgence of imaginative engineering and tasteful styling in the U.S. auto industry."
However, that moment might have been the peak of the Toronado's glory days. The second generation was introduced in 1971 with a bigger 7.5-liter engine that produced over 100 horsepower less than its predecessor yet still offered fuel economy of under 10 miles per gallon. The third and fourth-generation Toronado designs further sullied the nameplate, as the newly introduced CAFE standards (corporate average fuel economy) forced Oldsmobile to reduce the size of the engines and bodies of those later models. 
Despite their performance capabilities and curb appeal, first-generation Toronados are still undervalued, with pre-1970 models routinely selling for less than $20,000 and one 1969 example changing hands earlier this year for just $5,100. 
Jetfire
Another one of Oldsmobile's sleek 1960s designs hid a bit of innovative but complicated technology under its sculpted hood. The Jetfire was only made in 1962 and 1963 as a coupe and convertible and in 1962 in wagon form. It featured one of the auto industry's first turbocharging systems. This revolutionary design required a mixture of distilled water, methanol, and a corrosion inhibitor to be added to a special tank under the hood. 
The boosted 215 cubic inch V8 produced 215 horsepower and 300 foot-pounds of torque, enough to push the Jetfire from zero to 60 in less than nine seconds and give it a top speed of 110 mph. The fluid pump in the Jetfire was weak, however, and the system was prone to leaks. Many owners also let their tanks run dry, at which point the turbo system would shut down, frustrating drivers with the diminished performance. 
Beginning in 1965, General Motors offered Jetfire owners the option to replace their Turbo Rocket systems with a conventional four-barrel carburetor and intake setup, meaning it's hard to find a turbo-enabled Jetfire today. Jetfire expert Jim Noel of Bloomington, Minnesota, told Hagerty he thinks there may only be 150 restorable examples of the original run of about 9,600 units still in existence. "I talk with Jetfire owners every month, and more of them are considering restoration," he said. "I can think of 20-25 that are in some state of being worked on."
Rallye 350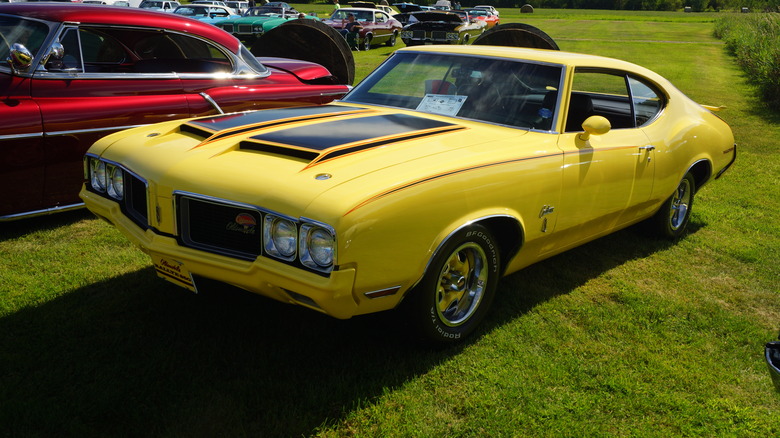 Another short-lived member of the Oldsmobile muscle car family is the Rallye 350, which was only made for the 1970 model year and was introduced at that year's Chicago Auto Show. It was only available in Sebring yellow with black and orange accents and came with yellow urethane-covered bumpers often removed by dealerships in favor of chrome replacements.
As you might infer from the name, the Rallye 350 came with GM's 350-cubic-inch V8 under the hood, the same one Oldsmobile used in the Cutlass. This engine puts out 310 horsepower and 390 pounds of torque with the aid of a four-barrel Quadrajet carburetor. The engine blocks were fortified with nickel, making them fairly durable, and the Rallye 350 could go from zero to 60 in seven seconds and cover a quarter mile in just over 15 seconds. Only 3,547 Rallye 350s were made, meaning they are hard to come by and likely to gain value in the coming years. 
In 2018, Hemmings put the value of a Rallye 350 at between $7,000 and $27,000, depending on condition, and a 1970 model with the original build sheet sold last year for $25,500. However, the lack of color options scared away many original buyers, meaning there might be a forgotten bargain hiding in a barn or garage near you. 
Featured Image by Crown Star Images via Wikimedia Commons | Cropped and Scaled | CC-BY 2.0 |
Delta 88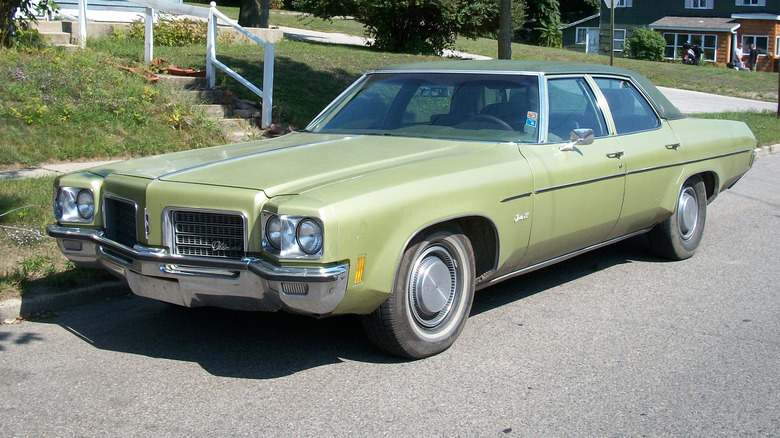 Oldsmobile kept the proud lineage of the Rocket 88 alive until 1999, evolving it into the 88 line that took on the Delta name in the sixth generation, which began in 1965. Custom and Royale models and the Custom Cruiser station wagon were introduced to the next generation in 1971. In 1977, the Delta 88 served as the Indianapolis 500 pace car, and the ninth-generation Delta 88 became the platform of choice for a handful of NASCAR teams after its debut in 1986. 
Earlier versions of the Delta 88 were similar to the low-slung, smooth designs of their GM B-body cousins, the Buick LeSabre, Pontiac Bonneville, and Chevrolet Impala. By the time the model was near the end of its lifespan, however, the body had shrunk a bit and become more squared off. Beginning in 1989, the numerical "88" was changed to the spelled-out version on the model's badging. The evolution of the Delta 88's body shape and the high production numbers mean many surviving examples in good condition can be had for less than $10,000.
A meticulously restored Delta 88 can fetch close to $25,000, however, making these cars a potential source of profit for an industrious hobbyist with some garage space and spare time.
 Featured Image by Taxiguy57 via Wikimedia Commons | CC-BY Public domain |