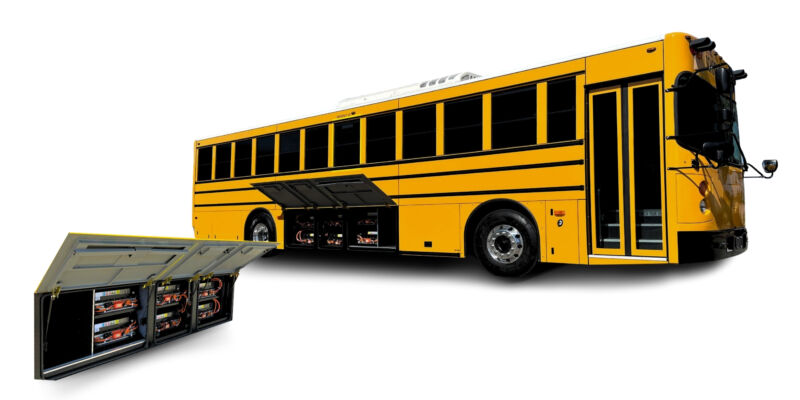 On Tuesday morning, the West Virginia-based GreenPower Motor Company debuted its latest electric vehicle. It's the newest version of its class-D electric school bus, now fitted with a great big battery to give the big yellow bus the kind of range it needs for longer routes.
GreenPower has been building electric buses for almost a decade now, and in 2019 it delivered the first BEAST buses (it stands for Battery Electric Automotive School Transportation) to a school district in California. More recently, GreenPower has been testing its buses in real-world conditions, conducting a nine-month pilot program in West Virginia that split its time across 18 different school districts (for six weeks each), clocking up more than 32,000 miles (51,500 km) in the process.
"We found that in ideal conditions, so not a real cold morning or anything like that, but the bus was getting between 1.4 and 1.5 [miles] to 1 percent state of charge. So that means that your range on 100 percent state of charge is in that 140 to 150 mile range," explained Mark Nestlen, vice president of business development and strategy at GreenPower.
"We did see the range as high as at 1.67, meaning 167 miles, that happened in Morgantown and Monongalia County. I would also say it happened with a transportation director driving the bus, which I'd make that point because drivers impact range and obviously he's a seasoned professional driver and probably was driving pretty conservative that day," he told Ars.
The regular BEAST can carry up to 90 passengers about 140-150 miles (225-241 km) on its 194-kWh battery pack, which is sufficient for most school routes, but not all.
Some routes need a bigger battery
"A school bus route in the United States is 70 to 80 miles on the high side; you have routes out there in towns or in cities that may only be 30 or 40 miles. But then you also do have some when you get into rural areas, you might have some of those that are 110 miles, one way during the day," Nestlen told me.
"We did have one of the counties, McDowell County, which is down in southwest West Virginia. One day they put the bus on a route that was 147 miles, and the bus came back at 7 percent,"—this was actually more than adequate performance considering the driver apparently had the heater on the entire time, but returning to base with such little leeway in the battery did not sit well with the school district's transportation director.
There's now a $5 billion fund for school districts to electrify their bus fleets, courtesy of the Environmental Protection Agency, and GreenPower's West Virginian pilot program (which included some of its smaller buses as well as BEASTs) should provide some useful data for those districts to consider.
"One of the things that the pilot will tell you is you do have to determine where you want to put the buses—you don't want to put it on the 147 mile route because that's going to be a problem," Nestlen said. "And so if you're integrating buses into your fleet, the pilot tells us put them where they work the best for you in doing that.
"On the other side of the spectrum, we saw that in a January, February timeframe with really cold mornings where the weather was causing you to have the heaters going hard in the morning, that range would drop down to a 0.7 to 0.8 to 1; we did go as low as a 0.69. So that's 70 to 80 miles on 100 percent charge and that is because heat takes more energy than air conditioning," Nestlen said.
"I think what that pilot then tells us is it's not so much that that's a negative, it's just simply you have to calculate that into your decisions on how you set up your charging infrastructure. If I'm going to have mornings where I've got that machine being used and it's going to impact my range, I need to make sure that I have the correct DC fast charging infrastructure set up so that I have the time to opportunity-charge that bus between the morning and afternoon so that it's back to its 100 percent when it goes out for the afternoon runs," Nestlen explained.
The Mega BEAST addresses the needs of those longer routes with plenty of headroom for winter, or school districts where fast-charging at lunchtime might not be feasible. Its battery pack is an enormous 387 kWh, which GreenPower says should give it a range of 300 miles on a single charge. The company also notes that the large battery makes it extra useful should a power company want to partner with a school district on a vehicle-to-grid installation.