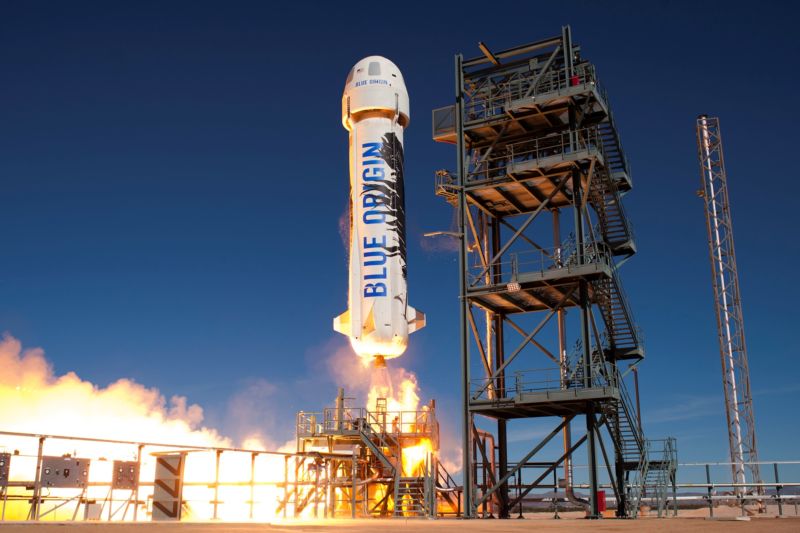 One year ago today a Blue Origin-built rocket carrying a spacecraft exploded above the West Texas desert in dramatic fashion. There were no passengers aboard the New Shepard capsule, which was able to push powerfully away from the rocket with its escape system and land safely under a parachute in the desert.
The failure of the New Shepard-23 mission happened at 1 minute and 4 seconds into the flight. The vehicle had already passed through max Q, the point at which the launch system faces maximum dynamic pressure during ascent, and its BE-3 rocket engine was throttling back up to continue climbing on its suborbital trajectory.
Half a year after this failure, Blue Origin provided an update on the accident investigation it had conducted with assistance from the Federal Aviation Administration and the National Transportation Safety Board. According to this update, the mishap team noted "hot streaks" on the rocket engine's nozzle and determined that it was operating at higher temperatures than it was designed for.
Although the summary did not explicitly say so, it appears that at some point in the flight campaign of this booster, design changes were made that allowed for these hotter temperatures to be present. This was the ninth flight of this booster, which is one half of the launch system that also includes a capsule.
In the update provided on March 27 of this year, the company said, "Blue Origin is implementing corrective actions, including design changes to the combustion chamber and operating parameters, which have reduced engine nozzle bulk and hot-streak temperatures."
Finally returning to flight
As part of this update, Blue Origin said it intended to return to flight "soon" with an uncrewed mission to give the three dozen payloads that were flying on the NS-23 spacecraft another shot at weightlessness. There have been no official updates in the nearly six months since then.
According to two sources familiar with the company's manifest, however, it does appear that Blue Origin is finally getting ready to fly the New Shepard launch system again. The company's tentative plans call for an uncrewed test flight to occur in early October. If all goes well, Blue Origin is then planning its first crewed mission since August 4, 2022, to take place in mid-February of next year.
It is not clear which rocket Blue Origin will use to return to flight. The company's first New Shepard rocket, Booster 1, was lost during an April 2015 flight. Booster 2 was retired in October 2016 after performing a successful test of the launch escape system on its fifth and final flight. Booster 3, which launched the NS-23 mission in September, was the company's oldest operational rocket, making its debut in December 2017. The company has used its newest rocket, Booster 4, exclusively for human launches. It has also been developing a newer booster, presumably with what it has learned from this accident.
New Shepard's long-awaited return to flight comes as its primary competitor, Virgin Galactic, has begun to demonstrate an impressive cadence of human spaceflights. With its VSS Unity spacecraft, Virgin Galactic can carry four passengers and two pilots to an altitude of about 55 miles, and this vehicle has made four spaceflights in four months this summer. Virgin Galactic's president, Mike Moses, told Ars that the company plans to continue flying humans on VSS Unity on more or less a monthly cadence from now on.
To date, VSS Unity has made a total of eight human spaceflights, five of which carried at least one passenger. New Shepard has made six human spaceflights. Blue Origin had been averaging one human spaceflight approximately every two months, prior to the accident.