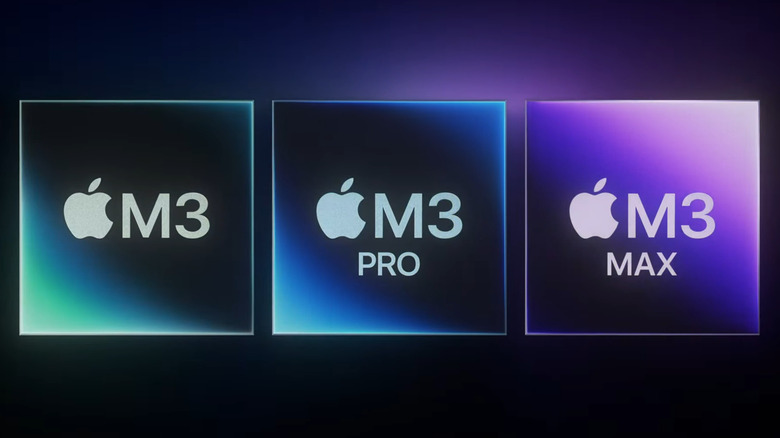 During its "Scary Fast" event on October 30, Apple introduced its latest silicon lineup: the M3, M3 Pro, and M3 Max built with the 3nm process. According to Apple, the chips bring substantial performance and efficiency upgrades over the M1 family, with the company noting that it has managed to squeeze 2 million transistors into a space the size of the cross-section of a human hair. This marks the first time 3nm chips have been made available in personal computers, according to Apple.
The M3 family brings Apple's largest GPU advancement to date, boasting Dynamic Caching, which allocates the "exact" amount of memory a task requires, plus there's hardware-accelerated ray tracing and mesh shading, marking a first for the Mac family. Consumers can expect an overall 2.5 times boost in rendering performance.
Focusing on the CPU side of things, Apple says that customers can expect 30% faster performance when compared with the M1 family, while the efficiency cores nudge the performance boost up by nearly 50%. Assuming you went only with the base M3 chip, you would get 8 CPU cores and 10 GPU cores with an overall speed increase of 60% when compared with the M1 chip. The M3 Pro takes the core numbers up to 12 and 18, respectively, while the M3 Max jumps to 16 CPU cores and 40 GPU cores. As far as memory goes, the M3 will net you 24 GB of unified memory, while the M3 Pro jumps to 36 GB and the M3 Max brings 128 GB. The M3's Neural Engine is 60% faster than that of the M1 family, as well.
Apple has new MacBook Pros to go with the M3 family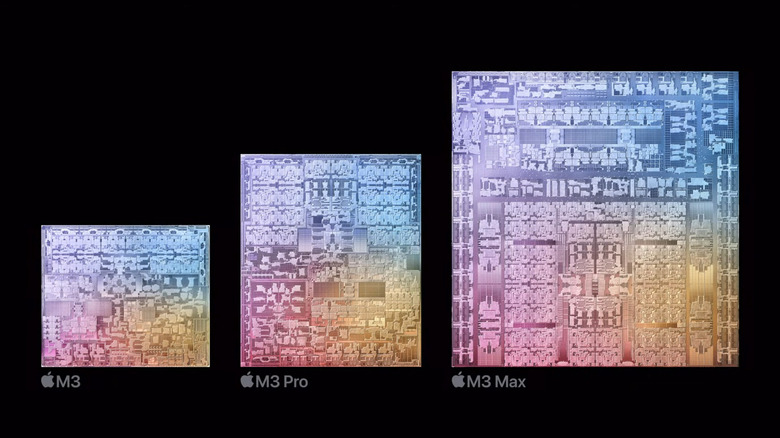 The announcement come a little over a month after Apple's September 2023 iPhone 15 event, which saw the company introduce the iPhone 15 lineup in addition to the Apple Watch Series 9 and the second-generation Apple Watch Ultra. Apple itself teased today's Mac announcements as part of its event invitation, which included the Mac Finder icon.
Consumers can expect to find the new M3 chip family in Apple's newly announced Mac models, including the 14-inch MacBook Pro with XDR display featuring the base M3 chip; the 14-inch and 16-inch MacBook Pro featuring the M3 Pro chip; and a MacBook Pro model with the M3 Max chip, which will be able to power four high-resolution external monitors. 
Apple surprised its customers by introducing a black MacBook color option, which is limited to the M3 Pro and M3 Max models. The new lineup will start at $1,599 for the base MacBook Pro with M3, while the 14-inch and 16-inch MacBook Pro sporting the M3 Pro chip start at $1,999 and $2,499, respectively. Both are available to order starting today. The MacBook Pro with the M3 Max chip, meanwhile, will start at $3,499.