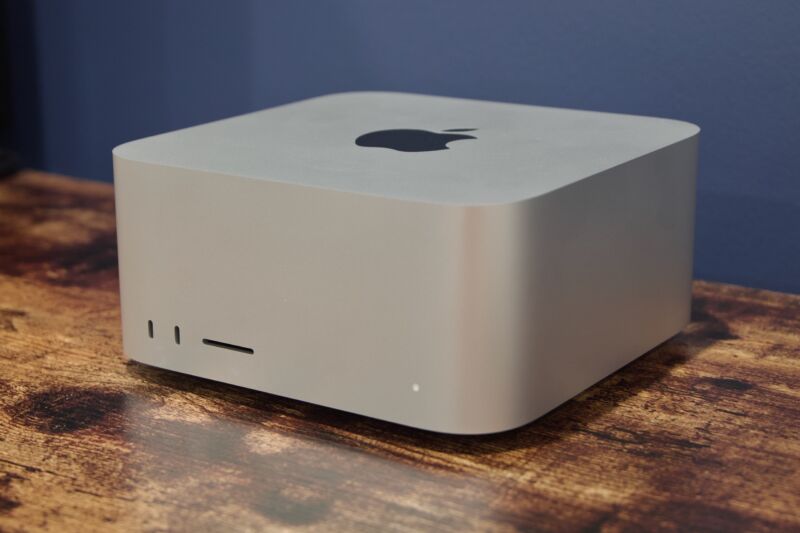 Apple's M3 processor generation is continuing to take shape thanks to what seem to be unreleased internal test devices that are showing up in the analytics data of third-party app developers. Back in May, Bloomberg's Mark Gurman reported on the specs of what appeared to be a new M3 Pro processor. Yesterday, Gurman revealed the specs of a new M3 Max, which has a total of 16 CPU cores and 40 GPU cores, plus 48GB of memory (likely not the maximum that will be available since the current MacBook Pros can go up to 96GB).
The current M2 Max, found in the 16-inch MacBook Pro and the Mac Studio, tops out at 12 CPU cores and 38 GPU cores. Gurman says that all four of the M3 Max's extra CPU cores should be large, high-performance cores rather than smaller efficiency cores; both kinds of cores boost speeds, but performance cores are obviously more useful for high-end workloads.
Earlier this week, Gurman also noticed a new base-model M3 chip that continued to use 8 CPU cores and 10 GPU cores, just like the current M2. This chip would still be a speed upgrade from the M2, but it would have to rely on architectural improvements and clock speed boosts rather than extra cores. The original M1 used eight CPU cores as well, also split evenly between high-performance and high-efficiency cores.
All of the M3-series chips (plus the upcoming A17 Bionic chip for next-gen iPhones) will be manufactured using a new 3 nm process from Taiwan Semiconductor. A smaller manufacturing process allows Apple to either maintain the same performance at a lower power consumption, increase performance while keeping power consumption about the same, or some combination of the two. The M2 chips use a refined "second-generation" version of the 5 nm TSMC manufacturing process that was used for the M1 series, most likely N5P.
These probably won't be the only versions of the M3, M3 Pro, and M3 Max that we see, and the versions that eventually make it to retail could include more (or fewer!) CPU and GPU cores than the ones that have appeared in developer logs so far. Apple offers multiple configurations of most of its Macs, allowing it to use "binned" chips with defective cores rather than throwing them out (though TSMC allegedly doesn't charge Apple for unusable chips as most chip manufacturers do for most customers).
Apple often releases new Macs in October after the dust has settled from its iPhone and Apple Watch announcements in September. We should see the first M3 Macs around then, about 15 months after the introduction of the first wave of M2 Macs. The MacBook Air usually leads the charge.
Apple finished its transition from Intel's CPUs to its own Apple Silicon chips about a year behind schedule, finally replacing the Intel Mac Pro with an M2 Ultra version this summer. Now that the transition is finished, we wouldn't expect any huge surprises from the M3 generation. The M2 generation gave us a "pro" Mac mini, a MacBook Air redesign, and a 15-inch Air, but the M3 refreshes should generally just be straightforward chip upgrades.
Gurman has occasionally mentioned a possible replacement for the old 27-inch iMac, which vanished from Apple's lineup with no replacement in early 2022. The iMac used to be the desktop Apple would point you to if you needed more power than a Mac mini and less than a Mac Pro, but the M2 Pro Mac mini and the entry-level Mac Studio both fill that spot in Apple's lineup now. Gurman has said that a larger iMac with a 32-inch screen is in "early testing" and could be released in 2024 or 2025, but it doesn't sound like a sure thing.
Update: A previous version of this article stated that Apple's M2 was manufactured using N4P, TSMC's "third major enhancement" to its 5 nm manufacturing process. Apple has said that M2 chips are built on a "second-generation" 5 nm process, which is more likely to be N5P.