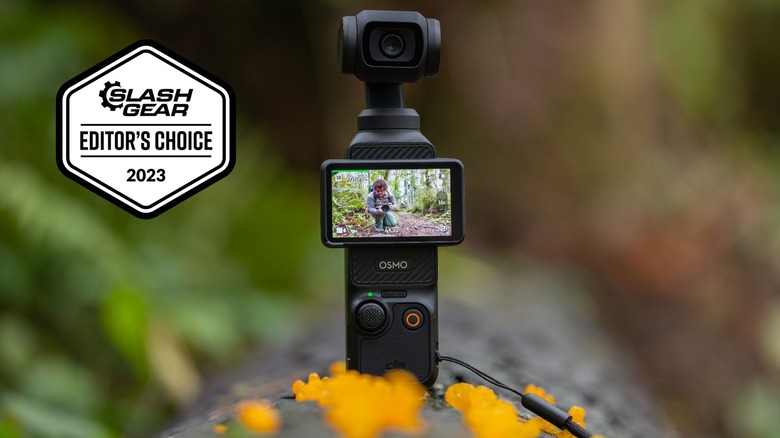 The DJI Osmo Pocket 3 is the latest in a long line of cameras which are designed to make capturing smooth, cinematic hand-held video easy. It combines the miniature size of an action camera with the motion-stabilizing capabilities of a camera gimbal into one convenient package. With autofocus, subject tracking, and the capability to pair to a wireless lav mic, among other filmmaking capabilities, the Osmo Pocket 3 could be an excellent all-in-one tool for content creation.
It's easy to get excited about such a potentially versatile little camera, particularly when it includes a large 1-inch sensor, which could deliver an impressive boost to image quality. Whether or not it offers a significant upgrade over the DJI Pocket 2 is definitely worth investigating, and for many, it may be a tough decision between the Osmo Pocket 3 and one of this year's impressive action cameras. We traveled around the Pacific Northwest with the Osmo Action 3 to see if it's as impressive in the field as it is on paper.
DJI provided SlashGear with a sample of the Osmo Pocket 3 to test and review.
A familiar design with significant alterations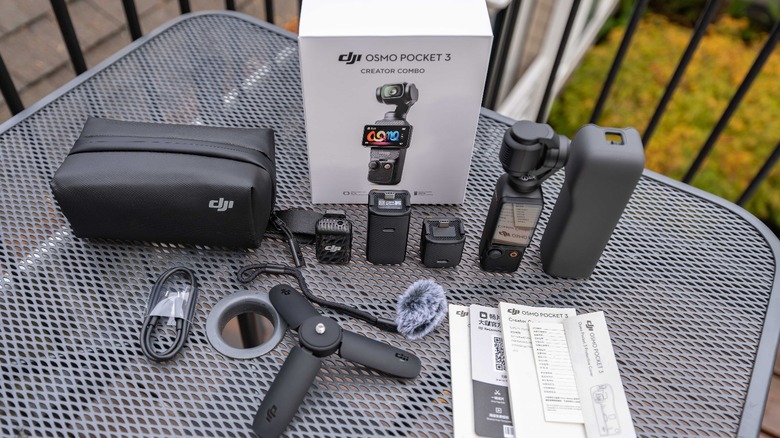 The Osmo Pocket 3 appears very similar to the Pocket 2, with the major outward alterations being a flippy screen and changes to the control scheme. The device is essentially a rectangle with a gimbal and camera attached to its top. It certainly lives up to its name, as even when inserted in its included protective case the device is small enough to fit into a large pocket.
It's important to note that the Osmo Pocket 3 is not water or dust-resistant, so you want to keep it out of the sea and away from excessive dust and grit. However, we used it in very light rain showers, and in various outdoor locations, and never ran into any problems. Essentially, you'll probably be OK as long as you don't get it soaked or bury it in the sand.
We tested the Osmo Pocket 3 with the Creator Combo, which includes a carrying case with organizational compartments for the various items, a DJI Mic 2 wireless microphone plus a windscreen and magnetic clip, battery handle, handle extender, mini tripod, wide-angle lens, power cable, and protective case for the Osmo Pocket 3. While the Pocket 3 is a formidable tool itself, the whole combo package really unlocks the full potential of the device.
Excellent video quality and effective autofocus
Video quality from the Osmo Pocket 3 is excellent, thanks to a remarkably large 1-inch sensor. It features a moderately wide field of view, and delivers 4K footage that is crisp, provides great dynamic range performance, and is great in low-light situations.
Autofocus is a big part of the appeal of the Osmo Pocket 3, and it certainly provides excellent results in this regard. We found that it was able to quickly and reliably adjust focus from close-ups to distant scenery. Thanks to the large sensor, it's possible to get a good background blur.
This means that for scenarios in which you're filming someone or something at close range it's going to look much more professional than an action camera, and it's real bokeh as opposed to the fake out-of-focus areas that smartphones are able to generate. We tested it by filming a photo shoot where we wanted to get the controls on the camera in focus and film its operation, and the Osmo Pocket 3 absolutely excelled at this task. It focused on the controls immediately, blurred out the background, and delivered results you may have previously only expected to see from a much larger and more expensive camera.
Still photo quality is also very good, and the camera can automatically shoot great panoramas. The large 1-inch sensor makes this a remarkably capable camera for still photography in addition to video.
Wide-angle lens and Active Track 6.0
An optional accessory for the Osmo Pocket 3 is a magnetic snap-on wide-angle lens. This increases the field of view to the equivalent of a 15mm lens. It's not a huge increase in FOV, but it's definitely helpful, particularly for hand-held vlog-style content. The image quality with it attached remains excellent.
Active Track 6.0 in the Osmo Pocket 3 is shockingly effective. Just double-tap on the screen and the camera will lock onto whatever you've selected and keep it centered in frame. It can even be set to automatically track your face when you put it into selfie mode. Not only was this extremely reliable in terms of knowing what it was supposed to focus on, but it was even able to smoothly follow a subject walking behind partially obscuring objects and only lost tracking when the subject totally disappeared from the frame.
The subject tracking capability of the Osmo Pocket 3 takes this from merely being a well-stabilized video camera and turns it into a tiny little robotic photography assistant. Enhancements for human faces are also available in-camera. The Osmo Pocket 3 can automatically detect faces when they enter the frame, and optimize the exposure for skin tones. Upgraded glamor effects to smooth skin, apply makeup, and alter the shape of your face can also be enabled, and it's possible to achieve pleasant, subtle results if you don't go overboard with the effects.
D-LogM, motion timelapses, slow motion video, and a long lasting battery
Adding to the usefulness of the Osmo Pocket 3 for recording great-looking videos is the ability to record footage in D-LogM format with 10-bit color. This allows for a lot of extra editing latitude in post-production and is an essential feature for a camera that might be applied to more professional applications. The 4K slow motion video is similarly great to have, allowing you to capture remarkably crisp footage at up to 120fps. Thanks to the small size of the camera, we were able to capture really dramatic shots of small waterfalls in narrow gullies.
The Osmo Pocket 3 also excels as a timelapse camera, particularly when you take advantage of its ability to capture motion timelapses. While a static timelapse can certainly look amazing, adding panning movement really elevates such shots. You can select from simple presets, customize both duration, and interval, and set custom gimbal movements. The results are quite compelling.
We were never concerned with running out of batteries, despite lengthy video shoots. The internal battery has a decent life, and with the extended battery grip, we went for days without ever needing to recharge. Of course, your mileage may vary, but overall we're very impressed. The extended battery grip essentially acts as a replaceable battery, and the clip system it uses to attach to the Osmo Pocket 3 is solid and fast to operate.
Excellent audio recording capabilities with the DJI Mic 2
The ability to record excellent audio is vital for a device designed to make video recording as simple and straightforward as possible. The Osmo Pocket 3 doesn't disappoint in this regard. The internal stereo microphone array sounds great, and we'd be happy to record a casual vlog with the device on its own.
However, if you opt for the creator combo that we tested, the Osmo Pocket 3 comes bundled with the DJI Mic 2, which is a wireless Lavalier microphone that even comes with a clip-on windscreen (also known as a deadcat). This is particularly helpful if you're recording videos in loud and distracting conditions, as a lav mic such as this really helps isolate your voice.
What's really amazing is how easy connecting the wireless microphone to the Osmo Pocket 3 is. Just power both devices on, wait a few seconds, and they quickly sync together. It's seamless and simple, and the quality of the audio it records is excellent. The DJI Mic 2 can clip onto your clothing, or you can attach it with an included magnet placed under your clothing. The one limitation we found was that there's no way to adjust detailed audio recording settings in the DJI Mic 2 through the Osmo Pocket 3, so when we tried to record Laurien Zahn practicing operatic singing, we couldn't adjust the microphone to accommodate her wide vocal range.
Easy controls and precision gimbal movement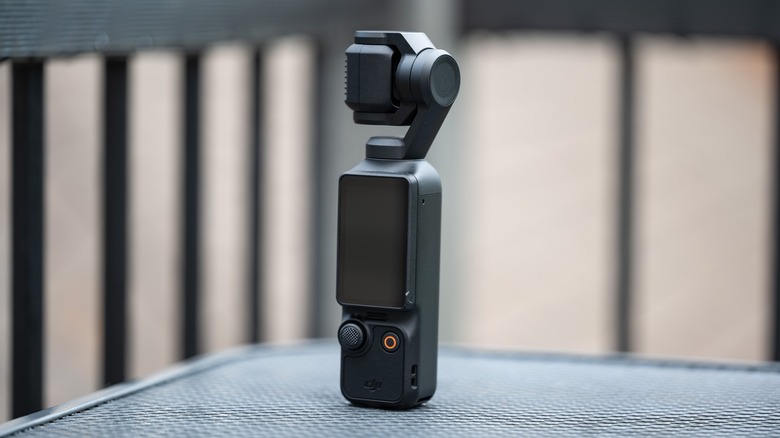 The control system for the Osmo Pocket 3 is simple, elegant, and effective. The joystick controls gimbal movement and digital zoom, depending on your settings, and the only other physical control is the record button, which if you hold it down will power the Osmo Pocket 3 on or off. The joystick doubles as a button to control aspects of gimbal movement. Hold it down to lock the direction of the gimbal, double-click to reset, and triple-click to swap the direction the gimbal is facing.
On the touchscreen, you can set the behavior of the gimbal. Choose between Sport mode for fast-moving subjects, responsive for moderate speeds, and standard for slow movement. It's very important to choose the proper mode for each given scenario. You can also choose between gimbal modes, including FPV where the camera rotates freely and follows the movement of the device, tilt locked where the horizon remains level, and follow which is the standard mode.
The improvement in our footage once we realized we needed to be adjusting the gimbal settings to match different filming situations was immense. While the Osmo Pocket 3 delivers great footage right out of the gate, it also greatly rewards those who make the effort to master its controls.
Fantastic flippy screen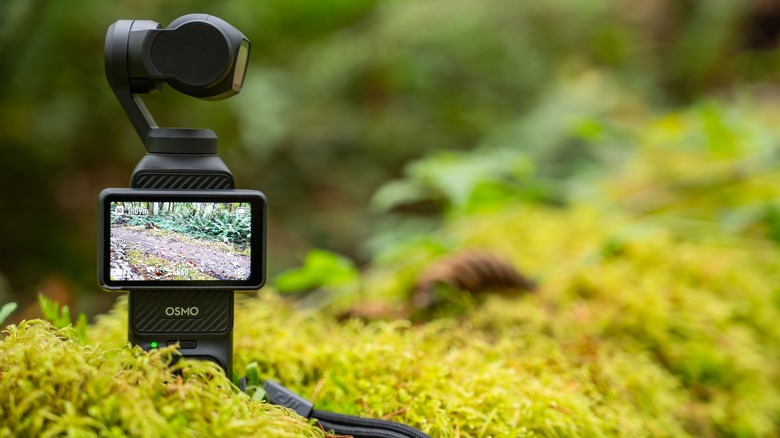 The most obvious outward change to the Osmo Pocket 3 is its new display, which flips between horizontal and vertical orientations. This offers a drastic improvement for video monitoring, controlling the camera, and changing settings, as menus and controls are much easier to access and operate on this display than on the more restrictive displays of the previous Pocket series.
The flipping display also functions as a power switch for the camera – flipping the display into horizontal mode turns it on, and flipping it back to vertical powers it down after a couple of seconds, though you also have the option to cancel this power-down and use the device with the screen in vertical orientation. The flipping display mechanism is extremely satisfying to use, and we found it preferable to a traditional power button.
In terms of size and quality, this is a 2-inch OLED panel, and it's both bright and beautiful, with great color accuracy. We found it easy to use outdoors, even in sunny conditions.
On the software front, we love the on-screen interface of the Osmo Pocket 3 – it's clearly very well developed. The companion DJI Mimo app is also great, but we don't like that the device needs to be registered using it. This kind of registration makes sense with DJI's drones, but it shouldn't be baked into a hand-held camera.
It's also worth noting that the Osmo Pocket 3 can be used for live streaming, and is an excellent camera for that purpose.
Is it better than an action camera?
Back when the original DJI Osmo camera launched in 2015, an integrated camera and gimbal system offered video stabilization which electronic stabilization in contemporary action cameras couldn't hope to match. Over the intervening years, compact, durable cameras from GoPro, Insta360, and DJI themselves have become increasingly capable of using software and accelerometer data to electronically stabilize footage.
The DJI Osmo Action 4, GoPro Hero 12 Black, and Insta360 Go 3 all offer video stabilization which holds up remarkably well to the Osmo Pocket 3. However, those cameras have smaller sensors with less impressive image quality. They can't automatically track subjects and lack the auto-focus capabilities of the Osmo Pocket 3. They also can't perform precise camera movements, such as motion timelapses. On the flip side, action cameras are fully waterproof, as well as being extremely durable.
Ultimately, they are different tools for different purposes, and the decision comes down to what you need the camera to do. The Osmo Pocket 3 is superior as an all-in-one solution for a solo filmmaker. An action camera is better suited to capturing high-intensity activities in the most adverse of conditions.
The price of a large sensor camera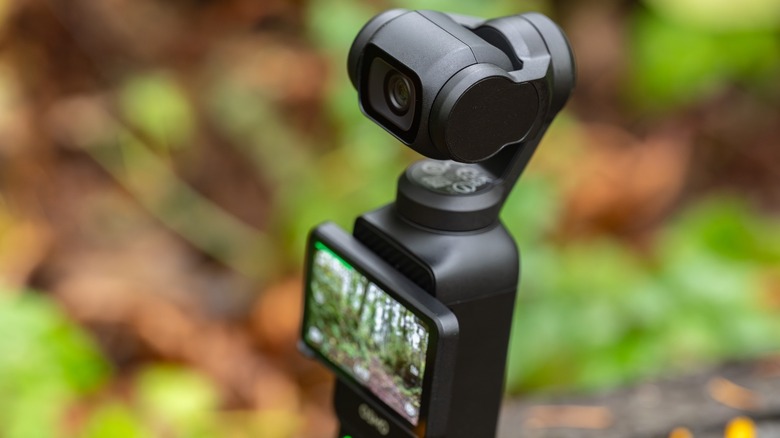 With such serious upgrades over its predecessor, it's not surprising that the Osmo Pocket 3 has experienced a significant bump in price. At $519 it's hardly a casual purchase, and the Creator Combo will set you back $669. This puts it well above the DJI Action 4 and other action cameras, and it's actually more expensive than the DJI Mini 3 drone. It even puts it close to mirrorless cameras such as the vlogging-focused Nikon Z30 which has a much larger sensor.
However, none of those other devices offer all the advantages of the Osmo Pocket 3, making it practically unique. Also, that 1-inch sensor really is an astounding thing to find in a camera as compact as this, and that feature alone justifies the steep price increase over the Pocket 2. It's not exactly what we'd call a tremendous bargain, but it's a reasonable value for money.
Conclusion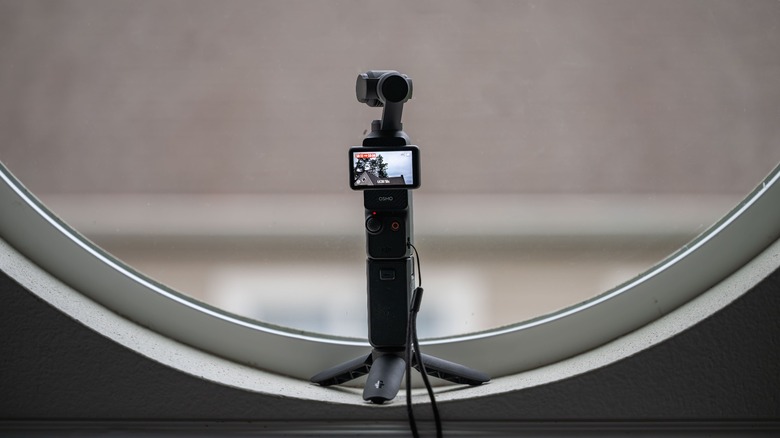 If you could own only one camera with which to film all manner of content, then you'd be hard-pressed to find a device more versatile than the DJI Osmo Pocket 3. Thanks to its large sensor, quick autofocus, superior audio recording capability, and effective subject tracking, it far elevates itself above the action cameras which might otherwise present serious competition. The Achilles Heel of this camera is its lack of waterproofing, but given how much it excels in so many other ways, its aversion to water and dirt may be forgiven.
It's easy to imagine all sorts of scenarios in which the Osmo Pocket 3 would be ideal. Vlogging is obviously a forte of this camera, but it would also be perfect for recording behind-the-scenes footage on a shoot, or for an ultralight backpacking trip where you might not budget space and weight for a larger camera rig. Its audio recording prowess would make it great for recording interviews, and with how good it is at tracking even fast-moving subjects, it's perfect for capturing dynamic action shots of both people and their pets. The Osmo Pocket 3 might even be worth it if you were only ever to use it to capture moving timelapse video.
The Osmo Pocket 3 is both a huge upgrade over the Pocket 2 and a device that has carved out its own niche as an ultra-portable all-in-one filmmaking device.