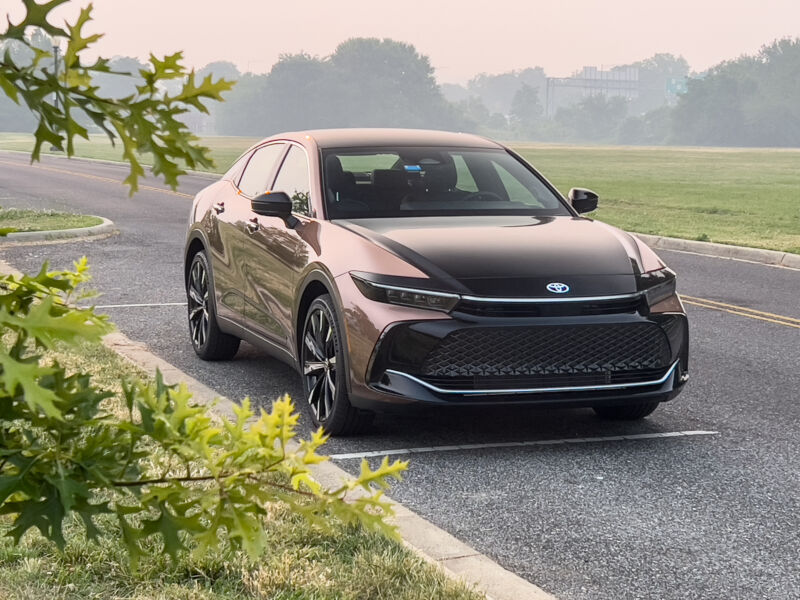 The sedan might not be appropriately extinct like non-avian dinosaurs, but it has actually definitely fallen out of favor with the car-buying public. That's a topic that Toyota understands plenty about-- even as the SUV becomes ascendant, its Camry sedan stays the nation's very popular vehicle that isn't a suv, crossover, or pickup. So its designers were obviously checking out the tea leaves when it came time to replace the Avalon. That replacement is called the Crown, and while it absolutely checks the "four doors and a trunk" criteria, its bold styling makes it the most SUV-like sedan I've come across in a long time.
The Crown shares its TNGA-K platform with other large Toyotas and Lexuses, consisting of the abovementioned Camry, plus SUVs like the Venza, Highlander, and RX, and even a minivan. Those are all mostly traditional, overlooking for the moment Lexus' large cheese grater grille.
The Crown is less conventional, starting with a height that's practically 4 inches taller than the Camry-- 60.6 inches (1,539 mm) regardless of near-identical ground clearance. It's the exact same width as a Camry (72.4 inches or 1,840 mm depending on which taste you speak) however four inches longer at 196.1 inches (4,980 mm), and with an inch-longer wheelbase (112.2 inches/2,850 mm). And it conforms-- sort of-- to the three-box shape one anticipates of a sedan.
For such a strongly styled vehicle, Toyota's press products are incredibly restrained, explaining how its"vibe shakes off the conventions of the common sedan with a side profile that streams to a broad rear end. The vibrant body style is magnified by rounded and sweeping character lines which provide it a launch prepared, head-turning look."
I still can't rather choose whether I like it or not-- the shape makes me consider the Jaguar I-Pace for some factor, although that vehicle has many more straight edges than the curvy Crown. From other angles, it looks a bit like a bronze car has consumed a glossy black Prius.
All Toyota Crowns are hybrids, however you'll get a different powertrain depending upon which cut you pick. The $39,950 Crown XLE and $45,550 Crown Limited both integrate a 184 hp (137 kW), 163 lb-ft (220 Nm) 2.5 L four-cylinder gas engine with a pair of electrical motors and a continuously variable transmission. This has an optimal power output of 236 hp (176 kW), with the front hybrid motor ranked for 118 hp (88 kW) and 149 lb-ft (202 Nm) and the rear motor at 54 hp (40 kW) and 89 lb-ft (120 Nm).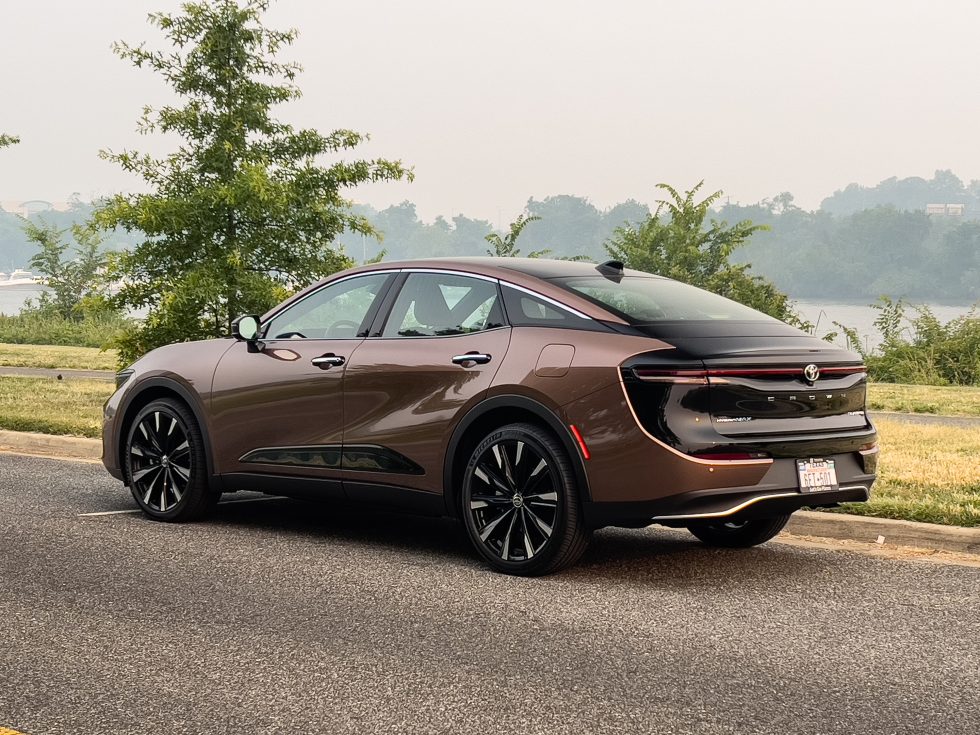 Our test car was the $ 52,350 Crown Platinum, which uses a completely various yet still all-wheel drive hybrid powertrain (called Hybrid Max). In this case, the fuel engine is a 2.4 L turbocharged four-cylinder, generating 264 hp (197 kW) and 332 lb-ft (450 Nm). This engine uses a six-speed automated transmission instead of the CVT. The Hybrid Max powertrain's two electrical motors are likewise more powerful at 82 hp (61 kW) and 215 lb-ft (450 Nm) at the front and 79 hp (59 kW) and 124 lb-ft (168 Nm) at the rear axle.
Combined output is 340 hp (254 kW) and 400 lb-ft (542 Nm), and the front-to-rear power split varies from 70:30 to 20:80 depending on the road conditions and situation.
The less-powerful hybrid powertrain is the one to choose if you're looking for excellent fuel performance, as it's ranked at a combined 41 mpg (5.7 L/100 km). The Hybrid Max powertrain boasts substantially more power and torque however a similar NiMH traction battery, so it's not surprising it's not as efficient. The hit to usage is less than the increase in output-- the EPA rates it at a combined 30 mpg (7.8 L/100 km), although we fell a number of mpg except that.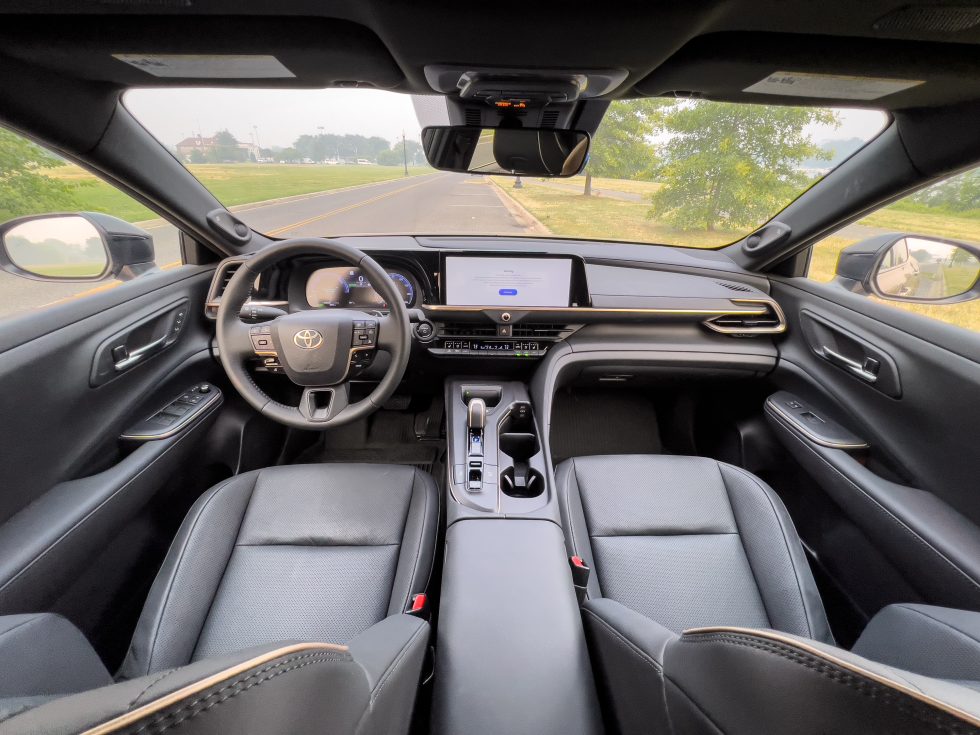 The Platinum comes equipped with big 21-inch wheels and offsets any ride charge of the thinner tires with its standard adaptive suspension. The suspension tuning is absolutely biased more toward comfort than performance-- no bad thing, to be truthful. There are an array of drive modes to pick from, consisting of eco, comfort, normal, sport S, sport S+, and a custom setting. I spent the majority of our test week with the Crown in normal or convenience-- the sportier settings add weight to the steering and change the damping, but the sedan rolls too much when cornering to be considered a canyon carver or a maker that begs you to take the long path house.
It's not an unpleasant automobile to drive around in, though. The crossover-height driving position equates to great visibility ahead of you, and unlike the Prius or bZ4x, you don't need to drive with the guiding wheel in your lap to see the primary instrument display. It would be a somewhat better user experience if you didn't have to constantly keep in mind to turn on the brake hold function whenever the cars and truck is started, a typical Toyota trait. In 2023 it's OK if an automobile remembers some settings while it's asleep.
The Crown Platinum (in addition to the Limited) gets Toyota's 12.3-inch infotainment system. The UI is restrained and responsive however a little limited in what it will show you. The fact that it's a completely touch-based interaction lets it down, however Apple CarPlay and Android Auto are both wireless and built-in and look excellent, filling the big screen. (Do note that cordless casting connections can still be a little buggy, and restarting the phone generally fixes any issue.)
The rear bench is better seating two instead of three-- the method the seat is inset a bit from the door is probably what set the pattern processing part of my brain thinking about I-Paces. However a celebration to help out a friend (as an image prop) for a story about a DC ride-sharing program that predates all the start-ups let me get some chauffeured seat time in the back, and it's comfy and feels large and bright with all that glass. The trunk is also rather large at 15.2 cubic feet (430 L).
I'm drawn to the Crown's quirky styling, and it's enjoyable if uninvolving to drive. I'm not quite offered on the Hybrid Max powertrain, however. It's not particularly effective, and considering that the Crown doesn't feel like either a GT or a cars, I'm not sure it needs the extra power. However I'm delighted Toyota is attempting brand-new things.