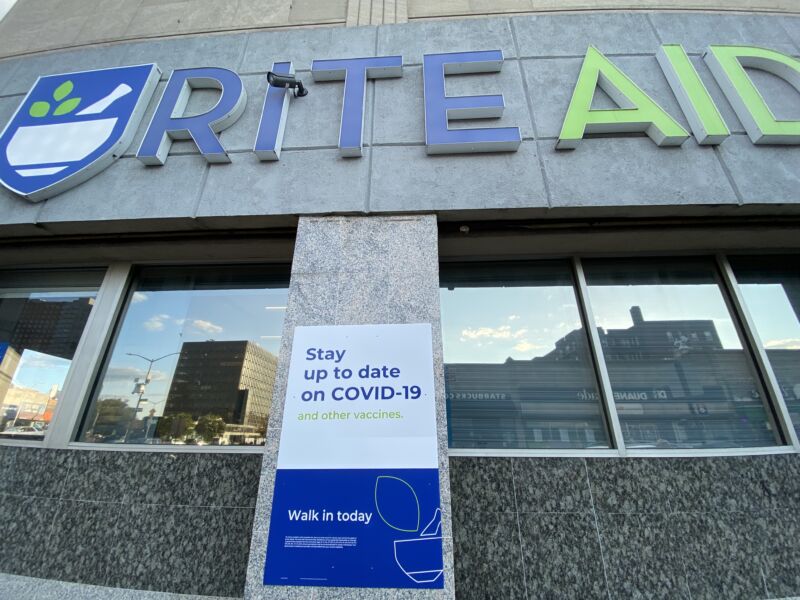 More than a month since US health officials recommended updated COVID-19 vaccines for all Americans, only 7.1 percent of US adults have rolled up their sleeves for the shot and just 2.1 percent of children have been immunized.
The uptake is sluggish at best, and the current rates were dubbed "abysmal" Thursday by one immunization adviser for the Centers for Disease Control and Prevention. The CDC's advisory panel got an update yesterday on the fall campaign to boost protection against COVID-19 ahead of the winter respiratory illness season.
The current uptake is far short of survey data from last month that indicated more than half of American adults planned to get the shots. And survey data presented yesterday to the CDC advisory committee didn't differ dramatically from that. In a National Immunization Survey-Adult COVID Module that ran from October 8 to 14 that polled 14,715 adults, 24.6 percent said they "definitely will" get vaccinated, and an additional 30.6 percent said they "probably will." That's on top of the 7.1 percent who reported they were already vaccinated. The remaining 37 percent said they will definitely or probably not get vaccinated.
The disappointing vaccination rate so far may partly reflect a rocky rollout for this year's updated shots, which were for the first time distributed on the commercial market rather than via a federal distribution system. In the earliest days of this year's rollout, people seeking the updated shots reported encountering limited supplies, cancelled pharmacy appointments, and billing chaos. Some insurance companies were slow to update their billing codes to include the updated vaccines, leading some insured people facing erroneous $200 bills.
With those problems largely worked out, CDC Director Mandy Cohen remains hopeful that vaccination rates will increase—at least hitting last year's disappointing rate of 17 percent.
But poor vaccination uptake is one challenge to fortifying the country against another COVID-19 wave this winter. Another is the ongoing erosion of surveillance and data reporting. With cases low, state reporting on the decline, and testing data scant, the CDC has a dramatically reduced view of SARS-CoV-2 circulation compared with previous points in the pandemic. The agency mainly relies on surveillance of emergency department visits, hospitalization admissions, and deaths to assess transmission. One other remaining surveillance system that has proven useful for signaling upcoming surges is wastewater testing—but even that has been hampered.
Offline surveillance
Politico reported Thursday that a quarter of the country's wastewater testing sites are offline amid a contract dispute. In September, the CDC attempted to replace the Boston-based firm, Biobot, with Verily, a subsidiary of Google's parent company, Alphabet. But Biobot filed a protest with the Government Accountability Office, halting the transition until the GAO weighs in, which it isn't expected to do until January.
It's unclear why exactly the CDC wanted to switch from Biobot to Verily for its wastewater surveillance needs, but costs may have played a role. Verily's contract is for $38 million over five years, while Biobot's was $31 million for less than a year and a half.
For now, of the 1,200 wastewater testing sites in the CDC's nationwide network, around 400 in a "handful of states and territories" are shutdown indefinitely. And, even when they do come back online, state epidemiologists suggested to Politico that switching over to new methods and data systems might take some additional time. "It's not as easy as just handing the keys to Verily," one state official told the outlet.
Overall, surveillance will likely be hindered this winter, and if vaccination rates don't pick up considerably, the population overall won't have high levels of protection. Though previous vaccinations and infections do provide some long-lasting protection against severe disease and death, protection from infection and mild to moderate disease declines over a few months. Older people are particularly more vulnerable without a boost. Data presented to the CDC Thursday suggested that 20.5 percent of people age 75 and older have gotten a vaccine so far, and just 15.4 percent of people age 65 and older have gotten vaccinated.
Meanwhile, though the circulation of SARS-CoV-2 is relatively quiet now, a genetic analysis published this week indicates that the pandemic virus is continuing to adapt to our immune responses and is evolving significantly faster than other respiratory viruses, including influenza and other human coronaviruses.
According to the latest CDC data, around 16,000 weekly hospitalizations and 1,200 weekly deaths from COVID-19 are being reported in the US.