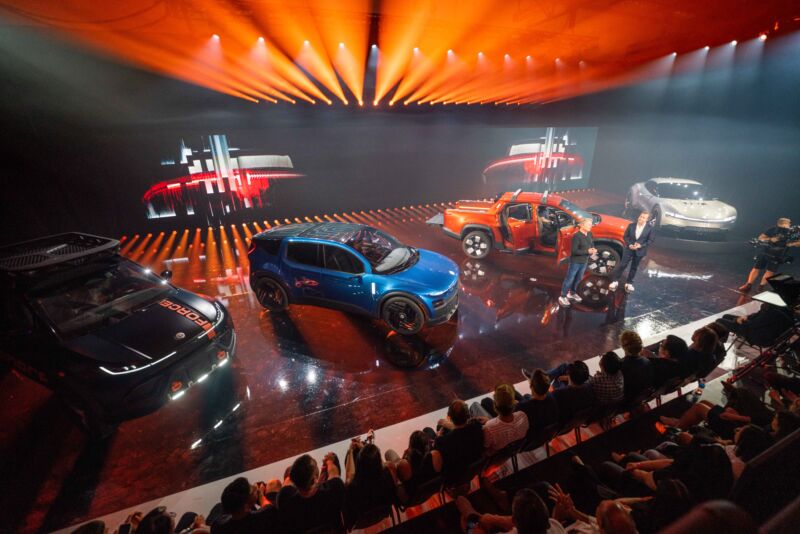 The electric vehicle start-up Fisker made a splash in Huntington Beach last night, displaying a variety of brand-new EVs it prepares to develop alongside the Fisker Ocean, which is gradually starting shipments in Europe and the US. With shades of Lotus circa 2010, it seems there's something for many tastes, with an effective four-door GT, a versatile pickup truck, and a budget friendly electric city cars and truck.
"We want the world to know that we have big strategies and mean to move into several different segments, redefining each with our unique mix of sustainability, innovation, and design," stated CEO Henrik Fisker.
Beginning with the cheapest, the Fisker PEAR-- a cutesy acronym for "Personal Electric Automotive Revolution"-- is stated to utilize 35 percent less parts than other small EVs. Although it's a smaller cars and truck, the PEAR seats 6 thanks to rear and front bench seats. Oh, and it has a frunk, which the business is calling the "froot," something that will please some British English speakers like Ars' good friend and motoring reporter Jonny Smith.
But the majority of interesting is the rate-- starting at $29,900 and scheduled for 2025. Fisker plans to contract with Foxconn to develop the PEAR in Lordstown, Ohio, suggesting it would be eligible for federal tax rewards.
The Fisker Alaska is the company's pickup, constructed on a modified version of the platform utilized by the Ocean. It has an extendable freight bed, which can be just 4.5 feet (1,371 mm) or as much as 9.2 feet (2,804 mm) long. Fisker declares it will be both the lightest EV pickup on sale and the most sustainable pickup worldwide. Range will be an estimated 230-- 240 miles (370-- 386 km).
This, too, is slated for 2025, and also at a reasonably cost effective cost, starting at $45,400. Fisker intends to construct this car in North America also, although it isn't stating where that might happen.
Lastly, there's the Ronin, a four-door GT that bears more than a passing resemblance to the Fisker Karma, Henrik Fisker's 2012 production. There's no rate for this one, however Fisker says its all-wheel drive powertrain will boast 1,000 hp (745 kW) and will strike 60 mph from a standing start in two seconds-- practically as fast as modern-day tires will allow. Anticipate a massive battery in this one, as Fisker states it's targeting a 600-mile (956 km) variety.
"Innovation and sustainability, in addition to design, are our 3 brand name values. By 2027, we plan to produce the world's first climate-neutral automobile, and as our consumers transform their relationships with movement, we wish to be a leader in software-defined transport," Fisker said.