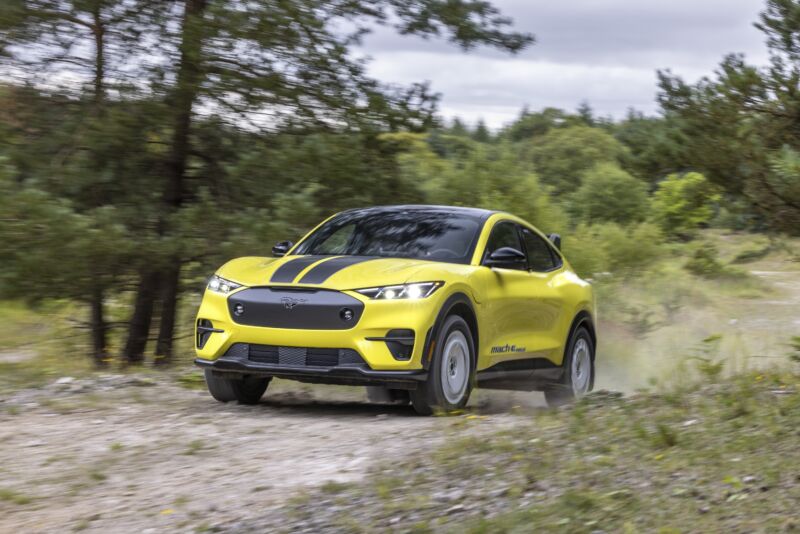 Ford has a long and successful history with rallying, having won numerous races with motorsport-modified versions of more mundane machines like the Escort, Sierra, and Fiesta. Now it's applying some of that know-how to the electric Mustang Mach-E with a new version that goes on sale early next year, the Mustang Mach-E Rally.
Until now, the Mustang Mach-E was the one to purchase if you were looking for some fun, particularly if you opted for the $64,900 Performance Edition, which comes with magnetorheological dampers and better tires. Ford reckons the Mach-E Rally will cost about the same as that version, and it, too, rides on those magnetic fluid-filled dampers, together with new springs that give it a 20 mm higher ride height than the Mach-E GT.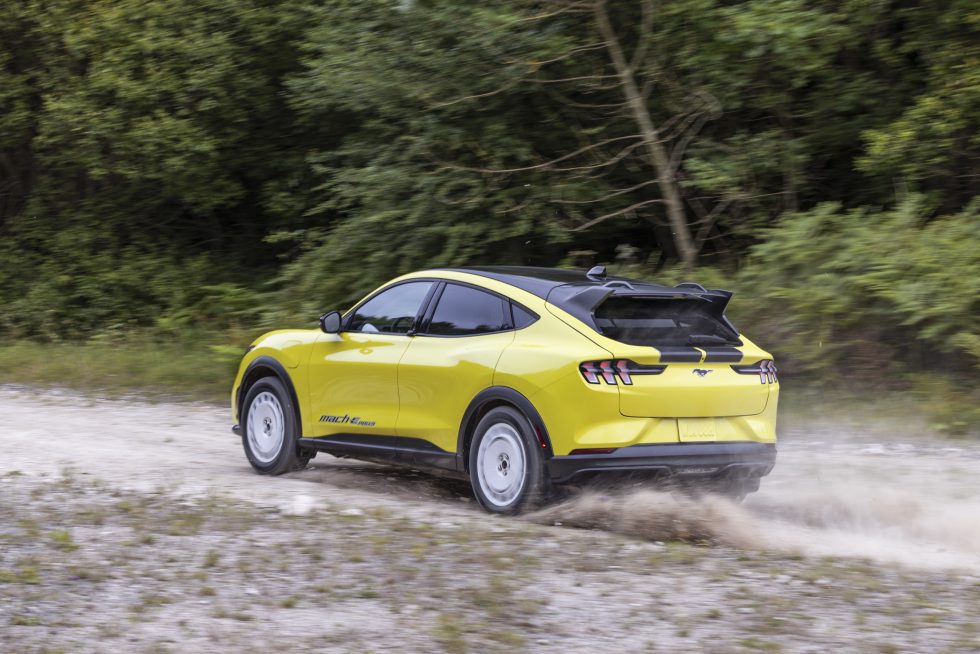 There are big front brake discs and 19-inch wheels shod in Michelin CrossClimate2 tires that have bigger sidewalls (and therefore absorb more bumps) than the 20-inch wheels and tires fitted to the GT. Ford has also added some underbody shielding to protect the front and rear motors from rocks, and there's protective film to help prevent stone chips on the doors and wheel arches.
Maximum power is the same as the GT at 480 hp (358 kW), but torque seems to be increased to 650 lb-ft (881 Nm). The two motors are fed by a 91 kWh (useable capacity) battery pack, which is slightly more energy storage capacity than the GT. But don't expect a longer range—Ford estimates that the Mach-E Rally will have an EPA range of about 250 miles (402 km).
To make the most of dirt roads, Ford has programmed a new RallySport drive mode, which allows for more yaw before the electronic nannies intervene, and which offers a more linear throttle map, plus more aggressive damping.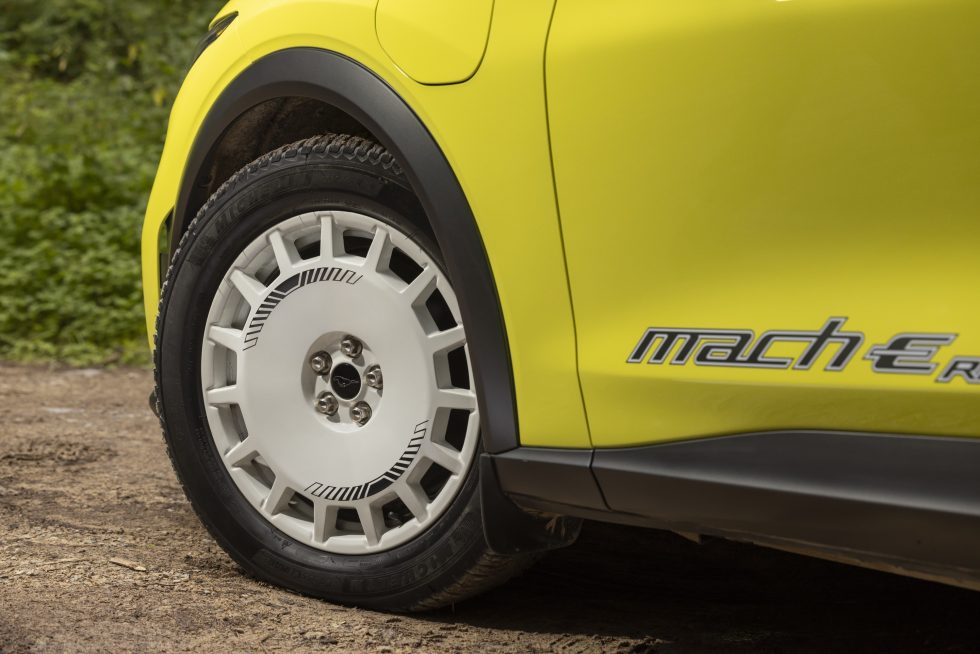 There's a unique front splitter and a new fascia for the Mach-E Rally, which sports factory racing stripes and can be painted some striking colors, like Grabber Blue or Grabber Yellow (pictured). The white-painted wheels are another rally-inspired touch.
"Mustang Mach-E Rally puts Ford's decades of passion for rally championships around the world right in the hands of our customers," said Ford CEO Jim Farley. "It takes Mustang where it hasn't been before—to gravel and dirt roads. Inspired by true driving enthusiasts, a driving experience like never before for the pure joy of driving."