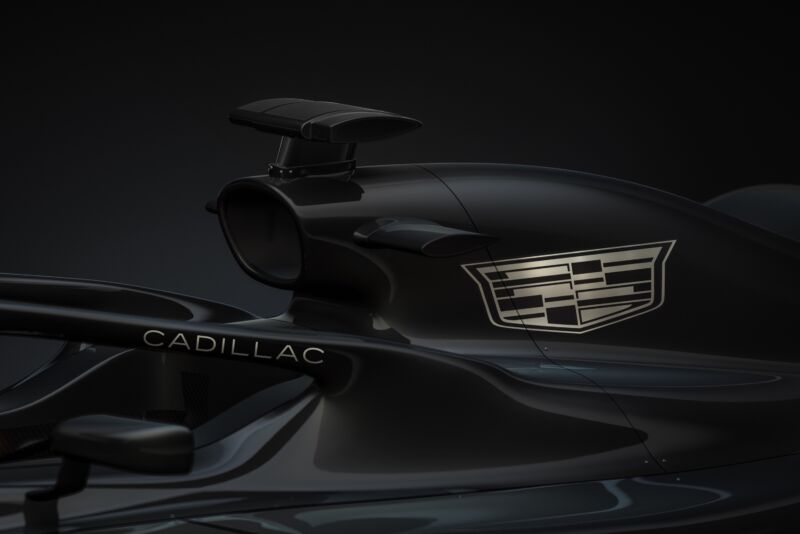 At the start of the year, we got the surprising news that Andretti Global was partnering with Cadillac to try to field a team in Formula 1. That has been a contentious process, exposing a rift between the sport's stakeholders, some of whom aren't keen to add a new fish to the pond.
But on Tuesday, the Andretti Cadillac program got even more serious with the news that General Motors, which owns Cadillac, has now registered as an official F1 powertrain constructor—although only from the 2028 season.
"We are thrilled that our new Andretti Cadillac F1 entry will be powered by a GM power unit," said GM President Mark Reuss. "With our deep engineering and racing expertise, we're confident we'll develop a successful power unit for the series and position Andretti Cadillac as a true works team. We will run with the very best, at the highest levels, with passion and integrity that will help elevate the sport for race fans around the world."
The announcement gives us a much better clue about GM's commitment to the F1 program. When the Andretti Cadillac program broke cover in January, mention of an actual engine program was conspicuous by its absence. But now the automaker says it is already testing prototype technology as it begins what will be a five-year journey to get to the grid.
There's a "but"
However, all this happens only if Andretti Cadillac actually gets a place on the grid. Its application to enter the sport was accepted by the FIA, the international governing body of motorsport. That's all well and good, but F1's commercial rights are owned by Liberty Media, which also needs to approve the Andretti entry.
Under Liberty, the sport now operates as a franchise model. There's much more profit-sharing with the teams than under previous regimes, and consequently, few of the 10 teams that already have a seat at the table appear eager to add another place setting, particularly now that five seasons of Netflix's Drive to Survive has turbocharged attendance and audience numbers. The teams don't have a veto, but Liberty certainly listens to what they have to say.
The Andretti family has been outspoken in their support for the F1 bid, which has not always been well-received by the powers that be.
One concern is the "anti-dilution fee" that a new team has to pay if it enters the championship. This was set at $200 million, to be shared among the existing teams to offset their slightly smaller share as the pie gets shared 11 ways instead of 10.
The $200 million figure was arrived at because that was how much Dorilton Capital bought the Williams F1 team for in 2020, but that was before the Drive to Survive effect kicked in and team valuations skyrocketed. As a clue to how much a team is now worth, in October, a group of investors from other sports bought a 24 percent stake in Alpine F1 for $211 million (200 million euros). Needless to say, the current F1 team bosses think they should get paid significantly more than $200 million.
No Andretti, No Cadillac
If the Andretti bid isn't accepted by Liberty, don't expect to see Cadillac-badged F1 engines in the back of a different team's car. When an F1 team boss vehement in his opposition to a new team pointedly said that GM was "an incredible entity that I think will make the sport better," Reuss made it clear it was with Andretti or no one. That strengthens the Andretti bid—F1 is eager to attract OEMs to the sport, and the only way it will get Cadillac is if Andretti comes, too.
The earliest we could see an Andretti Cadillac on the grid would be 2025, a year before the current powertrain rules are changed. (The complex and expensive MGU-H, which recovers energy from the engine's turbocharger, is going away, and the MGU-K, which harvests energy under braking, will get far more powerful—a rule change required by Audi before it would join F1.)
Since the GM-designed and built engine won't be ready until 2028, that still leaves the nascent F1 team looking for a powertrain it could use in the intervening years if it's to join the sport sooner.
That's currently a very short list: Mercedes, Ferrari, Renault, and Red Bull Powertrains (which took over Honda's engine program last year). Audi is entering as a powertrain constructor in 2026, and Honda is coming back that same year to power Aston Martin, with the Red Bull engine being rebadged as a Ford then, too. But an engine deal will be slightly more complicated; if any of those engine constructors agree to supply Andretti in 2026 or 2027, they'll presumably have to be OK with the cars running Cadillac branding.