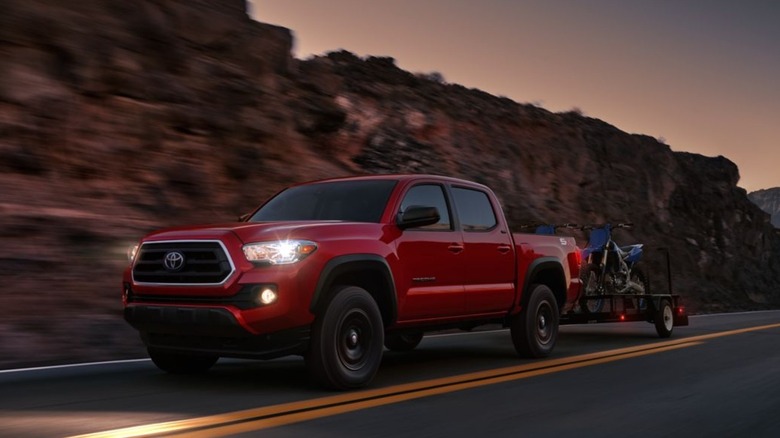 All the attention's been on the all-new, fourth-generation Toyota Tacoma for the 2024 model year. Then again, it doesn't mean the outgoing 2023 Tacoma will shiver at the sight of its highly-anticipated successor. The new Tacoma has brawnier styling and has grown significant muscles with those bulbous fender flares, but the 2023 Tacoma's classic, rounded styling cues have aged gracefully since debuting in 2016.
The 2023 Toyota Tacoma is available with an extended cab body with a 6.1-foot bed, or a crew cab with a five or six-foot bed. It has a standard rear-wheel drivetrain, or an optional part-time four-wheel drivetrain with a low-range transfer case. 
The base Tacoma SR and SR5 have a 2.7-liter four-banger with 159 horsepower and 180 pound-feet of torque. Meanwhile, other trims get a 278-horsepower 3.5-liter V6 engine. The standard gearbox is a six-speed automatic, but Toyota offers a six-speed manual gearbox to some Tacoma models with the V6.
2023 Toyota Tacoma's towing and payload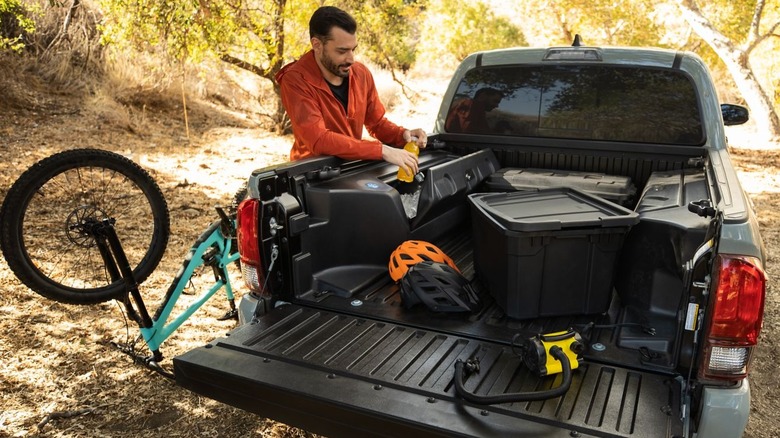 Here's the thing: Did you know the 2023 Tacoma could tow more, despite having a less potent V6 engine than the 2024 Tacoma's turbocharged four-cylinder? The 2023 Tacoma could tow up to 6,500 pounds (4WD) or 6,800 pounds (RWD) when properly equipped. Meanwhile, the 2024 Tacoma has a 6,500-pound tow rating, while hybrid variants could pull up to 6,000 pounds.
With stouter towing numbers, the 2023 Tacoma has enough grunt to pull 20 to 30-feet campers, a four-horse trailer, some fifth-wheel trailers (26-35 feet long), livestock trailers (up to 28 feet longwith a gooseneck), a 24 to 27-foot boat, or 28 to 37-foot toy haulers.
Then again, the 2023 Tacoma's 1,685-pound max payload lags behind the new Tacoma's 1,709-pound rating — although that difference is arguably negligible. What's more bizarre is the 2023 Tacoma's 1,685-pound max payload capacity applies only to RWD variants with the smaller four-cylinder engine, and the number drops in V6 models with 4WD. Consider these facts if you're pining a 2023 or 2024 Tacoma for hauling stuff, as the differences could significantly impact your towing performance.