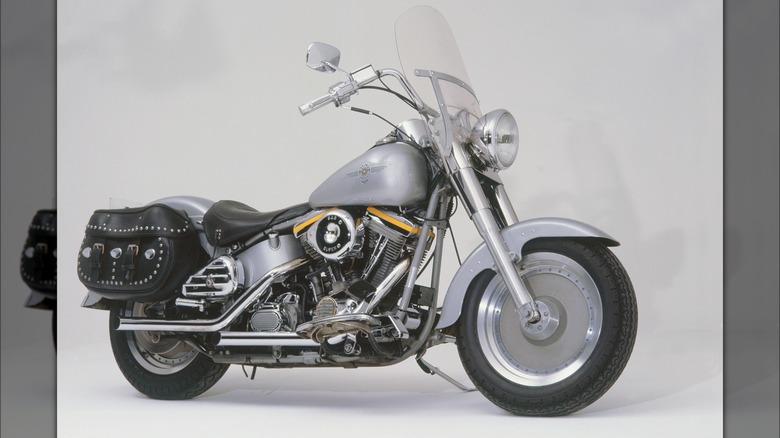 We may receive a commission on purchases made from links.
For many, the Fat Boy is Harley-Davidson, and it's not hard to understand why. The wide, beefy bulldog-like stance, thick accouterments, solid-cast disc wheels, and shotgun exhausts wowed hardcore motorcycle enthusiasts.
But nothing significantly impacted sales and popular culture more than the first time moviegoers in 1991 went to see "Terminator 2." When Arnold Schwarzenegger straddled that Fat Boy with "Bad To The Bone" by George Thorogood & The Destroyers blaring away, it made untold thousands want to buy a Fat Boy on the spot. It wasn't unlike the effect "Top Gun" had on US Navy and Air Force recruitment numbers following its 1986 release.
Some sources claim it was the very bike — at perhaps the perfect moment in time — that saved Harley-Davidson. It not only made them relevant to aficionados again but also mainstream to the general public. It may have kickstarted revitalizing the American cruiser market as soon after, other bike manufacturers (i.e., Indian, Excelsior-Henderson, and Victory) began making noise.
That rebirth actually began a handful of years before when Louie Netz and Willie G. Davidson (grandson of co-founder William Davidson) started designing the prototype for the Fat Boy. Wanting to create something fresh, new, and bold to add to the existing line of Harley Davidson bikes, Netz and Davidson worked diligently on the Fat Boy, constantly improving and adjusting the design.
Davidson personally rode the prototype to Daytona Bike Week in 1988 and 1989, obtaining valuable customer feedback they would later incorporate into the final product. It finally went into production in 1990.
Don't make fun of this Fat Boy
The solid silver paint job and silver powder-coated frame made it look like forged steel –inside Harley Davidson, it was referred to as "The Grey Ghost." The idea for the solid-cast disc wheels came from a steam roller, giving it a certain kind of industrial look.
The Softail chassis wrapped Harley's Evolution engine (1340cc, air-cooled V-Twin, four-stroke, OHV) fitted with a Keihin 40-millimeter constant-velocity carburetor. This banged out 67 horsepower, 72 pound-feet of torque (at 2,350 rpm), and pushed it to 112 mph. Covering a quarter mile took 14.5 seconds, but it was supposed to make you look cool like Arnie, not rocket you down the freeway. It weighed 660 pounds, about the same as other big-boned Harleys.
Now, let's address the elephant in the room (pardon the pun). "Fat Boy" is not a combination of Fat Man and Little Boy, the atomic bombs dropped on Japan during World War II. And that comes directly from Willie G. Davidson. In his book "100 Years of Harley-Davidson" (2002), he said they were trying to come up with a name that was "unusual and maybe even a little irreverent." The bike looked fat, and marketing ran with it.
Urban legends point to other coincidences, like the paint scheme and the wheels that make it look like the B-29s Superfortress bombers used to drop the bombs. Others think it was some secret ploy to give Japanese sports bike builders the middle finger. The truth is the hand-painted Fat Boy logo and other design features were Davidson's attempt to fashion something patriotic and nostalgic – nothing more.