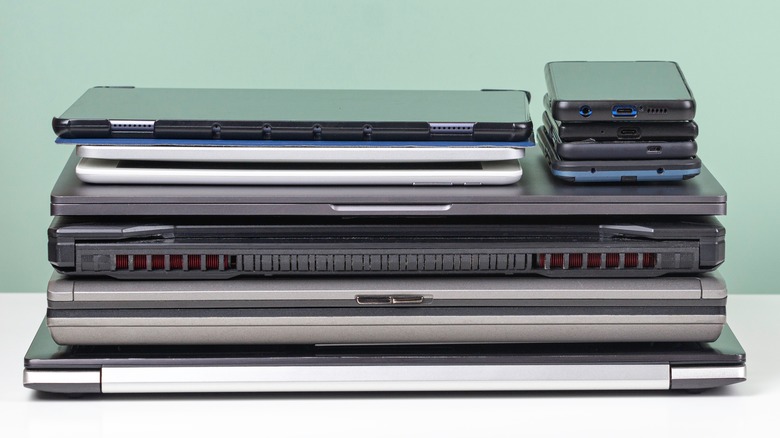 A report from the World Health Organization estimates that while over 53 million tonnes of e-waste was produced in 2019, only around 17 percent of that was collected for recycling. When these old electronics are tossed out, they create a number of problems, from environmental damage to health concerns for the people who handle trash. According to the WHO, there are millions of women and child workers employed in what is referred to as the "informal recycling sector," meaning that the two groups most vulnerable to the adverse effects of handling electronic waste are involved in that very task.
Fortunately, there are a number of alternatives to the often illegal practice of throwing electronics in the trash bin. Several innovative solutions for the use of these older but still functioning devices exist, and many of them greatly benefit their users. Repurposing the old technology in one's home can be rewarding, practical, and it might even help you put a little extra money in the bank. Let's go through the proverbial dumpster and see if we can't fish out better uses for those old phones, tablets, laptops, and more.
Alarm clock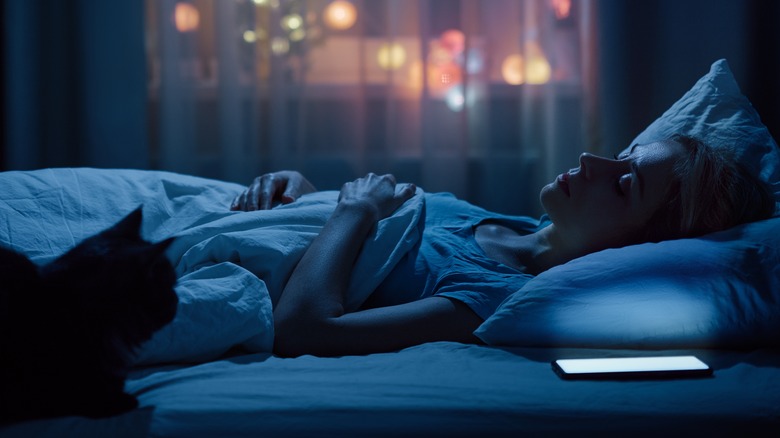 The concept of an alarm clock may seem dated, but bear with us. We're not saying that you should hit up Goodwill for a faux-wood-paneled plastic timepiece with a retina-burning red digital readout and an impossible-to-tune analog FM dial. What we are suggesting is that maybe it would be a little easier to fall asleep if the constant draw of an update from every social media service wasn't always within arm's reach.
Many folks don't like the idea of their smartphone hanging around the bedroom while they try to get some sleep. It's hard enough to disconnect from the world without having that constant line of communication open at one's bedside. While most current devices have a Do Not Disturb function, Americans check their phones 144 times a day on average –- a habit that many of us aren't breaking anytime soon. An interruption in sleep can quickly lead to a quick check of the phone and lost rest as a result.
A great way around that is to use an older phone as an alarm while charging the primary device in another room. This allows the user to still have a reliable way to wake up or fall asleep without the worry of receiving a status update from an ex at 3 A.M. –- especially if all other functions of your new alarm/phone are disabled.
Dedicated media center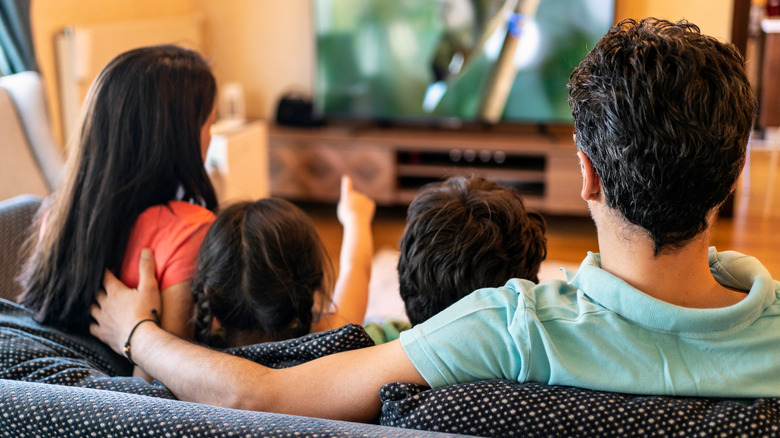 Another great use for an older phone, laptop, computer, or tablet is as a permanently wired-in connection to speakers and TV in the home. Access to downloaded music or movies doesn't require cellular service, and the battery drain and frustrations from failed Bluetooth connections are eliminated. 
If you do have a good Wi-Fi connection, however, you will be able to use streaming services like Netflix. Plex, in particular, is a great option for turning an older PC or laptop into a dedicated media center as it can run on Mac, Linux, Windows, and more. In addition, Plex can handle both media stored on the machine as well as streaming services. Pair that setup with a projector and you can even set up a pretty nice home theater on a budget.
While Bluetooth connections paired with Apple CarPlay or Android Auto can seem like a convenient way to access a phone on the road, the number of apps that send notifications through those systems can become a distraction. Access to one's music collection can be as simple as attaching an AUX cord to an old phone or tablet filled with your favorite music, making it a sort of mobile media center. Bonus points if it's an ancient iPod or Zune dug up from a closet or dresser drawer -– there's nothing quite like discovering that your younger self created a single playlist that features Usher immediately followed by Hoobastank.
Chat device or replacement remote control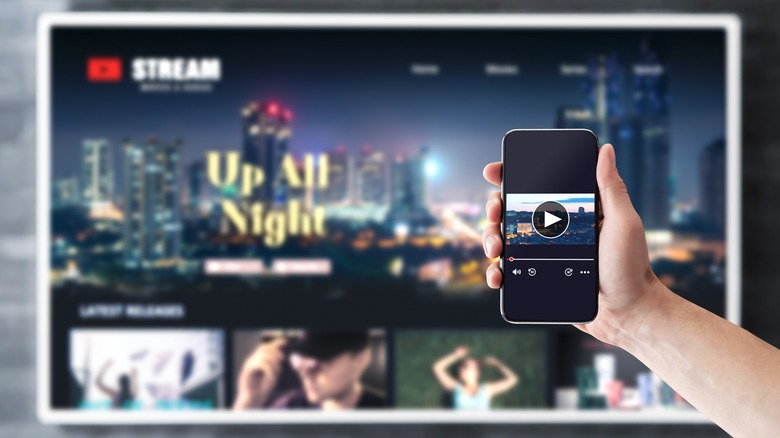 Those of us who enjoy streaming the latest "Mortal Kombat 1" tournament on Twitch on the largest screen in the house have two problems — explaining to our partners that it's normal behavior to watch other people play video games and trying to participate in chat using an Xbox controller.
One way around the latter problem is to use an older device as a dedicated remote and chat screen. Screen sharing allows users to send Twitch, YouTube, and other live streams to a larger screen while still keeping the chat portion of the screen active on a device, allowing users to enjoy a match or stream on the big screen while complaining about Johnny Cage mains on a smaller one.
Other apps allow for these devices to be used as replacements for missing TV remote controls as well, many with even more features than the original remotes included with the sets. While some prefer physical universal remote replacements, our goal is to repurpose and eliminate electronic waste, and turning an old phone into a new remote is a more environmentally -– and financially -– responsible choice.
Extra screens or monitors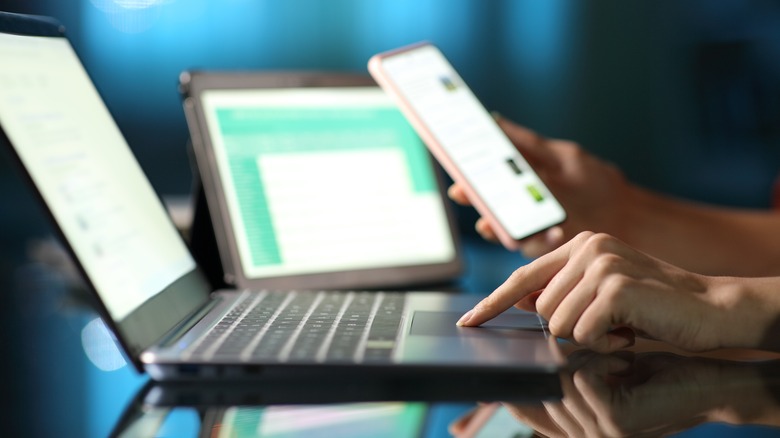 Speaking of large screens, sometimes one will encounter one of the biggest first world problems — what to do with that living room TV when we've decided to upgrade. Thankfully, If it's still in good working order, there are a number of great options for that extra monitor. 
For instance, you can add it to your current setup in the office for an ultrawide desktop, turning that display into a massive workspace for multiple easy-to-read windows. Another option is to switch one monitor to a vertical orientation, providing a great writing screen for blogging or writing that next great American novel. A little device like the Dell Monitor Dock is great for getting those extra monitors easily installed and recognized by your current PC setup.
Another option is to install a monitor someplace you hadn't thought of before — maybe in the garage so dad can enjoy a cigar while you watch the game together or in your home gym for some motivational workout videos. You can even dare to live the dream and install a smaller screen in the bathroom. Giving it away is always an option, but why not consider a life of decadence instead?
Smart home hub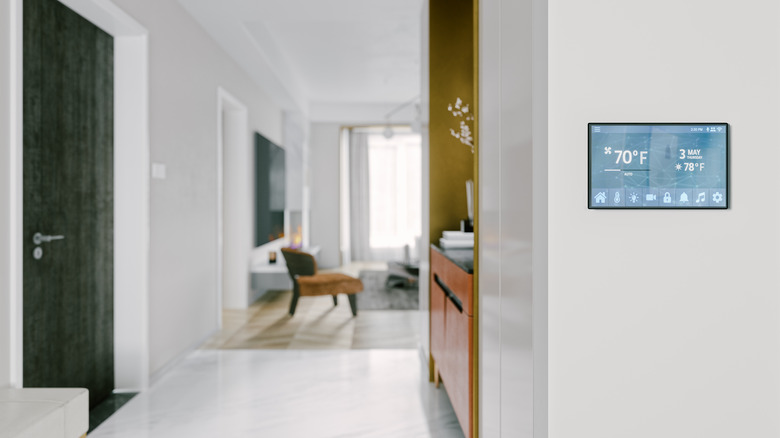 Smart devices and the Internet of Things aren't going anywhere, and many users will have multiple devices attempting to connect to the smart home's ecosystem with varying degrees of success. Even something as simple as a Bluetooth speaker setup can become frustrating if multiple devices attempt to use it at once.
Mounting an older tablet or phone in a heavy-use area of the home is a great way to set up a control hub for smart devices. Simply install a little shelf or wall mount near a power outlet, and half of the work is already done! Controlling the lighting, being alerted when laundry is ready, and checking that Ring doorbell can all be done without draining personal device batteries. Beyond that, running Google Home or Amazon Alexa on a single central device eliminates the frustration of multiple devices trying to perform the same task or having to sign in and out. 
A basement remodel, in particular, benefits from this setup, especially if the new build incorporates more smart devices than the upper levels of the home. You can use an old tablet or phone to control a new home theater, monitor temperature, adjust lighting, and check the doorbell without having to run back upstairs.
Digital photo frame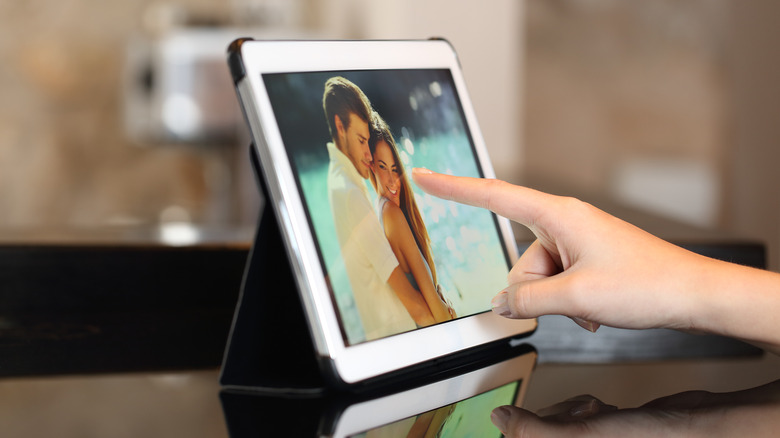 Many of us scroll through the hundreds of photos on our phones and wonder why we're keeping so many, especially since we never really have a chance to appreciate those memories unless we're actively searching for one in particular. While most of us are never going to take the time to sit down and delete most of those pics we'll never look at again, it would be nice to see the ones that represent good memories with friends and loved ones.
However, one way to more easily encounter those pics is to repurpose an older phone (or, ideally, a larger tablet) as a digital frame. Using a small mount like the Dockem Koala — available for $15 on Amazon — can help the tablet blend in with other wall art or photos. Some devices have built-in screen saver programs that will flip through a Google Drive or media folder. 
If that's not an option, several programs like Fotoo and LiveFrame are available to scroll through those pictures automatically. SlashGear even has a helpful tutorial for getting those devices ready for their second life as a digital photo frame.
Samsung Galaxy Upcycle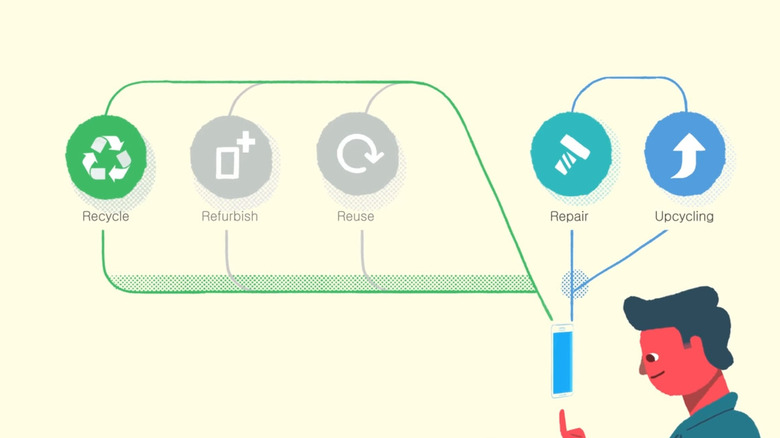 Obviously, many of our suggestions so far rely on the user to do a little extra work. Downloading apps, clearing out old information, getting mounts and brackets — it can all seem a lot more difficult than just leaving an old Samsung Galaxy in a drawer. Fortunately, Samsung realized that and developed Samsung Galaxy Upcycle, a program pre-installed in many Samsung devices.
A setting for older phones in the Samsung device family allows for a seamless transition of an unused phone into a light or audio monitor. Samsung's SmartThings Labs, accessible through the SmartThings app, allows devices from the Galaxy S Series, Z Series, and Note Series with Android 8.1 to be converted into automated smart home devices for controlling smart lighting. They can also alert the home to specific sounds like a door knock, baby cry, or glass shattering. Once again, SlashGear has your back with this easy-to-follow setup tutorial!
In addition, the folks at iFixit lent their expertise to Samsung to help with the rollout of the Upcycle program in 2017, and the announcement video the two companies presented had some innovative uses for Samsung's older phones. A full open-source ecosystem was proposed, which would have allowed users to create any number of creative devices out of their old Galaxies, including the handy fish tank monitor featured in the video.
Dedicated webcam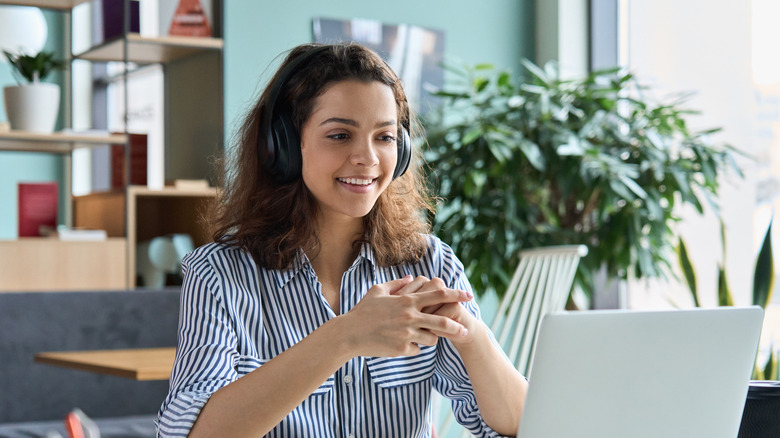 Sometimes it's nice to just have an area set up for that two-hour call to mom or a meeting with your boss. While an office setup is ideal, many of us don't have the extra space for that. An older tablet or phone set up on a stand in an area of the home that can offer a little privacy and maybe a nicer background than one's unmade bed can make for a great way to answer a video call. It's as easy as installing Zoom and finding a spot with some flattering lighting and an appealing backdrop.
With a mobile stand, those dedicated webcam setups are also great in the kitchen. Letting grandma walk you through the family lasagna recipe is a little less worrying when you're not risking getting that new iPhone covered in red sauce. If a web browser is still available on that older device, recipes can be easily accessed in the kitchen while still maintaining that low-risk vibe in one of the more dangerous areas of the home for a new device.
Recycling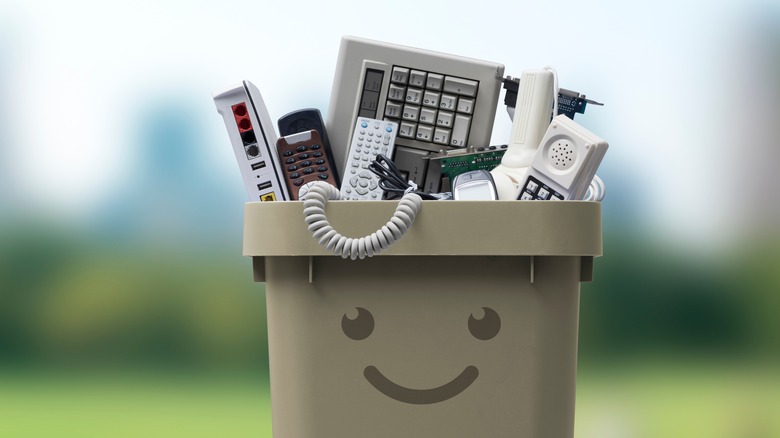 While perhaps the most direct and least exciting option, recycling your home's old technology is the most responsible way to get rid of devices you can't find a use for. Whether it's trading in old tech for a little extra cash or simply finding a nearby recycling center for that bulky PC you've had in the closet since the early '90s, it's always best to dispose of these electronics the right way.
There are a few important things to keep in mind before getting rid of your old electronics. Perhaps most importantly, backing up any important data, be it game saves, photos, or files, is invaluable. However, equally as important is the deletion of that data. Most modern phones, tablets, laptops, and game consoles have an option in the Settings menu to revert the device back to factory settings, automatically clearing all user data. Given that many of us save credit card data on these electronics for faster purchases, it's critical that this information is deleted.
Once the devices are prepared, recycling has become more convenient than ever. Several Best Buy locations offer electronics recycling right in the entryway, and the company even offers a haul-away service for appliances and TVs when a replacement is purchased. GameStop will almost always buy back old gaming hardware. And, as always, SlashGear is ready to help — here are more ways to dispose of electronics properly.
Get creative!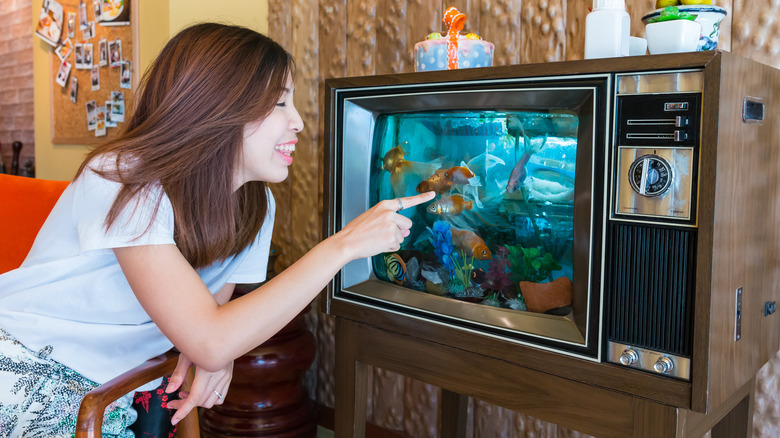 Of course, there's nothing that says you have to keep your electronics intact for technical uses. Rip out (and properly dispose of) the technical guts to reuse the familiar, often nostalgia-inducing shells of those older devices for another use entirely or simply reclaim an item for non-technical use. Plenty of websites, including SlashGear, offer tons of creative inspiration for repurposing older devices.
Turn that heavy old CRT TV into a fish tank or coffee table, reimagine phone cases as soap trays, or make little bracelets out of headphone wires and keyboard keys. If you're the crafty type, there are plenty of innovative uses for these unused items. 
Even unrepairable tech can be repurposed into a modified version of its original uses. A great example is available in the installation of a Raspberry Pi into a retro Nintendo Entertainment System. This project isn't for beginners — or the faint of heart — but the results speak for themselves.