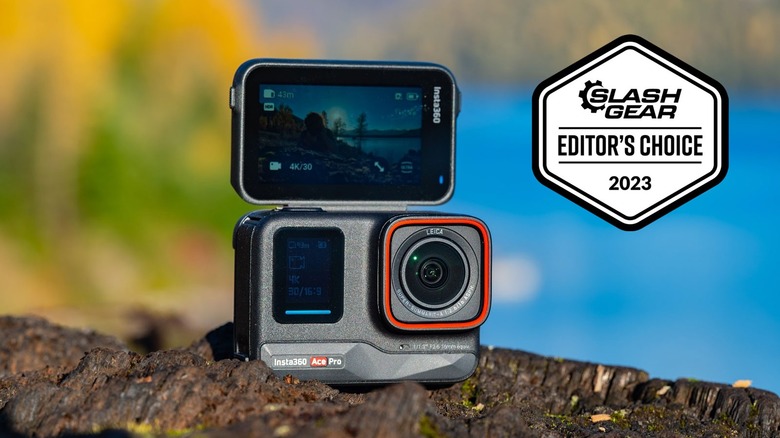 The Insta360 Ace Pro is a surprisingly normal sort of camera from a company that has so often produced really unusual devices. However, that's not necessarily something to complain about here, given that the Ace Pro does what it claims to be able to do — and brings some new tricks to the table, too. Most obviously, it features a flip-up display similar to that of the Insta360 Go 3, which should make it great for vlogging and taking selfies. There's also the prominently displayed Leica lens branding, paired with a relatively large sensor, and this combination should mean good things for image quality.
We must admit that we were a little disappointed when we first learned that Insta360's new camera wasn't as wildly different and innovative as many of their previous products. However, we had to go hands-on with the Ace Pro to find out if there's more to it than meets the eye, and if it can find a place in the highly competitive action camera arena.
Insta360 provided an Ace Pro camera for the purposes of this review.
A mostly traditional action camera design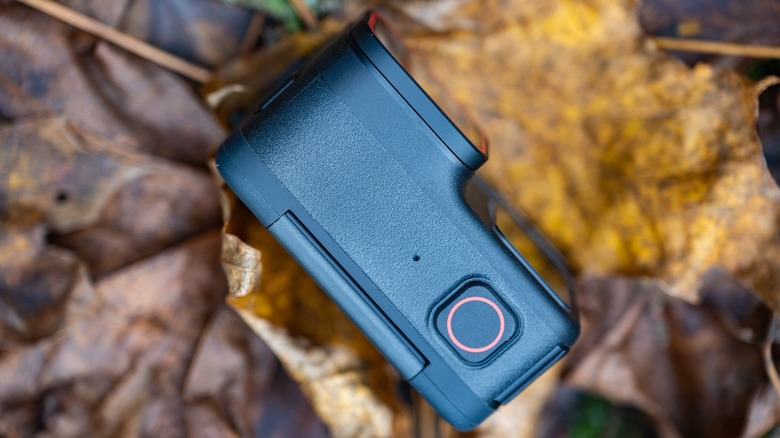 Outwardly, the Insta360 Ace Pro is a very typical-looking action camera with a big lens on its right-hand side, a little front-facing display, and a big display on the rear. The big party trick here is that the rear display flips up, which is great for solo filmmakers and selfie-takers. We were pleased to find that the mechanism for this flip-up display is very robust, and locks firmly into place when folded down, requiring you to depress two buttons to unlock it.
The battery, microSD card slot, and USB-C port are located on either side of the Ace Pro behind the type of sealed doors which have become largely standard on action cameras. Also as is typical with action cameras, the power button is on one side, while the record button is located on top.
One notable variation is the mounting mechanism on the bottom of the camera. As with other Insta360 cameras, it's a magnetic clip system, but it's been very much upgraded for the Ace Pro. It now features prongs and a locking mechanism that clamps compatible mounting adapters down tight and secure. It's the first such mounting system of its type which we have felt really confident in.
The Ace Pro is an extremely tough camera overall — it's waterproof down to 33 feet and feels robust enough to take the knocks and tumbles cameras like this are expected to endure.
Large sensor that shoots HDR footage by default
The 1/1.3-inch sensor in the Insta360 Ace Pro is larger than sensors typically associated with action cameras, and it certainly proves its value when it comes to image quality. The appearance of the video in terms of color is very true to life, and overall we prefer the quality of its footage to that of other contemporary action cameras. This is in part thanks to the fact that at 4K 30fps or below, the Ace Pro records in HDR by default.
While this was initially a concern — since it cannot be disabled — the results speak for themselves. It allows you to be a lot more confident that your footage will turn out well. A flat color profile is also available for post-production grading, though we'd like to see something more akin to a LOG profile.
Image stabilization performance turned out to be really impressive too, with results being at least on par with other action cameras, if not perhaps a bit better.
Low light champion that shoots for the stars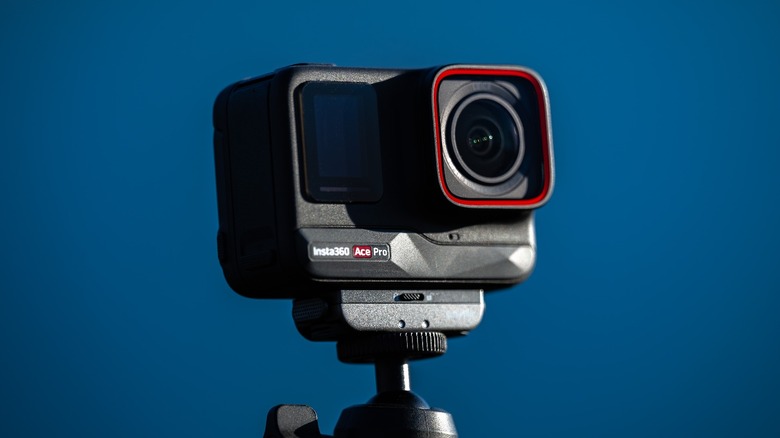 The relatively large sensor in the Ace Pro really shows its value when it comes to low light situations. When it starts to get dark, you switch into PureVideo Mode where built-in AI denoising kicks in to deliver very good results. It was certainly a big step up over what the GoPro Hero 12 Black was able to deliver in side-by-side testing.
The Ace Pro's ability to capture the night sky is impressive. Both star trails and more traditional starlapse videos turn out great with very little noise. Insta360 cameras have long had terrific starlapse capabilities, and the Ace Pro manages to outdo most of them. Daylight timelapse capabilities in this device also perform well, with the Ace Pro clearly besting the competition in clarity and smoothness of exposure transitions. 
Our only suggestions for improvement here would be to make 8K video output and clarity zoom available in timelapse and starlapse modes.
Slow motion, Clarity zoom, and the promise of 8K recording
While not available at time of writing, 8K 24fps recording capability is planned to be added to the Ace Pro post-launch, making this the first action camera featuring such high-resolution video capture. However, Insta360 was careful to deemphasize 8K because as impressive as it is, it's really only useful to enthusiasts and professionals who do a lot of post-production editing. Most people don't have 8K displays, so the average person will probably not appreciate it.
However, you can do a couple of cool things with this device's 8K sensor other than recording at that full resolution. One is that you can capture 48MP still photos, and in this regard, the Ace Pro is remarkably competent as a still camera. Secondly, and perhaps most interestingly, the Ace Pro features a Clarity Zoom, which is perhaps the first digital zoom function in an action camera that delivers great results. It's something we use all the time with the Nikon Z8 and Z9, and having it in an action camera means that you're not so limited to wide-angle shots.
Additionally, the Ace Pro can capture slow motion 4K 120fps video that is quite crisp and clear. Another much-appreciated feature is the option of shooting in slow motion mode which renders in slow motion, or selecting 120fps in the standard video mode and then slowing it down in post.
Flip-up display breaks the mold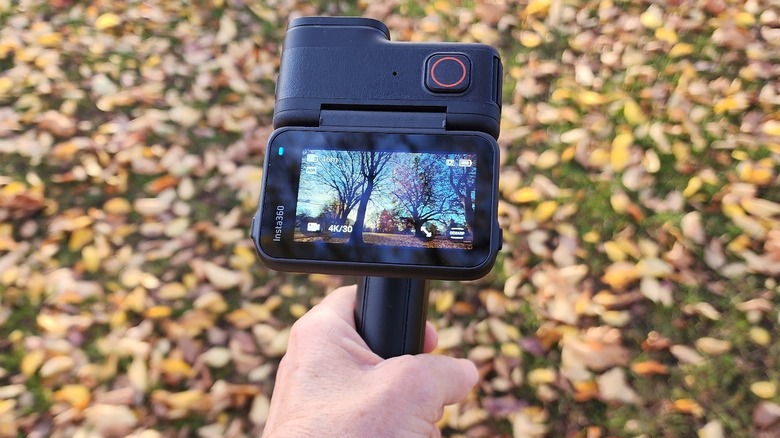 With its flip-up display, the Ace Pro sets itself apart from the standard action camera mold, and we found that it more than justified the extra bulk of the Ace Pro. It's a chunky camera, but in practice, we didn't find its large size to be a serious issue. The 2.4-inch display is bright and sharp and is very high quality overall.
The obvious use for the flip-up display is for vlogging and selfies, and in practice this holds true. Other action cameras are equipped with small front-facing displays, which are limited by their small scale. Being able to compose your shot on a full-sized screen is a big advantage in this regard. The flip-up display is also great for filming at waist level or attached to the handlebars of a bike.
The Ace Pro also has one of those small front-facing displays, but it's only used for displaying the current mode and settings of the camera. While it's cool, we didn't find it to be useful since when we looked at the camera face-forward it was always when we were using the main screen in selfie mode, so settings were visible there. Removing this somewhat superfluous display might have been a good way to cut costs.
While we were concerned that a flip-up display might be an issue for durability, the dual-locking system that holds the display in place is really solid. Locked in, it seems just as tough as any other action camera, and the hinge mechanism seems rugged enough to take a hit or two.
Refined software with lots of AI powered features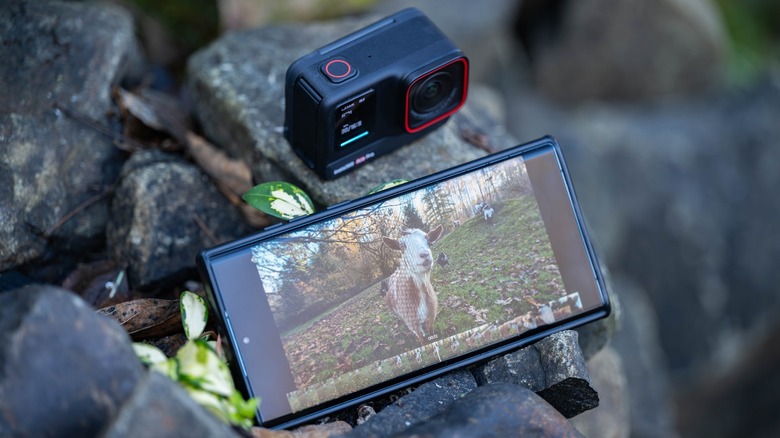 The operating system of the Ace Pro and its companion app are polished and easy to operate. It's clear that Insta360 has learned a lot about software design over the years. Our one gripe is that you've got to activate the camera through the app before using it, which really shouldn't be a requirement in hand-held cameras like this.
Insta360 has put a lot of effort into integrating AI features into the Ace Pro, and these range from very effective hand gesture detection and voice detection to the ability to integrate generative AI into your videos through the companion app. We really appreciated how responsive gesture control was — with it enabled recording would start immediately when we held up our hand, and similarly, when showing a peace sign it would take a photo. The AI-assisted in-camera editing feature is also really useful, and we appreciated how it simply allows us to select and combine moments from our footage, or export individual clips.
More advanced generative AI functionality is available in the companion app, which integrates ChatGPT. This can deliver either subtle and functional effects like adding motion blur to simulate the use of an ND filter, or to introduce really wild CGI-style effects.
Accessory ecosystem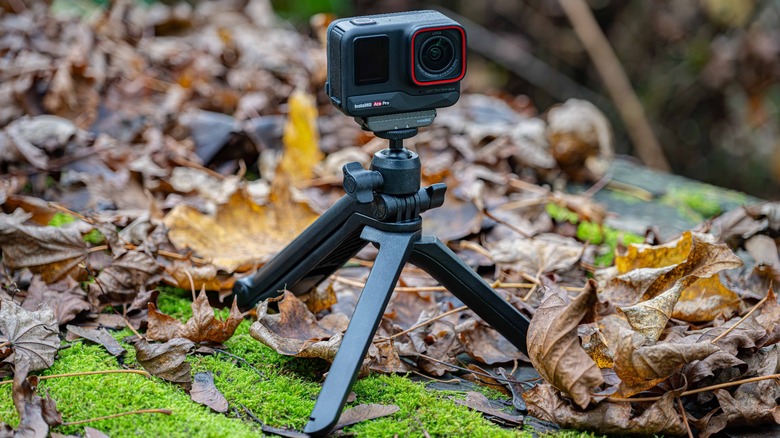 There are a number of great available accessories for the Ace Pro, some of which Insta360 included to test out for this review. Our favorite that we used was the Multi-Mount, which is a combination tripod/selfie stick. We've used similar devices in the past, but this one (a collaboration with Pygtech), is particularly well designed and is perfect for a lot of different scenarios.
The camera comes bundled with a standard action camera mount, which is recommended for action scenarios. There's also a quick-release mount available, which is less robust, but integrates both an action camera mount and a standard 1/4 screw mount for use with the multi-mount, selfie sticks, and other accessories. It features a really nice metal construction and allows you to attach a separate cold shoe mount. There's also an available mic adapter which plugs into the USB port, and a GPS preview remote which straps onto your wrist to enable GPS position recording, as well as remote video monitoring and control. This would be ideal for scenarios where you have the camera mounted on a helmet.
Regarding the quality of the onboard microphone system, it delivers acceptable results, though it doesn't particularly stand out in terms of audio recording capabilities
Spoiled for choice
There's never been a better time for action camera enthusiasts than now, since the Insta360 Ace Pro is one of many action cameras released in 2023. This also means that the Ace Pro faces some extremely stiff competition, primarily from GoPro and DJI.
The GoPro Hero 12 Black is certainly an awesome action camera, and its refined hardware and software reflect the many years poured into this line of cameras by GoPro. Its 8:7 format sensor also enables some interesting filmmaking options. However, that sensor is also starting to show its age, and the Ace Pro manages to deliver better image quality, particularly in low light.
The DJI Osmo Action 4 features the same size sensor as the Ace Pro, with very competitive image quality. However, it notably lacks the astrophotography capabilities of the Ace Pro and Hero 12, which both have excellent starlapse modes. We didn't have it on hand to test side-by-side with the Ace Pro, but based on our experience with the Action 4 we'd give the edge to the Ace Pro.
There's also Insta360's own Go 3 and One RS system to consider. The Go 3 is a miniature action camera that can do things no other camera can, though this tiny size comes with some tradeoffs. The One RS system is a modular camera, which when paired with the 4K boost module is a viable alternative to the Ace Pro if modular versatility is important to you.
Kind of pricey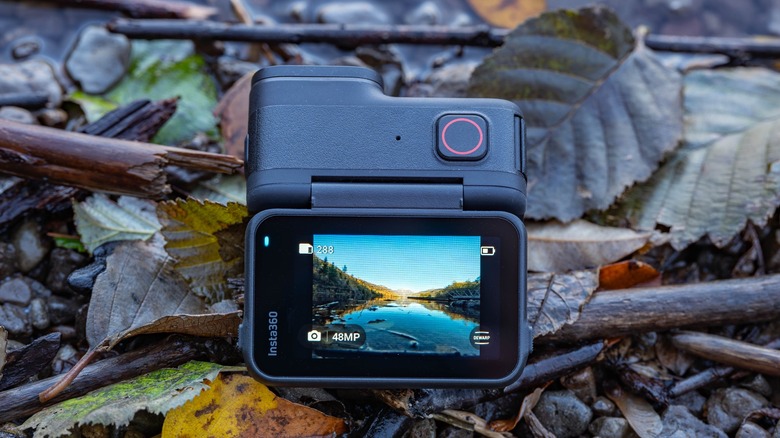 It's a good thing the Ace Pro performs so well, as it comes in as one of the more expensive cameras in its niche at $449.99. That puts it at $50 over competing action cameras, which is certainly a bit steep. Nevertheless, the Ace Pro holds up to the competition and offers some real advantages which combined make its premium price a reasonable value for money, particularly if you really want that flip-up display.
Insta360 also offers a budget-friendly version simply called the Insta360 Ace. The Ace costs a less daunting $379.99, though with some significant caveats. The non-pro Ace has a smaller ½-inch sensor, the lens wasn't co-engineered with Leica, it maxes out at 6K resolution, and doesn't do HDR, though, on the plus side, the Ace is three grams lighter. Other than that and a different appearance, the Ace is pretty much the same as the Ace Pro, but these are certainly some significant tradeoffs. On balance, if you can afford the extra $70 we'd give the Ace Pro the edge in terms of value for money when compared to the non-pro Ace.
Conclusion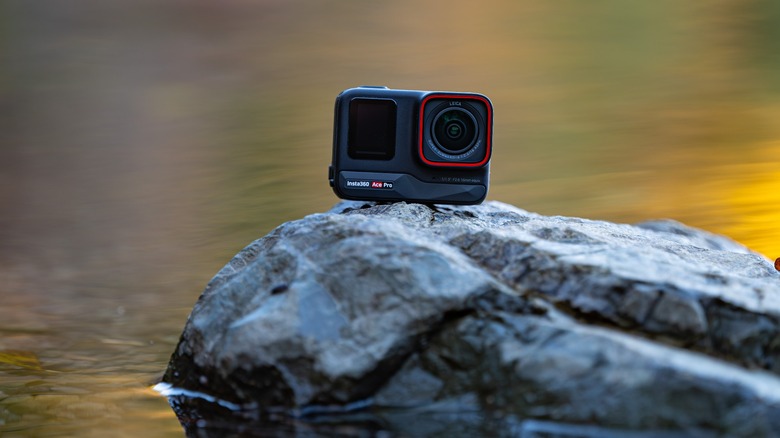 While on the surface the Insta360 Ace Pro may appear to be just another action camera, it might very well be the best action camera of 2023. This is thanks in large part to the high image quality delivered by its 1/1.3-inch sensor paired with a Leica lens. Throw in the flip-up display and surprisingly good clarity zoom function, and the Ace Pro really manages to set itself apart from the competition despite its somewhat bog standard appearance. This camera is proof positive that you should never judge a book by its cover.
While its large size and high price are definite downsides you may want to consider, we see them as the necessary and acceptable tradeoffs that enable all the truly impressive features and capabilities of the Ace Pro. For vloggers looking for a rugged and waterproof camera, it's absolutely the obvious best choice, and in general, the Insta360 Ace Pro is easy to recommend.