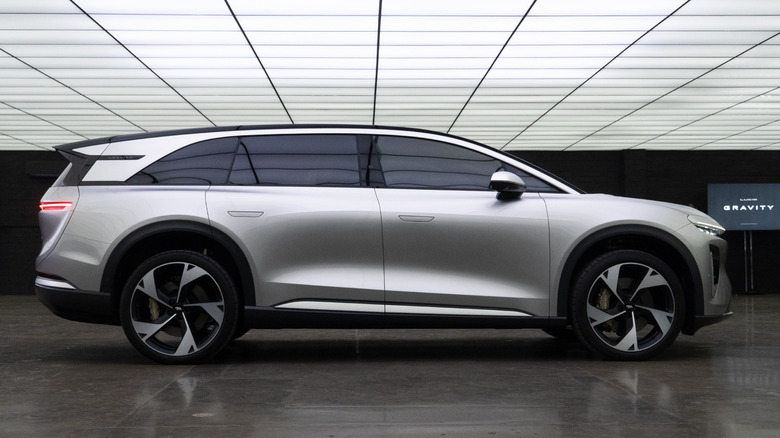 Today, at the first day of the Los Angeles Auto Show, Lucid Motors unveiled the 2025 Gravity SUV. Everyone knew it was coming, an announcement as predictable as, you know, gravity itself. After all, a California-based electric vehicle startup with interior themes including Mojave, Tahoe, and Santa Cruz couldn't just go out and debut a new model in Detroit or New York.
But surprisingly, in light of imagery teased over the past couple of years, Lucid's next EV will not be a compact commuter crossover. Instead, Gravity now steps into the light as a full-size three-row seven-seater. Ahead of the official reveal, Lucid invited me to a solo media preview with company executives on hand to fully explain Gravity's direction and, to a large extent, take stock of Lucid's evolving business strategy moving out of the exclusively Air era.
First things first, take a quick look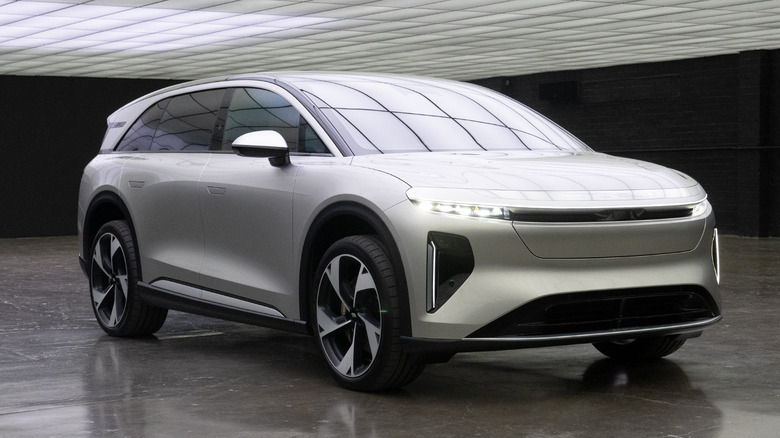 I walked into the crisply lit room and forced myself to withhold a doubletake, even before reps pulled back the sheet. Beneath fabric, Gravity's boxy bulk clearly eschewed the lines and shapes that I expected and which make so many crossovers almost indistinguishable from each other from more than about 15 feet these days. (Side note: why does "The Air" seem natural but same for "Gravity" without a "The"?) SVP of Design and Brand Derek Jenkins stepped in to walk me through the concepts that led to Gravity's final form before I started asking too many questions.
"I think this is, in many ways, a more challenging project than Air," he admitted. "Because Air is low, it's sleek and wide, and it's got all kind of fundamental proportions to make it just innately attractive. And here we had to really balance not making the car too long, and yet somehow giving it a strong presence and a strength that was still SUV-like. But still have a sleek enough profile while being aerodynamic and spacious."
Jenkins' design still looks undeniably Lucid but, in a crowded segment, ends up somewhat less unique than the futuristic spaceship lozenge of the showstopping Air. From some angles, Gravity serves the modern SUV-meets-minivan mashup with a squared front end, long swooping roofline in coupe-slantback style, and a serious rear aero overhang. From other perspectives, the muscular angles also recall the best au courant shapes from Kia/Hyundai and Lexus/Toyota, with perhaps a hint of Jeep Grand Wagoneer and Rivian R1S twinsies peeking through.
SUVs comps in a crowded segment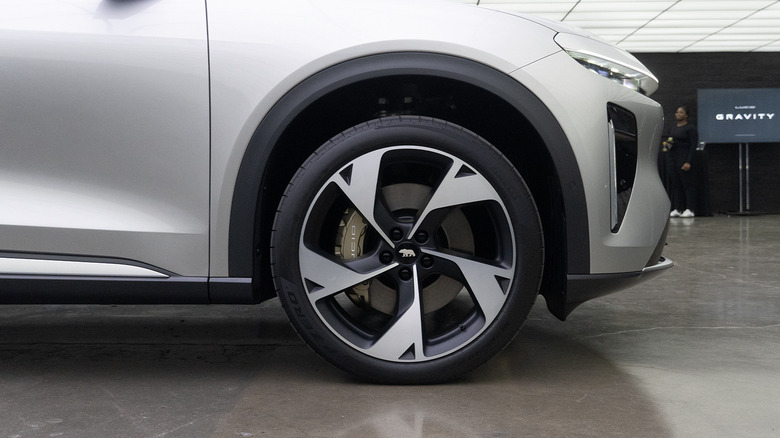 Additional ride height achievable with Gravity's standard air suspension and choosing the smallest wheel options with taller tire sidewalks might help to accentuate the SUV posture. But at the very least, nobody will call this a squashed Photoshop version of its smaller sedan sibling—I didn't even have to mention the competition.
"We deliberately didn't do a low nose," Jenkins pointed out, "to make it too sleek up front. So it has SUV presence and then we kept the cabin really sleek and tapered, which gives it a kind of coupe-like quality."
I fully realize all design impressions are necessarily subjective, and Gravity will no doubt split public opinion just much as any forward-facing automotive styling, but physical dimensions exist outside the realm of contention. In overall footprint, Gravity measures 5,038 millimeters long, or only 60 millimeters longer than the Air. Since the Air somehow occupies approximately identical exterior measurements as a Tesla Model S, for better context here, that's still 25 millimeter less length than an Audi Q7. Lucid's SUV also measures 64 millimeters wider than the sedan, but of course, range considerations of a much taller vehicle forced certain design decisions.
Jenkins mentioned a Japanese Shinkansen, or bullet train, while discussing Gravity's front end. And overall, Lucid claims a drag coefficient of 0.24 gives this SUV the sleekest aerodynamic profile of any three-row ever. But it's actually much smaller, in sheer exterior terms, than even most two-row SUVs and crossovers, because Lucid's energy dense batteries and compact motors allow for such inherently maximized interior volume.
Falling into Gravity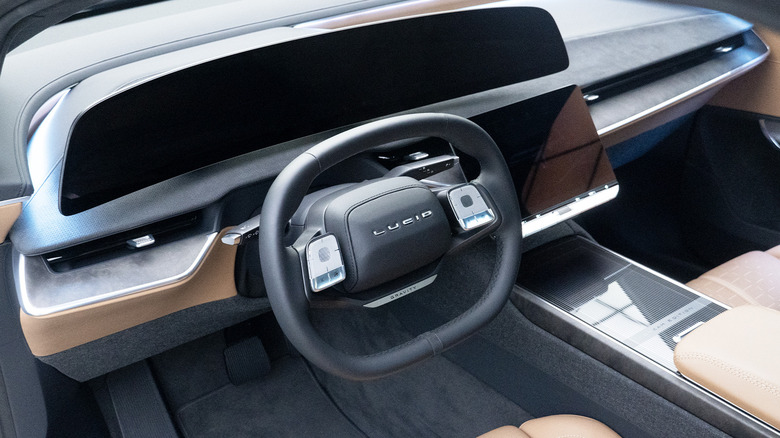 Jenkins then directed me over to take a seat in the driver-side captain's chair as he explained Gravity's interior ethos. The stepped dash immediately recalls that of the Air, probably my favorite interior design of any car (other than perhaps the BMW i3 when optioned with the wooden shelf). But because of the taller canopy, Jenkins accentuated the levels for this new interior, again highlighted by a curved 34-inch OLED combination gauges-functions-infotainment touchscreen.
But positioning that panoramic surface fully above the steering wheel solves the eternal dilemma of inefficient gauge design, due to the steering wheel and even hands blocking the driver's view of critical vehicular data. Instead, Gravity gets a squared wheel—not a yoke!—with a flattened top, sides, and bottom.
The shape reminded me immediately of Chevrolet's C8 Corvette, but much improved in ergonomics by comparison because, at the very least, I can fit my knuckles through the lower quadrant during one handed driving. I said as much to Jenkins, who joked (maybe seriously) that he tested 27 different steering wheel models before finding the ideal form.
Optimize, optimize, optimize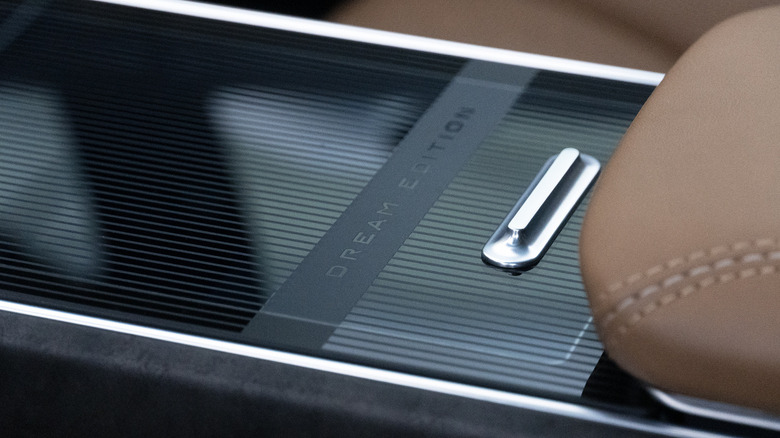 "The innovation with the steering wheel and moving the display is so key," Jenkins said from the passenger seat. "We've never been about having the most screens or the biggest screens. We were always striving to have an appropriate balance where you can create a nice atmosphere inside the car. It still looks sporty, the displays look integrated, but we utilize the real estate we have in the best possible way."
Below, a newly horizontal main infotainment screen allows for even greater space for the rest of the center console, with a storage cubby that features "Bento boxes" for gadgets, chargers, coins, or accoutrements ordures. The rest of the surfaces continue Lucid's commitment to synthetic leathers, microsuede, and recycled textiles—but I just kept returning to the remarkable space, the sheer volume, even compared to the anechoic void that is the Air.
All in, Gravity boasts 112 cubic feet of interior volume, with seating for seven in three rows or five in two rows currently planned. A trio of captain's chairs for a six-seater layout may arrive eventually, but as is, the second row reclines a bit and slides to allow access to the third row. Both rear rows can fold entirely flat, allowing a seven-foot surfboard to slide in straight, or an eight-footer in the diagonal position.
Performance, not just posturing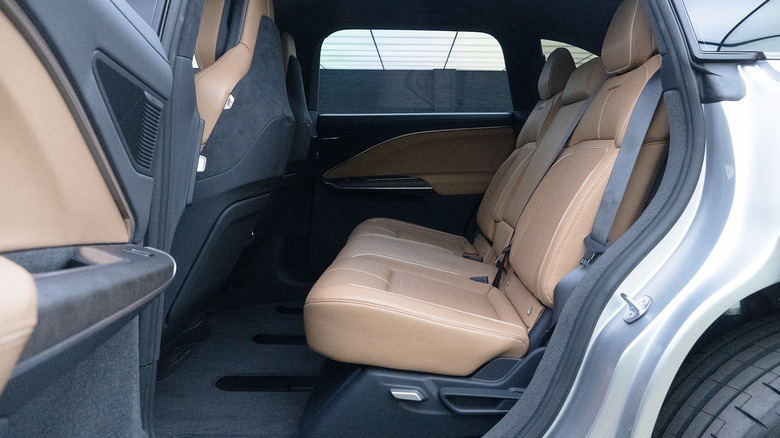 Comparisons to Air aside, the Gravity employs a ground-up platform to create so much space. But beneath the skin, similar batteries and motors power this SUV—equipped as it sat on display with two 670-horsepower electric motors, but different gear ratios to provide a bit more pep for a larger vehicle. Suffice to say, expect the Gravity to be faster than just about any three-row SUV ever, but also smooth with the air suspension that allows not just for adjustable damping as on Air but also manually and automatically adjustable ride height.
The battery layout also changes slightly to prioritize cargo space given the higher roofline and expected customer use cases. So, a second layer of cells that in the Air occupied space under the rear seats now moves to beneath the front seats in Gravity's skateboard. Still, all the Lotus minds now at Lucid that miraculously masked the Air's hefty curb weight should do well with the low center of gravity despite additional mass now sitting higher in the air (sorry, again).
All the straightline speed and cornering prowess might satisfy nerds, but most consumers will undoubtedly care more about the efficient performance of the Gravity's battery and motors. And that unbelievable CoD allows Jenkins to predict a target range of 440 miles. A tow rating of 6,000 pounds might cut into that range significantly, but the stat remains impressive given how much more interior space Gravity offers compared to a Tesla Model X or Y.
Evolution in tech terms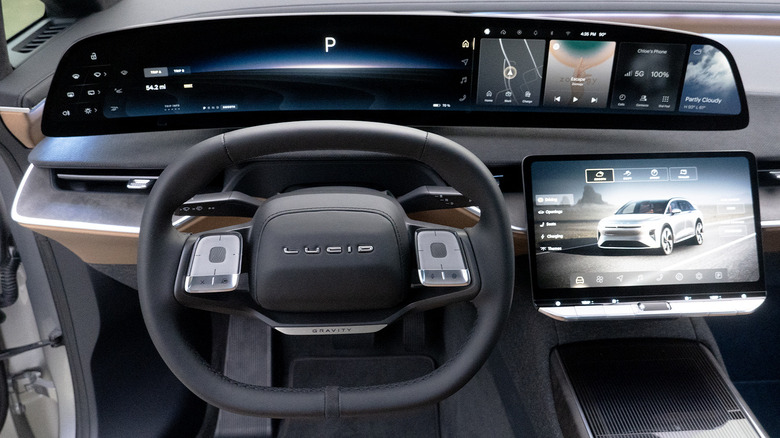 Lucid's evolving technology enabled much of Jenkins' updates to the interior design aesthetic. Trackpads on the steering wheel replace roller dials, operating somewhat similarly to an Apple TV remote, while physical switchgear below the center touchscreen is now configurable. Because the touchscreens work as such with so much surface area, hopefully the trackpads can avoid some of the years-long Lexus debacle.
I wasn't allowed free playtime with this pre-pre-pre-production vehicle, but SVP of Digital Mike Bell gave me a primer on what to expect from the company's third-generation user interface that focuses on fewer menus, more single-touch functionality, and even an augmented reality HUD.
"It's all done in-house, too," Bell explained. "What we've done with Air is we came up with something that worked really well with the features we shipped, and then we're adding more features to that with Gravity. We have an even more advanced autonomy computer. We have more advanced sensors."
I asked about the next step in autonomy, given Mercedes-Benz's recent announcement of limited Stage 3 self-driving this past September. Lucid's Level 2 programming already took a big jump via an OTA update ahead of the Sapphire's debut, that noticeably reduced ping-ponging off lines in the road as well as cutting down lurches at cruising speeds.
Advancing software short of full autonomy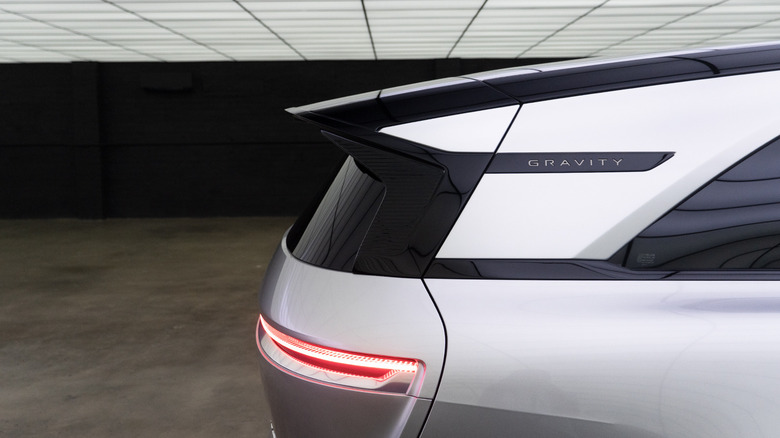 "That same software that we've started pushing out to all cars in the fleet," Bell replied, "also has another advanced version of our autonomy software that's even better and brings up the cameras faster. So we're constantly iterating, we're constantly adding features. So when we ship Gravity, it will have everything that we had then plus a bunch of new features."
The future of fully autonomous cars seems, thankfully to my eye, like an ever-shrinking time horizon in the far-off distance. Bell agreed, but acknowledged that consumers expect at least some ADAS today.
"We will be fully buzzword compliant," he joked. "What we're trying to do is add features in such a way that the driver is not surprised, the driver's never taken off guard. We're providing a solution that works really well and doesn't kind of experiment with the customers. I love beta testing software, but not in a car..."
Nifty tricks from Lucid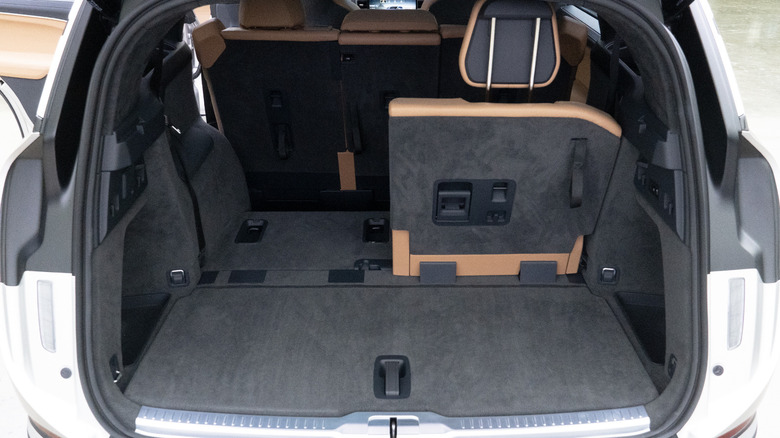 Keeping drivers and passengers comfortable fits into Lucid's "post-luxury" mindset, even moreso with the software that will launch in Gravity. My favorite feature? What Jenkins calls "Digital Detox" that with the swipe of a finger, turns off everything on every screen other than essential speed and warning lights. For long late-night road trips, I often wish that everything on the dash would just go dark—and with OLED screens, dark means no illuminated shades of black, either.
"Talking to customers," Jenkins explained, "Sometimes all the screens, all the technology, all the information and applications can be too much. Sometimes you just want to drive, you know, and the idea of detoxing and just kind of slimming everything down to the basics became a really popular idea within the user experience team. And we started to experiment with that and then we tested it with our employees and people were like, 'This is awesome!'"
Other nifty programs focus on health and wellness, including breathing tutorial videos, mindfulness exercises, and white noise soundtracks that match natural scenes on the screens. But maybe the single biggest update, which proves that Lucid can learn from past mistakes, is a new key with real, physical buttons.
Critical details for consumers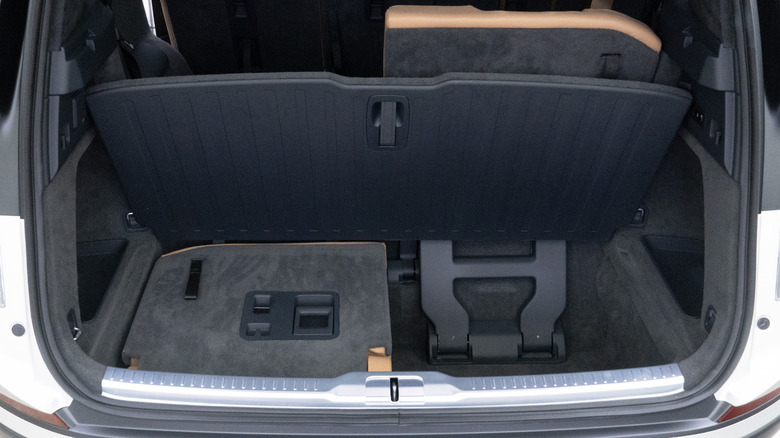 Of course, optimizing Gravity's utility for consumers involves physical solutions, not just clever software and tech. The wide rear hatch opening, as on Air, allows for easy access and loading at the rear end. A deep footwell provides plenty of storage with all three rows up, or the third row folds down inside for extra space when only two rows are required. I could definitely see some kind of tailor-made mattress or sleeping platform with storage beneath fitting into the accessories, along with racks that screw into the roof mounting brackets.
At the moment, maximizing headroom means that Lucid only plans to ship Gravity with a panoramic glass roof, rather than the optional solid aluminum roof available now on Air. The 230-liter front trunk can fit an optional sofa-style seat, and also offers a 1.8-kilowatt charging port for powering up e-bikes or espresso machines. Car-to-car charging, dubbed "RangeXchange" will be another big step, almost as significant as the recent announcement that Lucid and Tesla plan to share NACS Superchargers.
A seismic shift in strategy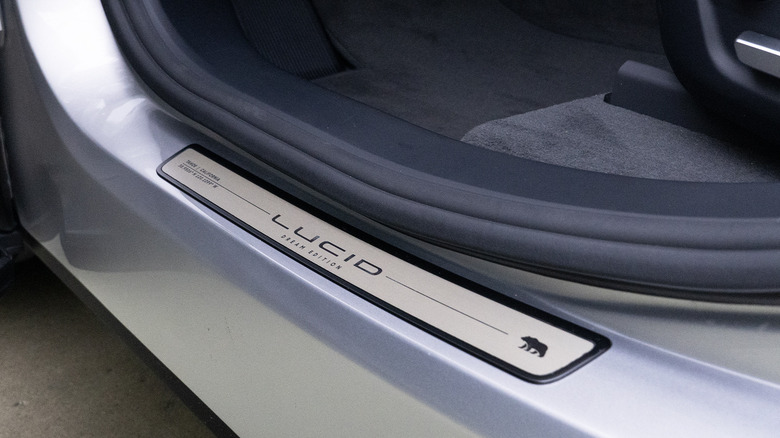 Gravity's EPA target remains just that, Lucid declined to share pricing specifics — beyond that Gravity will start under $80,000, just as the newest 2024 Air Pure RWD does now — and customer deliveries aren't expected to begin until late 2024. But after speaking with Senior Director of Product Marketing, CRM, and Market Intelligence Lew Echlin, I expect Gravity to enter the market more competitively than the trickle-down strategy Lucid took with the Air's debut. He came short of admitting that Gravity needs to offer cheaper options from the start, but part of the strategy shift also undoubtedly stems from developments at the AMP-1 production facility in Casa Grande, Arizona.
"There is a heck of a lot of pent up demand for Gravity," Echlin said. "In early conversations that we've had with our owner base, many of the first in line are people that own the Lucid Air right now. And they've said that amongst their preference is something analogous to a Dream Edition and GTP [Grand Touring Performance]. But it is our full plan to be able to offer a broad variety of the most versatile SUV, that will be available to a wide swath of customers."
More to come, obviously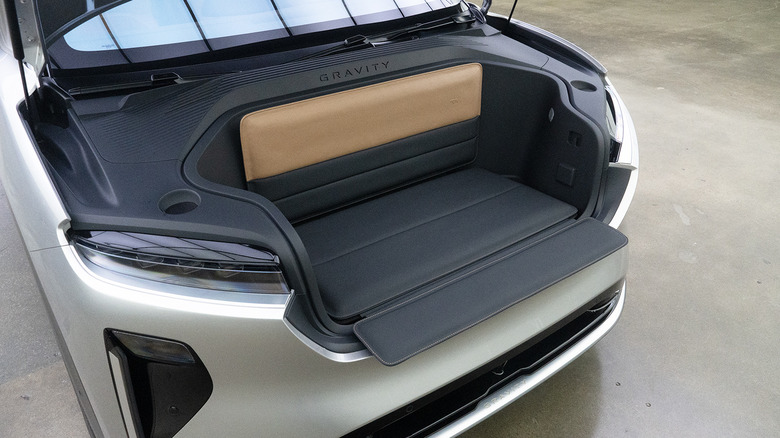 Personally, my Gravity would come with the smallest possible wheels (staggered at 20 and 21 inches, though even smaller would be better) with the knobbiest tires available to emphasize the SUV look. True off-road capability will depend on how much the suspension design differs from the lowslung Air, since real articulation seems relatively unlikely even with the suspension raised to its highest setting. Think ski trips, not rock crawling—the 440 miles of range should get me up to Mammoth Mountain from Los Angeles with plenty of charge to spare.
Lucid also plans to keep Sapphire as the company's halo level, but whether that version of a Gravity focuses on straightline speed and handling or full-on off-roading (like Lamborghini's Huracan Sterrato, as an awesome example) also remains to be seen. But it's truly hard to understate the gravity (sorry, had to) of the situation for Lucid. Model year changes currently under wraps for the Air in 2024 aim to specifically help overcome the company's current market positioning, but any KPI undoubtedly hinges on the success of Gravity as a full-size SUV. In that regard, would a smaller, cheaper crossover have been the smarter move?
Three-row luxury undoubtedly fits into the Lucid image better. But if much of the early interest comes from current Air owners, early adopters for thr 2025 Gravity still seem like city folk. Presumably, Lucid hopes the wider market for SUVs will help Gravity take a big step past Air on the pathway to mass adoption. So perhaps the more familiar design, in comparison to the more radical Air, will combine with world-beating range, improved tech, and impressive utility to help draw any hesitant buyers solidly into the Lucid fold.