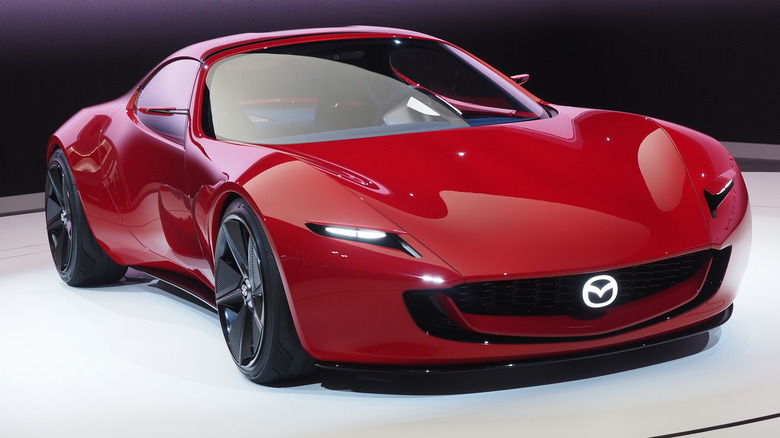 Mazda brought something special to the Japan Mobility Show 2023: a sleek and yet green concept car that could represent one potential future of performance vehicles. Indeed, you'd be forgiven for assuming that the Iconic SP is Mazda's not-so-secret answer to one of the automaker's biggest questions (and fans' biggest concerns): Just how will the MX-5 Miata be reinvented for the electric age?
Certainly, the Miata roadster has earned its icon status over decades of affordable, easy-to-drive fun. That has been dependent on a key recipe of keeping weight, complexity, power, and cost low.
That's basically the antithesis of the electric age, at least how we've seen it play out today. Modern performance EVs are wildly powerful, heavy, and wildly expensive, trading concepts of lightweighting and attainability in favor of lashings of instantaneous torque. That can be fun, certainly, but it hardly fits with the Miata strategy.
With Mazda — like the rest of the automotive industry — looking to the electric transition, just how it would combine the MX-5's hallmarks with the reality of current EVs was increasingly seeming an impossible challenge. The Iconic SP, though, represents one possible route, and it's a singularly Mazda-esque one at that.
A fresh take on electrification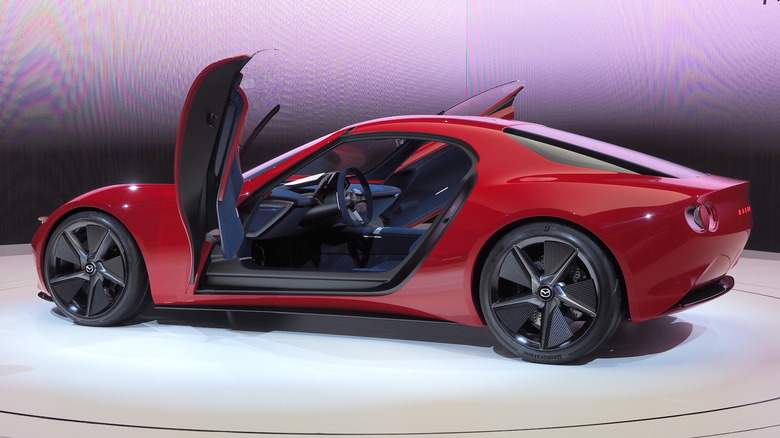 Rather than ditching combustion altogether, the Mazda Iconic SP is a hybrid. This is no normal gas-electric pairing, mind. Instead, Mazda brings out one of its most infamous engine technologies: the rotary engine.
Rather than the traditional engine's pattern of pistons, a rotary engine involves a complex multi-directional piston. After no shortage of expensive development, Mazda debuted it in the Cosmo Sport in 1967, though arguably the cars best known for their rotary heart at the RX series. Though the RX-7 was discontinued, Mazda then used a rotary gas engine as a mobile generator for its MX-30 electric crossover in some markets. 
For the Iconic SP, Mazda has cooked up what it's referring to as a two-rotor rotary EV system. That has a rotary engine which can run on hydrogen or other carbon-neutral fuels, and which is used to generate electricity. That powers electric motors, which are responsible for the concept's 365 horsepower (370PS).
Rotary heart in a stunning design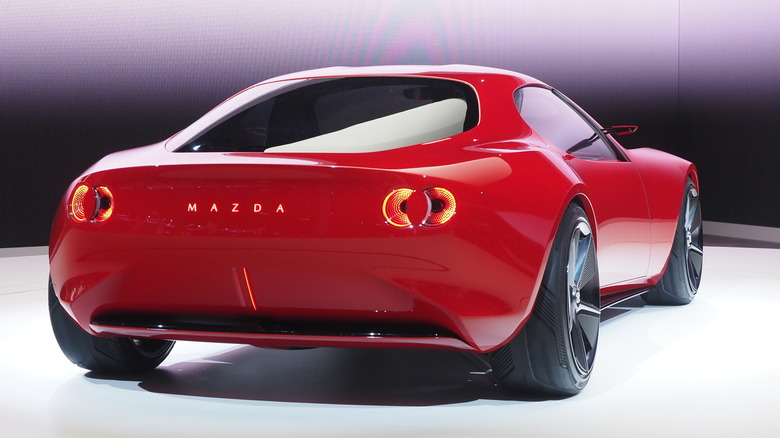 What's just as important, though, is the way Mazda has packaged all that engine technology. By putting the rotary engine in the center, rather than under the hood, the Iconic SP can be low and almost impossibly sleek. The front grille is pushed down low, with an illuminated Mazda badge, while pop-up headlights get a 21st century makeover with tiny LED clusters.
It's deceptively compact, too. At around 165 inches long, 73 inches wide, and 45 inches high, it's a little larger than a Miata, but smaller than an RX-7. A curb weight under 3,200 pounds is also notable. Yes, that's more than the roughly 2,400 pounds of an MX-5, but the Iconic SP is also more powerful and more spacious.
Mazda's cabin — accessed by a pair of upswinging doors — is pared back and minimalistic, with space for two. The dashboard gets a pair of digital displays, with simple cluster graphics, and there are a handful of controls in the center console. Alcantara or some other suede-like fabric wraps the dash, door panels, and seats, with red stitching.
There's more than one way to delivery electric fun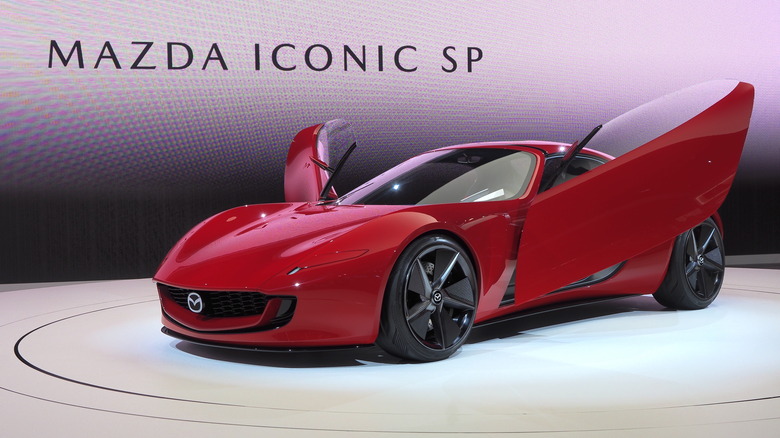 That contrast stitching matches one of the most eye-catching elements of the concept coupe: the Viola Red paint. That, Mazda says, is part of its ongoing goal to "cherish the color red." The result is both "a vivid color, while creating a sense of shade that accentuates the shape of the car," the automaker concludes.
Where, though, that leaves the Iconic SP in terms of potential production is still unclear. Mazda says that the concept coupe has been designed with sporty driving in mind — there's an ideal 50:50 weight distribution, for example, and a low center of gravity — yet has also clearly given thought to how the car might be useful beyond just backroads. The drivetrain, for instance, could be used as a mobile generator to survive home outages or power a campsite, for example.
Whether or not this is the blueprint for a new generation of Miata, or some other production sports car, one thing is abundantly clear. The transition to electrification needn't be satisfied with a single model of a big battery powering big electric motors, and there's more than one way to make a seductive but also green performance vehicle.