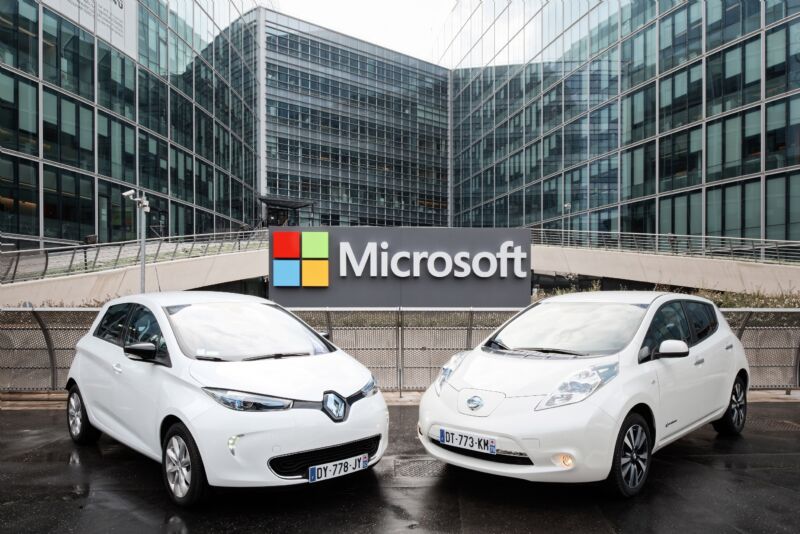 Nissan has agreed to invest $663 million (600 million euros) in Ampere, Renault's electric vehicle operation, the two companies announced today. It's a sign of a renewed alliance between the two automakers that have been in a partnership since 1999, but relations have strained following the 2019 arrest of Nissan CEO Carlos Ghosn.
"With the finalization of the definitive agreements, we have entered the next phase of collaboration with Renault and Mitsubishi Motors in mutually beneficial areas of innovations," said Nissan CEO Makoto Uchida. "This will create additional value through initiatives aligned to Nissan's Ambition 2030 and electrification strategy. The investment opportunity in Ampere complements and strengthens Nissan's ongoing electric push in Europe and will deliver numerous synergies, including cost efficiencies, regulatory compliance, and a broader range of EV products and powertrains."
Both Nissan and Renault have been early entrants into the EV market, with more than a million Nissan EVs sold since 2010 and about 300,000 Renault Zoes delivered since that car went on sale in 2012.
Nissan gets a board seat at Ampere for its investment and says that collaborating on electrification and low-emissions technologies "could provide incremental value to each individual business." Mitsubishi, the third member of the alliance, will decide whether to also invest in Ampere by the end of this year.
Additionally, Renault and Nissan are modifying their ownership of the other's company. Renault has held a 43 percent stake in Nissan, giving it a greater influence over Nissan than vice versa, as Nissan only held a 15 percent stake in the French automaker. Now, each company will own 15 percent of the other, with Renault transferring 28.4 percent of its Nissan shares into a French trust.
"These agreements provide us with a solid base to reactivate business operations worldwide in key markets, with the potential to generate hundreds of millions in value for Renault, Nissan, Mitsubishi and stakeholders," said Renault CEO Luca de Meo. "They give us the strategic agility that we need more than ever in today's rapidly evolving environment. We are all engaged with the right mindset and welcome Nissan as a strong partner in our upcoming EV and Software pure player Ampere. It confirms the attractiveness of the project to be a front-runner in Europe, allowing Renault and its Alliance partners to position themselves ahead of the starting grid for the EV and software race in Europe."
Apple is releasing a documentary on August 25 about Ghosn's escape from Japan.