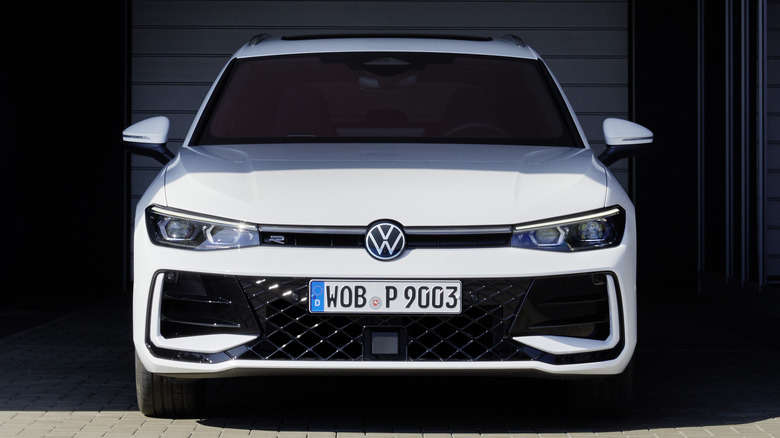 Volkswagen's Passat may have been dropped from the U.S. market following the 2022 model year, but it's still alive and well in Europe, and after sneaking a peek at the handsome new ninth-generation model for 2024, we'll admit to being a little jealous. Would you believe that Passat is Volkswagen's second best-selling car ever, behind the Golf? That's right, Passat has outsold the iconic Beetle, which comes in third place.
The latest Passat is a larger vehicle, now rolling on Volkswagen Group's MQB platform which also underpins the Tiguan and Audi A3, among others. In fact, the new Passat gained more than five inches in length over its predecessor, but perhaps the biggest news is that the sedan version of this model has been axed in favor of only producing a wagon, sometimes referred to as a "longroof" Passat. In truth, nobody should be too surprised that the sedan is history, given the public's penchant for trucks, SUVs, and crossovers, the latter of which the Passat wagon comes very close to being, minus the increased ride height.
We love the wide variety of powertrains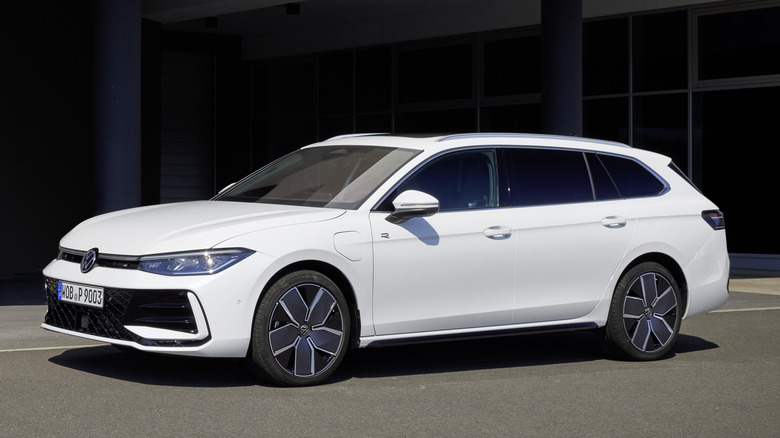 The 2024 Passat is available with no less than seven distinct powertrain options, including both hybrid and plug-in hybrid variants. The latter pairs a 1.5-liter gasoline engine with a 19.7-kWh battery and electric motor. This combination can travel 62 miles in all-electric mode before the gasoline engine kicks in and like other PHEVs, can presumably be fully charged overnight from a typical household electrical receptacle. A self-charging 48-volt mild hybrid assist setup is also available — a first for the Passat — which Volkswagen calls eTSI.
In the fossil fuel department, a pair of conventional gasoline engines is available, the choice of which is determined by whether the buyer opts for VW's full-time all-wheel drive, called 4Motion. Both displacing 2.0 liters, the horsepower ratings for those engines are 201 for the front-wheel drive and 261 for the 4Motion variant.
Buyers seeking a diesel engine are also spoiled for choice, with three different versions of the 2.0-liter TDI on offer. Available outputs are 121 horsepower or 148 horsepower for front-wheel drive models and 190 horsepower exclusive to the all-wheel drive. All internal combustion engines are routed through a seven-speed automatic transmission with dual clutches.
It has a larger and smarter cabin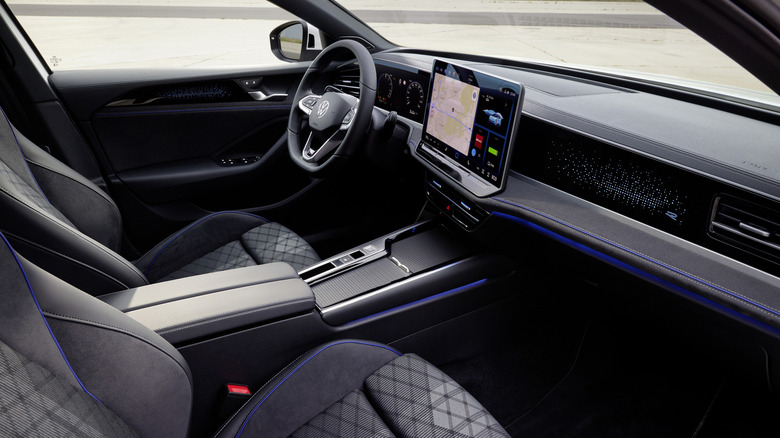 The ninth-generation Passat has taken a sharp detour from the outgoing model by removing nearly all of the typical analog switches and control in favor of relocating them to the vehicle's touchscreen. And what a touchscreen it is, with 12.9 inches being the benchmark size, even in base models. If that's not enough for you, an optional 15-inch infotainment system is also available for the asking. Similarly, the set of traditional instruments in front of the driver has been replaced with a 10.25-inch electronic display.
Situated between an optional pair of 14-way electrically adjustable, heated, ventilated, and massaging seats is a center console that's now devoid of its gearshift lever in favor of increased storage space inside, such as has been the trend on some of VW's all-electric vehicles. If you're wondering, the gearshift was relocated to the steering column. Making good use of the Passat's newly acquired five inches of overall length, rear-seat passengers now enjoy an extra two inches of legroom and most notably, the cargo capacity has grown by a whopping 4.9 cubic feet versus the outgoing model.
The new Passat will be manufactured in Slovakia rather than Germany, alongside its corporate twin, the Skoda Superb. Volkswagen says that it's expected to go on sale within the first few months of 2024.