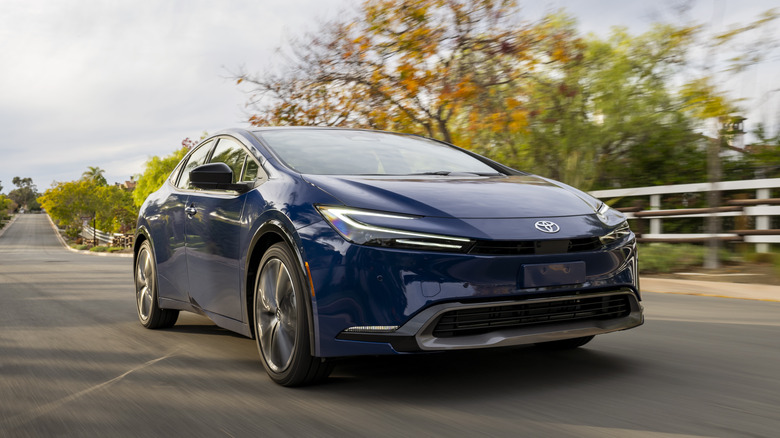 Choosing between the 2023 Toyota Prius and Toyota Corolla is now more challenging, since the latter is available in numerous configurations. The Corolla is available in a sedan or hatchback body style, with gasoline, hybrid, and high-performance GR hatchback configurations. Compounding things further is the Toyota Corolla Cross and Corolla Cross Hybrid, which are Corolla-based vehicles with some crossover-shaped sheet metal differences.
On the other hand, things are more straightforward in the new Toyota Prius, fresh from its fifth-generation debut in 2022. It's available with a potent gasoline-hybrid and plug-in hybrid powertrain, and that's it. You also get a spirited body shell, making it the most aesthetically pleasing Prius in its lineage. For comparison's sake, we'll focus on the Prius hybrid and the Toyota Corolla sedan, including a few dibs into the hybrid Corolla sedan.
We find it necessary since the new Toyota Prius starts at about $28,700, significantly more than a base Corolla sedan's sub-$23,000 base price. Meanwhile, the Corolla Hybrid starts above $24,000, and tops out at under $28,000 for the range-topping XLE trim — just a few hundred bucks under the base Toyota Prius.
2023 Toyota Corolla: The safe, affordable choice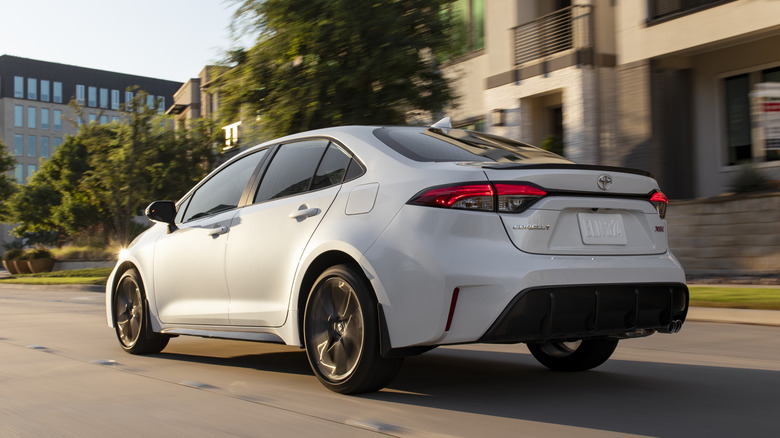 The Toyota Corolla, in any guise, needs no introduction. The 2023 Corolla is available in LE, XLE, SE, and XSE grades — starting at just under $23,000, and up to $28,000 for the range-topping Corolla XSE. For the money, you get a 2.0-liter four-cylinder engine with 169 horsepower and 151 pound-feet of torque. 
All Corolla sedans have a CVT gearbox and a front-wheel drivetrain. If you need AWD, the Corolla Hybrid and Corolla Cross have an optional all-wheel drivetrain, but the gas-only Corolla sedan is FWD only.
It isn't very reasonable to compare the Prius versus the Corolla from a performance standpoint, but efficiency and practicality matter most. According to the EPA, the Toyota Corolla achieves a combined 35 mpg, and the Corolla Hybrid gets up to 52 mpg. The Corolla sedan's five-seat cabin offers an interior volume of 88.6 cubic feet, and up to 13 cubic feet of storage room in the trunk. The figures are unremarkable, yet enough for typical American families.
The relatively affordable price comes with an array of standard kits; including automatic climate control, dual Bluetooth connectivity, and an eight-inch touchscreen with wireless Apple CarPlay and Android Auto. The Corolla also comes with Toyota Safety Sense 3.0 technology with automatic high beams, lane departure warnings, dynamic radar cruise control, and a backup camera, to name a few.
Meanwhile, the Corolla Hybrid is available in LE, SE, and XLE trim grades — starting at around $24,000 to $27,900. All have a 138-horsepower 1.8-liter four-cylinder engine and a hybrid system that achieves an EPA-rated 52 mpg in the combined cycle.
2023 Toyota Prius: Stylish and efficient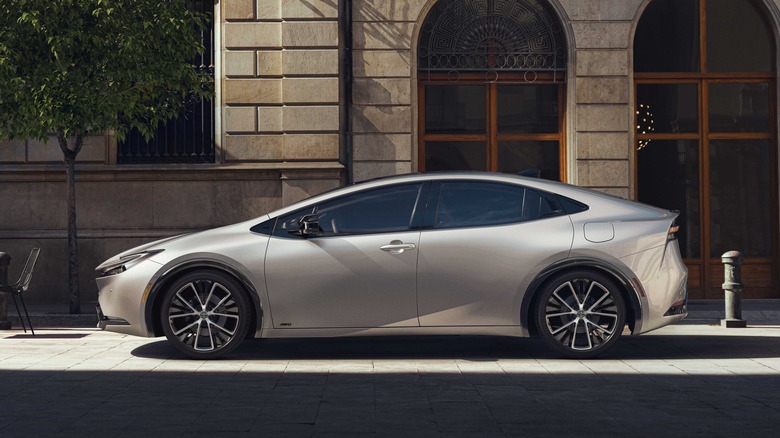 The 2023 Toyota Prius has bold looks, a solid reputation for reliability, and solid fuel economy numbers. It has a 2.0-liter four-cylinder gas engine and a hybrid electric motor to produce 194 horsepower, which is more than the gas-only Corolla or Corolla Hybrid offers. 
Moreover, choosing the optional all-wheel drivetrain adds a second electric motor in the rear axle for 196 horsepower, making it the most potent Prius in history. However, despite having nearly 200 horses at its disposal, the Prius is a cruiser and not a sports car, hence its EPA-rated 57 mpg fuel economy.
Styling praises aside, the Toyota Prius has a hatchback rear end that offers 20.3 cubic feet of trunk room. It's more than what you get in a Corolla sedan, but Prius fans will notice the cargo space is less than before. The base Toyota Prius LE starts at around $28,700, and has 17-inch alloy wheels, LED headlights, automatic climate control, an eight-inch touchscreen, wireless smartphone connectivity, up to six USB-C charging ports, and Toyota Safety Sense 3.0 like in the Corolla.
Toyota Prius vs. Toyota Corolla: The verdict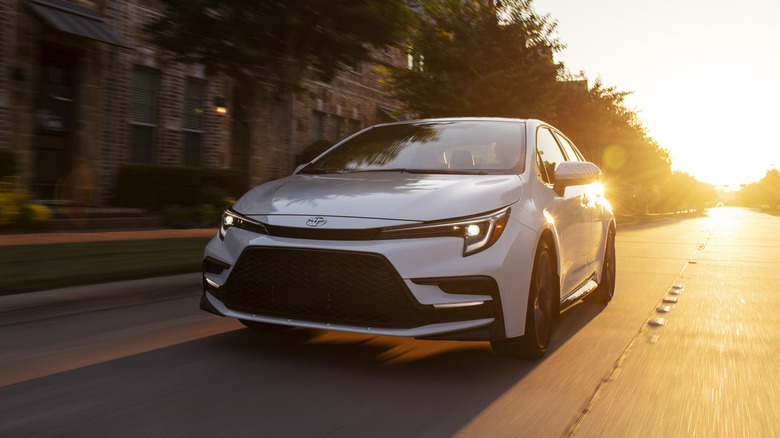 It's hard to go wrong with the Prius or Corolla. In any configuration, the Toyota Corolla is a solid contender in the compact sedan category, and the automaker has expanded the Corolla lineup to target buyers from nearly any price point. On the other hand, the Toyota Prius has a lot going for it in the style, practicality, and fuel economy ratings. Moreover, it has a bulletproof eight-year/100,000-mile hybrid warranty, and a sterling 10-year/150,000-mile battery warranty.
It all boils down to the MSRP. For about $25,000, you could get the generously loaded Toyota Corolla XLE trim with more standard features like a power sunroof, LED headlights, a proximity key, a push-button start, heated front seats, and faux leather seats. The clincher is you could upgrade to a base Corolla Hybrid for about the same amount.
However, if you have above $30,000 to spare on a new car, the new Toyota Prius Hybrid delivers a five-seat cabin, a roomy trunk, an efficient hybrid powertrain, a stellar warranty, and an eco-conscious reputation. We'd take the Prius in a heartbeat, but only if the GR Corolla is out of the equation.