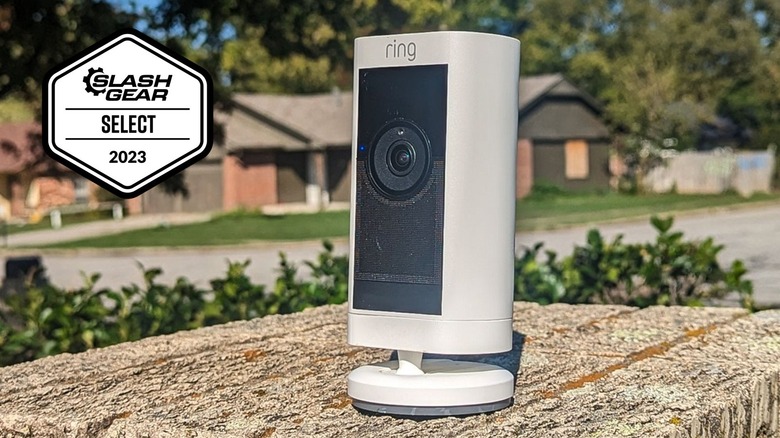 We may receive a commission on purchases made from links.
The Ring doorbell camera has been a huge success and paramount to the security of millions of homes ever since its introduction. Amazon's acquisition of the Ring company has enabled it to grow exponentially and expand its device offerings with it. Today, Ring's product offerings represent a diverse cross-section of the overall home security industry. In addition to the original doorbell cam, Ring offers several outdoor and indoor cameras, complete security alarm kits, integrated smart home lighting products, and an array of accessories to personalize any installation, and all of these work within the Ring ecosystem supported by its official app.
Today, we are looking at the Ring Stick Up Cam Pro, provided to SlashGear for review by Ring. This product is a part of Ring's wider video surveillance line of products, which includes several indoor and outdoor security cameras, including the Ring Spotlight Cam Pro. Ring has been known for offering good quality products for reasonable prices, so let's have a look at this latest model and see how it stacks up.
In the box: the hardware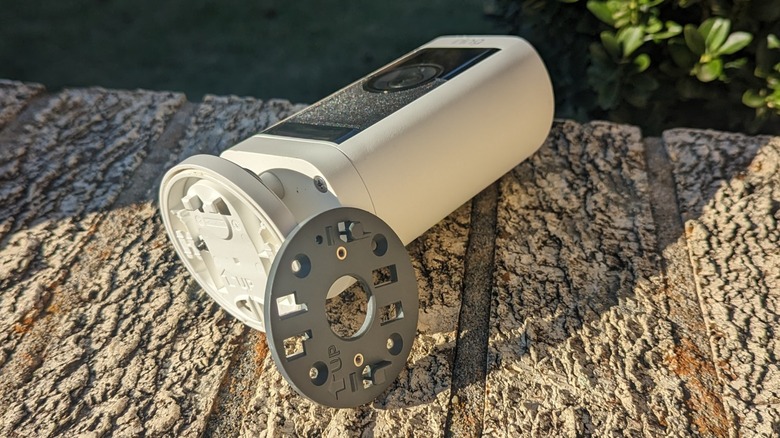 One of the first things you will notice about this camera is its size — it's compact. There is not much to it and not much to come with it. This particular model is battery-powered, although a wired version is available. Inside the box is nothing more than the camera itself and a USB-C cable, a fastener kit including screws and plastic anchors, and the accompanying booklets.
Pulling the camera out of the box presents a combat device about the size of a Monster energy drink can. It features the camera on a pedestal base which allows the camera a full range of motion allowing for attachment to slanted surfaces. The camera can be put into position to provide a straight and level field of view. The base includes a small puck that can be mounted permanently such that the camera is easily removed for charging. The battery pack therein is also removable. Users can take the batteries out for charging or purchase a second pack to keep ready and swap out at any time it is needed.
Setup and software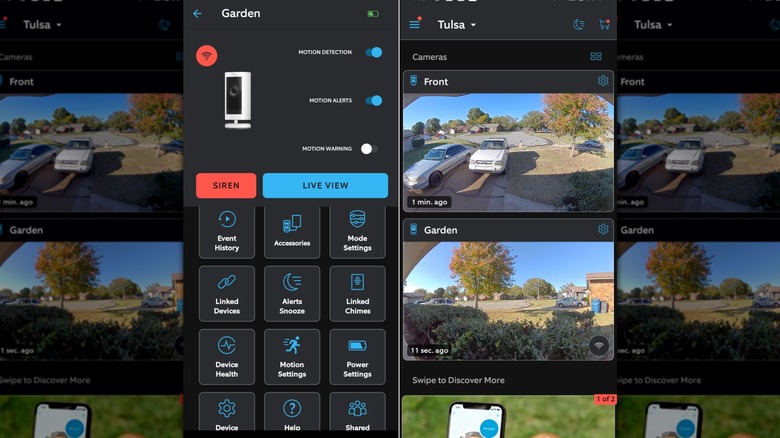 One of the advantages of Ring products is the overall ease of use, including setup. For those who do not yet own a Ring product, a download of the app from the Google Play Store or the Apple App Store will be necessary. Others who already use Rings products can simply add this from the main menu of the app. After bringing it up to a full charge, all you will need is the password for your home Wi-Fi connection.
As far as mounting the camera goes, you have options. The camera sits on a pedestal that offers the choice of leaving it freestanding or permanently mounted. When used inside, it can simply be set anywhere you like and left until the battery needs charging. Otherwise, the base can be mounted to a wall using the mounting puck and included fasteners. 
It can be installed standing upright as it comes out of the box, or the pedestal can be attached to the side of the camera for a wall-mounted installation. It will be easily removed for charging in either permanent setup. Furthermore, it allows for a USB-C cable to be permanently plugged in, with an option in the preferences for a wired installation. Once in place and connected to the Wi-Fi, installation is complete and should have taken less than an hour in most situations.
Functions and features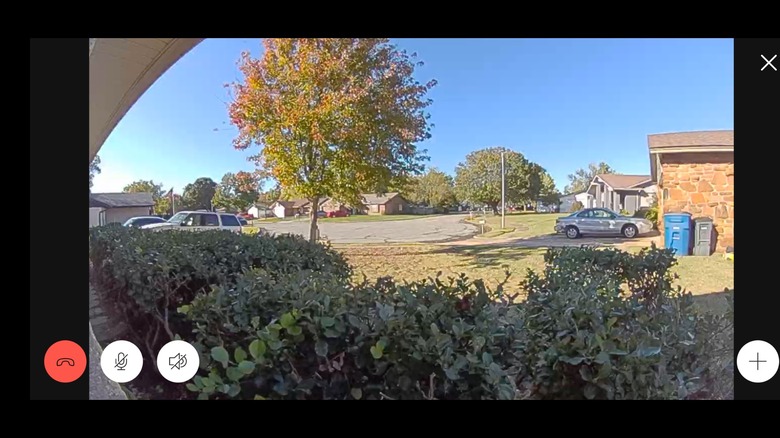 Again, users of other Ring devices will already be very familiar with how this one operates. This is the advantage of staying within a single ecosystem, and the expanding portfolio of products gives good reason for choosing Ring to begin with. The app displays a list of all devices on the home screen with a preview of the last image captured by the camera. Clicking on the device, the Ring Stick Up Cam Pro in this case, brings up a menu for that individual device with the various functions and settings available for it.
On the device menu, you have an option for a live view of a real-time feed of the camera, along with a sliding timeline. Touching and sliding the timeline left or right reveals video of when the camera was activated, indicated by a highlighted time segment. For those periods of inactivity, a single snapshot picture is recorded hourly. The camera view is available in portrait and landscape mode, and additional controls appear in portrait mode for listening to audio, the microphone function, and siren function.
Within the settings menu are controls for motion sensitivity, event history, notifications preferences, linked devices, device health, and power settings, the last of which is helpful for checking the status of the battery. The app's main menu has other global settings that apply to all devices as well as Neighbors, which is a sort of localized social media where users can post about possible incidents or suspicious activity in the area.
Real-world performance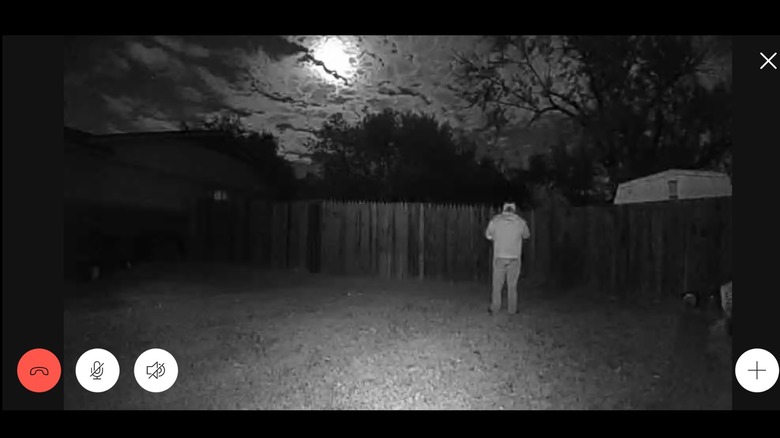 The first thing to understand about this camera is just how good the picture quality is. This is thanks to the 1080p HD camera with HDR capability, color night vision, and a field of view of 155° diagonal, 139° horizontal, and 80° vertical. When viewing the live image through the app, incredible detail and the ability to zoom in further than you might think you could reveal the smallest details. 
It is not unreasonable to think this camera could help you easily identify license plate numbers or writing or logos on someone's clothing. When placed, for example, on a wall with the camera facing perpendicular to the house, the range of view can capture the entire backyard of an average American home.
Color Night Vision is remarkable as well. Accompanying images show first the night view from the camera followed by a picture of the same area taken by a Pixel 6 camera. When peering into a nearly pitch-black night, this camera can illuminate everything in sharp detail. For nearly any situation when specific evidence requires minute details, the Stick Up Cam will deliver results.
Motion detection provides robust surveillance and this camera provides flexibility in how it can be used. When setting up the camera, a zone within the field of view can be set to avoid erroneous notifications, such as neighbors walking down a sidewalk. But as soon as someone steps into your yard, the camera will send a notification and begin recording. 
Ring deploys what it calls Bird's Eye View, which gives a digital representation of an overhead view that tracks the path of whoever or whatever triggered the recording. All of these functions are easy to set up and work seamlessly with little to no input afterward, providing versatile security at all times.
Additional functions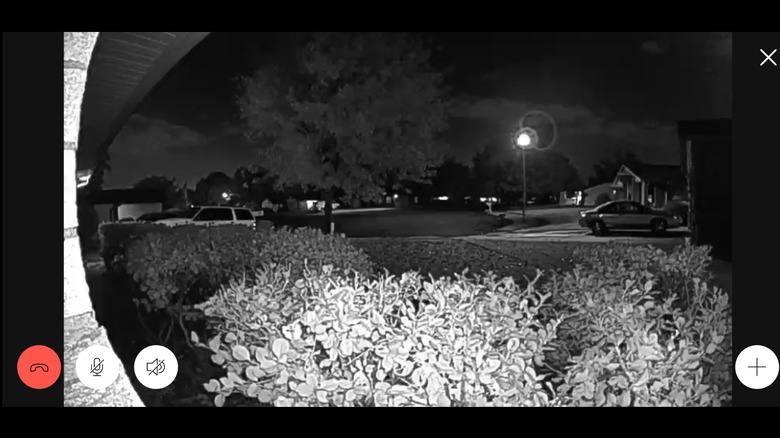 Besides serving as a sentry to monitor your property, the Stick Up Cam Pro provides two-way audio activated through the app. You can listen in on activity within range and speak up through the internal speaker when desired. This also can be used to activate the 85db siren, which sounds for up to 30 seconds at a time when activated. This is more than loud enough to get someone's attention and hopefully scare them away.
Keeping the battery charged is little hassle, although it needs to be checked regularly to keep it operating. After using this camera for an entire week after charging it fully, the battery level was only down to 45%. If the camera is permanently mounted, the bottom twists off to expose the battery pack, which can be charged via the included micro USB cable or switched out for an extra pack that can be ordered from Ring.
Another benefit of always-connected cameras in the modern world is recording to the cloud. With this camera, cloud recording is only available to subscribers. Your camera will work with live views in real-time, but a minimum of $3.99 subscription is required for playback. Higher tiers are also available for multiple devices and additional features. Video is saved on all plans for up to 18 days and the app makes it easy to share it with whomever you want or download and save to your device.
The competition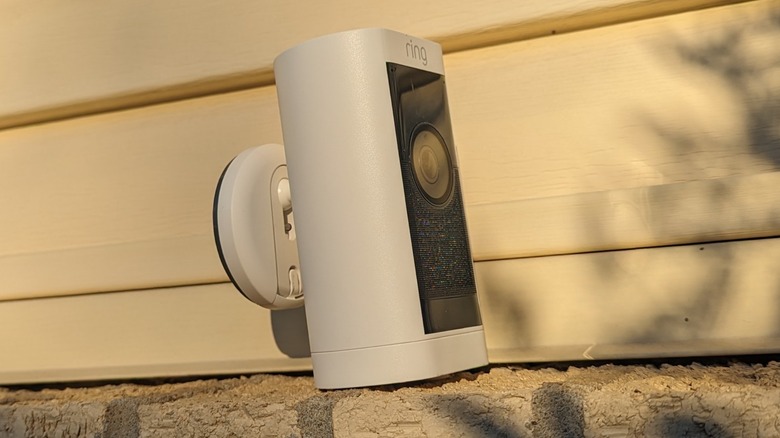 The market for home security devices is highly competitive. Products ranging from custom-installed security systems that can cost tens of thousands of dollars to cheap and practically disposable security cameras from Wish or Temu make the range of products extremely wide. There are dozens of products from a range of companies with varying levels of pedigree and few of them have the backing of a company like Amazon, although Google's Nest is an exception.
Since the field is so large, it might be best to narrow the comparison down to just the Nest camera equivalent. Google offers the Nest Cam, which is a compact package including similar features. However, the Nest Cam is lacking some of the Stick Up Cam Pro camera, which makes it more compatible with the Stick Up Cam. The non-Pro version lacks the HDR, color night vision, enhanced audio, and enhanced motion control and sensor functions. 
In a comparison by Security.org of 12 of the leading cameras, Ring rates the highest with 9.5/10, although Nest did garner 9.2. However, of all the other models from Wyze, ADT, SimpliCam, Blink, and others, Ring remained the highest rating. Individually, the Nest Cam is cheaper than the Stick Up Cam Pro, but not compared to the Stick Up Cam – a more appropriate match.
Overall evaluation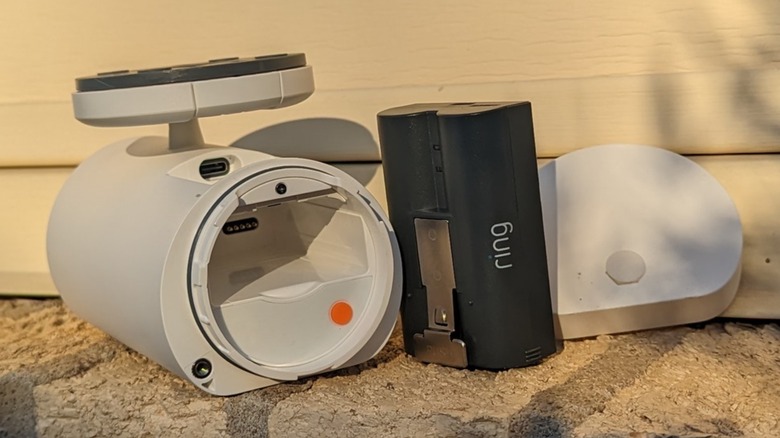 It would be hard to recommend against the Ring Stick Up Cam Pro Battery, depending on the application. Ring offers other cameras to which this would be an excellent companion, although it could operate just fine on its own. For those wanting flexibility with the option to use it inside or out on a rotating or temporary basis, this is a perfect pick but it is equally well-suited for a permanent installation. The accompanying app is easy to use and well throughout, and the proliferation of Ring cameras means many potential consumers already have a Ring product in their homes and are accustomed to the ecosystem.
Picture quality is excellent and, although it would be preferable not to have a required subscription, the $3.99 (per month) price tag is a small price to pay for the peace of mind of having video records available should a situation arise. You can purchase the Ring Stick Up Cam Pro Battery from Best Buy for $179.99, which is on the cusp of becoming too expensive but seems reasonable given its features. Those on a budget can always opt for the Stick Up Cam Battery for just $99.99.
Whether you already have a Ring device at home or are just starting to build your home surveillance system, this camera would be a good choice. It offers value, versatility, and performance that would be hard to match, and your home's security and family's safety are always worth the investment.