Folding phones haven't replaced the standard smartphone, but the summer of foldables heated up when Samsung announced the Z Fold 5. The fifth-generation folding device is the more expensive of Samsung's two folding phones and the more feature-filled. It's essentially a package of everything Samsung wants you to consider its phones for, from its three-camera system to its foldable-tweaked software.
One thing that struck me as I begin to test the Z Fold 5 is that it finally has competition this generation. There's finally another book-like foldable available in the U.S.—and at the same $1,800 starting price, too. Google's Pixel Fold is a compelling first-generation product with algorithm-enhanced cameras and a squarer shape. But the Z Fold 5 and Pixel Fold are disparate enough that they appeal to different types of folding smartphone users. Here's what to know before you consider either of these similarly but still exorbitantly priced folding phones.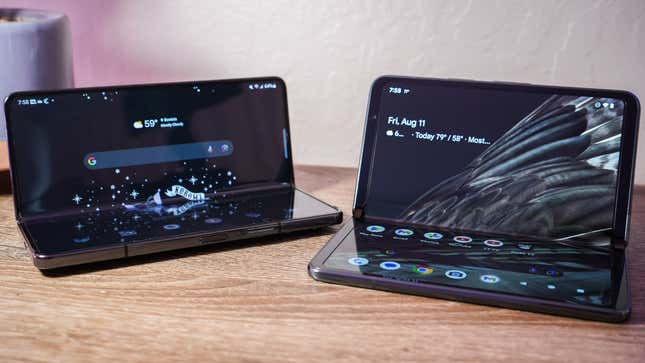 The internal hardware between Samsung's Galaxy Z Fold 5 and Google's Pixel Fold differs. And yet, it's also very similar in some cases. For instance, the Z Fold 5 and Pixel Fold use Samsung-manufactured folding displays. But they're not the same display type or shape. More on that in a bit.
Samsung's Galaxy Z Fold 5 features a 6.2-inch front display. It runs a Qualcomm Snapdragon 8 Gen 2 processor on the inside, with 12GB of RAM and up to 1TB of storage. The inside screen is a 7.6-inch Dynamic AMOLED display with a 120Hz refresh rate. The three-array camera system is a 50-MP wide-angle primary camera, a 12-MP ultra-wide, and a 10-MP telephoto. There's also a 10-MP front-facing camera and a 4-MP under-display camera inside. It's all powered by a 4,400 mAh battery.
The Pixel Fold has similar specifications but a very different type of processor. The front display is 5.8 inches, while the inside is the same size and refresh rate as the Z Fold 5, except it's a standard OLED panel. There's a Google Tensor G2 chip powering up the device with 12GB of RAM and up to 512GB of storage—annoyingly, Google didn't spring for the 1TB with this first-gen release. The rear camera system is a 48-MP wide-angle primary camera, a 10.8-MP ultra-wide camera, and a 10.8-MP telephoto lens. There's also a 9.5-MP front-facing camera and an 8-MP inside camera underneath the display. This runs on a 4,821 mAh battery, which is significantly bigger than the Z Fold 5's battery pack. (We'll see if this means more battery life in the final review of the Z Fold 5.)
The Z Fold 5 and Pixel Fold are IPX8 rated, so they can handle a drop of water but not much dust. They both offer wireless charging and contactless payments. The Z Fold 5 and Pixel Fold both run software based on Android 13, though Samsung calls their version One UI 5.1.1.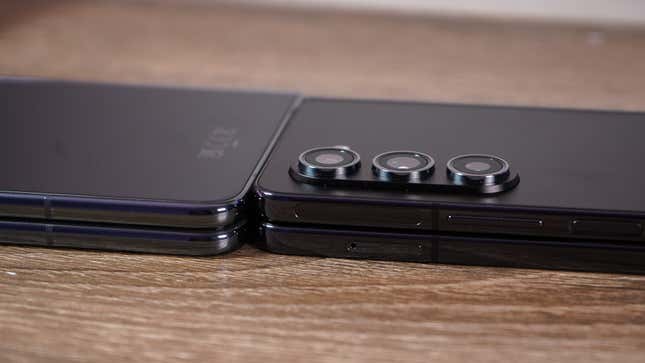 Size matters when you're choosing a multi-function device like a folding smartphone. You want something easy to grip so that it doesn't go flying out of your hand, but that will also fit in with the rest of your lifestyle. The differences between the Z Fold 5 and Pixel Fold are stark: the Z Fold 5's 6.2-inch front display is narrow and tall, while the Pixel Fold's 5.8-inch screen is wide and short. One is more book-like—a Gideon's Bible, if you will, as that's what the Pixel Fold reminds me of when it's closed. The Z Fold 5's equivalent gives me hints of religious pamphlet.
Both smartphones will be uncomfortable to carry in your pants pocket—only those with cargo-like construction and deep-set pockets will feel comfortable carting the Z Fold 5 and Pixel Fold. They both try to be their lightest, with the Z Fold 5 weighing 8.9 ounces and the Pixel Fold ten ounces. But remember that once you smush together two 0.2-inch slabs of aluminum and display, that immediately increases the density. If you have thinly lined pockets, carrying either of these phones will look like you have swinging udders. Folding phones are better suited for bags.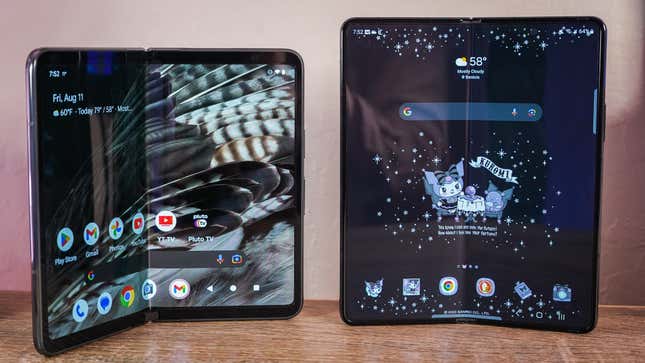 One of these folding screens is not like the other—even if they are both manufactured by Samsung. Samsung makes the display for its Z Fold 5 and Google's Pixel Fold. But although they're both 7.6 inches across when splayed open, there are differences between their resolutions and how they display content. For instance, the inside Dynamic AMOLED display on the Z Fold 5 is blue-hued, so colors appear more saturated overall, while the Pixel Fold's OLED display veers more yellow, like its flagship predecessor, the Pixel 7/7 Pro.
The two displays also feature different resolutions on the interior. Because of its narrow stature, the Galaxy Z Fold 4 displays at 2,176 by 1,812 resolution, while the Pixel Fold is a wider 2,208 by 1,840 resolution. I prefer the square-like interior of the Z Fold 5. But if you're a person who tends to work on two apps side-by-side, you'll get more screenspace on either side with the inside of a Pixel Fold.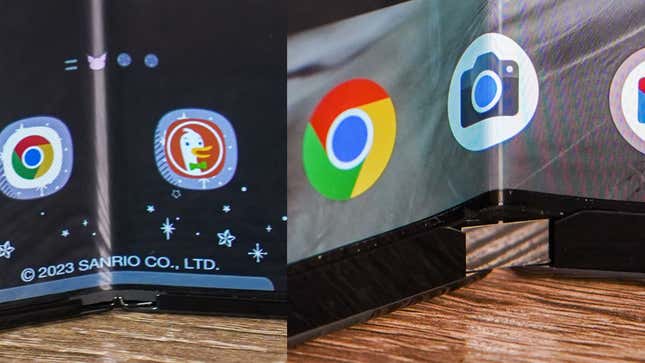 Both Samsung and Google have made big to-dos about their respective hinges. Samsung is calling theirs the Flex hinge. Unlike previous generations, there's no longer an inner crease to worry about, so you can close the phone without leaving the softer inside screen vulnerable to sharp objects on the outside. The Z Fold 5 opens between 75- and 115 degrees.
Google's hinge on the Pixel Fold is called a "fluid friction hinge." It offers 180-degree positioning, and it's had some mixed results out in the real world.
Technically, the Fold beat the Z Fold 5 to the punch with the gapless middle, which Google was particularly proud of during the initial launch. But after handling both devices, I prefer the satisfying shut of the Z Fold 5's two narrow screen panels folding closed over the Pixel Fold, which offers enough resistance that it feels like closing and opening a big book.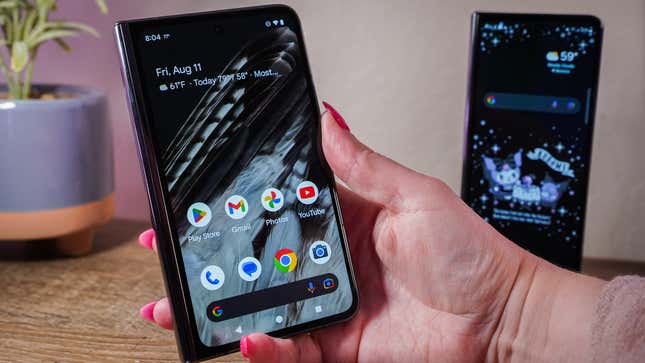 Right-handed phone users will have a different experience wielding the Z Fold 5 and Pixel Fold. The hinge is on the right on both devices, meaning left-handers must hop over it to interact with the front cover display and carefully contort their left thumb to open the device into tablet mode. It gets especially clunky when you add a case to the mix.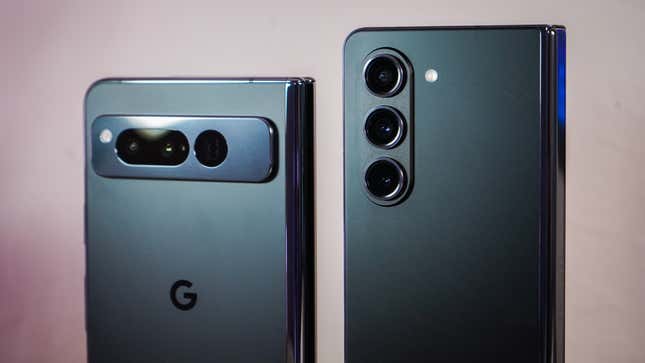 We've already run through the camera hardware inside these folding devices. Both the Z Fold 5 and Pixel Fold boast rear-facing three-camera systems. They both offer telephoto lenses, though the Pixel Fold can zoom in further than the Z Fold 5, and a wide-angle camera.
In my initial testing, I noticed that both folding devices carry on the algorithms and performance of the flagship smartphones they're each modeled after. Samsung's Z Fold 5's photos are much more saturated in the result, as Samsung has always been, and they're just as sharp as the photos produced by the Galaxy S23 Ultra.
Google's Pixel Fold, on the other hand, is all about that machine learning legacy. Indoor photos shot at night are much brighter than the ones shot with the Z fold 5 because of how Google's programmed its Night Sight mode. Like the Pixel 7 Pro's camera, the Pixel Fold will always attempt to "naturalize" the colors on the photos it shoots rather than allowing saturation to take over.
I'll have more camera samples available in the Z Fold 5 review. But before you click to the next slide, one more thing: don't expect to take selfie photos or film confessions with the inside camera on each device. Although the Pixel Fold's 8-MP inside camera is a little clearer than the 4-MP under-display camera on the Z Fold 5, the foldables have those cameras only for the occasional video chat in tablet mode. I always prefer the front-facing camera for selfies, as it's a better sensor than what's inside.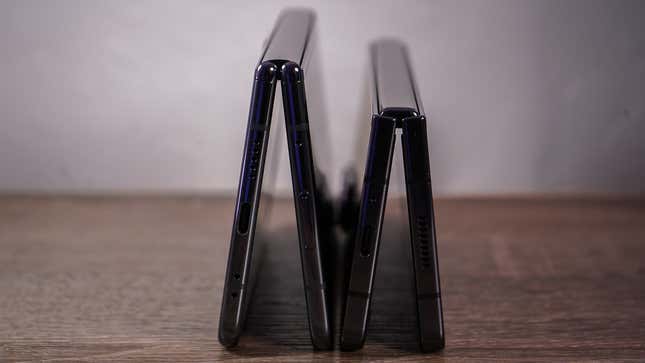 This year's Z Fold 5 has Qualcomm's new Snapdragon 8 Gen 2 for Galaxy chip, which means Qualcomm's chip prowess with Samsung's tweaks for things like machine learning smarts. I'll have a full assessment of the Z Fold 5's capabilities in the review, but for now, the Geekbench 6 scores are much higher than Google's Pixel Fold—about 600 points higher on the single-core score and nearly 2000 points on the multi-core score.
That doesn't mean that Google's Tensor G2 chip is anything to balk at. It can do all the same photo editing, video splicing, and audio-blaring work that the Qualcomm chip can do. I have been using the Tensor G2 all this time with the Pixel 7—it's in all of Google's devices, including the Pixel 7 Pro, budget-line Pixel 7a, and the Pixel Tablet. The chip is tuned to the features Google wants you to use, like ML-enhanced photo editing in Google Photos and real-time language translation. Conversely, those particular experiences feel less native on the Z Fold 5, which prioritizes performance for what Samsung wants you to use—like Bixby, its digital assistant, and the various AI-enhanced camera features.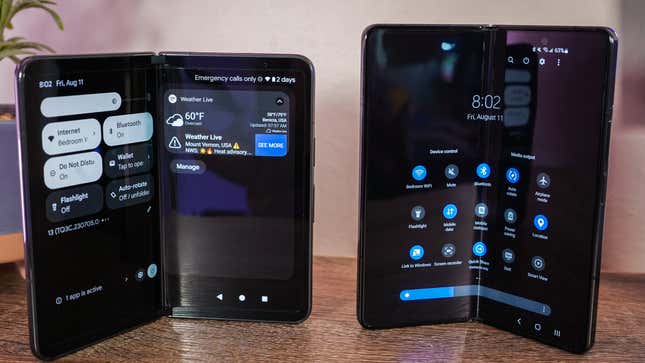 Although Google and Samsung's respective folding devices run their version of Android 13, there are some noticeable differences between how the software looks and feels. It's especially relevant as you're using the inside screen on either device since that's how you'll use the foldables most of the time—they are mini tablets.
The Z Fold 5 and Pixel Fold both run on Android 13, so they have the same interface offerings when you open either device. The difference is that Samsung's running its flavoring of the operating system, which it calls One UI. In its interpretation of the source code, Samsung offers icon space in the taskbar for the last-used apps, so you do not have to rely on the back button or the recent apps shortcut to find your way around.
I also like how Samsung's version of Android handles the notification shade once pulled down. Whereas the Pixel Fold splits the quick settings shortcuts and notifications on either side of the screens, the Z Fold 5 has them all on the same rail in the middle. The Pixel Tablet is also limited to six quick settings a page, which is limiting. On the Z Fold 5, I get 15 quick setting icons once I fully expose the notification shade.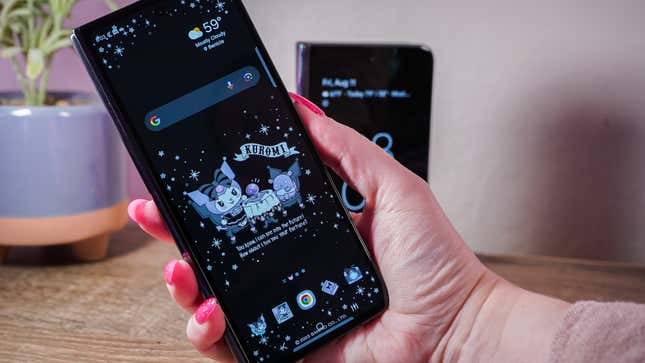 One thing that Google's Pixel Fold does not offer that the Z Fold 5 does is a desktop mode. Samsung has long offered Samsung DeX as part of its premium mobile experience. It lets you plug your Samsung device into a monitor and peripherals so that you can run a desktop-like operating system in a pinch., complete with access to apps like Microsoft's Office suite and Adobe Lightroom. It's not for everyday working situations, but it's a nice value-add when dropping as much on a smartphone as a powerful laptop.