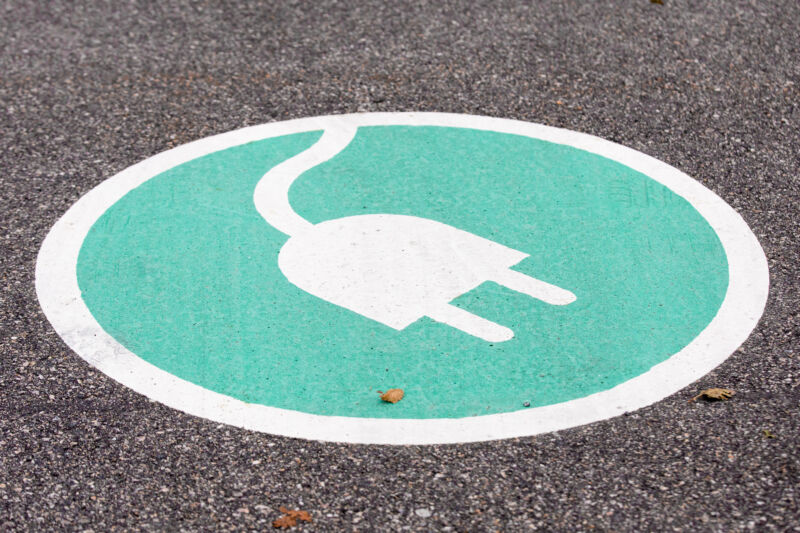 Good news, electric road-trippers: DC fast chargers are about to become a lot more common. On Wednesday, a group of seven major automakers announced a plan to create a new charging network of more than 30,000 chargers across North America starting next year.
BMW, General Motors, Honda, Hyundai, Kia, Mercedes-Benz, and Stellantis are creating a joint venture to significantly expand the number of fast-charging sites in the US and Canada. The sites will use the new National Electric Vehicle Infrastructure guidelines, which means, among other things, 97 percent uptime for each charging port. The sites will support both CCS1 and NACS plugs, and the chargers will also support the plug-and-charge protocol.
"North America is one of the world's most important car markets—with the potential to be a leader in electromobility. Accessibility to high-speed charging is one of the key enablers to accelerate this transition. Therefore, seven automakers are forming this joint venture with the goal of creating a positive charging experience for EV consumers. The BMW Group is proud to be among the founders," said BMW Group CEO Oliver Zipse.
The group says it plans to start deploying chargers along major highways and in metropolitan areas at first and may target some of the $5 billion in NEVI funding now being administered by states in order to build out a national fast-charging network along travel corridors.
"We believe that a charging network at scale is vital to protecting freedom of mobility for all, especially as we work to achieve our ambitious carbon neutrality plan. A strong charging network should be available for all—under the same conditions—and be built together with a win-win spirit," said Stellantis CEO Carlos Tavares.
The as-yet-unnamed group notes that there are currently about 32,000 DC fast chargers in the US. The largest network belongs to Tesla, and in recent months we've seen a flurry of automakers—including GM and Mercedes-Benz—announce plans to ditch the CCS1 plug in favor of Tesla's NACS design in order to gain access to the Supercharger network for their customers starting in 2024.
"GM's commitment to an all-electric future is focused not only on delivering EVs our customers love, but investing in charging and working across the industry to make it more accessible. The better experience people have, the faster EV adoption will grow," said GM CEO Mary Barra.
Hopefully, this joint venture will use the Tesla Supercharger experience as its guide when designing its own customer experience. The group says it wants to "elevate the entire EV experience" and that "the stations will be in convenient locations offering canopies wherever possible and amenities such as restrooms, food service, and retail operations either nearby or within the same complex."
"The fight against climate change is the greatest challenge of our time," said Mercedes-Benz Group CEO Ola Källenius. "What we need now is speed—across political, social and corporate boundaries. To accelerate the shift to electric vehicles, we're in favor of anything that makes life easier for our customers. Charging is an inseparable part of the EV-experience, and this network will be another step to make it as convenient as possible."
The first stations will be built in the US in 2024, with Canada following at a later date.