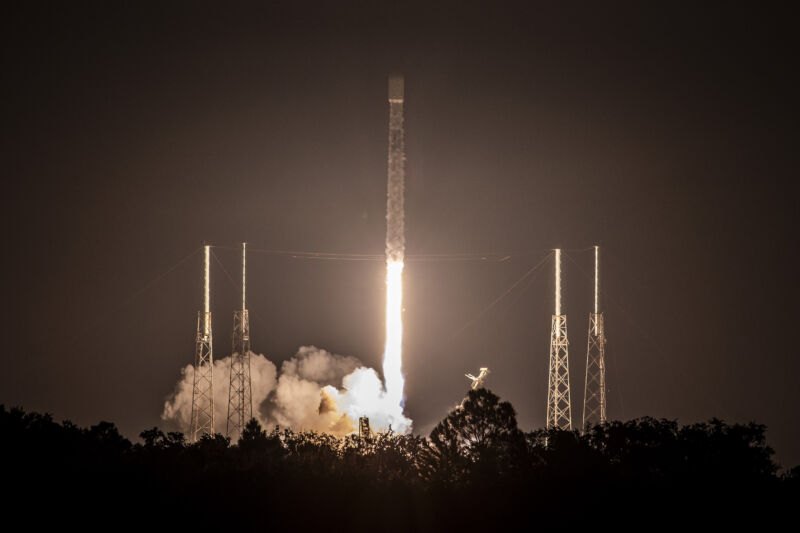 It probably seems like SpaceX is launching almost every day, and that's not far from the case. It also might seem like SpaceX is regularly breaking one of its records, whether it's in the number of launches, turnaround time, or reusing Falcon 9 boosters. It's also true.
SpaceX blew past one of those records over Labor Day weekend when the company launched a Falcon 9 rocket from NASA's Kennedy Space Center in Florida. This mission was SpaceX's 62nd launch of the year using its Falcon 9 or Falcon Heavy rocket, or 63rd if you count the test flight of the Starship mega-rocket in April.
SpaceX has launched 83 Falcon 9 or Falcon Heavy missions over the past 12 months.
Elon Musk, SpaceX's founder and CEO, says the launch cadence will only ramp up over the coming months.
"Aiming for 10 Falcon flights in a month by end of this year, then 12 per month next year," Musk posted on X, his social media platform. SpaceX has already strung together 10 Falcon launches within a 30-day period. That will soon become the norm if SpaceX achieves its goal.
SpaceX is leading the world not just in the number of launches, but also in the total payload mass the company has launched into orbit this year. In the first half of 2023, SpaceX delivered about 447 metric tons of cargo into orbit, roughly 80 percent of all the material launched into orbit worldwide, according to data from the space analytics firm BryceTech.
Musk said SpaceX will launch about 90 percent of the world's total payload mass into orbit next year, based on the company's launch manifest for 2024.
Blink, and you'll miss it
Nearly 60 percent of SpaceX's missions so far this year have carried Starlink Internet satellites into orbit. SpaceX has launched three astronaut missions to the International Space Station, along with three Falcon Heavy rockets since the start of the year.
It almost goes without saying that a key factor in SpaceX's increasing launch cadence is the company's reuse of first-stage boosters and payload fairings. In July, SpaceX launched a Falcon 9 booster for its 16th flight as engineers extended the first stage's usable life from 15 flights to 20 missions. This life extension will, for now, only be used for Starlink launches, according to SpaceX.
SpaceX's launch teams are also reconfiguring launch pads at a faster rate. The turnaround time at SpaceX's most-used launch pad in Florida was reduced to less than four days between missions this year. This is important as SpaceX's other launch facility in Florida has been tied up with Falcon Heavy missions and astronaut launches, which typically take longer to prepare for each flight.
In California, SpaceX's West Coast launch pad has hosted 18 Falcon 9 missions. The Falcon 9 launch pad in California has an older design that takes longer to set up for each mission, mainly because of the design of its strongback, the truss-like structure stands next to the rocket during the final countdown. The strongback in California does not swing away from the rocket at liftoff, while the ones in Florida do.
That exposes the strongback to a blast of fiery exhaust as the Falcon 9 climbed off the pad, increasing the refurbishment required between launches. Despite this issue, SpaceX's ground crew in California has been able to launch Falcon 9 missions as few as 10 days apart.