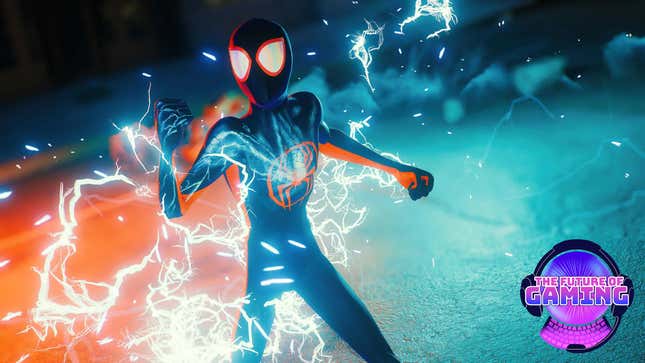 The new game is, almost exclusively, its own story. Heroes and villains we recognize but just with their own, unique, spin. And yet, this is Spider-Man and the year is 2023. The last two movies dealt with multiverses, multiple Spider-People, and even had a cameo from a character in the games. There had to be...something, right? Something connecting this specific story to the larger Spider-Verse? Well, if there was, we were going to find it. And we did.

Two-words: "Spider-Bots." One of the many side missions Peter and Miles can do in that eventually opens up over the course of the game is to collect Spider-Bots across the city. 42 of them, in fact, each with a striking resemblance to something, or someone, in the universe. Now, on their own, Spider-Bots are a fairly common stable of a Spider-Man world. Peter (and Miles) both have the ability to make little robots to do their bidding in comics, movies, and games alike, included. Plus, in recent years, Spider-Bots became the centerpiece of Disneyland's Avengers Campus ride . So that there are Spider-Bots to collect in at all doesn't seem like a big deal.
But then you start collecting them. And after a few, your guy-in-the-chair and Miles' best friend, Ganke, starts staying stuff about signals coming from very far away. Later, he says the signal is using tech that only the Spider-Men have. That's odd. But as you collect more and more Spider-Bots, it becomes increasingly obvious they have some sort of link to something of note.
At this point, we're going to stop again and say: if you want to find out what happens next, please do so. We highly recommend it! But, if you want to be spoiled, read on.
When you find the last Spider-Bot, Ganke uses the data he's been decoding from all the bots to find an address leading to an old, abandoned subway station. When you go to the address a portal opens...a portal that is directly lifted from the world of Sony's animated movies, , and ,
Inside, the portal your Spider-Hero encounters a mysterious bartender named Delilah, whose reality looks like a mix of the ben-day-dotted stylization of the movies and the retro graphics of the original Playstation. After joking about meeting another Spider, Delilah then says that rogue Spider-Bots are dangerous, bad for business, and proceeds to suck them all away from you. Then, she says it: "And if Miguel comes looking for these, tell him finders keepers." "Wait, who is Miguel?" Spider-Man asks, to which Delilah scoffs, the portal closes, and the mission is done.
The scene happens in a flash but it's arguably the most significant, exciting reveal in all of . Miguel, of course, is Miguel O'Hara, a.k.a. Spider-Man 2099, whose multi-dimensional Spider-Society played a huge role in earlier this year. Mentioning him firmly places this world of the games as one of those infinite alternate dimensions—but interestingly, whether you complete the mission as Miles or Peter, neither hero recognizes his name. Which, if you think a bit more about it, sets this story sometime before in Peter's perspective at least, if you're to believe the Insomniac Spider-Man who appears in that film is the same one you've been playing. Though, who is to say there's only one Insomniac Spider-Man universe, right?
Then there's Delilah herself. She's the capable, badass bartender of the Bar With No Name, a refuge for Spider-Villains from the comics, and was set to appear in a scene that got cut from . You can see that the game borrowed heavily from the film's design as per this image from the film's art book:
has many exciting easter eggs from across Spider-Man's comics, movie, and gaming history and revelations, especially as you get later into the game. But this wild deep cut—of not just the game being in the Spider-Verse, but maybe crossing over with the Spider-Verse in about as obscure a manner as it can, is the one with the most intriguing movie implications.
---