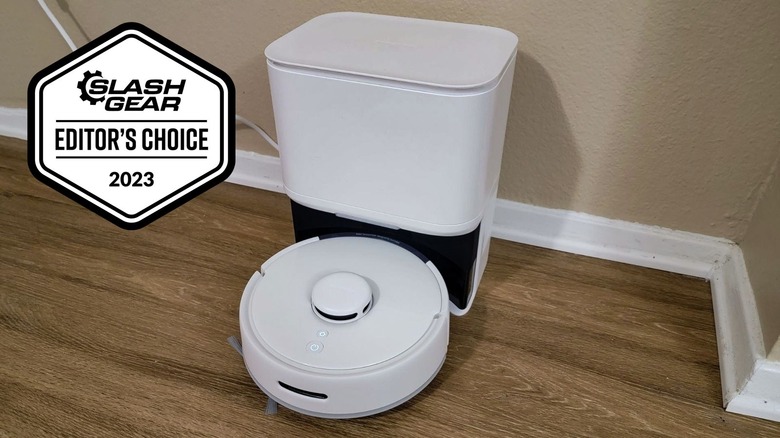 We may receive a commission on purchases made from links.
SwitchBot offers affordable smart home products, and the company's latest offering is a mini robot vacuum. The SwitchBot K10+ robot vacuum is roughly 30% smaller than most full-size robot vacuums, which allows it to clean more small spaces, get closer to crumbs and dirt in corners, and take up less space in your home.
With such a small form factor, it seemed likely that the K10+ wouldn't be able to suck up very much dust and dirt or that its battery would drain quickly, but neither assumption was valid. With 2500 Pa suction power, the K10+ is actually as powerful as many full-size robot vacuums available, and its 3200 mAh battery still had about 25% left after vacuuming 475 square feet.
The K10+ can auto-empty its dust bin into a bag stored in the docking station, perform scheduled cleans, and navigate around heavy obstacles, like shoes. It's not a perfect robot vacuum, but the K10+ is a fantastic value at $499.99, especially for small homes that are short on space. SwitchBot provided a K10+ robot vacuum for the purposes of this review.
Unboxing and setting up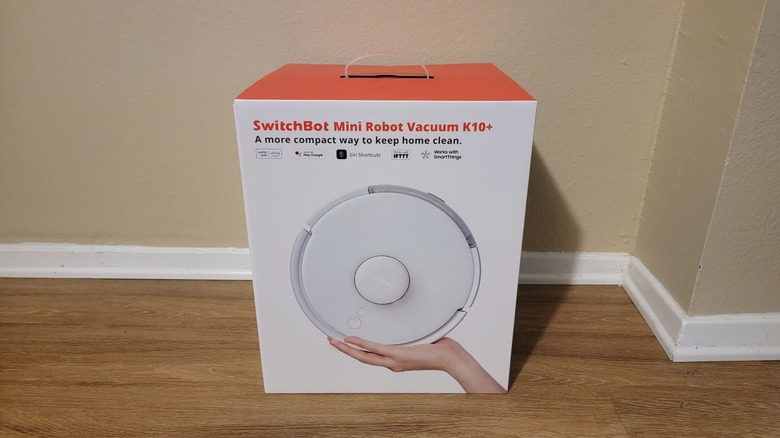 Unboxing SwitchBot's K10+ is a breeze. The vacuum itself and the docking station are wrapped in protective sleeves and held in place with stiff cardboard, two edge-sweeping brushes were stored inside cardboard, and the manual and quick-start guide were right on top for easy access. 
Extra accessories — including a replacement filter, extra dust bag, and package of disposable mop cloths—are stored inside the top of the docking station, next to the pre-installed dust bag. Many high-end robot vacuum companies don't offer any free accessories, and others may only offer an extra dust bag, so it's great to see SwitchBot include three accessory replacements and 30 mop cloths with the already-affordable K10+. 
After unboxing the K10+, the quick-start guide makes setting it up a breeze. You plug the docking station in, clip in an edge-sweeping brush, remove the magnetic face plate, flip the ON/OFF switch to the ON position (or "I"), and line up the K10+ with the metal charging contacts on the docking station. After that, the rest of the setup is performed on the SwitchBot app, available for Android and iOS. 
Your phone needs Bluetooth 4.2 or later to properly function with the app and the K10+, and you'll need to set up a free SwitchBot account if you don't have one already. Then, the K10+ needs to connect to a 2.4 GHz Wi-Fi band in your home, so you'll need to know your Wi-Fi password. Setting up the K10+ in the SwitchBot app might take you around 10 minutes.
Hardware Design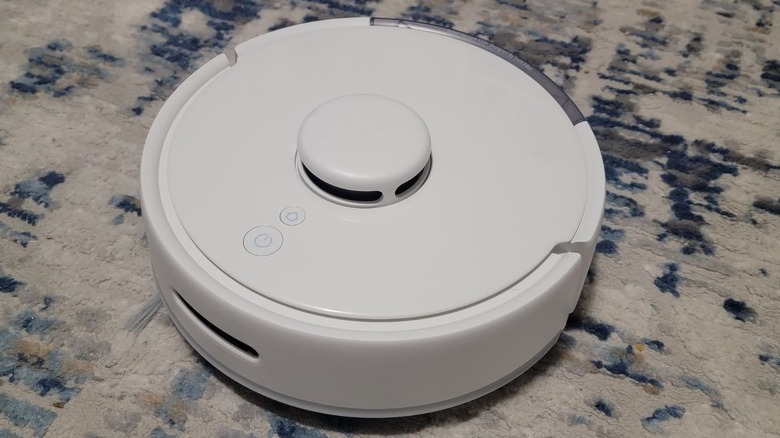 SwitchBot's K10+ is an incredibly small robot vacuum compared to traditional, full-size robot vacuums. It measures roughly 9.8 x 9.8 x 3.6 inches (248 x 248 x 92 millimeters,) which makes it a great choice for getting into small spaces and cleaning corners thoroughly. The Ecovacs Deebot T20 Omni — the resident full-size vacuum used to make comparisons to the K10+ throughout the article and certainly another robot vacuum you should consider — measures 14.3 x 14.3 x 4 inches.
Aside from increased cleaning coverage, the compact form factor of SwitchBot's K10+ and its docking station make it easy to store in a small one-bedroom home with limited space. Compared to the Deebot T20 Omni, the K10+ looks tiny, but it's plenty efficient, even for homes with pets.
During testing, there was only one moment where its lightweight and small design was an issue. While trying to leave a thick, fluffy bath mat after vacuuming, there wasn't enough floor space between the bath mat and the baseboard, so the K10+ was tilted and unable to get itself free. Simply moving the bath mat a little further from the wall solved this issue during the next clean.
Docking station and its features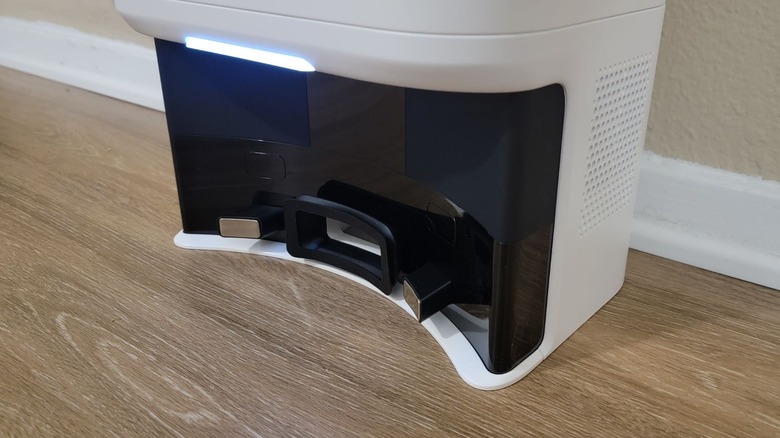 The auto-empty docking station for the K10+ is also quite compact, measuring 10.28 x 8.3 x 12.72 inches (261 × 210 × 323 millimeters), but it can hold up to 4 liters (just over 1 gallon) of dust and dirt. When looking at the K10+ docking station next to the Deebot T20 Omni's docking station, it looks tiny.
The Deebot T20 Omni's docking station measures 17.6 x 17 x 22.8 inches (448 x 430 x 578 millimeters), but it also has to make room for clean and dirty water tanks for its auto-mopping feature, so that's something to keep in mind. For many one-bedroom apartments, an all-in-one station like the Deebot T20 Omni or even larger auto-empty docking stations are too large to fit conveniently, but the K10+ and its docking station can easily be tucked away in a laundry room or bathroom.
The docking station is also equipped with built-in spots to store the mopping pad plate when not in use and the helpful little tool to cut through hair that's wrapped around the main roller brush and the edge-sweeping brush.
Besides holding these accessories and the dust and dirt emptied from the K10+, the docking station has two metal charging contacts at the bottom that the K10+ backs into.
In-app mapping features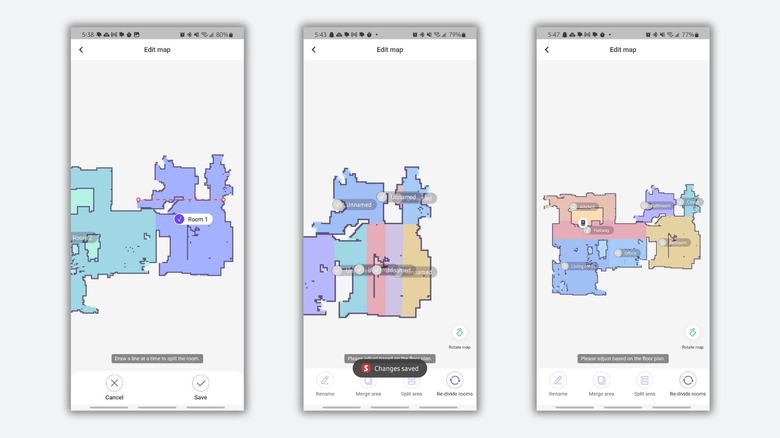 Before the K10+ can start cleaning your home, it needs to map out the space using LiDAR navigation. You'll be prompted through the app to create a map once you set up the K10+, and it doesn't take too long. The quick-mapping process took about 15 minutes for a 720-square-foot apartment, with about 475 square feet of cleanable space.
The K10+ divides up the map into separate rooms when it's finished, but like many robot vacuums, it has trouble determining where rooms are separated, especially in a small one-bedroom apartment. Luckily, the map-editing process is simple.
SwitchBot has multiple smart home products, so to access settings, maps, and more for the K10+, you have to first open the SwitchBot app and then tap on the K10+ icon. Once you've accessed the K10+'s settings, you can tap "More" in the bottom right and select "Edit map" to make changes to an existing map.
You can merge or split rooms, give each room a name, and reset the map if you've made an error and want to start over completely. Editing maps for robot vacuums can be finicky, but SwitchBot makes it easy by snapping the dividing line in place for you to show where a room can be cut. To get your map just right, it's easiest to make multiple vertical and horizontal divisions in a large room and merge them at the end. You can save up to 10 unique maps in the app.
Vacuuming performance and obstacle avoidance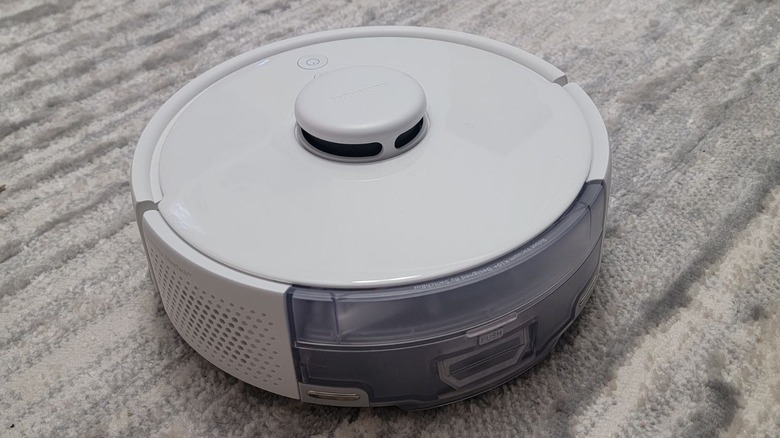 SwitchBot's K10+ vacuum is equipped with 2500Pa suction, which is the same vacuuming force you'll find many larger, budget-friendly robot vacuums equipped with. The K10+ had no issue picking up dust, cat litter, fur, and food crumbs on hard floors, thin rugs, or the textured, medium-pile carpet that's frequently found in apartments.
It didn't pick up every last bit of dirt and debris off the floor, but most robot vacuums can't. Any noticeable particles on the floor were picked up, and rugs and carpets were left visibly fluffier after the K10+ finished cleaning. Plus, because of its small size, it was able to reach parts of the apartment that the resident vacuum — an Ecovacs Deebot T20 Omni — couldn't. The K10+ navigated swiftly under an office chair and a couch, between bike tires, and into narrow spaces beside a toilet.
When it comes to getting around obstacles, the K10+ did a decent job. In the app, SwitchBot recommends that you pick up any cables or other obvious hazards for the vacuum before cleaning, and this is a pretty standard recommendation for most robot vacuums. They're smart, but not that smart yet.
During a cleaning scenario with a pair of shoes and a small plate of cat food in the middle of the floor, the K10+ went around the shoes, moving them only slightly in the process, but pushed the plate around whenever they crossed paths. If the item on the floor is heavy enough, SwitchBot's K10+ will go around it, but you'll definitely want to pick up items that are thin and/or light before sending them out to vacuum.
Edge- and corner-cleaning performance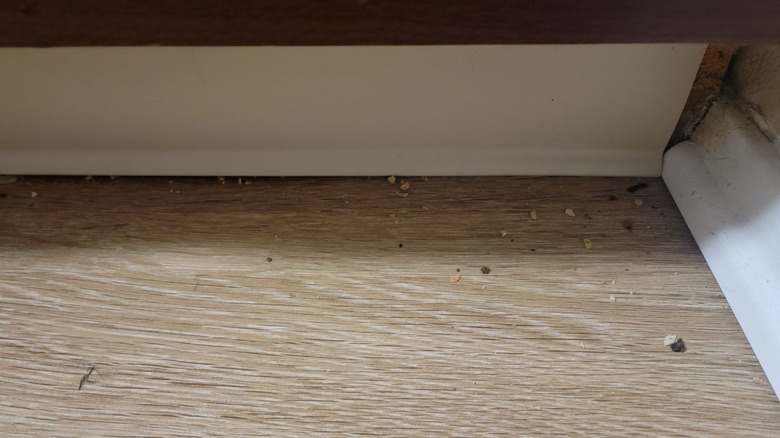 To help with edge-cleaning, most robot vacuums are equipped with an edge-sweeping brush. However, because full-size robot vacuums are large, they have limited reach when it comes to corners and edges within small spaces.
For instance, the resident Ecovacs Deebot T20 Omni often leaves behind crumbs in corners and occasionally along edges below kitchen cabinets unless it's deep cleaning, which takes longer. SwitchBot's K10+ has an estimated 90% more cleaning coverage than other vacuums, according to the company, and it's all because of its size. 
Because it's smaller, it can get closer to corners to sweep crumbs out and slide into narrow spaces that larger robot vacuums miss. Its compact size also means that its natural vacuuming pattern resembles that of a deep cleaning pattern on a full-size vacuum. You'll see smaller spaces between lines in the app as the K10+ cleans. Despite needing to make more passes to clean a room, the K10+ cleans quickly because it's so lightweight and moves faster than full-size models.
Mopping performance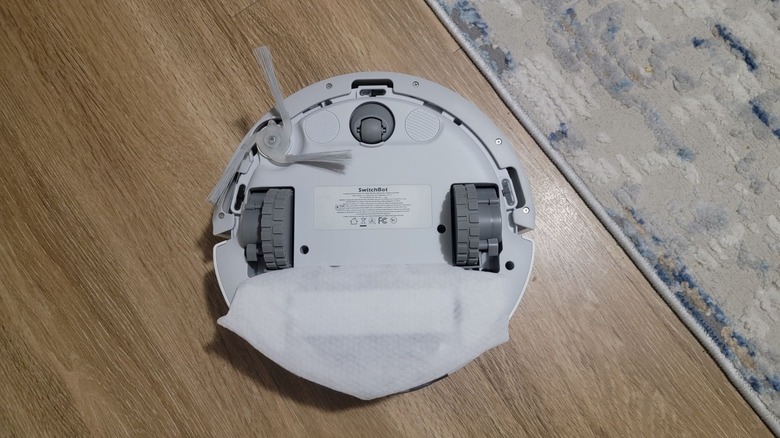 SwitchBot's K10+ can lightly mop your floors, but its mopping capabilities shouldn't be the reason you buy it. The mop pad is more like a bonus feature that saves you from mopping your floors as often, but it won't replace the scrubbing power of a traditional mop or a higher-end robot vacuum with a moving mop pad.
The K10+ can vacuum with the brush cover attached or it can mop with the mopping pad plate attached over the roller brush, but not both at once. The detachable mopping pad plate clips into the lid of the docking station when not in use, and SwitchBot's disposable mop cloths stay in a resealable bag. When you want to mop, you'll need to attach a disposable mop cloth to the plate, remove the roller brush cover, and clip the mopping pad plate into place.
SwitchBot notes in the manual that "the mopping cloth will become dry after 20 or 30 minutes of use." Because the K10+ isn't capable of detecting hard floors versus carpets, you'll need to set no-mop zones in the app to prevent it from dragging a wet cloth along your carpets.
When the pressure applied during the mopping process is only enough to remove a light surface layer of dirt and dust, the amount of steps required may not be worth it for a lot of people. That's what makes it feel more like a bonus feature you may use occasionally rather than a reason to buy.
If you don't want to use disposable mop cloths, you can use any reusable mop cloth cut to size or folded to fit properly. You can also spray disinfectant on your floors to make the mopping process more useful.
Noise levels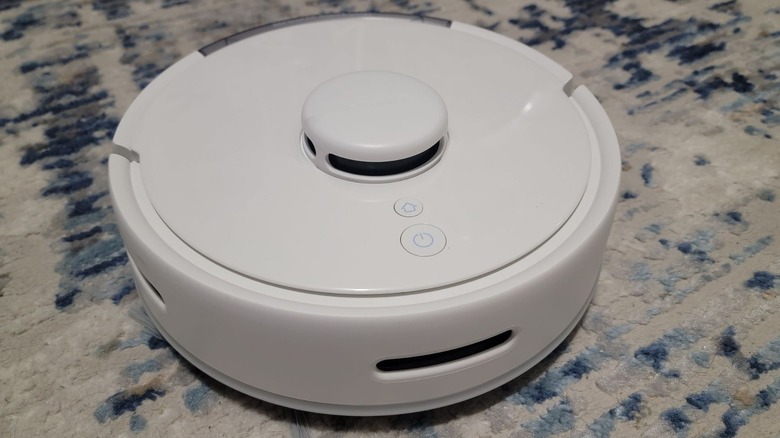 The K10+ offers four different suction settings for vacuuming and uses SilenTech to reduce noise. The quietest setting is aptly named Quiet, and you don't need to increase speaking volume or strain to hear during a conversation when the K10+ is set to quiet. In fact, it wouldn't even be that much of a nuisance if it was running in the background while you're watching a movie.
Standard is the next level up, and this is the suction setting the K10+ will be on by default. Standard is roughly two times louder than Quiet, Strong is about two times louder than Standard, and Max is the loudest setting. When the K10+ vacuums on Max and it's right next to you, it's not possible to have a conversation without speaking louder. Mopping, on the other hand, isn't noisy at all because the K10+ only uses its motors and sensors to propel the vacuum, not to suck up dust.
Emptying the dust from the K10+ to the docking station is quite noisy, but that's to be expected. The first time the K10+ emptied dust, it seemed quieter than other robot vacuums, but the emptying process lasted twice as long.
The voice prompts are the perfect volume by default, but there's a slider in the settings area that lets you adjust the volume by 10% increments. When pausing a clean, the K10+ says "Taking a break," and when resuming, "Cleaning makes me happy," which is a funny little addition from SwitchBot.
Battery life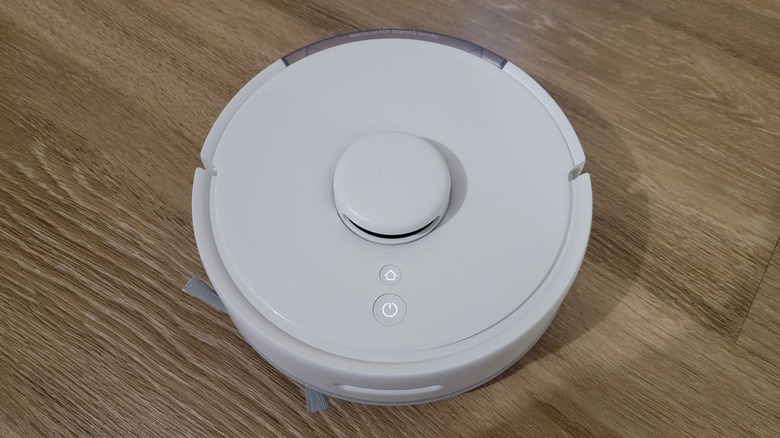 Because SwitchBot's K10+ vacuum is so small, you'd think that the battery life might not be too great. But if you have a small home, it'll have no problem cleaning your entire space in one passthrough with its 3200mAh battery.
When mapping a 720-square-foot apartment, the K10+ spent only 15% of its battery life. To charge back up to 100% from 85%, it took 24 minutes. Once it was fully charged, the K10+ set out on its first Whole Home clean at its default Standard suction setting. After completing a vacuuming session of about 44 square meters, or 474 square feet, the K10+ was at 26% battery.
Performing the same Whole Home clean with the vacuum at Max suction resulted in similar results. It left the docking station at 100%, cleaned 474 square feet in 78 minutes, and returned to charge at just over 20%. When mopping, the K10+ barely uses any battery life at all. Mopping the kitchen and the bathroom (10 square meters, or 108 square feet) took roughly 13 minutes and only drained the vacuum of 1% battery.
By default, the K10+ will display estimated and cleaned area numbers as square meters. If you want to change this to square feet, you have to do so within the SwitchBot app settings rather than K10+ settings.
In-app customization and scheduling features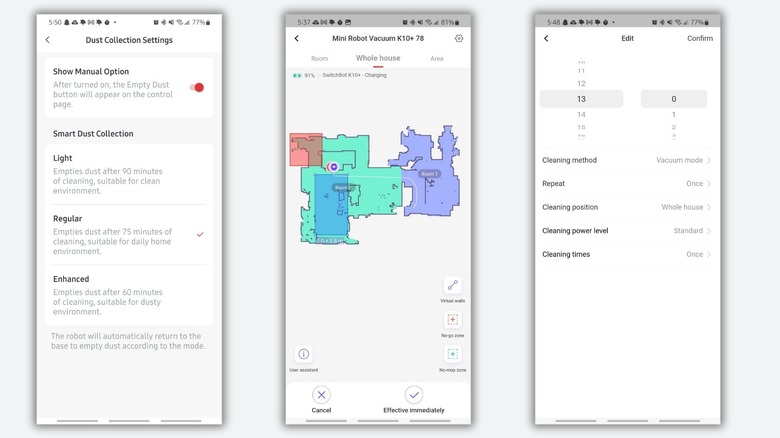 The K10+ can detect whether the roller brush cover or the mopping pad plate is installed, and use that to display either Vacuum mode or Mop mode in the app. When you're in Vacuum mode, you can customize the suction level before or during cleaning, choosing between Quiet, Standard, Strong, and Max.
You can also tap the gear icon in the top right corner of the main screen and choose "Dust collection settings" to customize how often the K10+ returns to the docking station to empty during a clean. By default, it's set to empty after 75 minutes, but you can change this to 60 or 90 minutes, depending on what your home needs.
On the main screen, there's a quick-tap button to select whether you want the K10+ to clean once or twice, as well as a button to easily add no-go zones. After you tap on the no-go zone icon, you can set up virtual walls, no-go zones, and no-mop zones. At the top of the main screen, you can select whether you want the K10+ to clean the whole home, a specific room or set of rooms, or an area within a room.
Or, if you want to set it and forget it, you can schedule vacuuming times through the app. To schedule a new task, you'd select "More" in the bottom right corner, tap "Scheduled," and then tap the plus sign in the top right corner. You can customize the time cleaning will start, how often it'll repeat, which rooms or areas to clean, the suction level, and whether the vacuum should pass through once or twice.
Other helpful app settings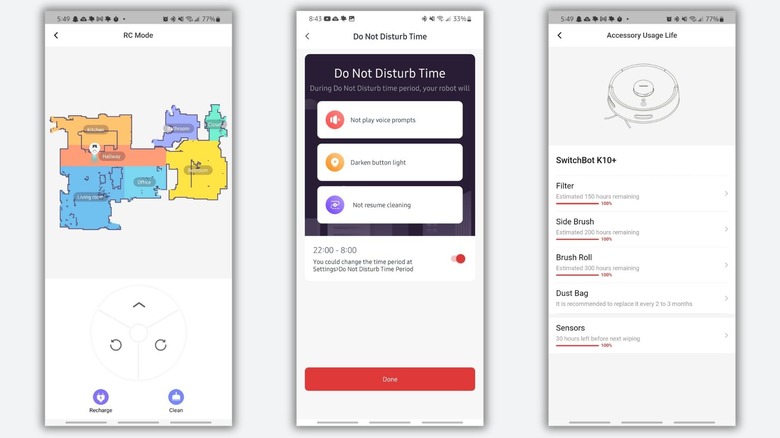 The SwitchBot app will mainly be used for mapping and scheduling cleans with the K10+, but there are a few other handy features worth mentioning.
There's a customizable Do Not Disturb mode that you can set when you first pair the K10+ or by tapping the gear icon in the top right corner and selecting "Do Not Disturb Time." By default, this is set from 10:00 PM to 8:00 AM. During this time period, the K10+ dims its button light and it won't resume cleaning, empty dust, or spout off any voice prompts.
Tapping "More" at the bottom of the screen and selecting "RC Mode" from the menu pops up a remote control so you can manually control your K10+. This is helpful for cleaning up small messes quickly, and it's also just fun.
You can also tap "More" and select "Accessory Usage Life" to see the estimated life of the filter, side brush, and brush roll for your K10+, as well as a reminder to replace the dust bag every two to three months and a countdown to the next sensor wiping.
Overall maintenance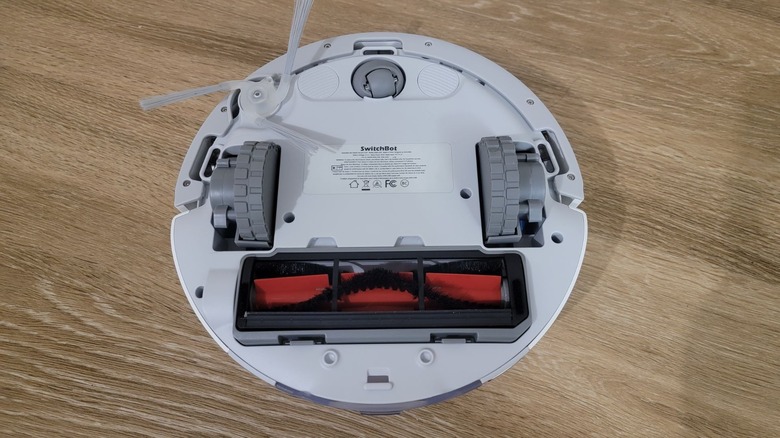 The K10+ minimizes daily vacuuming maintenance by automatically emptying the dust bin for you, but there are still things you'll need to do to keep the vacuum running smoothly over time. For most small households, the dust bag in the docking station can hold up to 70 days' worth of dirt and dust — or about four liters. The dust bag needs to be replaced every two to three months.
SwitchBot notes that the cliff sensor and filter need to be cleaned once a month or when prompted by the app. Then, the front caster wheel, edge-sweeping brush, and multi-surface roller brush need to be cleaned at least once a month, or more if you have pets that shed a lot or people that shed lots of long hair in your household.
The filter needs to be replaced every two to three months, and the front caster wheel, edge-sweeping brush, and multi-surface brush should be replaced every 12 months. To get everything at once, SwitchBot offers a 1-year replacement kit for the K10+ that includes one multi-surface brush, two edge-sweeping brushes, five bin filters, five dust bags, and eight packs of mopping cloths.
Should you buy the SwitchBot K10+ robot vacuum?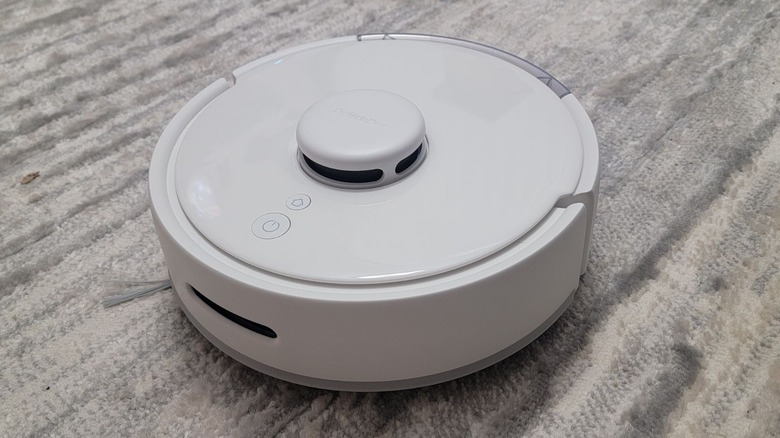 If you're looking for a mini robot vacuum that can keep your small home cleaned daily, you'll love the K10+. It doesn't take up much space, and it cleans thoroughly and effectively, sucking up dirt, dust, pet fur, and larger food crumbs.
Some full-size robot vacuums are thin enough to fit under couches, but none are small enough to weave between chair legs and slip into narrow spaces like the K10+ can. The speed with which the K10+ navigates through the home is impressive, and watching it vacuum spaces that are usually left out by a robot vacuum, like the floors beside the toilet, was incredibly satisfying.
Plus, it retails for $499 as listed on Amazon, while offering many of the same perks as full-size vacuums that cost more than twice as much. That's still a pricey investment but a more affordable entry point for a robot vacuum that can auto-empty its dust bin.
The only reason you shouldn't buy the K10+ is if you're searching for a robot vacuum that offers strong vacuuming and mopping features. The K10+ can be lightly surface-mopping, but it won't be able to scrub messes like vibrating or spinning mop pads on other robot vacuums.
Some might say that the K10+ isn't suitable for larger or multi-level homes. Still, because it's capable of cleaning corners, under office chairs and other furniture, and narrow spaces, it's a great robot vacuum for homes of any size. It'll auto-empty every 60 minutes while cleaning if you set it to and resume cleaning after charging if it can't finish the job in one go.