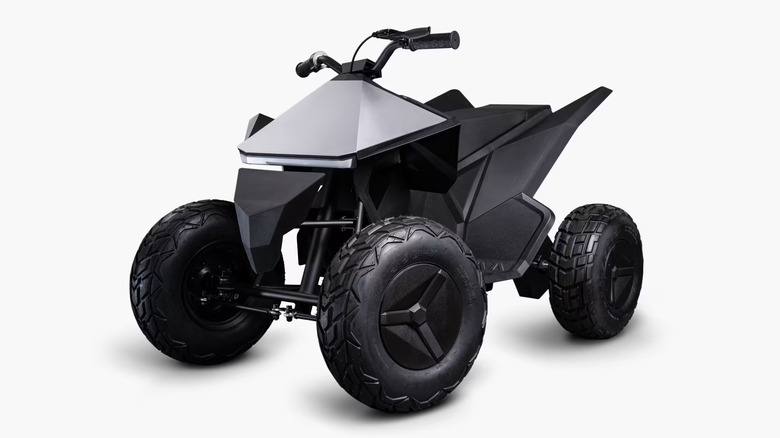 In 2021, Tesla launched the Cyberquad for Kids, a CyberTruck-inspired mini-ATV for children. It was subsequently recalled last year by its manufacturer, Radio Flyer, over injury concerns. Reportedly, the suspension and tires were not up to safety standards, and 5,000 models were part of the recall. 
Despite that debacle, Tesla is re-launching the mini Cyberquad, just in time for this Holiday season. According to Tesla's website, this one has been improved and tweaked to meet safety standards by adding better guidance for maintaining correct tire pressure and reiterating that this is a toy for children aged 9-12 years old only (sorry, adult Tesla fans). It is not at all recommended for off-road use. As for the actual toy, Tesla reports that it has an estimated range of 15 miles and has two speed settings: Low at five miles per hour and High at 10 miles per hour. Power is delivered by a 500-watt motor fed by a 36-volt battery. 
Tesla's Cybertruck-inspired children's toy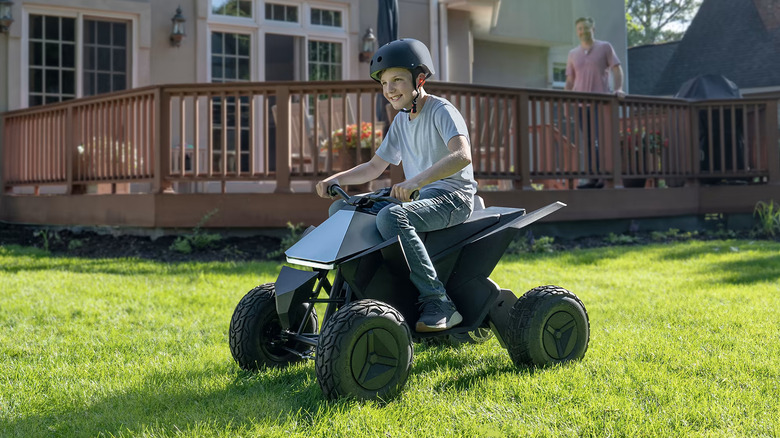 The frame of the mini Cyberquad is covered in all manner of angular panels to give it that "Blade Runner" look Tesla is so fond of, and LED light strips on the front and back complete the look. Braking is accomplished by a rear disk, and it utilizes a steel frame. Tesla even sells a suitably angular cover for the Cyberquad for Kids. As for price, it's not cheap at $1,900. You can likely buy an actual used ATV for significantly less, albeit not one that's as pointy and "futuristic" as the Cyberquad for Kids. However, $1,900 technically makes it the cheapest Tesla-branded vehicle. Tesla's ordering website says that it will start shipping later this month.
Hopefully, the Cyberquad for Kids has ironed out all the wrinkles and squashed all the bugs in this iteration. It should give younger Tesla fans something to play around with while waiting for the eventual launch of the Cybertruck (whenever that is).