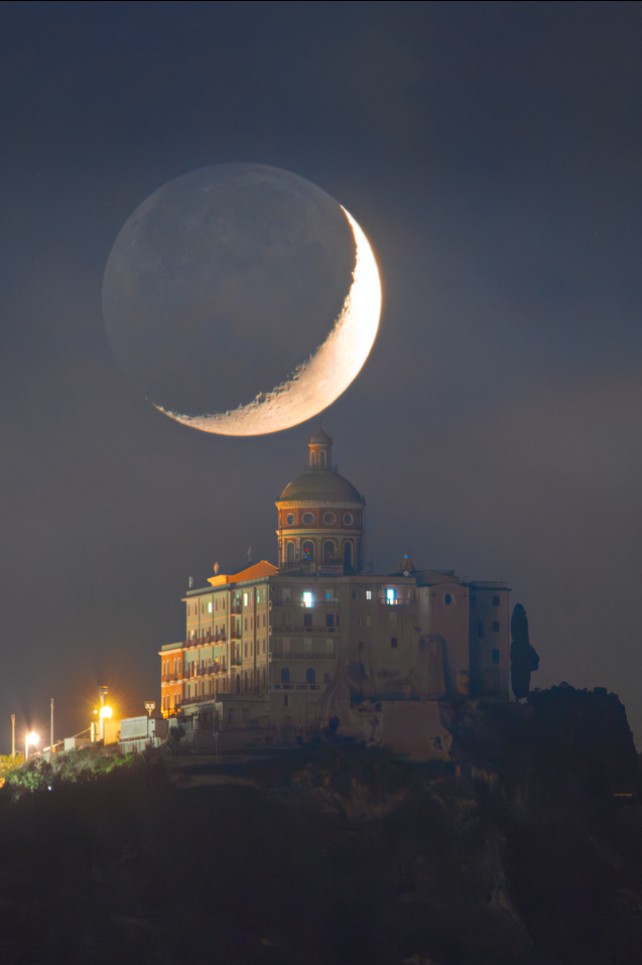 Welcome to the
Daily Telescope
. There is a little too much darkness in this world and not enough light; a little too much pseudoscience and not enough science. We'll let other publications offer you a daily horoscope. At Ars Technica, we're going to take a different route, finding inspiration from very real images of a universe that is filled with stars and wonder.
Good morning. It is October 24, and today's image features an amazing shot of the Moon over a sanctuary in Sicily. It was captured by Dario Giannobile, a talented Italian astrophotographer.
This is a brilliant shot of the Moon, with the light from Earth shining on about 75 percent of the lunar surface and the remainder brightly lit by the Sun. The Moon is seen above the Santuario della Madonna Nera (Sanctuary of the Black Madonna) in Tindari, a small town on the northern coast of Sicily.
The town is ancient, nearly 2,500 years old, and was first settled by the Greeks. Originally, a pagan temple was built on this site, but a sanctuary was later built to house the "Black Madonna," a statue made from a single block of cedar from Lebanon. (The statue's origin is somewhat murky, apparently). The Ottomans destroyed the sanctuary in 1544, but it was rebuilt in subsequent decades.
The building in this photo, however, is not the sanctuary built in the 1500s. Rather, in the 1950s, the bishop decided to have a much larger sanctuary built to accommodate a growing number of pilgrims. Personally, I'd travel here not so much to see the Madonna, but rather the lovely Moon.
Source: Dreamscapes of Sicily.
Do you want to submit a photo for the Daily Telescope? Reach out and say hello.