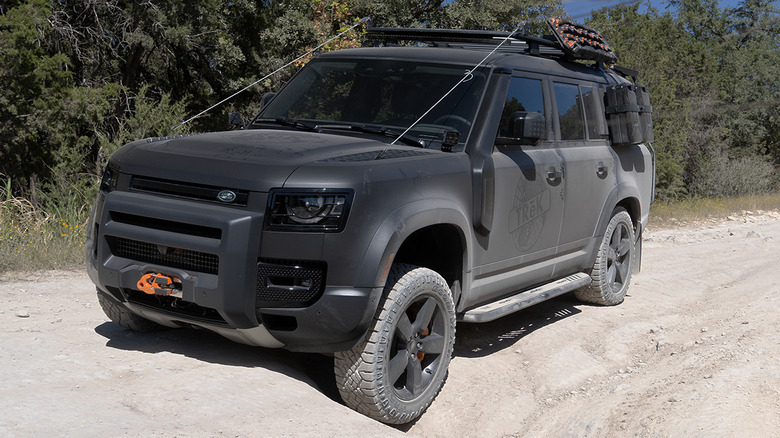 In 2020, Land Rover revived the TReK Off-Road Competion, a tradition started in 1966 to highlight the brand's iconic 4x4 vehicles. Now in its fourth modern iteration for 2023, TReK brings together teams from dealers across the United States and Canada to foster an understanding of customer culture by learning how to truly drive the new Defender. A series of off-roading challenges and ancillary tasks scored on a time and penalties basis creates a spirit of competition between the dealer teams—not to mention for the media waves that sign up to join in on the fun, too.
This year, Land Rover held TReK at Hidden Falls Adventure Park outside of Austin, Texas, and invited me to fly out and join a media team with three other journalists I'd never met previously. Fresh off GMC's AT4Xpedition only the day before in Bozeman, Montana, I now jumped into a brand-new (almost) Defender 130 having also never previously driven one.
The new Defender became an almost de rigueur SUV in West LA almost as soon as sales began in 2020, and the combination of plasticine styling, independent rear suspension, and techy off-roading features left me curious in the meantime how this old name performs when packed full of modern goodies. Other than my curiosity about the trucks themselves, I also arrived feeling some competitive fires heating up and looked forward to testing my skills and knowledge against the other journalist teams.
Getting into the TReK Spirit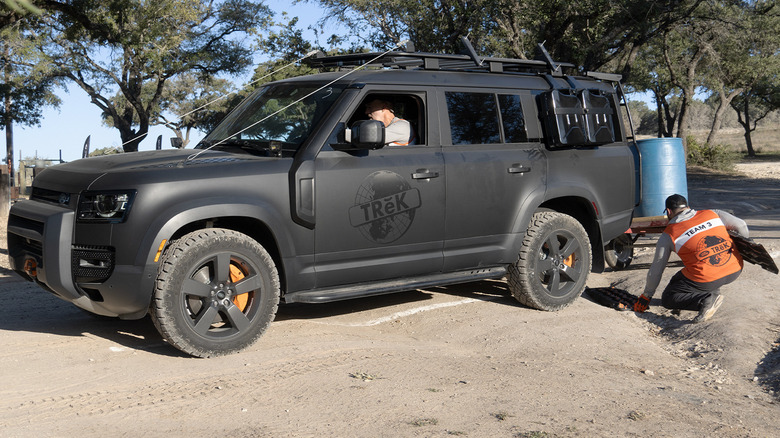 Unlike most other luxuriously catered media drive programs, TReK required every journalist on hand to pitch a tent and sleep on a thin air mattress the night before the competition started. In the dark of morning before sunrise, the teams didn't even know where to find their rigs—only a series of vague instructions and UTM coordinates made up the day's itinerary. So the first thing I learned was that UTM coordinates don't work in Google Maps, a bit of a bummer given the perfect cell reception onsite, but likely a conscious choice by Land Rover to prevent the day from starting out too easily.
Using a hand-drawn map provided to every team, with coordinates that were really more like guidelines, we hiked about a mile and a half to find the trucks, then jumped in and buckled up before heading out to find our first task. (At no point did we need to use the compass, sadly, since I would have welcomed a chance to test just how far my Eagle Scout knowledge has declined in the last decade-plus.)
A first test: Trailering with the Defender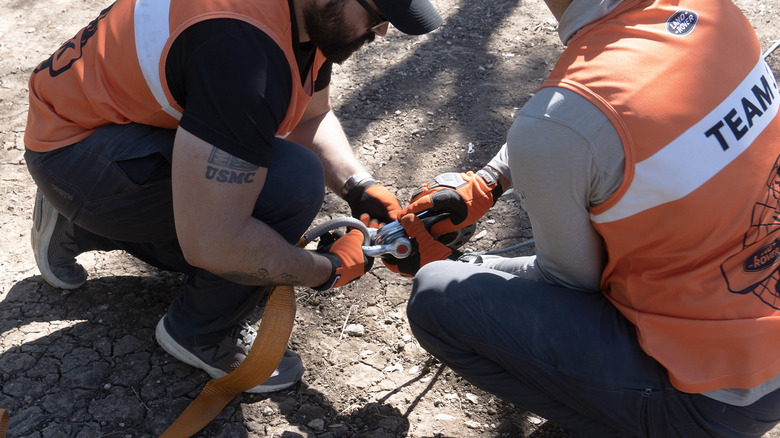 My team knew that a single other team beat us to the trucks, so we figured they would probably head to the highest scoring task first. We pivoted, choosing instead the nearest point on our map which ended up requiring everything in the Defender's recovery kit, including the Warn winch mounted in the front bumper. First, we hooked up a hilariously tiny trailer, then used the winch, snatchblock, and bow shackle to hoist and drop a mostly empty 55-gallon drum up onto the trailer. Everything went smoothly until we needed to drive four short laps around a rutted campsite, slowly and carefully enough not to tip over the barrel—but also on the clock, so speed came into play.
Eventually, we realized that dropping the Defender's rear air suspension down to its lowest setting helped level out the trailer, as did using rocks and recovery tracks to smooth out the ruts. Our speed improved with each lap and we finally unloaded the barrel again with a few minutes to spare in the hour-long time limit. Unfortunately, we also incurred one penalty when one team member negligently stepped over a loaded winch line. Safety first as the real learning lesson in every event typically led to penalties and harsh words from Land Rover reps on hand, though, with minimal tension on the line, in this case the deduction served as more of a reminder.
On the clock on a hot day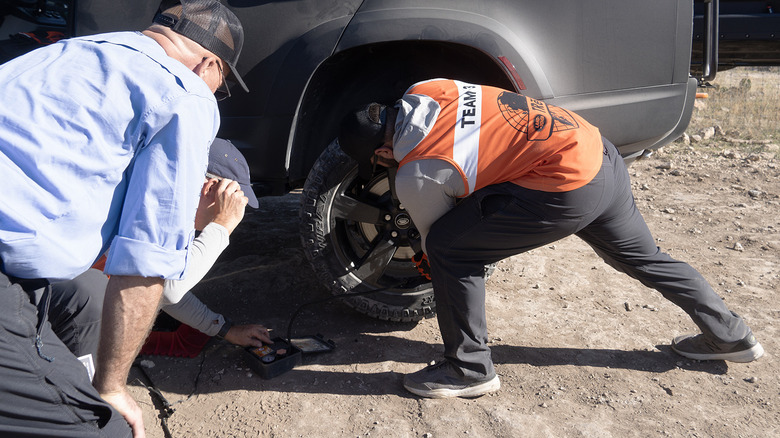 Next, we chased the leading team up towards that highest point-total task. After the most challenging hillclimb of the day (more on that later), we received instructions to simulate a tire change due to a flat. Again, racing against the clock and avoiding safety penalties dictated our decision-making as I pulled out the left rear tire's valve core—always a nervy process—and the rest of my team started jacking up the truck while I then broke the lug nuts loose. With the tire deflated and wheel removed, we began airing down the rest of the tires to their lower off-road setting in the Defender's computer, then used a tiny budget compressor to start airing the "flat" tire back up.
Eventually, the little blower overheated and we spent the next few minutes using a bicycle pump that actually filled up the last few PSI much faster than expected. Another lesson learned. As we finished tightening the lug nuts and packed up the gear, the Land Rover rep at this task told us we had logged the second-fastest time on the day (behind the only other group to complete the task by that time, who had used the bike pump only, for those following along).
The next few challenges flew by, relatively speaking. We carried a team member in a faux search-and-rescue simulation, started a tiny fire with flint and steel to burn a string in classic Boy Scout style, and navigated through a grid of sticks using only a map and walkie talkie to direct the driver, then switched over to a different course to test our driving skills in reverse, too. Here, the Defender's many crisp camera angles came very much in handy while avoiding cones in blind spots.
Fun tasks for the truck and team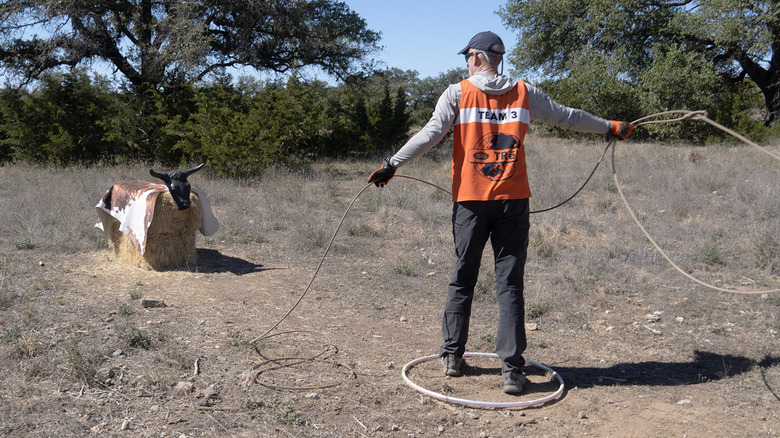 More winching also fit into the mix, as we hauled a log to and fro using two snatchblocks, both bow shackles, and all three recovery straps in our kit. This time around, we made sure to wind the winch back in properly after the rep on hand explained that each layer around the spool results in an approximately 10% reduction in winch capacity (a number that I'd like to test for accuracy, especially given the Defender only came with a 9,500-pound winch for a truck that weighed about 5,500 pounds before bolting on the roof rack and any accessories).
Of course, a bit of local fun fit into the program, too, as we enacted a so-called "Texas Relay" by shuffling around on tandem skis and roping fake cattle. With only one event remaining and about 30 minutes left before the final deadline to bring our truck back to home base, we wrapped up with two laps around a minimally technical trail that Land Rover kindly made extremely technical by requiring each driver to wear blacked-out goggles. As in every task, communication between the group proved key but our time crunch meant that we pushed too hard and incurred four penalties for tapping the trail's marked limit sticks.
A Defender up to the challenge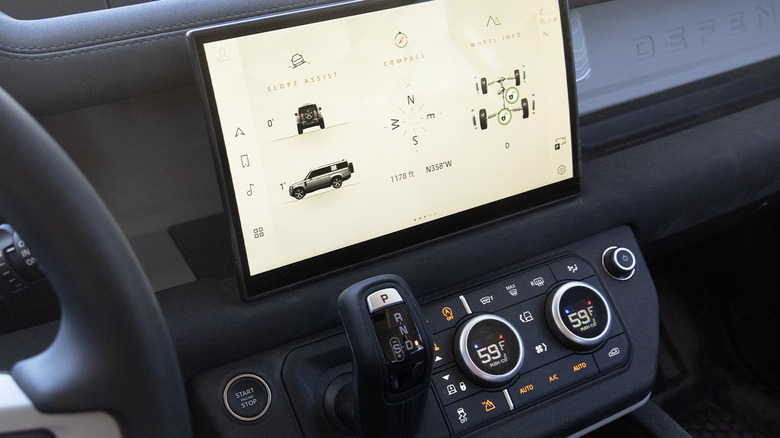 The Defender 130 currently sits at the top of Land Rover's heap, with plenty of room for our team of four and gear. The 130's naming no longer matches the wheelbase length, though, since the Defender 110 and 130 sit on the same 119-inch long chassis. But it still measures 13.4 inches longer than the 110 so, at first, I worried about approach and departure angles for any serious rock crawling. At least the long wheelbase might help with stability at higher speeds in the dirt, I figured—a maximum speed limit of 15 miles per hour made the latter entirely irrelevant.
A suite of different drive modes, by now common on even basic sports cars as well as 4x4s, actually trace back to Land Rover's efforts in the 1990s to combine simple controls for suspension settings, throttle response, braking force, and more. In this era's almost overwhelmingly digital Defender, the drive modes meant putting our trust in the truck's total of 85 ECUs. We spent all day in 4Lo, given the speed limit, then spent some time experimenting with the Rock Crawl, Sand, Terrain, and Normal settings.
Rock Crawl prompts the air suspension to raise, while the transmission holds gears so the turbocharged inline-six can wind up into higher revs for additional torque. A hill descent system also turns on automatically, which led to plenty of unexpected braking on flatter sections of road—the system theoretically works better than a single brake pedal by controlling each wheel individually, but luckily can be turned off separately from the drive modes. And, via physical buttons on the Defender's center console, I also fiddled with suspension height, traction control, and automatic engine stop-start. But strangely, the digital touchscreen displaying the off-road settings didn't allow for manual control of the center or rear locking differentials, even as it showed the air suspension's droop or compression in real time.
Off-roading the almost overwhelmingly digital Defender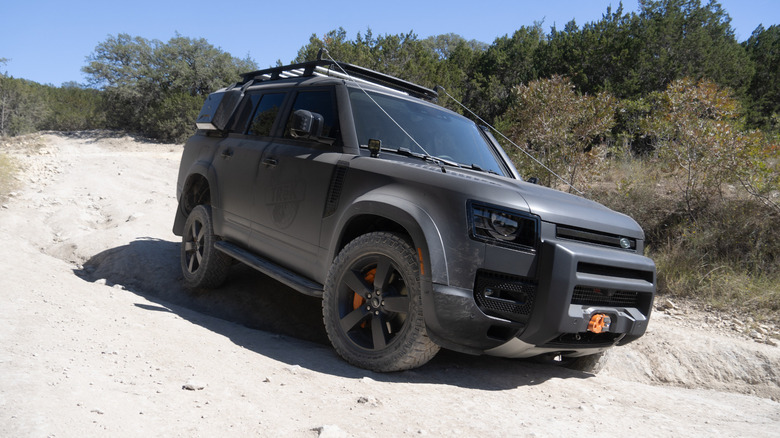 The only truly challenging test for the Defender came during the aforementioned climb up to the flat tire task. I luckily ended up behind the wheel at that point in our rotation and drove us up the steep, rutted trail with a healthy series of sharp ledges interspersed for additional nerve wracking. Land Rover reps provided spotting from outside as I eased up the ascent with Rock Crawl mode activated, the heavy unibody swaying from side to side as the wheels dipped into ruts and stepped up onto shelves, perhaps due to the added weight of a roof rack and gear. A fair amount of clunking from the rear shovel and high-lift jack blended in with the suspension hitting full droop, prompting me to take each section with greater and greater caution.
Then I got stuck, unable to continue without audible wheelspin as the engine revved up to over 4,000 RPM. But this particular obstacle didn't feel too bad! My spotter kept waving for me to give more throttle as we trammeled and slid about enough for him to eventually come check that we understood his instructions. Then I noticed the Defender's gauge cluster (not the center touchscreen) showing a 2WD warning light. Hmmm. Apparently the truck had shifted into two-wheel drive only for no discernable reason. Did you turn it off and turn it back on again? Sure enough, power cycling with a lock and unlock seemed to reset the system and with 4WD activated once more, we billy-goated right up the little ledge with minimal tire spin at all.
Moody modes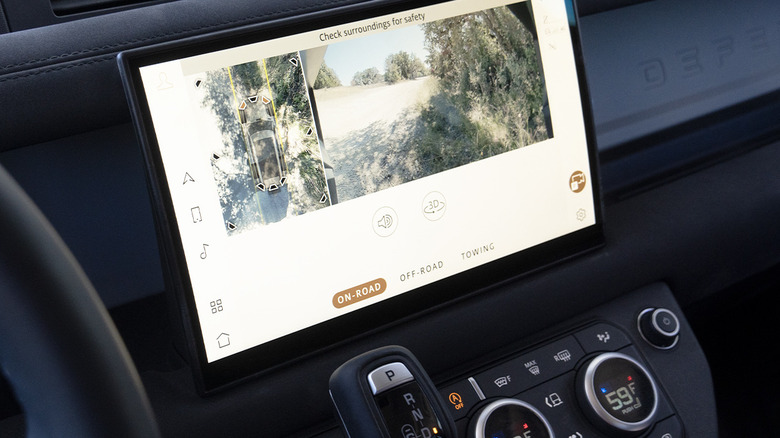 By two-thirds of the way up the climb, past the most challenging obstacles but into the trail's steepest aspects, I started to find the Defender's vague throttle response and high-revving inline-six a little frustrating. The ECU(s) programming wound up the engine, then shifted at the worst times creating more than a few badly timed lurches. 
Trying out "Grass, Gravel, and Snow" mode seemed to tone down the behavior, but unsure how the locking differentials and suspension might behave, I ended up just power braking up the steepest sections still in Rock Crawl mode. More time in the Defender might have lent me more confidence, but we were on the clock and no matter how silly I felt power braking in a modern 4x4, doing so kept us moving on our merry way as quickly and smoothly as possible. Despite my declining confidence, I can report that our Defender 130 got the job done, largely in comfort throughout a long day in the hot sun.
Second place against the three-time reigning champs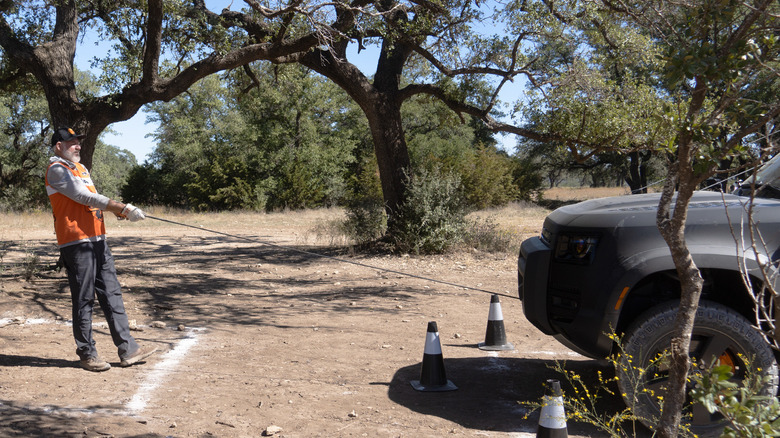 That evening, after a cold shower at a swanky Texas hotel, Land Rover announced the winners and losers. My team finished in second place, behind the now-threepeat champs—some might call that an unfair advantage, but I believe we could have definitely pushed a little harder and trusted our Defender a little more. Overthinking a few of the challenges, including the best technique for carrying a teammate in the first aid challenge and hauling the barrel on the trailer too slowly, probably cost us the win in the end.
But overall, I left TReK almost infinitely more experienced with safe use of winches and recovery gear, and impressed with the new Defender's capabilities despite the expected limitations created by modern electronics, size, weight, and fully independent suspension. Next, I'll have to drive one on public roads in high gear (without that 15-mph speed limit) to truly round out the full fun factor of this educational adventure that Land Rover puts on for dealers and media each year—that is, if I make the cut and get selected by one of the three-peat team members who will be split up into team captains at next year's running of the TReK Off-Road Competition.