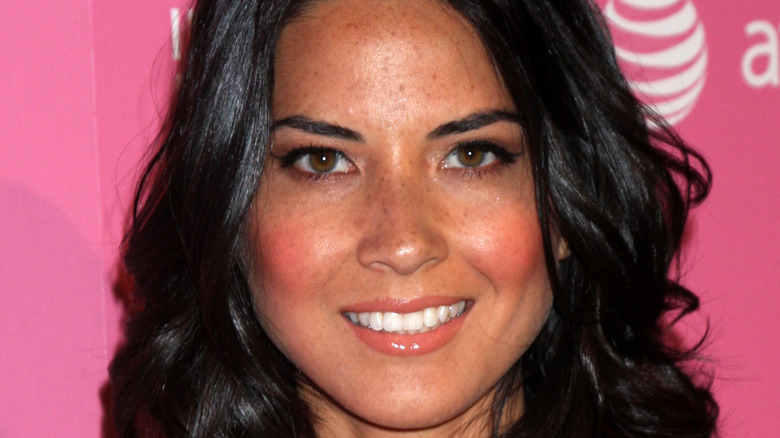 It's no secret that celebrities have all the best toys, and motorcycles are no exception. Tom Cruz owns an extensive collection of expensive bikes, Keanu Reeves is a co-founder of Arch Motorcycle, and Olivia Munn is the proud owner of a Triumph Bonneville T100. The model and actress is most well known for her roles as Senior Financial Reporter Sloan Sabith in the HBO drama "The Newsroom" and the mutant Psylocke in "X-Men" film franchise, but it seems that she also enjoys riding her bike in her free time.
Munn didn't develop an interest in motorcycles until adulthood. Her first bike was a BMW R1200R that she purchased as a 30th birthday present for an ex-boyfriend. She talked about how she became the owner of the bike in a 2013 interview with Esquire, where she stated, "I had a BMW R1200R that I got for an ex-boyfriend, and we broke up, and he said, 'Just take it, I don't want it,' so when [he] said to take the motorcycle back, I thought he was just being so silly, and I told him, I said, 'This is ridiculous, you're just being a martyr. If you give somebody a gift, you don't take it back.'"
But as unusual an introduction as that may have been, it seems that suddenly becoming the owner of the R1200R sparked her interest in the hobby.
Munn downsized to the T100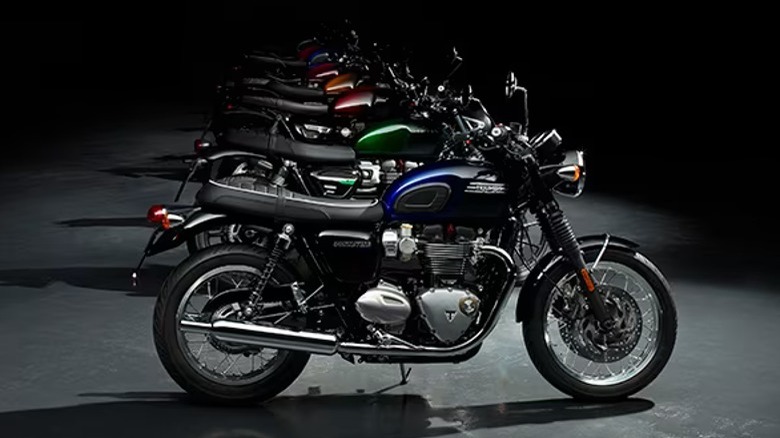 She revealed in an interview with Jay Leno back in 2012 (via Female First) that the BMW was too large for her but that she was working her way up to it, starting with her all-black Triumph Bonneville T100.
The Bonneville T100 has a classic cruiser design reminiscent of the more flat-bodied café racers that rose to popularity in the 1960s. The frame is significantly smaller than that of the R1200R, and its seat is much lower to the ground. Its retro design seems more suited to Munn's leather-clad aesthetic than the sportier BMW. Motorcycle.com states that the 2012 model, which seems to match the photos of Munn's bike posted by the Daily Mail, has an 865cc, 2-cylinder, Parallel Twin, 4-stroke engine. This is certainly less powerful than the BMW's 1200cc engine, but it is by no means sluggish. It has 67 horsepower, can hit 7500 RPM, and has 50 ft-lb of torque. It's also air-cooled, just like the bikes from the era it's emulating. It isn't all old tech beneath the fenders, though. Finicky carburetors have been upgraded with a fuel injection system, giving the classic design some modern convenience.
Does Munn still ride?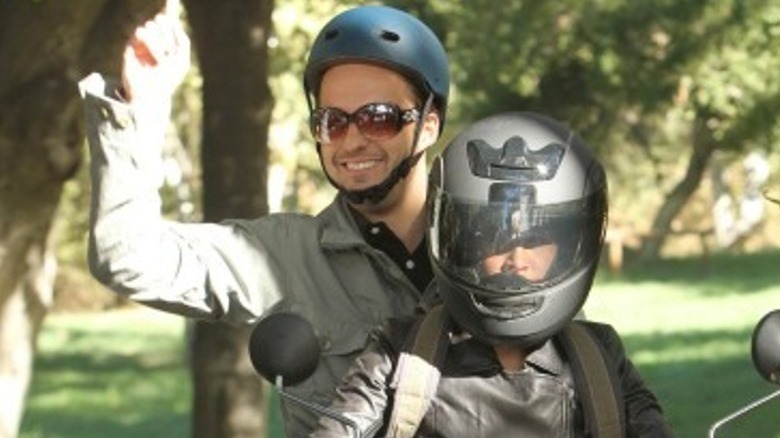 Most of the information about Munn and her bike came out when the photos were first released back in 2012. Very little new information has been published in the decade since. One of the last publicized instances of Munn talking about the motorcycle was in that same interview with Leno, where she described crashing it.
Munn explained that riding her bike in L.A. traffic made her nervous, so she usually only took it out in the middle of the night when there were very few people on the road. "I'm afraid to ride because so many people have told me that I'm going to die," she said. "So I only ride from 2 a.m. to 4 a.m. around my neighborhood. It's the saddest. I get all geared up and I look so cool, and it's just me and the coyotes... I don't know why anybody would ever go onto the freeway!" She also revealed in that same appearance on the Tonight Show (via Hollywood.com) that the first time she tried to ride it during the day, a coyote actually ran out in front of her, causing her to lay the bike down, and that she now has a scar on her right leg from the skid.
It's unclear if Munn still rides for fun, but she had played several motorcycle-riding characters on screen, including Nick's stripper girlfriend Angie on "New Girl" and the zombie apocalypse survivor Evie on "Tales of the Walking Dead."