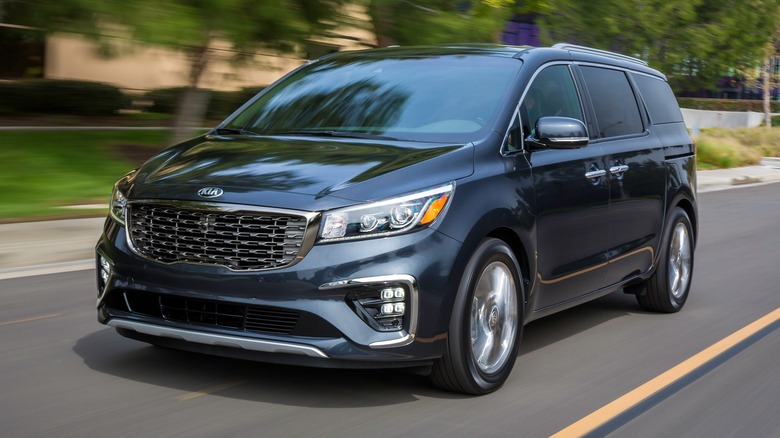 Along with its sister brand Hyundai, Kia has transformed its lineup over the past decade or so, producing cars that often compete with the best in their segment for features, driving dynamics, and comfort, all while undercutting rivals on price. Anyone discounting Kia as simply a budget carmaker has been missing out for years now, as the brand's recent back catalog is full of attractive used cars that can be picked up for even more attractive prices.
Kia's cars are also reliable too, and the brand was crowned the most dependable mass-market brand in JD Power's 2023 Vehicle Dependability Survey. While there have been a handful of troublesome models, Kia's reliability is generally solid across its whole lineup. So, to rank the best of them, we've used data from the iSeeCars research team, who aggregated information from millions of used car listings to see which models lasted above and beyond the competition. Their data shows these models to be Kia's best so far — although it's worth noting here that for some of its newest models, there isn't enough data to receive a rating yet, so they're not included here.
Kia Cadenza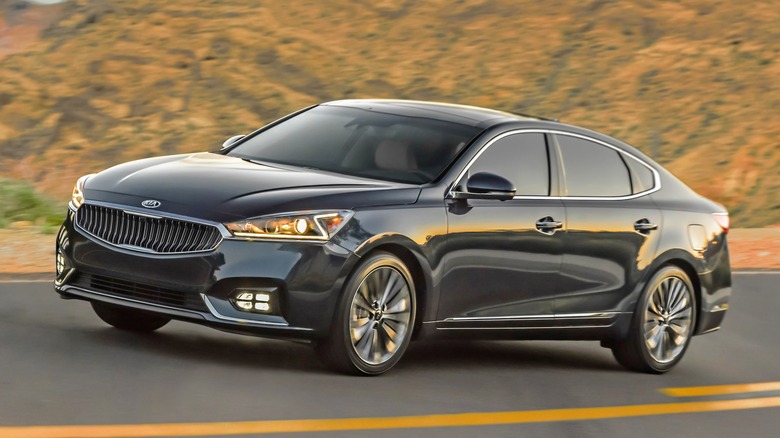 The Kia Cadenza we tested in 2017 was an impressive car for the money. The interior was suitably premium, with heated leather seats and metal trim rivaling that of many entry-level luxury cars. The rear seats were excellent too, with more than enough legroom for even the tallest passengers. On the outside, things were a little less memorable — while the Cadenza's styling is pleasant enough, it's on the forgettable side, especially compared to the brand's most recent offerings.
The car's 3.3L V6 also provided more than enough poke to make highway overtakes a breeze, while the eight-speed auto 'box felt as smooth as a premium sedan should. However, despite all the positives, the Cadenza was always a slow seller, and was killed off after the 2020 model year. Buyers mostly weren't fussed about a nicer, roomier sedan, either preferring one of Kia's more budget-oriented offerings or moving up to an SUV or crossover. It might have been the forgotten child, but the Cadenza has proved to be a generally reliable used car, with an iSeeCars reliability score of 7.4/10.
Kia K900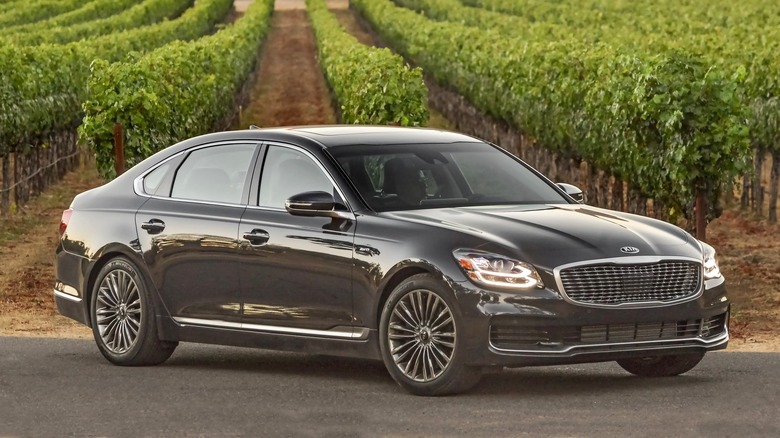 Positioned above the Cadenza as the most luxurious sedan in Kia's lineup, the K900 is another underrated model that's now been consigned to the used lots. An overhauled model was announced for 2019, but it only lasted through to 2020 before low segment demand saw it axed alongside the Cadenza. It's also safe to say that, for most luxury sedan buyers, a Kia dealership wouldn't be their first port of call, but the K900 packed plenty of niceties to help it go up against the more established competition.
Among those were a 12.3-inch infotainment touchscreen featuring Android Auto and Apple CarPlay, heated and ventilated seats, and a mix of metal and faux wood trim. Perhaps most importantly for a Kia though, the K900 was considerably cheaper than many of its rivals, even if the lower price didn't translate into sales. Buyers who can pick up one of the limited used examples on the market shouldn't need to worry too much about unexpected repair costs adding to their bill though, as the K900 achieved an iSeeCars reliability rating of 7.5/10.
Kia Rio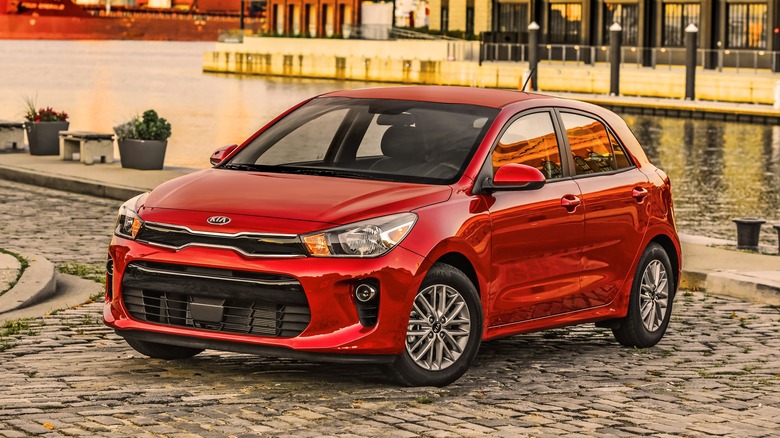 The current generation Kia Rio was announced in 2020, and saw several key updates over the previous model. It was restyled to more closely follow the design language of the brand's other models, and added a new infotainment system with extra connectivity features. The Rio's main appeal, however, remains its low upfront price. Its reliability is decent for the segment too, with a 7.5/10 rating from iSeeCars.
Several older model Kias have been subject to recent recalls, including the 2011 to 2017 Rio, but current generation cars have so far not suffered the same issues. The Rio isn't without its faults — most of which center around decisions made by the automaker to keep costs as low as possible — but as a basic, unfussy daily driver, it remains one of the better offerings in its segment. However, it won't remain that way for much longer — it's been confirmed that the model will be discontinued after the 2023 model year, as Kia focuses on SUVs and crossovers with bigger profit margins.
Kia Forte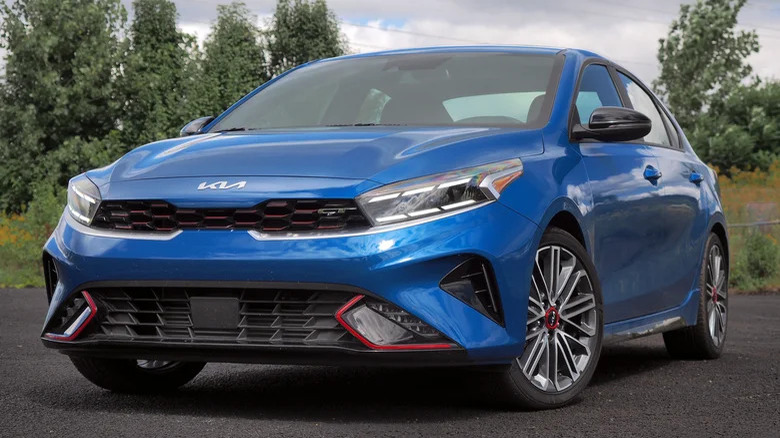 Another of the more affordable models in Kia's stable is the Forte. Solid value is its first and foremost appeal, but after driving the Forte GT, we were left convinced that there's more to the model than that. In fact, the GT was genuinely enjoyable to drive, despite its 1.6L engine lacking in power compared to most of its rivals. It's not fast, but offers some extra horses over the standard Forte — 54 of them, to be exact, bringing the car's total output to 201 horsepower.
It's enough to make the car feel lively when you put your foot down, and much like a Miata, you can wring the best out of it without ever worrying about losing your license. It's a fair way off the Miata's handling though, and it's not quite as reliable either. Nonetheless, it still received a respectable 7.6/10 reliability rating from iSeeCars, making it one of the most dependable options in its segment.
Kia Soul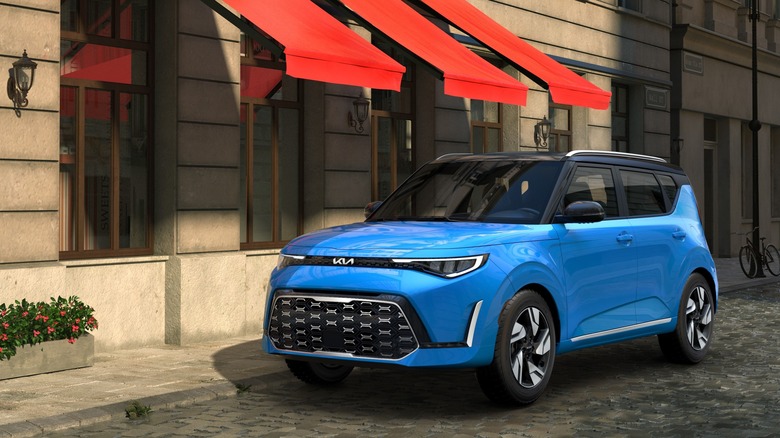 Kia's oddball Soul kept its unusual looks and plentiful features when it was updated in 2023, although the more powerful Turbo model was removed from the lineup. A shame, perhaps, but then performance was never the reason that buyers were attracted to the car. Instead, it was the affordable starting price, competitive equipment levels, and yes, that styling. It's certainly not for everyone, but it's a breath of fresh air in a segment where designs are often kept conservative to appeal to the maximum number of buyers possible.
The Soul does not play by those rules, and it's all the better for it. It does, however, share most of its underpinnings with Kia's less unconventional models, and as a result, achieved a similar reliability rating to the brand's other small cars. The team at iSeeCars gave the Soul a 7.6/10, putting it toward the top of the overall table.
Kia Optima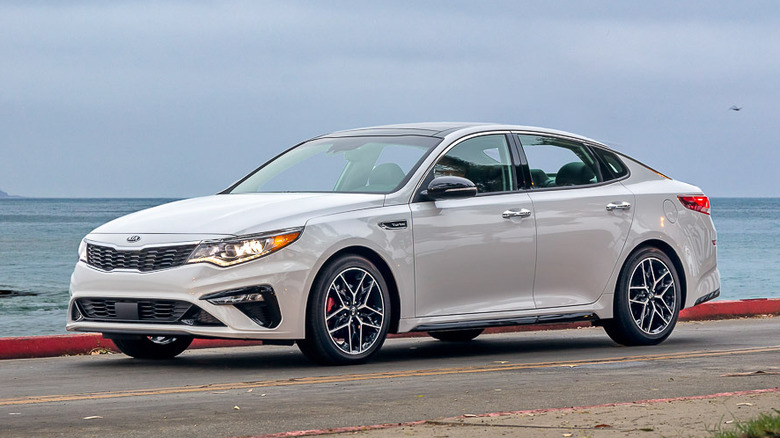 The Kia Optima was replaced by the K5 after 2020, with its successor given a further round of upgrades to keep it competitive in the shrinking sedan market. However, the older Optima is still a great used pick, partly thanks to its strong reliability rating of 7.7/10, according to iSeeCars. The final Optima generation was unveiled for the 2016 model year, and during our first drive of the car, we noted that it handled better than expected for a sedan of its size and price. Not only that, but the Optima was generously equipped for the price, both in terms of technology and in terms of the quality of the interior materials.
The Optima's biggest issue was one shared with several other Kia models here: As a sedan, it was a victim of a changing market, one where even good cars could go largely unnoticed by buyers for years until they faced the chop. The Optima was very much one of those good cars, and today it makes for a compelling used pick for buyers looking for an alternative to the raft of crossovers currently in dealerships.
Kia Optima Hybrid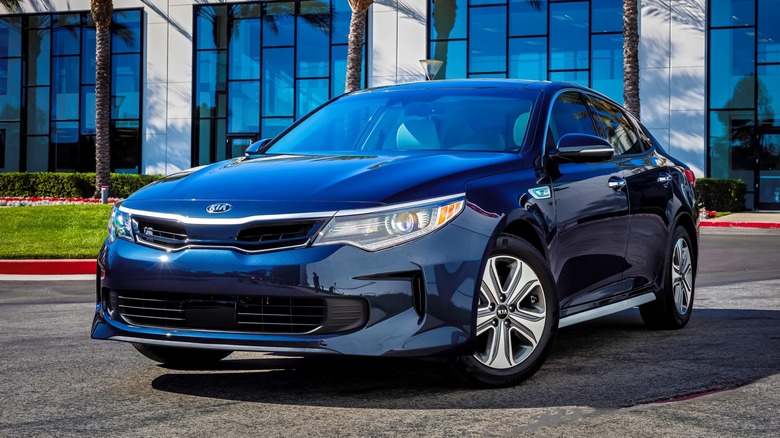 It's not unheard of for reliability to decrease when more complex hybrid powertrain options are added, but the Optima Hybrid is just as reliable as its non-electrified counterpart, scoring 7.7/10 in iSeeCars' ranking. The Optima Hybrid cut fuel consumption significantly over the gas-only model, with a reported 10 percent improvement in efficiency. That was thanks to the 38kW motor, which allowed the four-cylinder gas engine to shrink in displacement from 2.4L to 2.0L. Power output wasn't compromised, however, as the Optima Hybrid sported 193 horsepower.
The strong levels of standard equipment, including both active safety systems and infotainment features, were carried over from the standard car. This included Android Auto and Apple CarPlay, a 10-speaker audio system, and Smart Cruise Control, alongside a number of new efficiency-focused features like the Cruising Guide. Much like the standard Optima, the cabin was roomy and, in top-spec trim, was impressively furnished given the car's affordable price.
Kia Sportage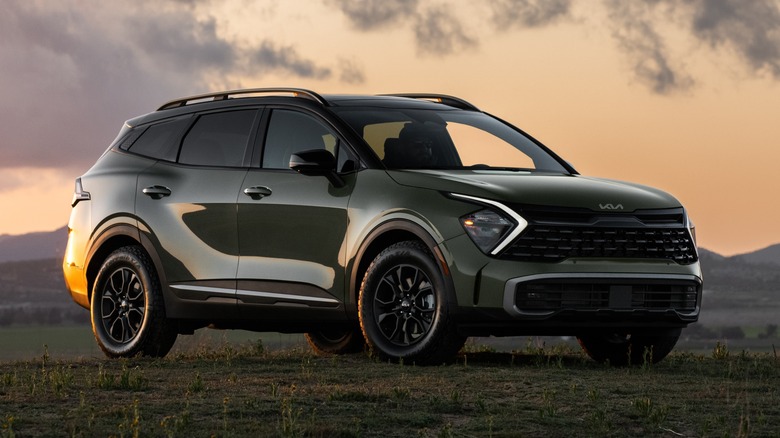 Sharing second place in the reliability rankings is the Sportage, a family SUV that's a consistent strong seller for the brand. A new generation was unveiled for 2023 sporting revised styling, additional room, and an updated suite of tech features. Those features included navigation-based cruise control and parking assist, alongside the usual collision avoidance tech and blind-spot monitoring. One of Kia's most impressive areas of improvement in recent years is its cabin design, and the Sportage is no exception. It's a step above many of its rivals in terms of appearance, and it's backed up by no shortage of standard interior features too.
The safety tech and infotainment features are a bonus, but no family-oriented hauler is too appealing if it isn't dependable. The Sportage's iSeeCars reliability rating of 7.9/10 isn't the best in the segment, but it's one of the brand's best models nonetheless, and still enough that most ownership experiences will be hassle-free.
Kia Sedona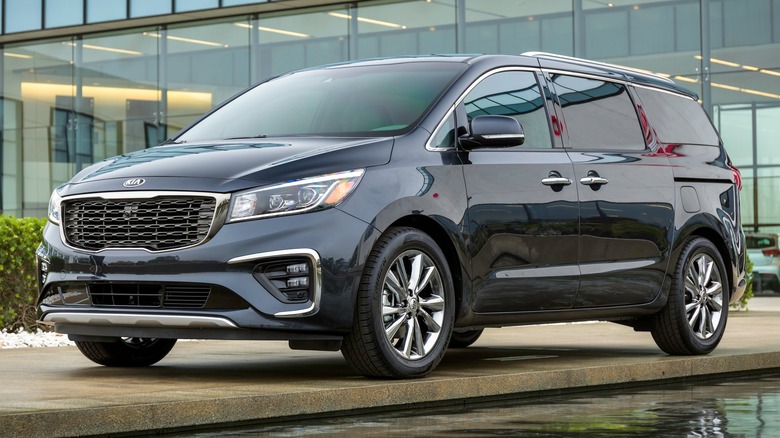 The Sedona was the brand's minivan offering up until the 2021 model year, after which it was replaced with the thoroughly updated Carnival. While the latter car made a significant effort to distance itself from the typical minivan, the Sedona was more than content to stick to stereotypes, offering plenty of room, reasonable fuel economy, and not a whole lot of excitement. It was a family hauler in the most literal sense — it would comfortably fit the whole family, but with little else to differentiate it from the crowd.
By the time it was retired, top-spec models had grown to become comfortable, with a decent amount of tech features, although again, not to a class-leading degree. The same can be said about its reliability rating — the Sedona sports a 7.9/10 reliability rating from iSeeCars, making it the joint second-best-rated Kia model, although not exceptional by segment standards.
Kia Sorento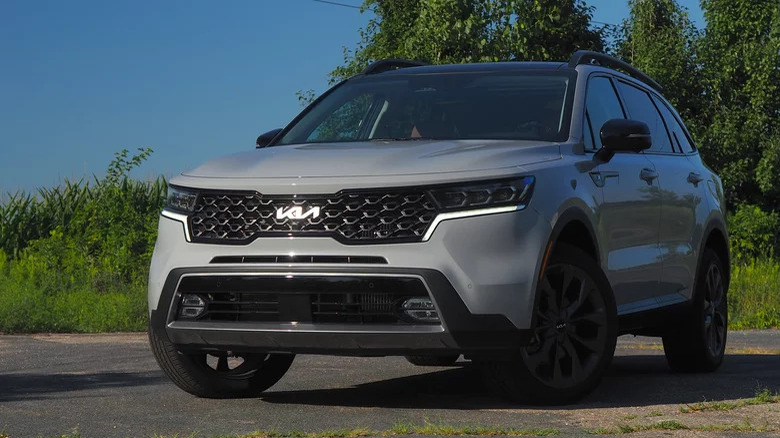 The three-row SUV market is a tough one, but the Kia Sorento stands out by being slightly smaller, and as a result, slightly more affordable, than many rivals. That makes the back row unsurprisingly cramped, but it does bring plenty of benefits. The first is an excellent array of standard equipment for the money, with top-spec trims gaining even more tech, as well as deluxe upgrades that make the cabin more upscale than its asking price would suggest.
Another benefit is the second row legroom, which is generous considering the car's overall dimensions. Depending on trim, either six or seven seats are available, with captain's chairs standard toward the top end of the range. There's plenty to like about the Sorento then, which makes its strong reliability rating a bonus. The midsize SUV receives an 8.0/10 rating from iSeeCars, making it the South Korean brand's best performer to date in the category.