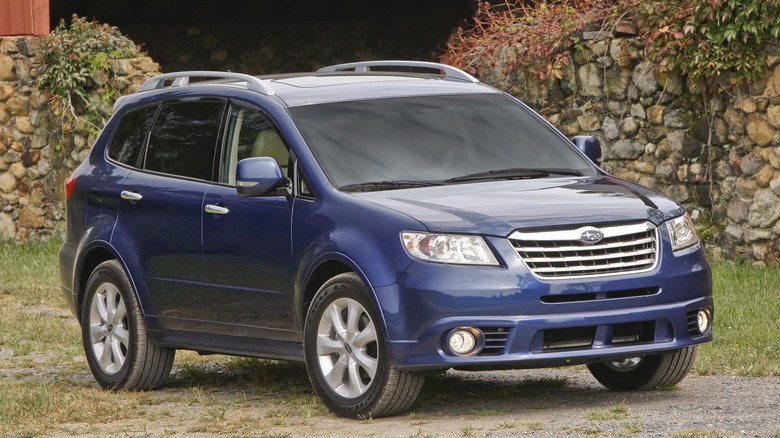 Much to its credit, Subaru has never had a very complex arsenal of cars. Today, the lineup consists of only nine models with a few variations. It's that simplicity that has served the brand well over the decades, however, and Subaru fans are some of the most loyal buyers in the industry. In the present, Subaru is enjoying great success with the now ubiquitous Outback and Forester, as well as the more compact Crosstrek and sporty two-wheel drive BRZ. In the past, the brand's WRX STI excited rallying fans all over the world.
However, not every Subaru can be a smash hit like the Outback or WRX. One such lesser celebrated Soobie is the Tribeca, also called the B9 Tribeca. Subaru introduced the Tribeca in 2005 as a midsize three-row SUV for the 2006 model year. According to Subaru, it was developed alongside General Motors, which owned Saab at the time. There was even a mechanically identical Saab SUV that was supposed to be released at the same time, but never saw the light of day. Those familiar with Saab's other General Motors-derived SUV efforts will probably see that as a good thing.
Not big enough for America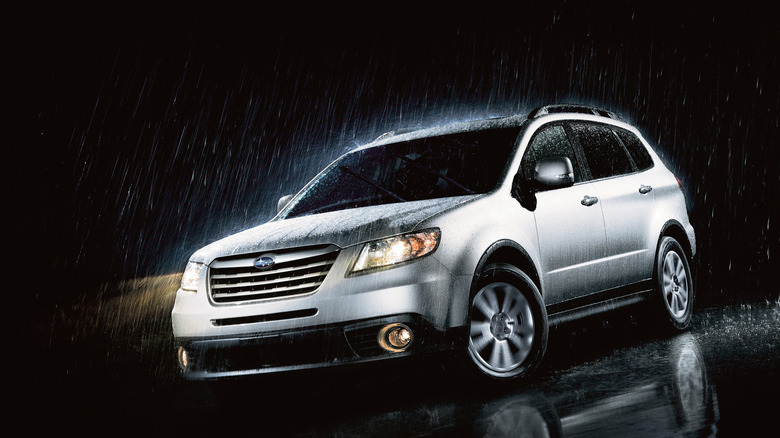 Right off the bat, the Tribeca didn't exactly wow audiences. Subaru itself described the styling as "polarizing." And Edmunds called it "an anomaly." Reviews weren't kind to the Tribeca, bemoaning its cramped interior and lackluster driving dynamics. The 256 horsepower 3.6-liter flat-six engine was certainly adequate, but it wasn't a fuel miser or speed demon by any means. It was exactly "fine." Looks aside, the Tribeca wasn't a dismal car by any means. It just wasn't very good in comparison to other models out at the time. 
Subaru discontinued the Tribeca in 2014 after a few updates. Normally, not wanting to admit defeat, automakers quietly pull the plug on cars, without making any real dedicated announcement. Subaru, however, when celebrating its 50th year as an automaker in America, owned up to the fact that the Tribeca wasn't the best it had to offer, stating: "The model was quickly found to be too small for the U.S." and "the model never achieved its planned-for sales and was dropped in 2014 with the announcement of a new, larger 3-row model in the works." That three-row became the Subaru Ascent, a decidedly bigger SUV meant to take on the American market.
As far as cold hard numbers are concerned, Subaru played the right hand by axing the Tribeca. During the entire year of 2013, Subaru sold just 1,598 Tribecas. Comparatively, the brand sold 123,592 Foresters in the same period.