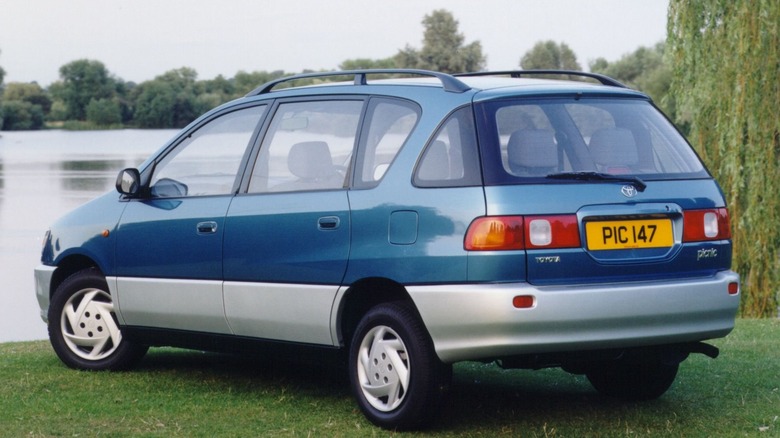 Regarding Toyota vans, the Previa, Sienna, and the vintage-cool Van with a standard ice maker are typically the first that come to mind. However, Europe got an equally impressive Toyota people carrier from the mid-90s, called the Picnic (also called the "Ipsum" or "Avensis Verso" in other markets). Instead of having twin sliding rear doors, the Picnic is more of an MPV (Multi-Purpose Vehicle) than an all-out people carrier. That said, it doesn't make the Picnic any less desirable as an everyday family car.
There's nothing genuinely remarkable about the Toyota Picnic. Spanning two generations up until the 2010s, and first unveiled in Europe and Japan in 1995, the Picnic is a compact MPV with three-row seating for six passengers. Toyota marketed the Picnic as an FFV, or "Fun Family Vehicle" to compete with the Volkswagen Sharan or Opel Zafira.
It rides on a front-wheel drive architecture derived from the Avensis sedan, and has a rather plebian body style that screams "family car." The second-generation Toyota Picnic, manufactured from 2001 to 2010, was no different — despite having a stretched wheelbase and a seven-seat interior.
Toyota Picnic: Champion of reliability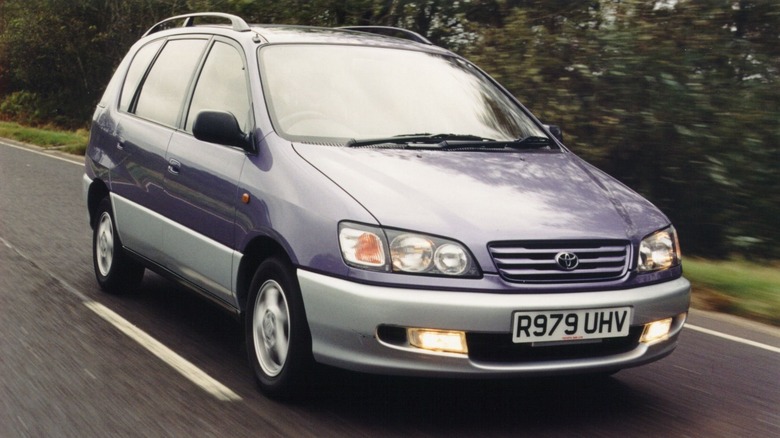 The Toyota Picnic's 2.0-liter naturally-aspirated gasoline engine, and 2.2-liter diesel mill, were not the most eager performers. Toyota clearly tuned both powerplants for economy, rather than sporty driving: Producing no more than 128 horsepower (90 horsepower for the diesel), the Picnic takes about 11 seconds to reach 0-60 mph with its four-speed automatic gearbox (a five-speed manual was available).
The upside with the drivetrain is good fuel economy, as a gasoline-powered Picnic achieves about 25 mpg (up to 9.5 liters/100km). The diesel is more economical with its 31 mpg rating (7.7 liters/100km). However, the Picnic's standout features are safety and reliability. It got a four out of five-star safety rating from the European New Car Assessment Programme, and received exceptional build quality and dependability scores.
According to Auto ABC surveys, the Toyota Picnic had an 8.3% average failure rate, and only 3.3% had defects during roadworthiness testing. The numbers are impressive, considering the cars were about six years old at the inspection time. 
Toyota UK's PR and Social department even came up with a one-off Toyota Picnic Sport Turbo variant. This souped up Picnic came with a 210-horsepower 3S-GTE engine from a second-gen Toyota MR2 just for fun — proof that the Picnic's platform could handle more power and go-fast mods, without penalizing its reliable reputation. 
Toyota discontinued the Picnic in 2010, but the brand's untarnished reputation for durability and reliability continues today.