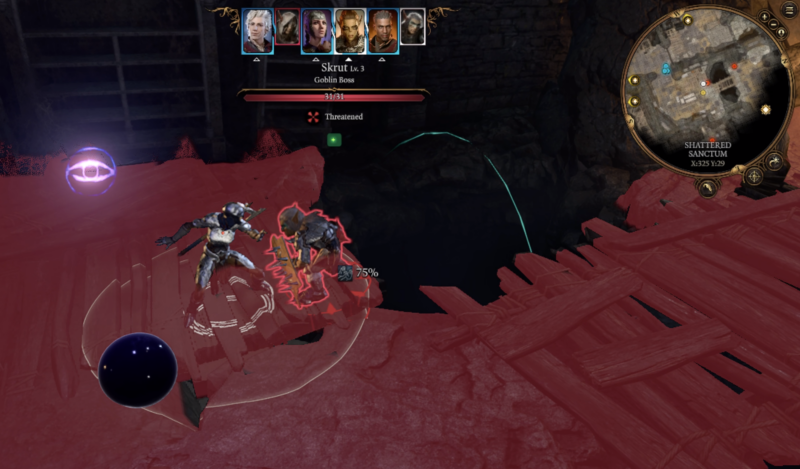 I had actually done a fair quantity of optional grinding by my 25th hour of Baldur's Gate 3, My Githyanki warrior, Lae'zel, was leveled and prepared enough to be mostly one-shot-ing any goblins or wildlife that attempted her, and rapidly incapacitating even bigger hazards. I was growing concerned that I was leaning on her a bit too heavily, not exploring the deeper tactical offerings of BG3's battle.
"Ha!" the video game answered back. "Ha, ha!" That's what it sounded like to me, anyway. Lae'zel led the charge into the last decrepit corner I had yet to explore inside the goblin camp, excited to secure the final and 3rd leader of the people. After ending her turn on a wooden bridge, a nearby goblin boss, Skrut, ran towards her. I wasn't worried up until, a few seconds later, the action log in the lower-right corner provided the news: "Lae'zel died in a chasm."
Skrut had actually leaned into something I had ignored considering that BG3 first introduced it: the Shove action. It was at first suggested as a method to get a character out of your melee variety. If you pushed an enemy and it landed a long way down, they might even take damage and end up lying prone and susceptible. Today I comprehended why the video game revealed you the text "Chasm" when you moused over a seemingly unlimited pit, the kind drawn into many games for pure environment. You can't click to walk your characters into a gorge, however they sure can be pressed into one.
Like the majority of other things that happen in BG3, there's dice rolling going on behind" Shove. "The video game informs you that you, or some completely effective goblin employer, has actually passed an Athletics check to push an opponent(or, in the right circumstances, possibly a buddy). In the Baldur's Gate 3 subreddit, TalonIsMyDDName recommends there's a good bit more: your Strength-derived Athletics rolling against the challenger's Athletics or Acrobatics, whichever is higher, for a distance determined by your strength minus their weight. As the poster notes-- and which I have actually learned-- the shover's weight and size do not matter, just their athletics and strength at that minute.
Push is part of the D&D Fifth Edition guideline set, the same one BG3 usages (Baldur's Gate II used 2nd edition guidelines). DND Lounge's shove explainer notes it as "challenging for newbie gamers to cover their heads around." Shove can push an enemy outside the variety where they get a chance attack if you try to run. Push can, as kept in mind, boop somebody off a ledge to their demise. It can set up chain attacks, maybe moving an opponent into an archer's variety or require a challenger to use movement and actions to regain their ground. It's not explicitly an attack, however it can replace an attack action. You can technically push two times in one turn. As something you argue out over a table, it's quirky.
In my first impressions of BG3, I attempted to capture the game's alchemical mix of Dungeons & Dragons' limitless creativity with Divinity: Original Sin's exacting battle systems. I need to have simply pointed out Shove. Shove is among those things that you wouldn't utilize mostly, and even secondarily, in a tabletop session. But it makes more sense in BG3, and it makes the game feel efficient in anything, even when that "anything" makes you stumble to the loading screen.
So couple of games make you feel like you're on truly even footing with your computer system opponents. You actually remain in BG3, so you 'd much better enjoy that footing.
Noting image by Larian Studios