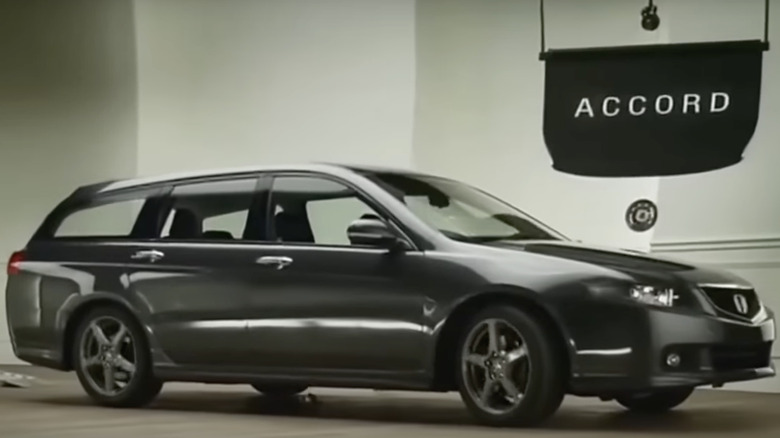 Auto advertising has its share of memorable campaigns, from Volkswagen's groundbreaking push to "Think Small" in the 1960s to Volvo's 2013 commercial showing Jean-Claude Van Damme doing the splits between two moving trucks to demonstrate the capabilities of its new dynamic steering system. Perhaps the most impressive car ad of all time is a commercial created for the Honda Accord in 2003 by the London office of ad agency Wieden and Kennedy called "The Cog."
The 121-second advertisement shows an intricate Rube Goldberg machine made up of various Accord parts, starting with a transmission bearing that rolls along a wooden plank, setting in motion a chain of events that utilizes a catalytic converter, valves, a hood, a radiator, fan, several wheels and tires, seats, windshield wipers, an engine block, a muffler, connecting rods, coil springs, a battery, speakers, and dozens of other parts. The ad ends with a set of shock absorbers pressing a button on a key fob that closes the rear hatch on an Accord station wagon on a carefully balanced trailer. The shift in weight causes the car to roll forward off the trailer, revealing a banner reading "Accord," while writer Garrison Keillor asks, "Isn't it nice when things just work?"
The ad took more than 600 takes to film
The story behind the ad is as remarkable as the ad itself. The ad's creators disassembled one of the only six hand-built Accords in existence to gather the parts needed to make the video; another of the six is the one shown rolling off the trailer at the ad's conclusion. The entire commercial was created without CGI, and according to Snopes, "When the ad was shown to Honda executives, they liked it and commented on how amazing computer graphics have gotten. They fell off their chairs when they found out it was for real."
Setting up the complex process took four to five months, and filming the ad took over 600 takes over several days. The ad's budget was £1 million, but that money was well spent as the spot won the year's top honor at the British Television Advertising Awards and has racked up countless YouTube views since.
The final two-minute ad is actually a composite of two 60-second sequences, which required only minor editing to stitch together. The full version made its debut on British TV on April 6, 2003, and aired just ten times and only for ten days after that. 30- and 60-second versions aired for another six weeks, and a "making of" DVD with additional Accord advertising was distributed with more than a million newspapers during the commercial's first week on the air.