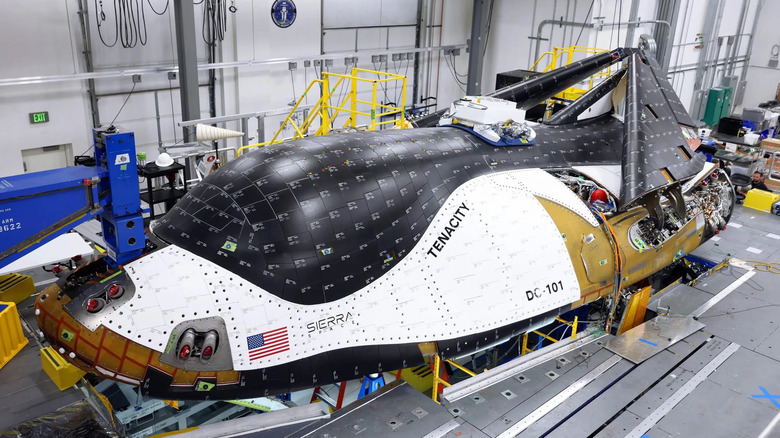 A new spaceplane may soon be a game-changer for NASA, thanks in part to its ability to land on commercial airport runways — the first spacecraft to be able to do so. Sierra Space, a pureplay commercial space company based out of Colorado, developed the Dream Chaser vehicle as part of a large contract from NASA to resupply the International Space Station (ISS) with essential cargo like food and water. Tenacity, the inaugural spaceplane of the Dream Chaser fleet, is set to perform at least seven uncrewed missions for NASA, and will also return with scientific experiments and other cargo from the ISS, as well as perform disposal services for the station. Eventually, Sierra Space plans to also use the Dream Chaser to carry human crew members to low-Earth orbit.
The Dream Chaser is built for both space travel and hypersonic atmospheric speed, and can safely withstand temperatures exceeding 3,000 degrees during re-entry. On top of that, Sierra Space says the spaceplane will be cool to the touch just minutes after landing. The vehicle is also capable of being customized to suit the needs of different missions contracted by both domestic and international customers. Plus, it's equipped with an advanced autonomous flight system and will have a lifespan of at least 15 missions.
Tom Vice, Sierra Space CEO, says the Dream Chaser "shifts paradigms and redefines space travel," and that it's "not just a product; it's a testament to human spirit, determination, and the relentless pursuit of what lies beyond."
The Dream Chaser was built with safety and sustainability in mind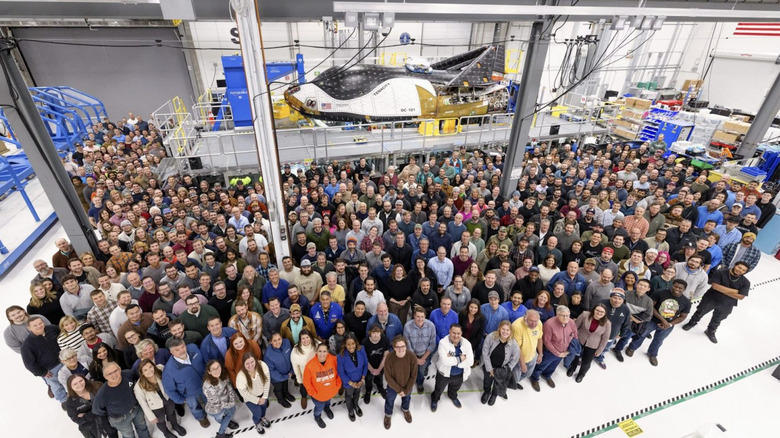 Sierra Space states that "safety remains at the core of the Dream Chaser's mission." If all goes as planned and the spaceplane eventually transports astronauts, obviously their well-being — as well as that of ISS crew members interacting with the craft — will be a top concern. But the company is just as devoted to protecting its cargo, especially since preserving the integrity of certain scientific payloads is crucial to the experiments being performed by NASA. As such, Sierra Space built Dream Chaser with "advanced safety mechanisms" to protect the spaceplane and its contents. Additionally, its innovative design allows reentry at fewer than 1.5 g to better preserve sensitive cargo.
Sierra Space also hopes the Dream Chaser will make space travel a more sustainable venture. The company says it spent years developing a new propulsion and oxidizer-fuel system that is more eco-friendly than its predecessors. The high reusability of the spacecraft will also go a long way toward sustainability, as will its adaptability for a wide range of missions, limiting the need to construct new spacecraft. By being capable of landing on commercial runaways and having a rapid turnaround time before starting its next mission into space, the Dream Chaser will mean fewer low-Earth orbit vehicles need to be built.
The Dream Chaser's maiden voyage is expected to launch from NASA's Kennedy Space Center, with Tenacity being carried into orbit on United Launch Alliance's Vulcan Centaur rocket. The spaceplane will complete its first return trip by landing at the NASA Space Shuttle Landing Facility.