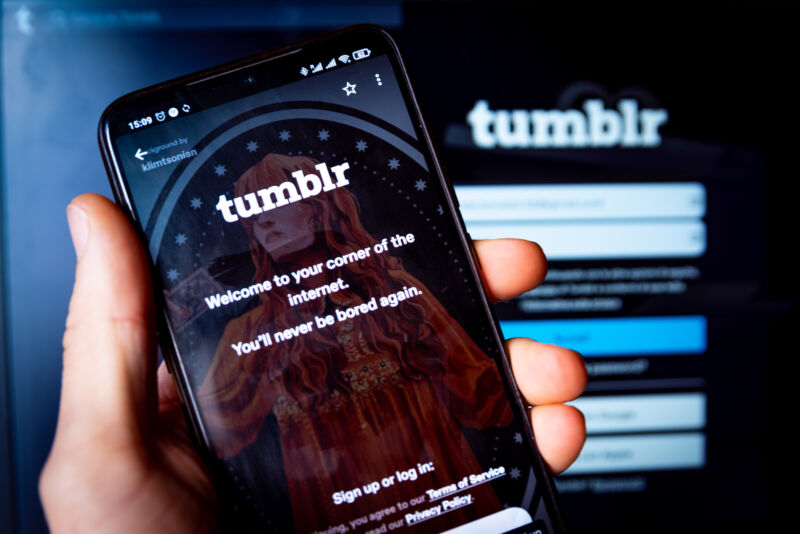 It's not quite the end of Tumblr, but if management is really sending memos with the Lord Tennyson quote about having "loved and lost," it doesn't look like there's much of a future.
Internet statesman and Waxy.org proprietor Andy Baio posted what is "apparently an internal Automattic memo making the rounds on Tumblr" to Threads. The memo, written to employees at WordPress.com parent company Automattic, which bought Tumblr from Verizon's media arm in 2019, is titled or subtitled "You win or you learn." The posted memo states that a majority of the 139 employees working on product and marketing at Tumblr (in a team apparently named "Bumblr") will "switch to other divisions." Those working in "Happiness" (Automattic's customer support and service division) and "T&S" (trust and safety) would remain.
"We are at the point where after 600+ person-years of effort put into Tumblr since the acquisition in 2019, we have not gotten the expected results from our effort, which was to have revenue and usage above its previous peaks," the posted memo reads. After quotes and anecdotes about love, loss, mountain climbing, and learning on the journey, the memo notes that nobody will be let go and that team members can make a ranked list of their top three preferred assignments elsewhere inside Automattic.
Ars has emailed Automattic to confirm the memo's authenticity and ask for comment. One source of the memo has since deleted the post, citing the typical fatigue that comes with receiving replies from random outside commenters.
From two people to $1.1B, and now this
Tumblr started as the project of David Karp and Marco Arment, the latter of whom would go on to develop Instapaper and become a vocal Apple commenter and podcaster. The phenomenon of microblogging, or "Tumblelogs," low-commitment personal blogs that contained snippets of text, images, audio, or other ephemera, were shaped into a product that launched in early 2007. The company was acquired for $1.1 billion in 2013, the largest acquisition of CEO Marissa Mayer's tenure at Yahoo, with an unusual press release that noted Yahoo "Promises not to screw it up." (Ars profiled a UX design leader at Tumblr around that time.)
"Yahoo may not have screwed Tumblr up,' but it has hemorrhaged money," read Ars' next headline about Tumblr in 2016, soon after Yahoo wrote down another $482 million on its acquisition. Verizon gave Tumblr a try in 2017, acquiring both the microblog service and its parent Yahoo for $4.48 billion, adding AOL, and calling the whole thing "Oath." Six months later, Oath unveiled its grand strategy: removing all adult content from what was, from the beginning, a rather sex-infused, LGTBTQ+-friendly, porn-tolerant site. Efforts to use automated content removal systems were so hapless as to generate mockery. By 2019, Verizon was actively seeking a buyer for Tumblr; Pornhub suggested its interest, if perhaps only for headlines.
Verizon offloaded Tumblr to Automattic in 2019 for purportedly less than $20 million, taking on 200 staff. CEO Matt Mullenweg at the time called Tumblr "one of the web's most iconic brands," and said he intended to maintain the adult content ban and hoped the site would complement Automattic's other products, like WooCommerce, Jetpack, Longreads, and others.
Taylor Swift, government spooks, and art
In late 2022, Mullenweg tweeted that Tumblr app downloads were up 57–58 percent on iOS and Android. Around the same time, Tumblr brought back nudity but kept "sexually explicit images" at bay. A summer 2023 major redesign aimed to make Tumblr easier to use and brought it in line with the general look of other social networks. During a livestreamed Q&A about Tumblr in July, Mullenweg said Tumblr was losing $30 million per year.
Still, talking about Tumblr's future in August 2023 on an Evening Standard podcast, Mullenweg seemed optimistic about its reach into younger markets, its vibrant LGBTQ+ community, some vague backend AI possibilities, and how a Twitter exodus could feed Tumblr's regrowth. (Even if Tumblr's users didn't necessarily invite those users in.)
As quoted in TechCrunch, Mullenweg told the podcast that he considered Tumblr not so much a successor to Twitter, but a change of pace. "You often hear people say they want to do less social media, but you almost never hear people say they want to blog less… What is it about blogging, that they feel like adds to their life or is a valuable task, or valuable use of time, that maybe they're not getting from more traditional social media? ... Like I said, we're making Tumblr for art and artists. I haven't heard anyone say I'd love less art in my life."
The cultural reach and cachet of Tumblr has long exceeded its business prospects. Taylor Swift superfans (Swifties) hold in high regard the time in 2014 when Swift reblogged a fan account and went on, at length, about just how much she loved the fall season. Edward Snowden's leak of highly classified documents in 2013 spurred government surveillance higher-ups to create an "IC on the Record" tumblog, a very odd fit that somehow continues to this day. Countless artists, models, writers, and other creatives, along with endless memes, got their start on a site that will always be difficult to explain to those who haven't experienced it.