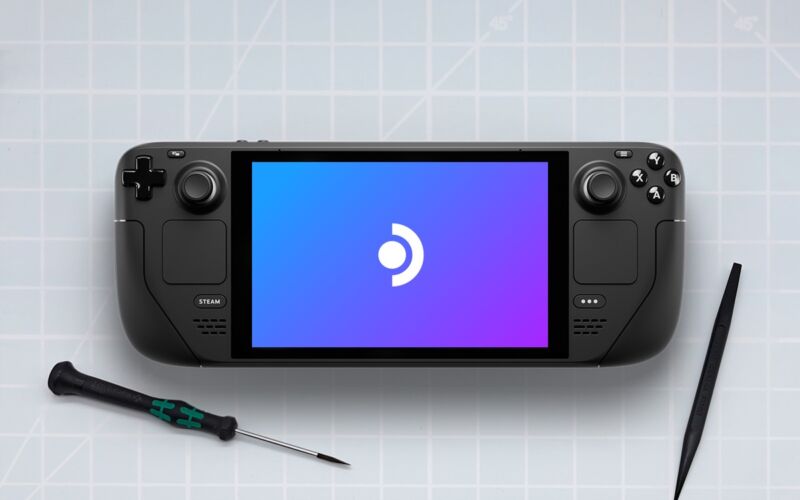 Valve's Steam Deck hardware has been consistently available to buy for over a year now, but if the price has put you off, Valve has a new option for you. The company is now selling official, certified-refurbished Steam Decks with the same one-year warranty as new models at prices that are between $80 and $130 lower, depending on the configuration you want.
A basic Steam Deck with 64GB of eMMC storage costs $319 refurbished, compared to $399 new. The 256GB model runs $419 refurbished, compared to $529 new. And the 512GB model costs $519, compared to $649 new. All have the same Zen 2-based AMD CPU and integrated Radeon GPU, the same 16GB of LPDDR5 RAM, a charger, and a carrying case. Buying refurbished hardware directly from the manufacturer—from Apple's refurbished site, the Dell Outlet, and other places—is usually a great way to get like-new hardware for less money without sacrificing software and warranty support as you might if you bought from a third party.
If you want to save even more money on a Steam Deck, consider that iFixit, Framework, and a growing number of SSD makers are also releasing (physically) smaller SSD models that users can buy to save some money on storage or upgrade beyond that 512GB maximum.
Valve says the hardware is guaranteed to work like new, though refurbished units may have cosmetic defects that don't affect functionality.
"Each Certified Refurbished Steam Deck has been thoroughly tested to the same high standards as our retail units," says Valve. "Every device goes through a complete factory reset, software update, and an extensive examination involving over 100 tests at one of Valve's facilities. Among the tests are all controller inputs, the audio system, the screen, and internals. Battery health is also assessed to ensure proper functionality and longevity. All refurbished units meet or even exceed the performance standards of new retail units. Although they may have minor cosmetic blemishes, they provide a reliable, high-quality gaming experience at a lower cost."
The Steam Deck's hardware has already been superseded by newer CPUs and GPUs like the Ryzen Z1 in Windows-powered handhelds like the Asus ROG Ally. And Valve has said that it's in no rush to put out a major upgrade, preferring instead to stick to a more console-esque upgrade timeline that gives developers a slower-but-stable configuration to target.
But as we discovered in our testing, Windows still isn't well-suited for handheld PCs, and third-party SteamOS distributions for handhelds like the Ally also aren't all there. For many players' day-to-day experience, it's still worth giving up some extra frames-per-second to get the niceties of official first-party SteamOS support.